Hey everyone!
For the ones that aren't following our facebook page, Lockshop wigs has a couple new things going on since the opening!


-We've recently started a new promotion: free worldwide shipping on order over €150!
Shipping can be really expensive for customers outside of Europe, so to make things a bit more fair we've added this shipping promotion!
Like this you can save over €27 on your order if you live outside of Europe, and even in Europe you can save up to €15!
-A small contest is running until the 8th of September:
Post a bit, or just our link on your site, blog, vlog or even Tumblr and e-mail us the link to your post. Our e-mail adress is: lockshopwigs@gmail.com.

There will be 1 lucky winner that gets a 50% discount coupon, and there will be 2 lucky winners that get a 25% discount coupon! The winners will be notified by e-mail after they have been picked.
It's really important that you e-mail us! If you don't, we can't keep track of the entries and we won't be able to contact you either!
So please mail us, otherwise you won't be able to enter the contest :(

- And last but not least: We're having a pre-order for our new premium style wig!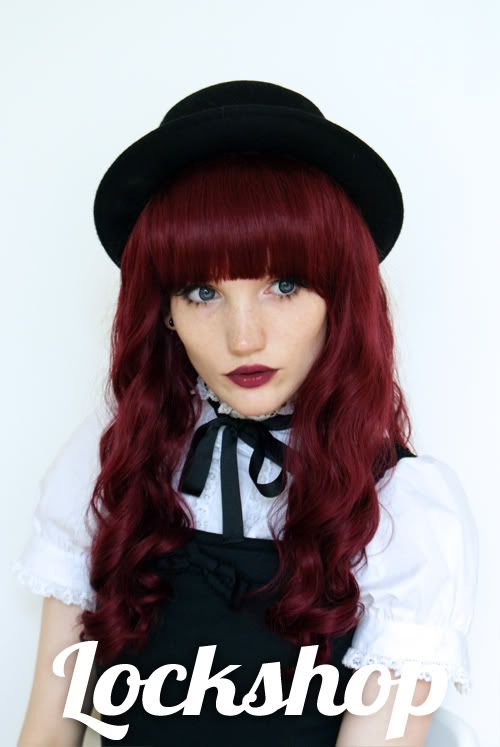 This lovely new style is made from the highest quality synthetic fibers and can be styled with higher temperatures than our regular wigs, they are also a lot more full and more natural looking. It's the first style to our premium line and it's perfect for Gyaru and Gothic Lolita!

The wigs are available for pre-order now, until the 29th of August. The expected arrival of the wigs is 2-4 weeks after the closing date of the pre-order. We need atleast 5 order per color to be able to place an order for that color, and we need a minimum of 4 colors.
If you pre-order a color, but the minimum isn't made and thus the color won't be ordered, you can either receive a full refund or choose a second or a third color option, we will try to make it as easy as possible for you and we will contact you about it as soon as possible!

This is our pre-order page. Pre-orders can be combined with regular orders, but we won't be able to ship it out until everything has arrived.

We have a color chart with 8 color options, the top row is of the options we would prefer to stock, and what we most likely will stock in the future. The second row are pre-order exclusives and there is only a small chance that we will stock these in our store, so get them while they're hot!


I hope everything is clear, but if you have any questions or comments, don't hesitate to let me know!
Posted with mod permission (thank you!!)