Hi!
I'm very excited because I have 5000 fans at my
facebook page
! Are you a follower yet?
I'm here to let you know that I'm having a very special contest to thank you. Entering is very easy, just send to me your most kawaii pic to:
kawaii-factory@hotmail.es before August 20th.
The pics will be submited on a facebook album and the most "Liked" picture will be the winner! Just ask your friends and followers to vote your pic. Just for entering you're willing to win a 25€ gift certificate to spend in
Kawaii Factory
.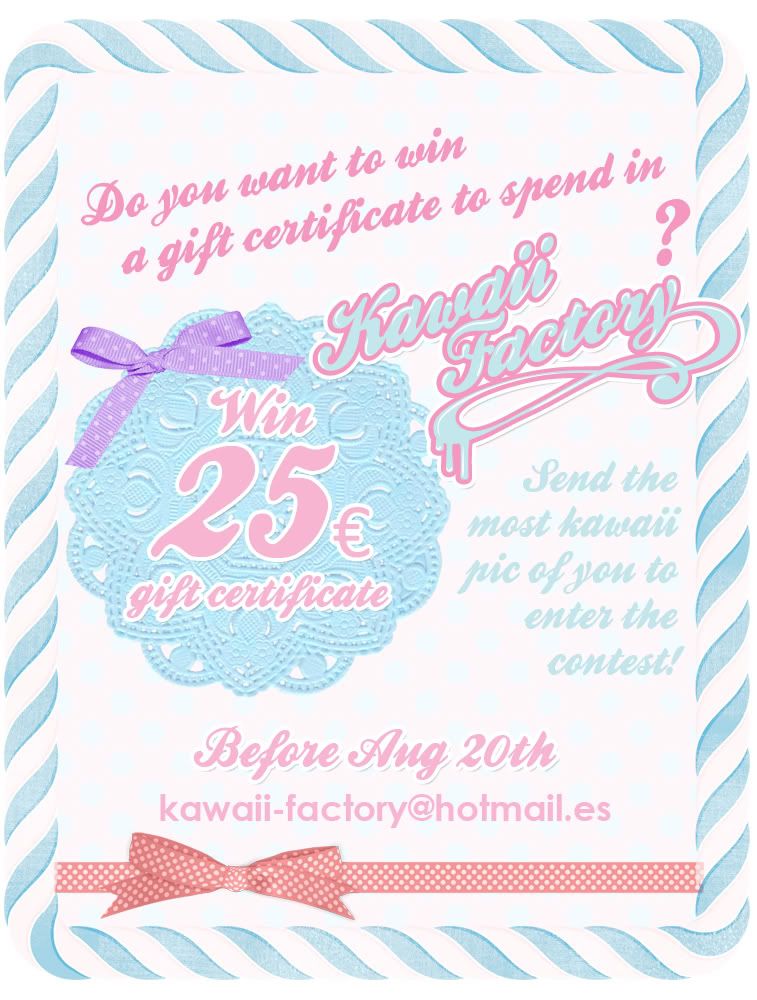 RULES:
- The pic must be of you, please don't steal other people's pics.
-The pic must be "kawaii" related. You can send a pic dressing kawaii clothes, with accesories, in a cute place, etc... just use your imagination and be creative.
-You can edit your pic adding effects, backgrounds, etc..
-Just one pic per person.
-All the pics will be submited on Aug 21st.
-The voting process will be from Aug 21st to Sept 1st.
-The picture that have the most number of "likes" will be the winner. You can ask your friends and familly to vote your pic, but please, play fair.
People who send their pics with a Kawaii Factory accesorie will automatically get 10% off for their next order.


Good luck and enjoy with your pics!