This is a review of my bad experience dealing with this company. I've heard many good things about them, which is why I decided to buy from them. However after my own dealings with them, I would not buy from them again.

On the 26th February, I bought their wavy chocolate brown Lolita wig.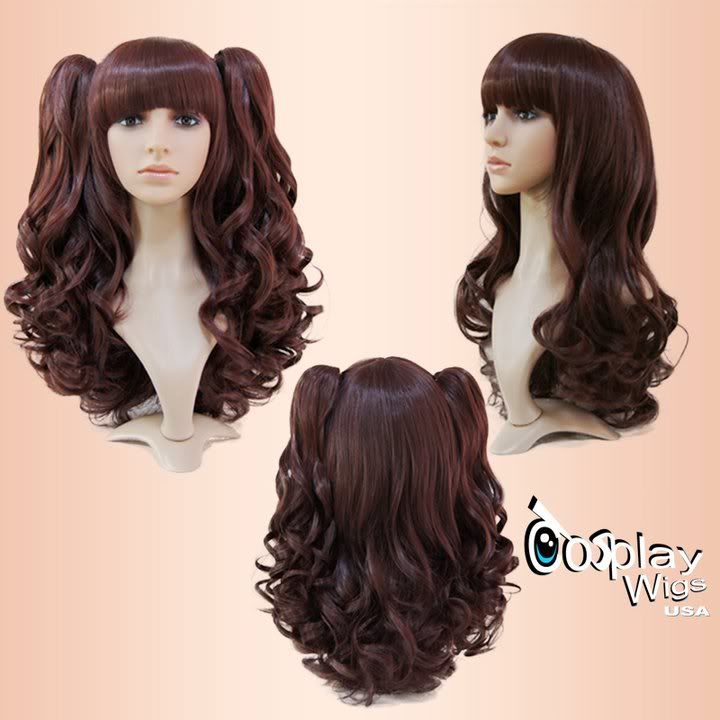 It arrived on 13th March, but it was certainly not what I had expected. I contacted them through their facebook account (Lolita Wigs) and they got back to me saying that it was likely a "lemon", and the next day I took some photos to show them the issues.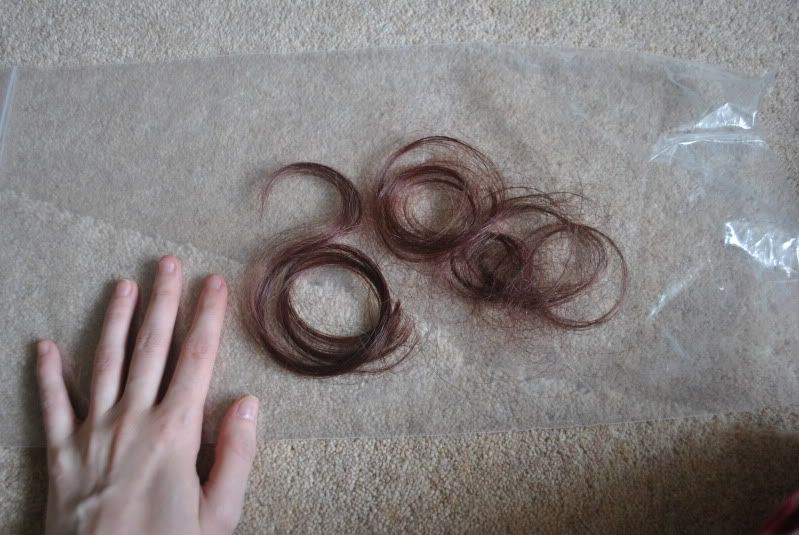 When I took the wig out of the bag and lightly shook it, some chunks of hair fell out. I was a little bit worried when this happened.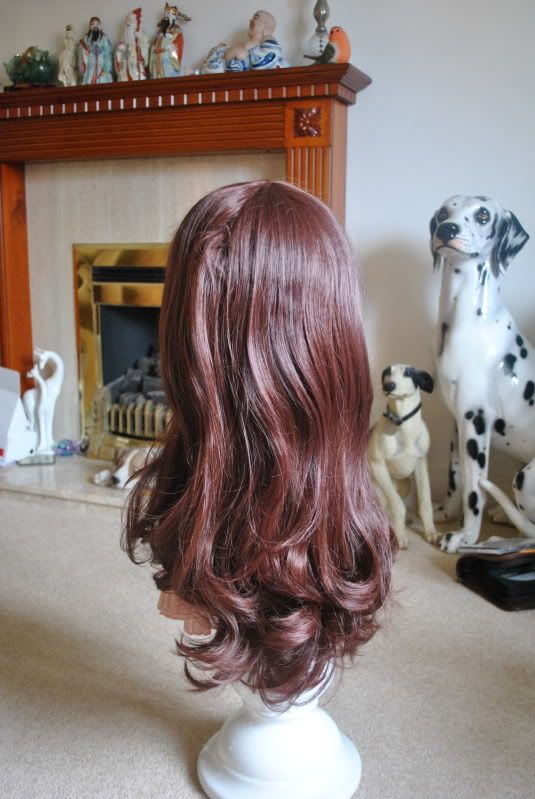 As you can see, the curls/waves are not as good as in the stock photo so the overall wig is much flatter and straighter. Lolita Wigs confirmed that it is not supposed to look like this. You may also notice a weird lump near the top of the wig.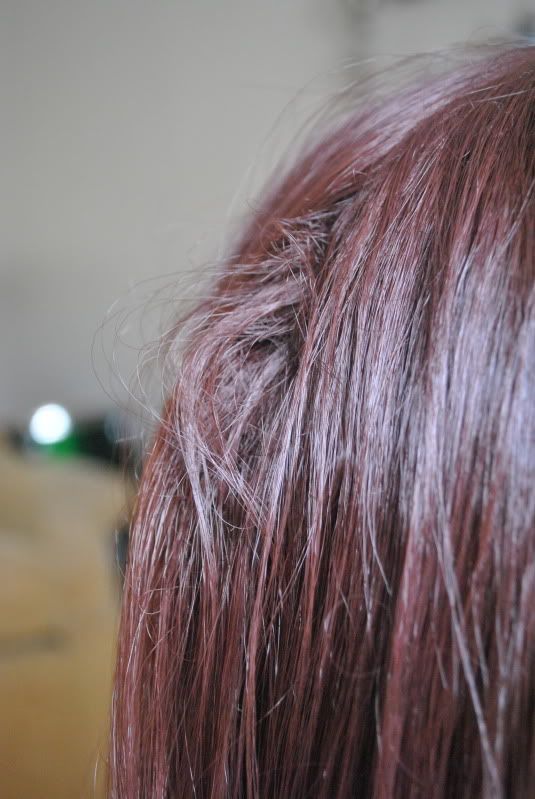 More pictures of the knot: Here and Here
This is a close up of the weird lump. On their wigs, they have very short hair covering the netting to help prevent it showing through. On this particular wig though, the short hair seemed to be in a huge knot with some of the longer hair and I could not get it to lie flat. I didn't brush it out before I took these photos as I wanted to show it how it had arrived, but I tried later and I couldn't sort it at all. I later fixed this knot by cutting it out and using the hair that had fallen out to weft over the gap.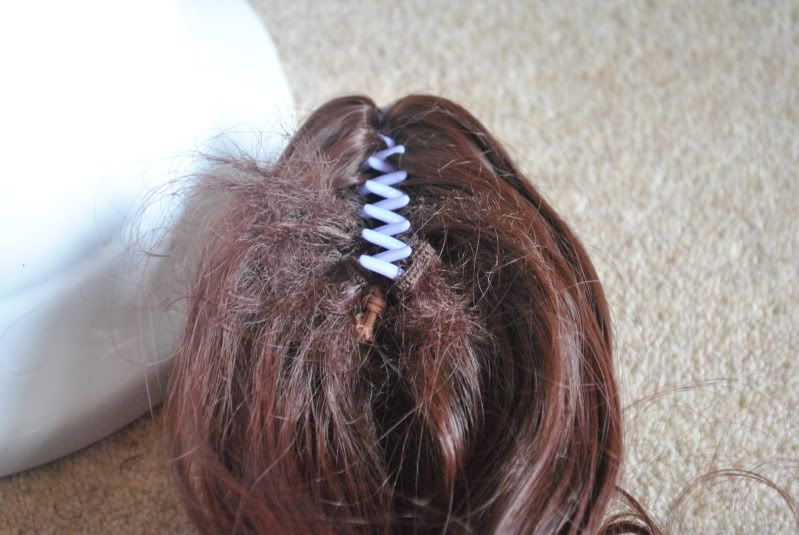 The short hair on the clip on ponytails was also a problem. It stuck out in such a way that it showed when clipped on: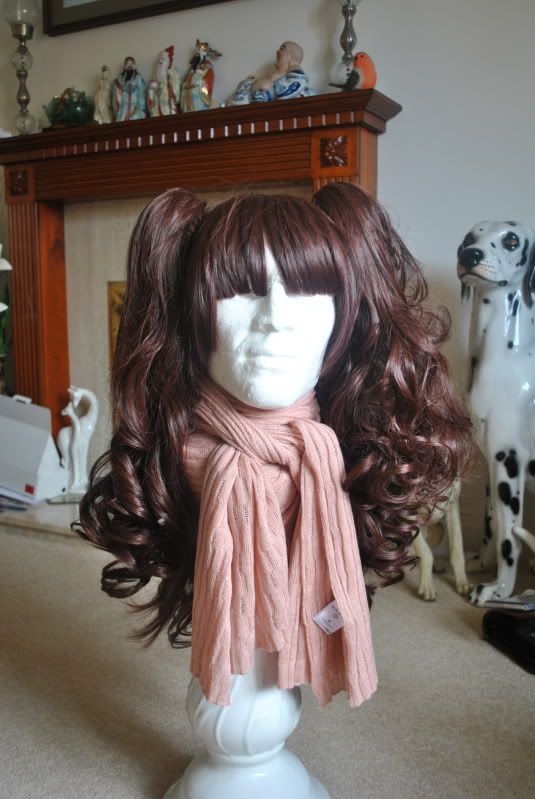 And finally, the falls when clipped on. One of them was very stringy and frizzy while the other was flatter and nicely curled. I've since had to reset them.

After I sent the photos to them, they agreed to send out a replacement wig. I recieved this message on 15th March. They allowed me to keep this one so I fixed it up. They also allowed me to change my order to a different wig, so I wanted to go with a chocolatte since this bad wig had kind of disappointed me so much. They asked me if I would go for a 2G Chocolatte and I agreed.

At this point I was very happy with their customer service and was really pleased with how it was getting handled. I understand that sometimes things like this happen and they were working it out and had such good communication that I wasn't worried at all. However, I had not heard from them about my replacement wig for some time, so on 8th May I decided to contact them. I understood that they had had some delays, but I had not recieved any messages from them and they had only made one post about it on their facebook page so I wanted to know what was happening with my order.

My message on 8th May:
"Hello,

I'm sorry to have to send you a message again, however I am getting a bit worried about my replacement wig. It has now been nearly 4 weeks since our last contact, and I am starting to feel like you have forgotten about it.

I'm aware that you are very busy and that there has been delays with shipments, however it seems as though shipping dates have been constantly pushed back. If you are so busy, it seems strange to bring in even more new wigs with even more pre-orders and shipments. I was considering buying the long curly split brown/blonde, but decided against it due to the fact that I still haven't had my replacement wig from you.

Initially I was very pleased with your customer service, but now I am wondering if it is ever going to get sorted as I have been left in the dark for so long. If I don't hear back from you, I will likely be leaving bad feedback."

They replied quickly on 9th May:
"Hi Hester,

We apologize for the delay in shipment, we can definitely get it shipped out to you tomorrow. We can't choose which wigs come in first, so if a wig arrives, we present it. If you want the Long Curly Split, we can ship them together since it doesn't come with ponytails and can actually be packed together."

and then they sent out a second message on 10th May:
"Hester,

This is the 2nd time you have threatened to leave bad feedback, while we have gone out of our way to please you. We even let you keep the first wig without sending it back, and offered to upgrade your replacement to our blended series. We have over 2000 delayed pre-orders and are really backed up right now with a constant stream of messages and emails. The chocolattes were just shipped out last week, and we didn't ship yours out because we have you in the CL 2G file. We now have time to ask all those in that file to switch over to 1G because we the 2G didn't meet our standards. Please understand that we didn't forget you, it's just this delay has really put a strain on our operations.

Please let us know what you'd like as a replacement. Would the 1G be OK?"

I was a little shocked by their response. I can understand being stressed by being overwhelmed by orders but I was not aware of the problems with the 2G wig as there had been no communication, not even on their facebook page. The other part that bothered me was that they were rude in the second message, not the first.

I replied right away:
"Hello,

I am confused as to why you have replied to my message twice with two completely different messages. I don't appreciate the rude and aggressive tone of your second message though. I am not threatening you, I am just letting you know that is my intention, as I don't want to leave bad feedback without a good reason. I want to talk over the problems and see if we can sort it out. I was planning on leaving good feedback once the transaction was completed, however it's quickly feeling as though you are not interested in your customers' concerns. I understand that you have a lot of orders to deal with and that there have been delays in the shipment, however it is unfair to customers to be left in the dark. We do not know what is happening behind the scenes so just keeping quiet is obviously going to make people worry. This is the first I have heard about the quality issue with the 2G. Please understand that the Lolita community has had more than its share of scammers and problematic companies so when money is involved, it becomes a little more serious. I'm not saying that your company is a scammer/problem company, however people are going to be cautious when there are as many delays as there have been.

It's also a cause for concern that you are able to design and promote new wigs, special commissions, photoshoots and competitions, however you can't find time to send a message to customers waiting.

When I originally bought a wig from you, I did not expect it to arrive tangled/frizzy, already loosing the curls and falling apart. I wasn't looking for a wig project, I was looking for a wig I could wear without too much work.

At this point I'm just getting a bit fed up of waiting and not knowing, so please let me know what you actually have in stock so I can pick a replacement from that."

They responded on the same day very quickly:
"Two messages were sent because we realized that the reason you seemed to be overlooked was that you were in the CL 2G file. We were not taking an aggressive tone with you and apologize if it came out as such. That was not our intention. We were just bewildered by your threats of bad reviews when we are really trying to make things right with you.

We release new wigs as they arrive because we use 5 different factories to keep up with our demand, and not all wigs arrive according to the schedule we hope."

I recieved my replacement wig earlier this week. The packaging was a little bit battered and the top was opened a little bit:
Photo 1
Photo 2
Photo 3
Photo 4
While the damage was obviously done during transit and is down to the postage company, I wish it had been packaged better. The wig inside is only protected by the plastic bag so any moisture would get in (the plastic bag does have holes in it, like all wig bags) any if anything sharp had caught then it could have gone through the bag and damaged the wig. However this feels a bit like nitpicking as the wig did arrive in decent condition.

Edit: Adding in photos of the replacement wig. It's a lot thinner than in the stock photo, and I have been informed by a friend that their wigs have been getting thinner. I am disappointed with this wig as I have seen the chocolatte in person before and it looks nothing like the one they have sent me, however I'm not sure how far I'll get by complaining yet again.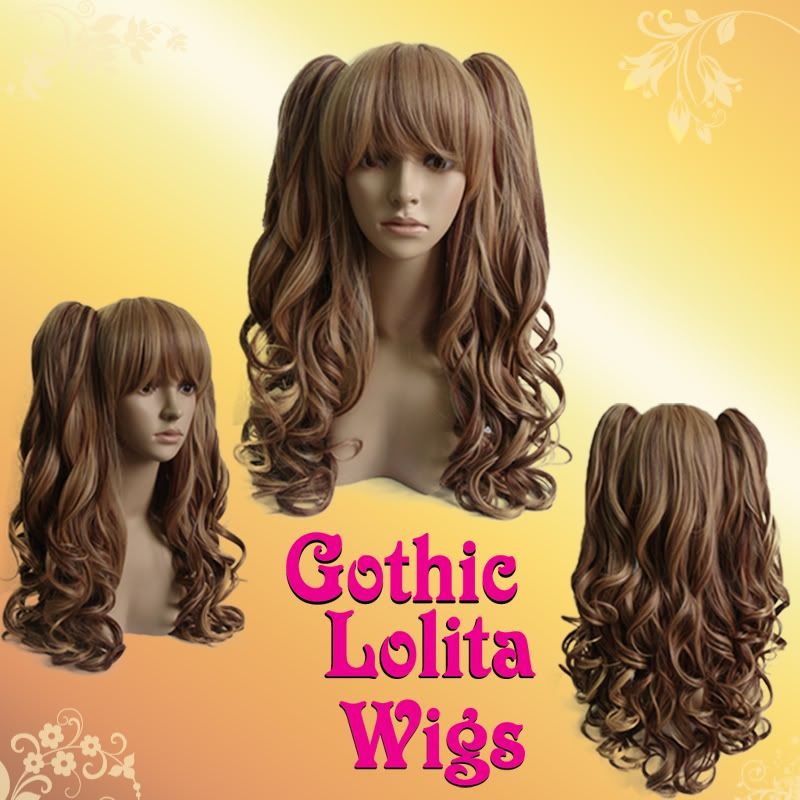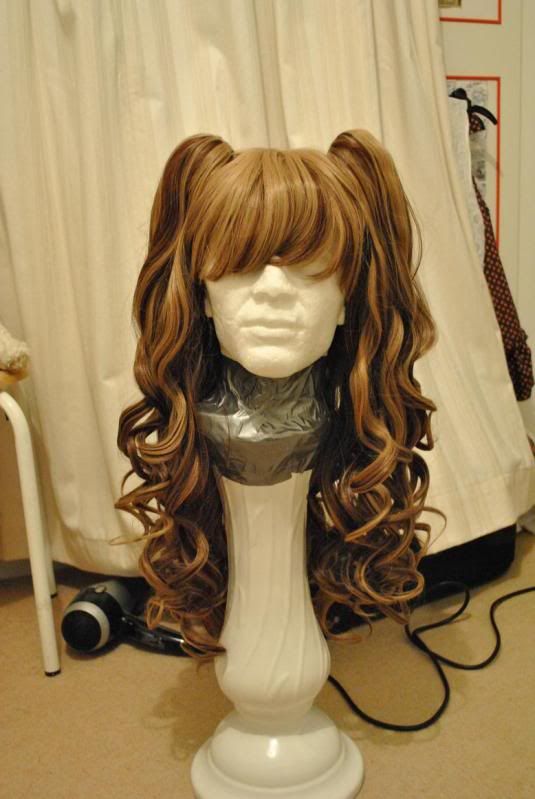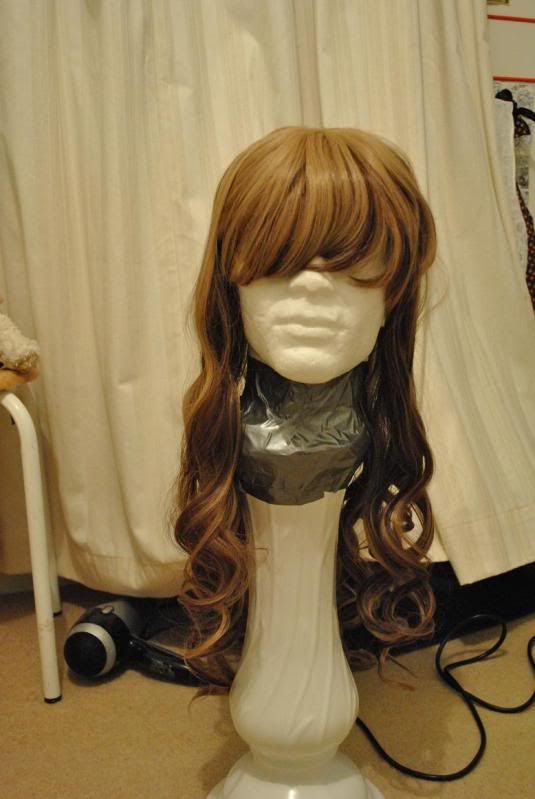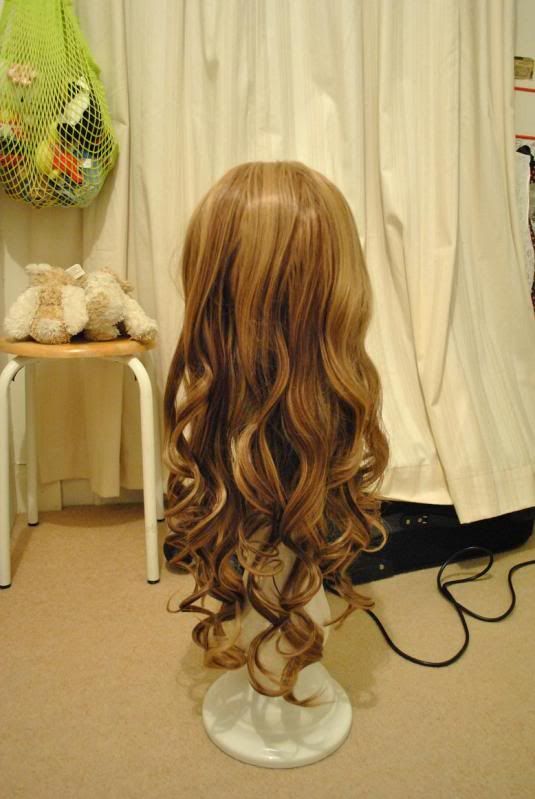 (end of edit)


Overall - 2/5
Overall I would not deal with this company again. I understand that there are delays but when you keep your customers in the dark and then expect them to know and understand about all the problems you are having, it's very unreasonable. However, the problem was eventually resolved.

Shipping times - 5/5 for the first wig, 2/5 for the second
For the first wig, shipping time was very reasonable. It arrived in under 2 weeks.
For the second wig, shipping time was a pain. It's taken over 4 weeks!

Quality - 1/5 for the first wig, 4/5 for the second
The first wig was obviously really bad quality, but the second wig is fine. However, I should mention that their wigs are NOT heat resistant! I'm not sure if some of them are and some of them aren't, but the one I bought said it was and honestly, my non-heat resistant wig can take higher temperatures.

Customer service - 2/5
They were friendly and helpful at first but then they stopped communicating and they were rather rude.