HEY EGL!
So sorry about the caps. LOL. Too excited. XD Would have posted the review earlier but LJ was giving me some weird "banned IP" message. Which I'm suspecting is some sort of hacker scam thingy. No LJ mascot, spelling and grammar errors, fairly blank page, one or two lines of text, WHUT?
Okay, back to the point.
GYAAAAAA! My Taobao package is here!
I ordered roughly around the end of February and received it last Thursday (7 Mar). It would have been earlier if it wasn't for Dream of Lolita. Which caused my package to be held for about a few weeks to a month because of the dresses. As with my previous orders, I used
SpreeSpree
for my order. Doris has been quite efficient in helping me with my purchases.
I ordered:
LOLITA
All from Dream of Lolita (DoL)
- Sugary Carnival JSK replica (LAVENDER, size M)
- IW Merry-Go-Around JSK replica (Brown, size M)
- White Petticoat
NON-LOLITA (you can ignore this)
- 2 2NE1 hoodies, 1 2NE1 tee and one wine-coloured tulle dress
THE PACKAGE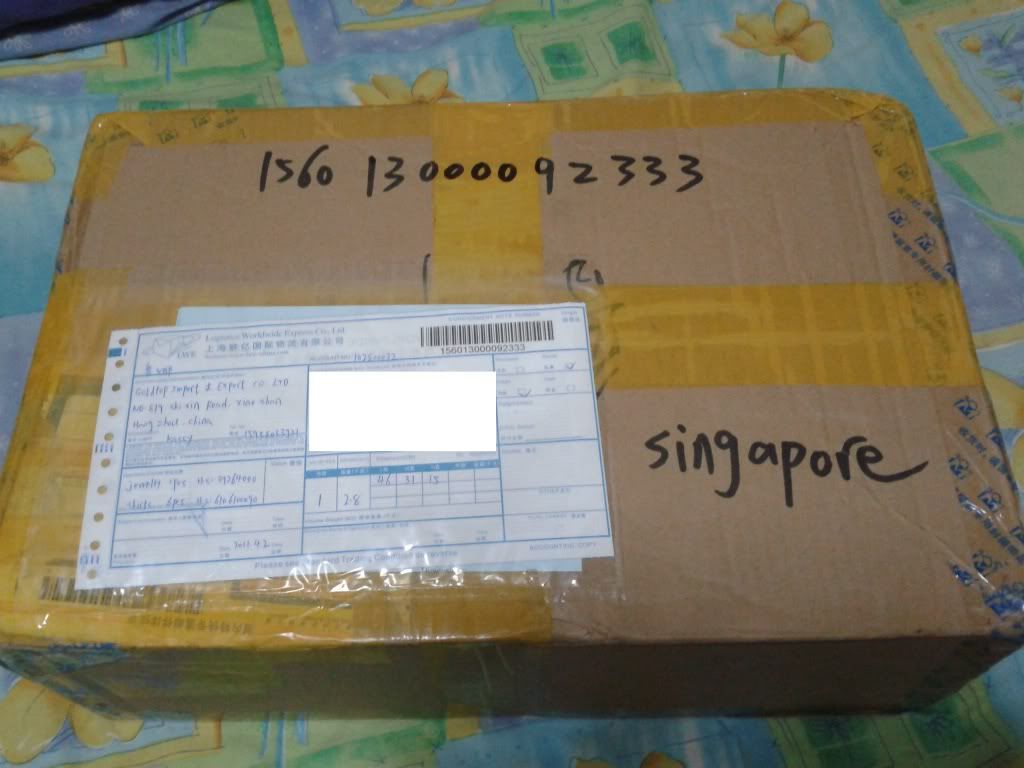 It's quite sturdy, no holes, rips or anything. In fact, I thought it was quite small for all the items I had ordered. But it was all there, and packed neatly.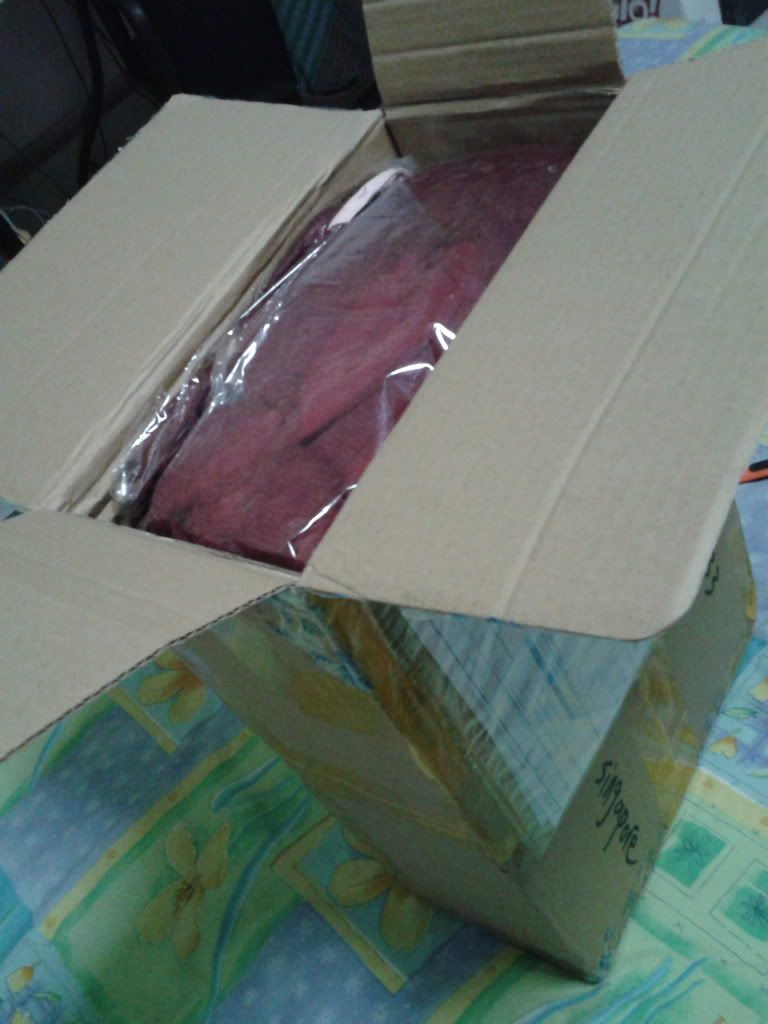 OPEN SESAME!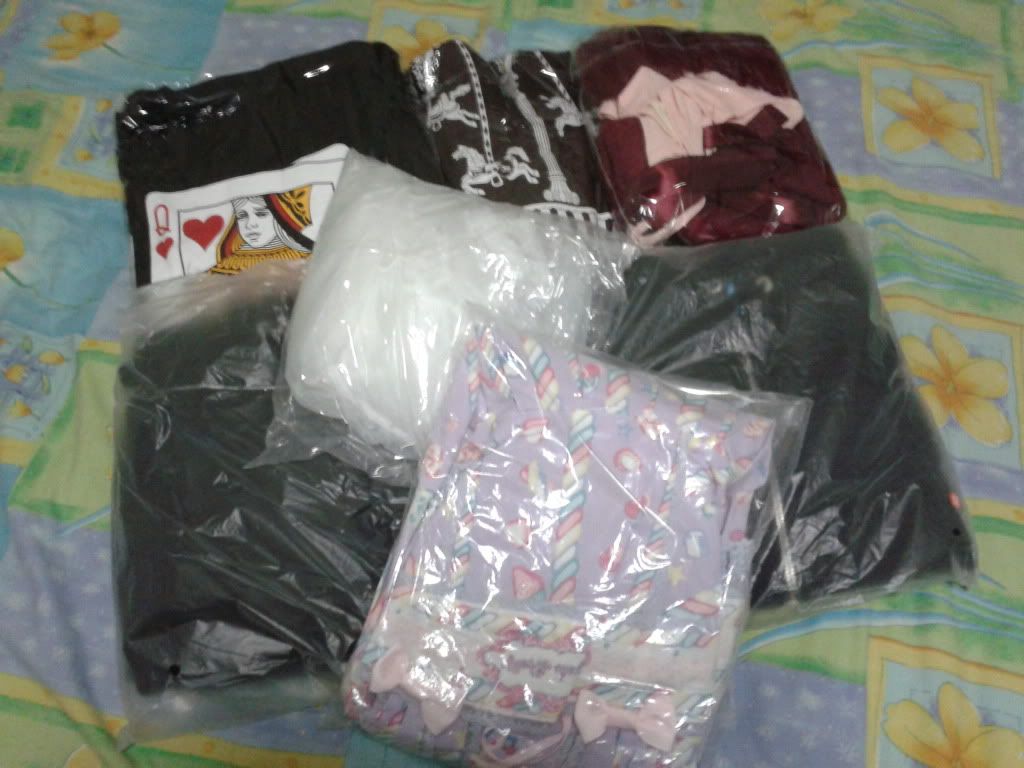 All my stuff. Plus the unrelated non-loli ones. haha.
On to the BEST PART!
you ready?
.......
.....
...
GO!
SUGARY CARNIVAL JSK REPLICA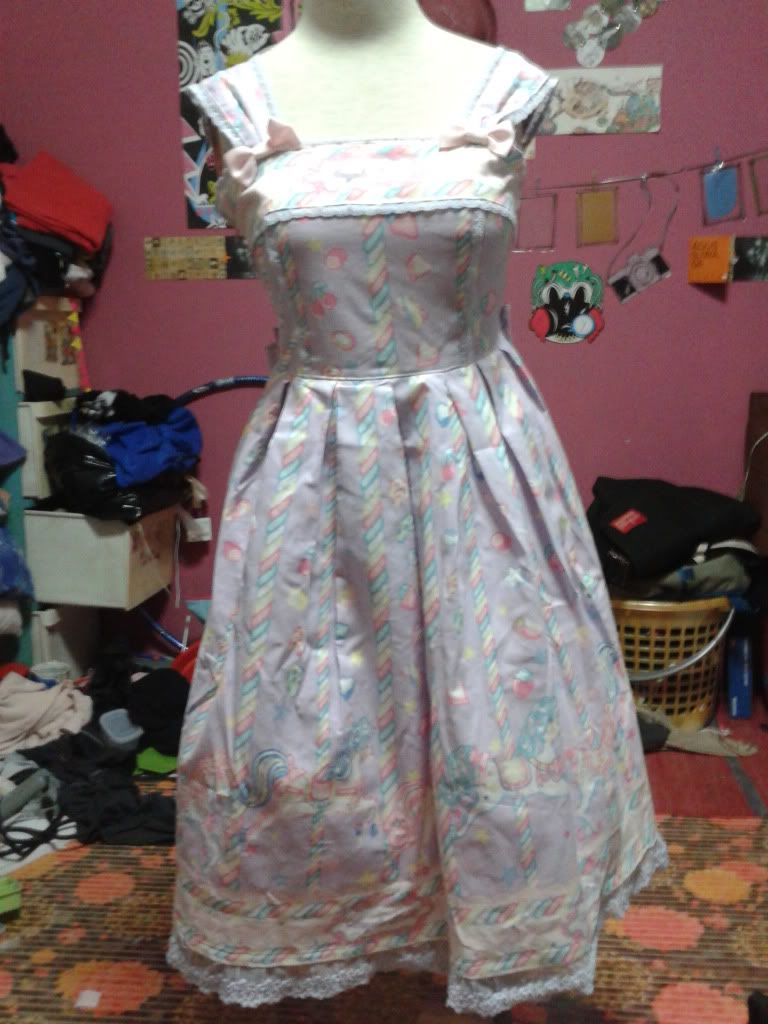 I had debated on getting this, and if so, whether I would get the black or lavender version. I don't really do Pastels or Sweet Loli, but the Lavender was just
calling out to me...
plus it was on promotion in the first few days of release. LOL. Deal-breaker.
I might just be a Sweet Loli convert after this... XD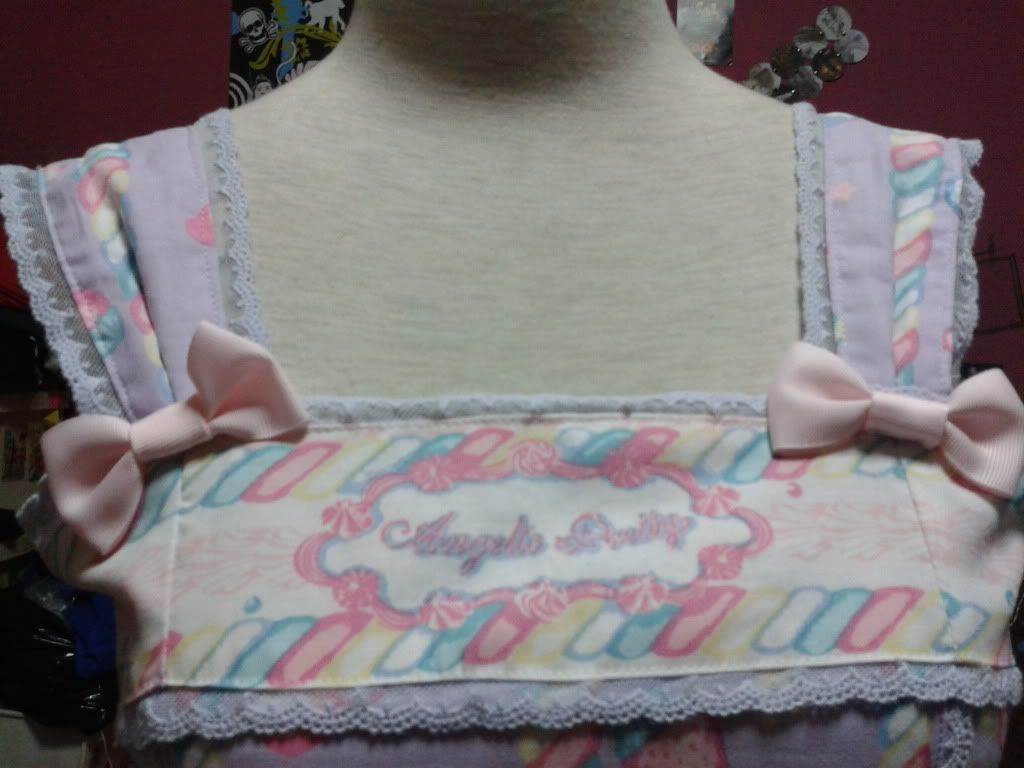 Close up of the bust area and straps.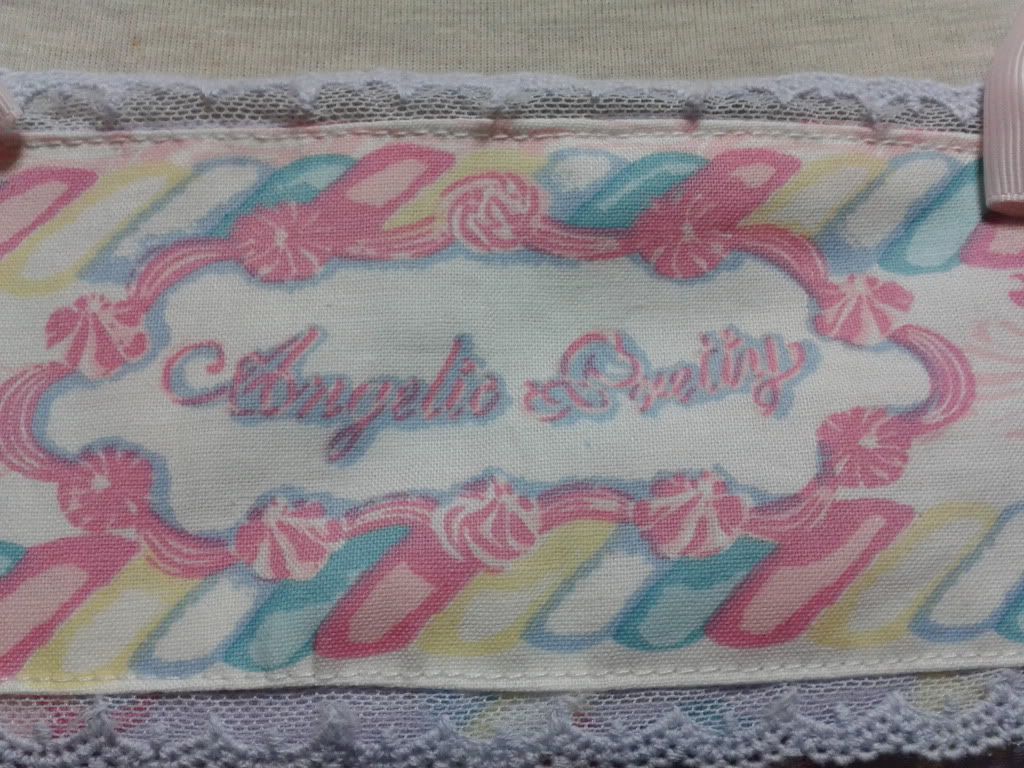 Close up of the "Angelic Pretty logo".
I am having mixed reactions to this. But hey, it's a replica and its DoL. What do you expect?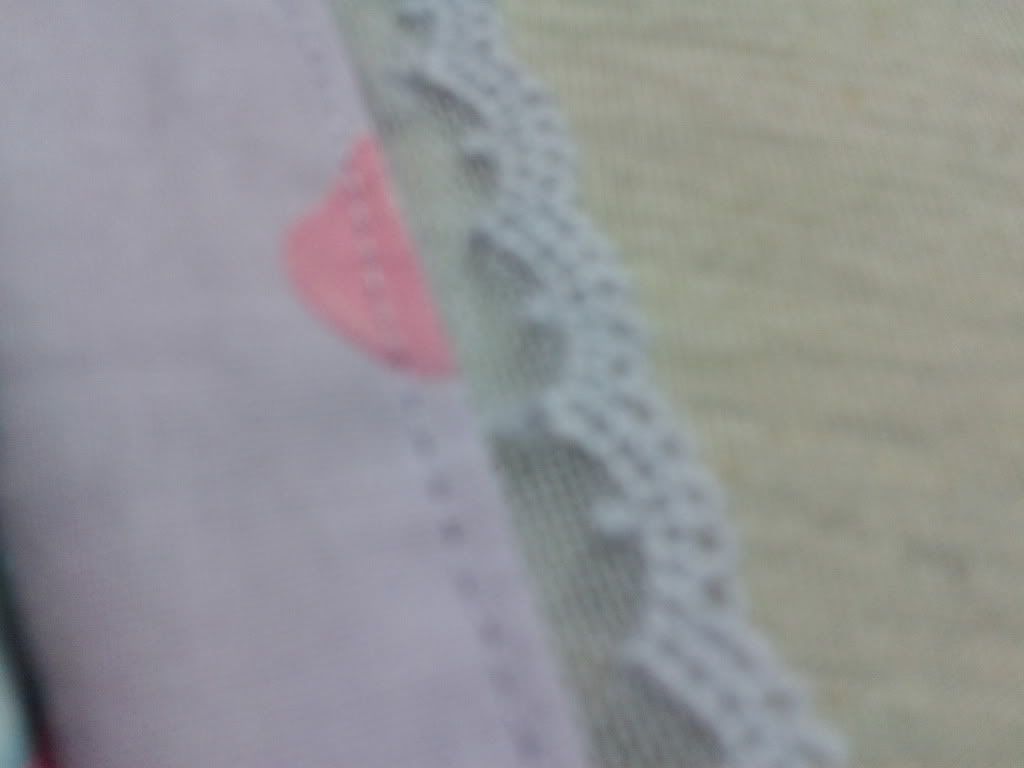 The lace they used is not bad. I think it's synthetic lace but it's not the scratchy kind, thank God.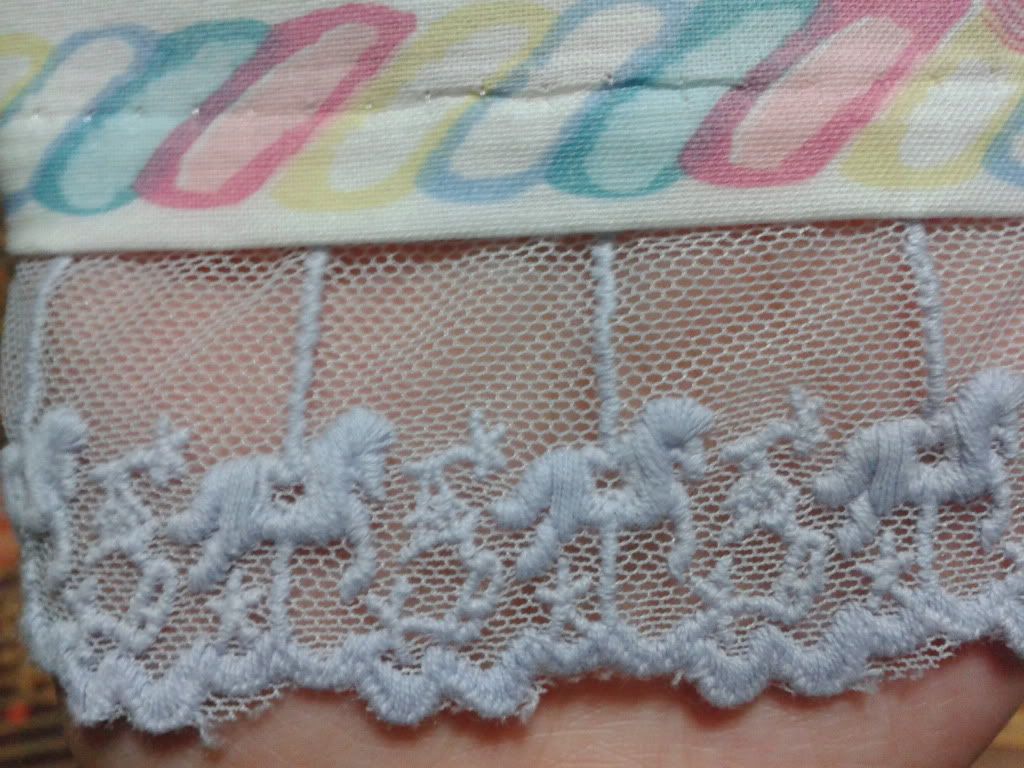 Same goes for the hem. But with Carousel Ponies! So cute! But some ponies I noticed got chubbier on some parts. (Thread problem? Rush?) But LOL.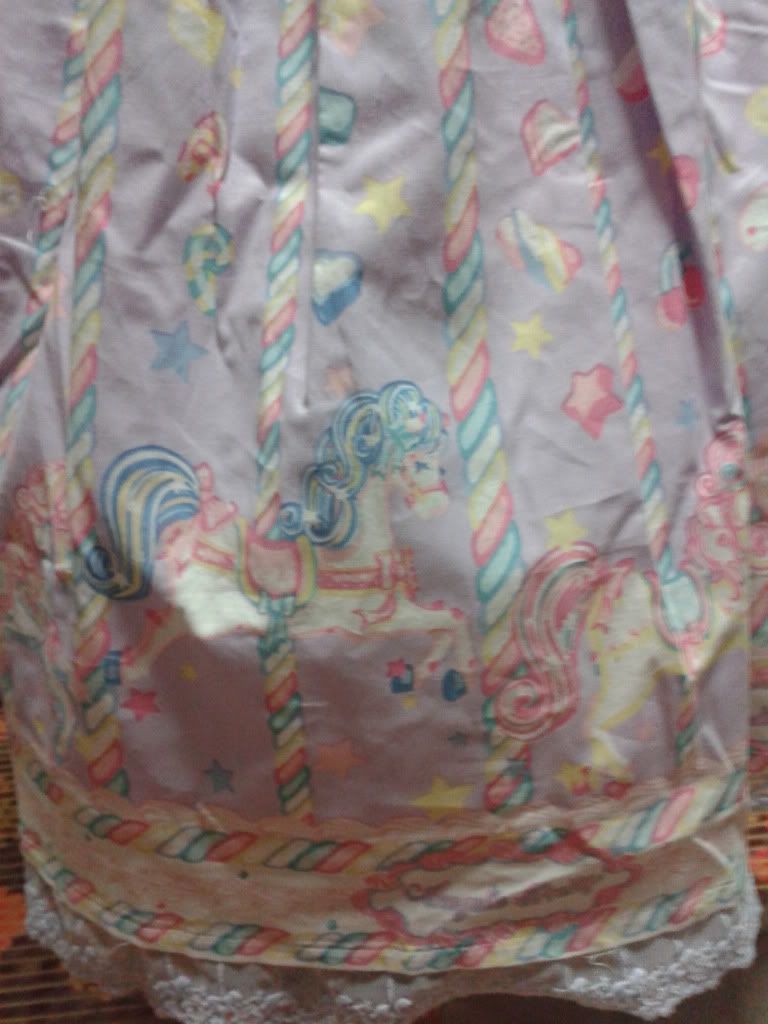 The print is gorgeous. Considering it's DoL and the fact that they sometimes tend to make their replicas funky. The fabric they used is quite good, not too thick, but not so light that it so see through. Not sure how it would fare when washed.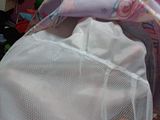 It has an thin inner lining/petti thing. But does nothing poof-wise.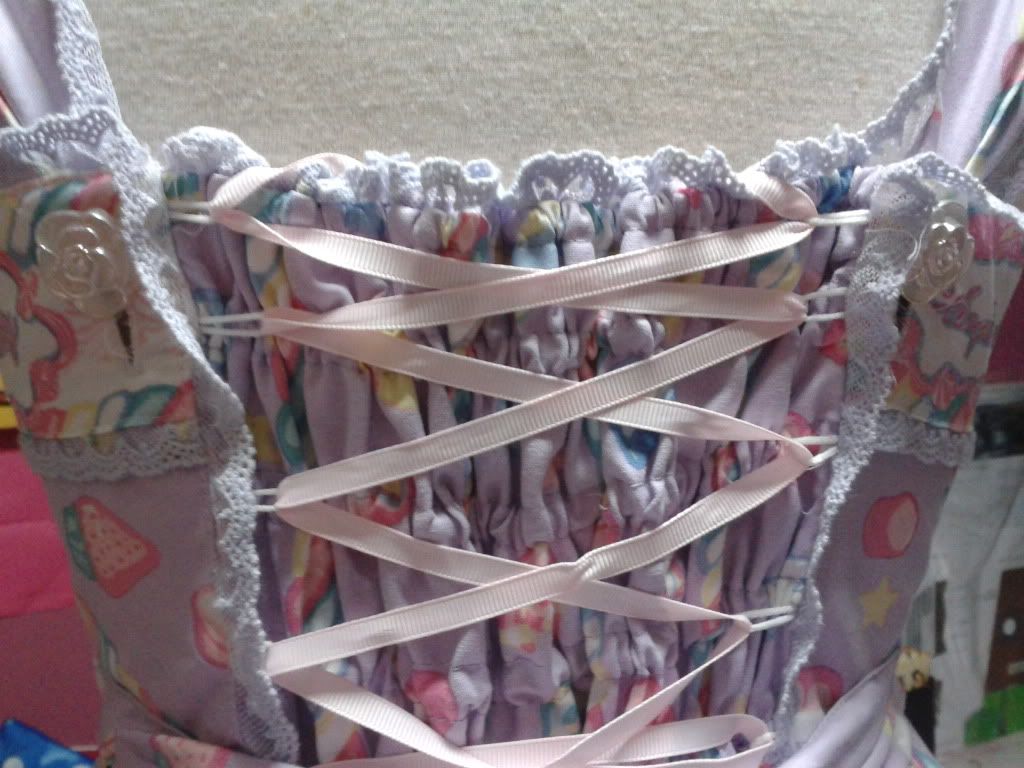 Shirring and corset lacing at the back. The loops might not hold for extreme pull I think. This JSK is slightly larger than me (damn I should have ordered S) so I have to lace it tighter than the normal. Which causes the shirring to bunch and the loops to pull. And the back part will start to look quite ugly.
Oh, I forgot to mention that the JSK straps can be detached also. But only at the back part near the shirring. I guess so you can adjust the length?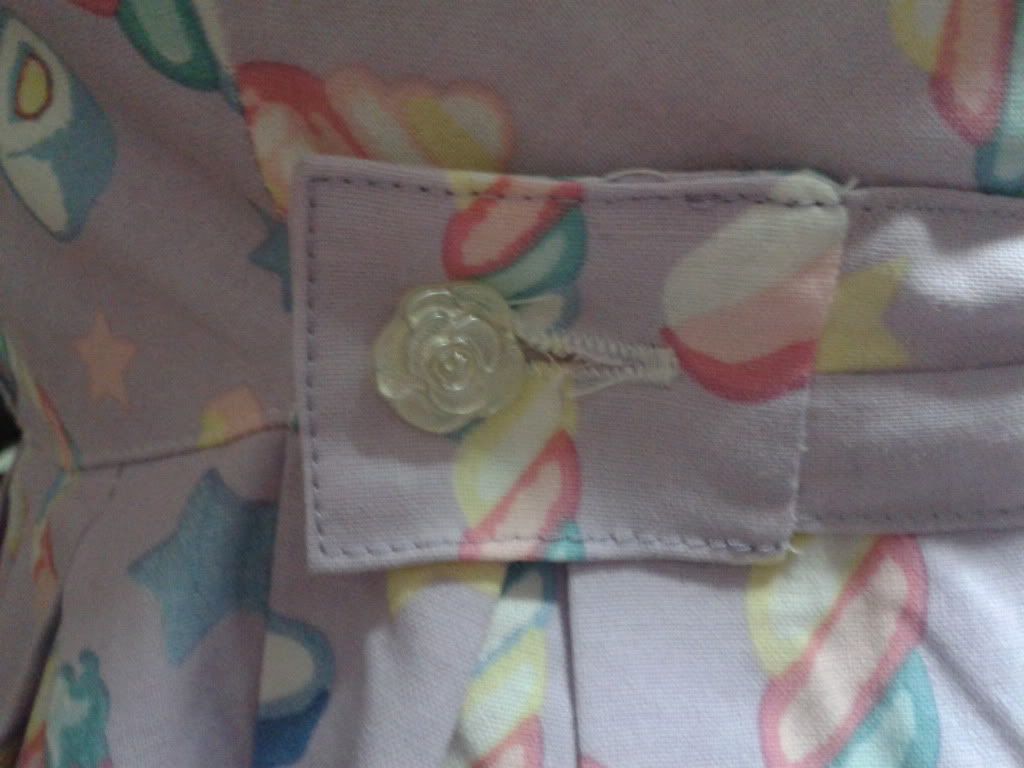 The button loop for the detachable waist ties. Same as the JSK straps.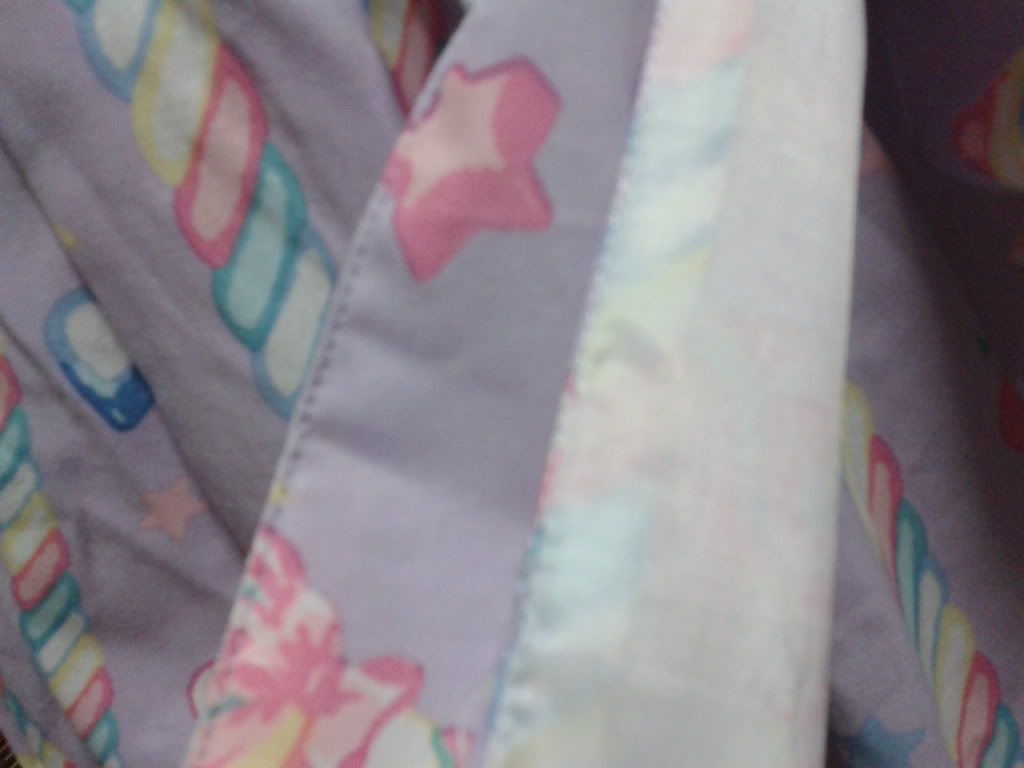 The bad thing about the waist ties is that it is only one-sided so tying it can cause problems when the lining shows. The lining is an extra layer and not the back of the fabric itself. But it feels like those synthetic lining.
What it looks like when worn. I think I'm wearing 2 not so poofy pettis here, I honestly can't remember. But this JSK is definitely, DEFINITELY long on me. Reaches my knees and covers them. And I'm around 158 - 160cm for reference.
So taller lolis will rejoice!
And you can wear your poofiest petti cos for me there's ALOT of room in the skirt. Not so sure if it's because of the size difference (as in I might have suited an S better).
Overall, I think it is a good filler or substitute if you need something you can run around in and not worry about KILLING your dress. LOL.
IW MERRY-GO-AROUND REPLICA
I'm not gonna go in-depth on this since someone already did a review (Which I used to help me decide to get this one! LOL)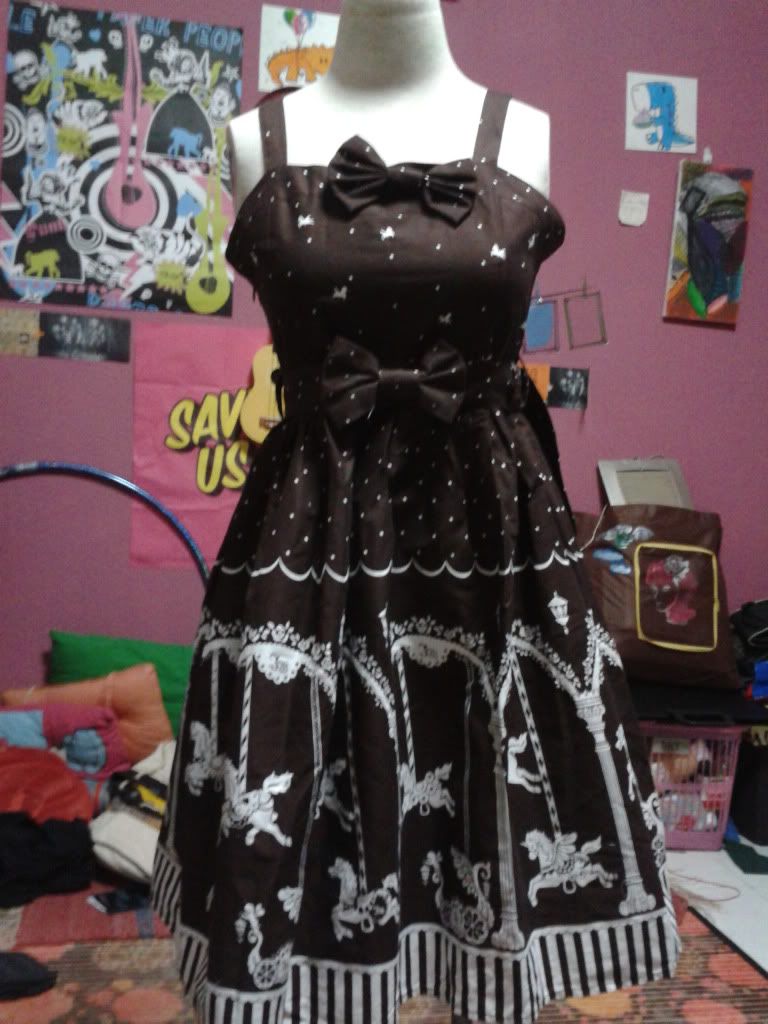 I fell in love in this dress and wanted to get it from the start, but upon hearing of the SC replica, I decided to wait. Was actually set upon not waiting since I wasn't that into pastels. But I sort of fell in love with it after they released the teaser pics. LAVENDER LUST.
I have a thing for red stuff, most of the stuff in my loli wardrobe are somehow red. Somehow I got the message that red might not be the best addition into my red phase. But this looks awesome! In fact, I rather prefer this over the SC replica. The fabric seems more "heavier"? Um, more quality-like feeling? More cozy. I always had a thing for the classics.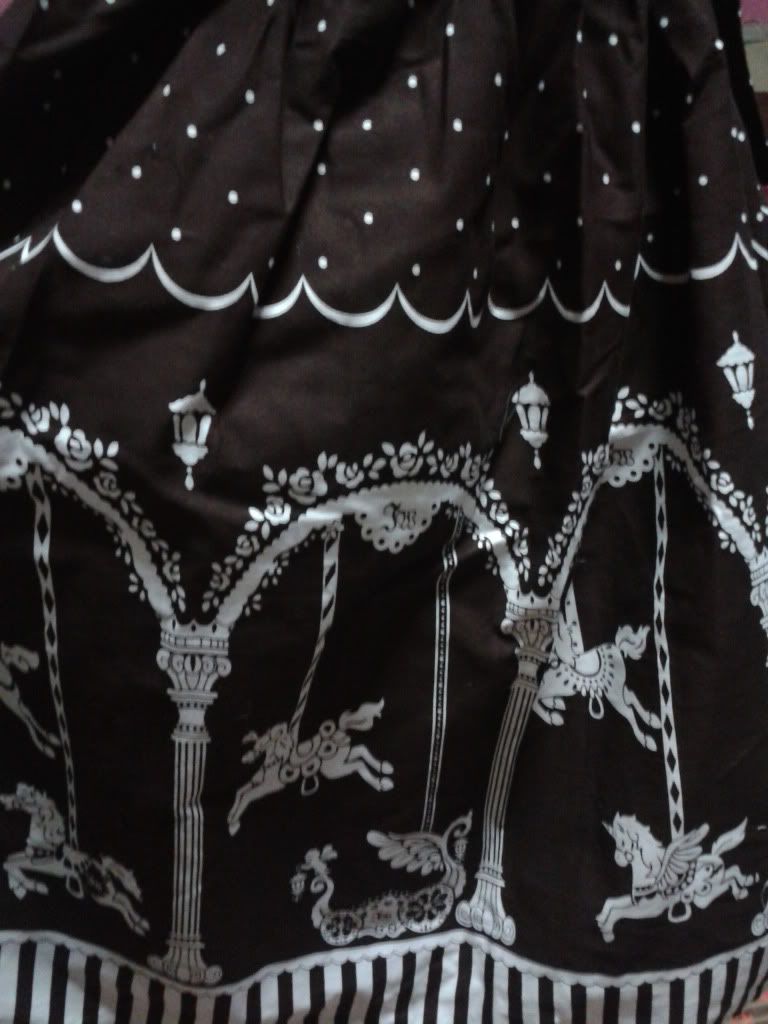 Close up of the print.
Anyways, hope you enjoyed my mini-review. I didn't really want to dress up and take pics so I just used my wonky mannequin as a substitute. But if you need worn pics or any questions, please feel free to comment.
BONUS (off-topic) PIC!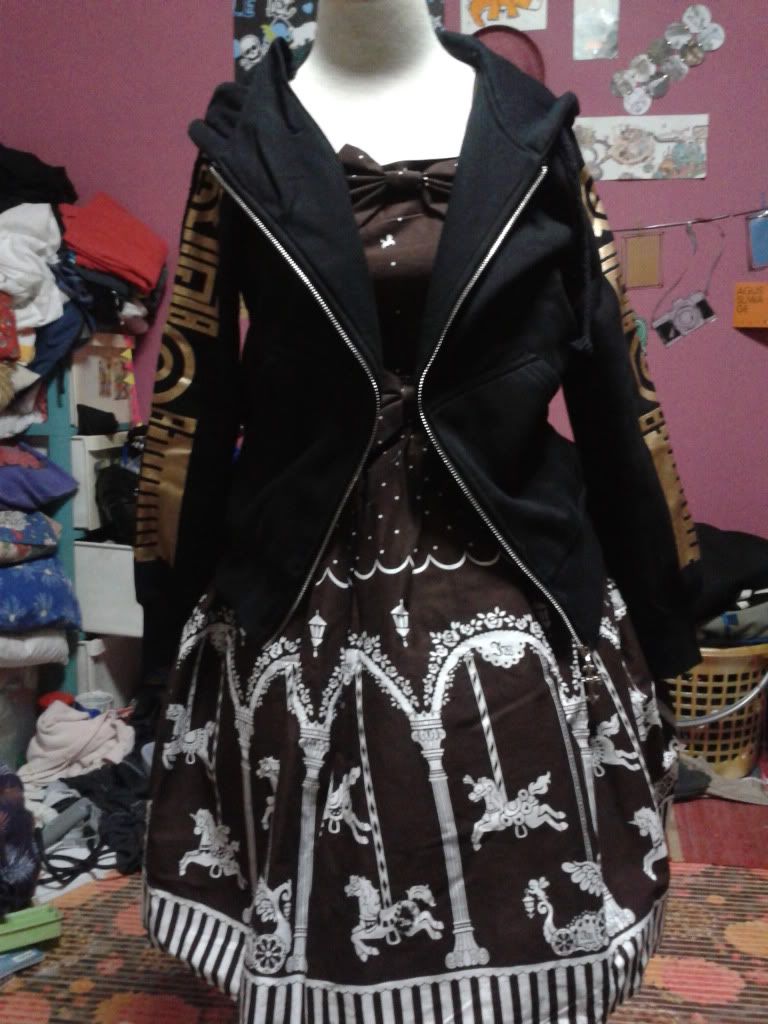 My mannequin wearing the IW replica and one of my Team 2NE1 hoodies.
This was actually the wrong design that they sent me but I sorta grew to love it. XD