I haven't joined in the monthly theme post in forever!




First off... here is me in just every day clothes no make up just bumming around the house.





So first I do my hair and makeup (also I had no idea i was making such a :3 face hehe):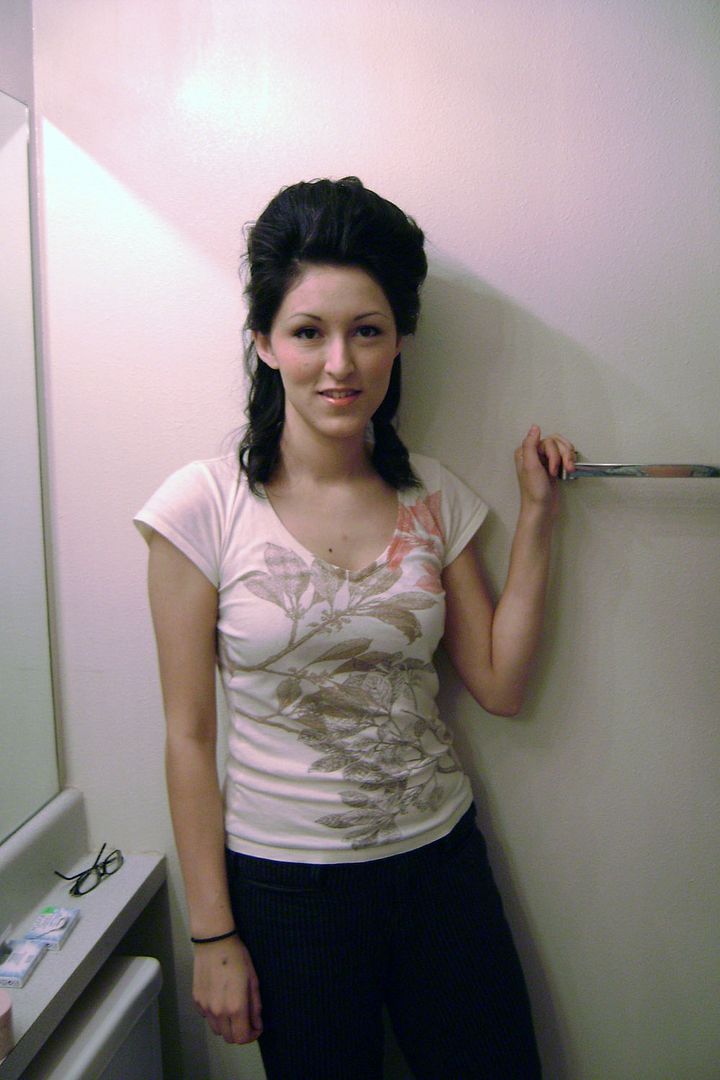 I use a solid concealer (either ben nye or right now it is covergirl), then liquid foundation (covergirl). I then put on my powder Nars rouge (in orgasm), then use a loose transparent powder to set everything (elizabeth arden). I then do my eyes... first close lining them with a solid black liner (lancome). Then I sweep on some light bronze shadow over my lid (the 3 colour pack is from wet n' wild), then use a wet angled brush to apply a dark sparkley black/brown shadow as liner on my upper lid and about 1/4 of the way in from the outer corner on my bottom lid. Then I put on my korean fake lashes and then use my same angled brush with a little more dark shadow to fill in my brows. Add a little dior lipgloss and viola! I like a more natural look and try really hard not to over do it :)






My hair isn't too complex either. I have a giant rat i've made out of some cheap fake hair they use for micro braids, that is the main foundation of my epic poof. I make a small bun at the top of my head and bobby pin my rat to it, leaving most of my hair down so i can comb it over the rat. I then start at the front of my head and comb my hair back over my rat and pin it to it with hair pins and a few bobby pins and LOTS of hair spray, then I have a friend help me do the same to the back, leaving enough down to make sausage curls out of :)





And here I am finally all dressed up!!!




Thank you for looking :D