There aren't any reviews for Stocking Shock that I could find and I just received my order from them and thought I'd post a review. Hopefully it will be of help to someone.

Stocking Shock is a UK-based Lolita web shoppe selling clothes (including skirts, blouses and dresses) and accessories (headwear, jewellery, etc). They can ship internationally.

I thought I'd order some stuff since the prices were reasonable and it was more convenient than ordering from overseas (I'm based in the UK, you see).



The first thing to note is that ordering works differently for accessories and clothing. For accessories you simply choose the colours for the fabric and lace, etc and then add to the cart (powered by paypal). For clothing, you need to send an order form with details about your fabric, lace, measurements, etc. Since I only ordered accessories, I just used the cart.

I ordered the Lace cameo brooch with black lace, the Toybox Bow with black fabric/black lace and the Alice pigtails (which come as a pair) with black fabric/black lace.

My total was:
£5 (cameo brooch)
£7 (toybox bow)
£6 (alice pigtails)
£3 postage
= £21

I placed my order on the 20th November and the parcel was sent out to me via Royal Mail 1st class Recorded on the 1st December. I got tracking info sent to me as well which was helpful.

The parcel actually arrived the next day (on the 2nd) but I missed the postman and had to arrange a redelivery (because they took it to a depot 5 miles away >_>) which took a few days. So I got the parcel today (the 6th).

It was a bit of a wait for the items to be made but I'm not bothered about this and it does say on the site that it can take up to 3-4 weeks due to different factors such as the number of orders, etc.

With all that said, here are the photos:

The items were wrapped in a clear bag and very well packaged inside an envelope (it took me a while to get into it actually). Unfortunately I don't have a photo of the parcel unopened but below is a picture of the envelope and the items in the wrapper.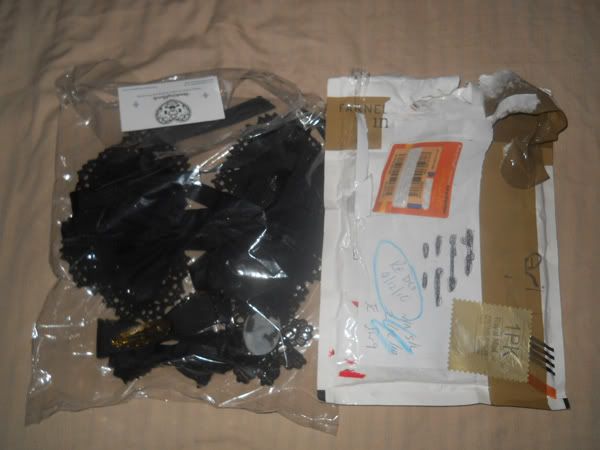 As you can kind of see, there's a business card included with the items. On the back, the items were written, along with a thank you.

The cameo brooch: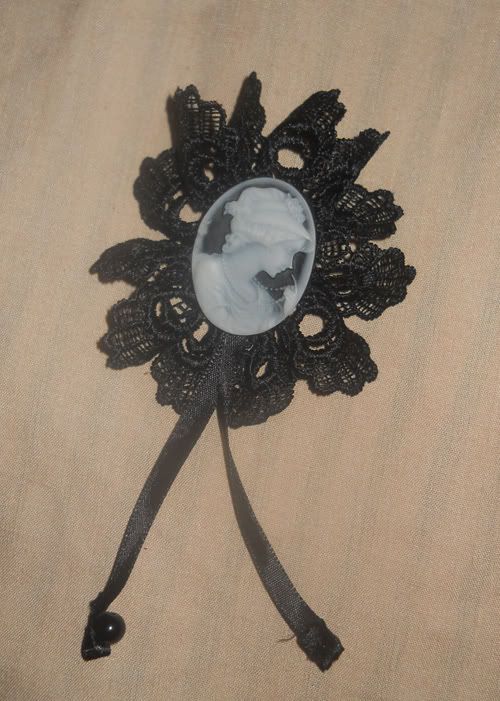 This is made with really nice Guipure lace gathered around the cameo which is attached to a safety pin. The cameo is made out of plastic and is a sort of grey-blue colour. Everything is securely attached together. Both of the dangly bits have a bead on them, just one flipped over, lol. There appears to be a tiny little bit of thread sticking out but this isn't problematic and can just be snipped off.

The toybox bow: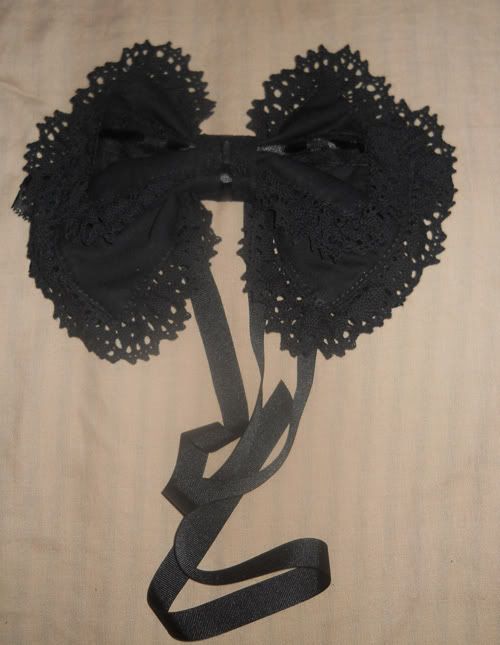 Again, good quality lace (Cluny & Raschel beading lace) and very sturdy. No idea if interfacing was used or if it's just the fabric is nice and thick by itself. It certainly isn't floppy, either way. It fastens with a ribbon (which I belive is Grosgrain) which again is securely attached. No loose threads.

Closeup of the lace: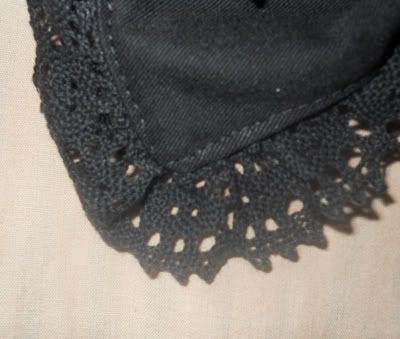 The alice pigtail bows (front and back view):




These are a bit floppier because they're made out of ribbon. This isn't a problem though since they're only small. Again, good lace (although different to the stock picture. Actually come to think of it, I think they're all like that) and Grosgrain ribbon. They fasten with clips, which again are attached securely. The clips are a gold colour which I dislike but this is just being nitpicky since you'll hardly see it when the bows are in anyway.

Closeup of lace: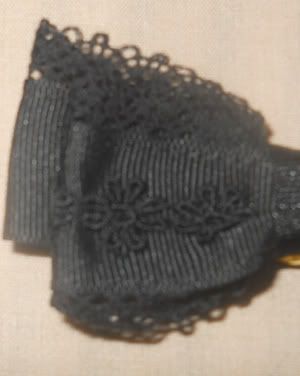 ----

Overall, the quality of everything is good. It's all well constructed and very good for the price. I'd definitely buy from Stocking Shock again :) I'll give them an overall score of 5/5.

For those who are wondering what the quality of the clothing items is like, I won some auctions on eBay for a couple of handmade skirts and I didn't realise until later that the seller for them was the same person from Stocking Shock (peacockalorum is the name of the seller).

I'm pretty sure the skirts would have been made by her (not 100% sure on that though) If so, the quality for the skirts is really good, both constructed really well, finished (serged) nicely and with good fabric/lace. This could be an indication of what the clothing quality is like on SS. I can provide pictures of the skirts if anyone requests them.


I hope that's helped someone out there who may have considered ordering but were unsure. If anyone needs any more info, let me know and I'll try my best to answer. Thanks for reading :)

---

EDIT: Skirt photos as requested.

I forgot to mention earlier that one of the skirts I bought was used. This means that the seller could have made the skirt for herself (in fact she could have made both for herself). Bare this in mind when you judge the quality because it may be that personal creations differ to those being sold on the site quality-wise (if there's a mistake for example, you're less inclined to be bothered if it's just going to be for yourself)

[both skirts are unlined]

First skirt (labelled as new)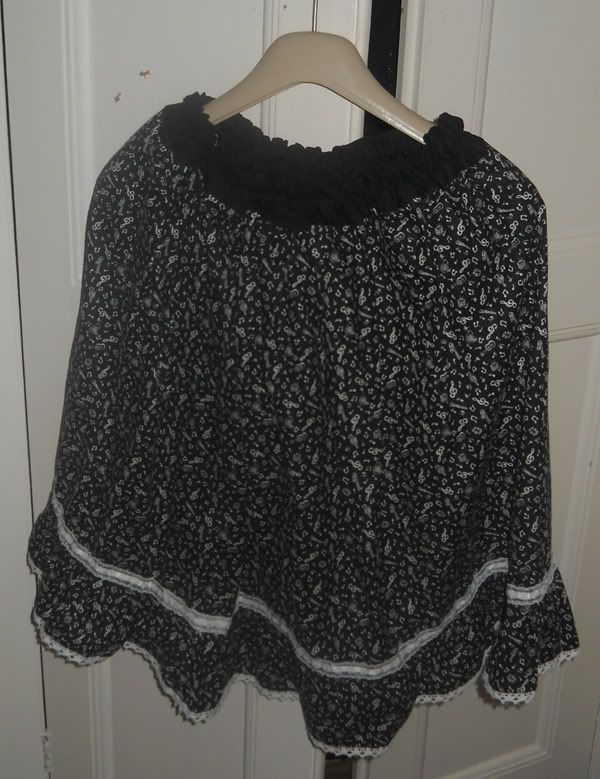 Length is 23" (I think) and made with cotton with Cluny lace (I think) on the hem. Full elastic waist.

Closeup of print and hem lace: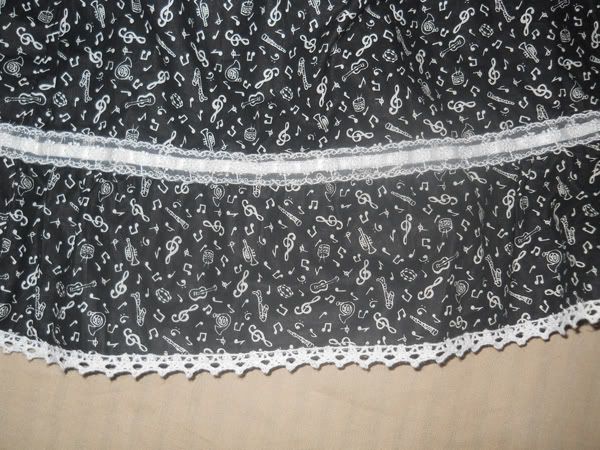 Has a ribbon sort of detail a few inches above the hem which is stitched in nicely.





There are a couple of loose threads but these can easily be snipped off. I said that the skirt was serged earlier but now I'm not too sure. I think it may just be zigzagged. I'm no seamstress though. The edges of the fabric on the seams aren't zigzagged but that's because it's the selvedge which shouldn't fray anyway. Stitching looks really wonky in this photo but that's just because the fabric isn't laying flat.

Inside stitching (mainly hem)





---

Second skirt (used one)

This one has definitely been put to good use. It's still in good condition but there are small signs of wear here and there. eBay listing said it was made from cotton (which looks right to me), same lace as the other skirt and also has a bottom ruffle from different fabric as the main body, trimmed with netting. Has a small elastic waistband, 20" long.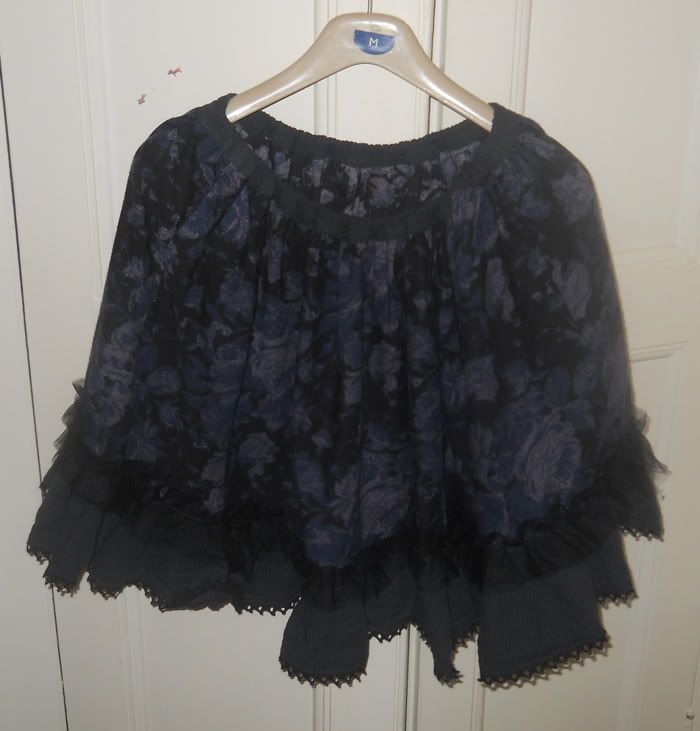 Closeup of netting: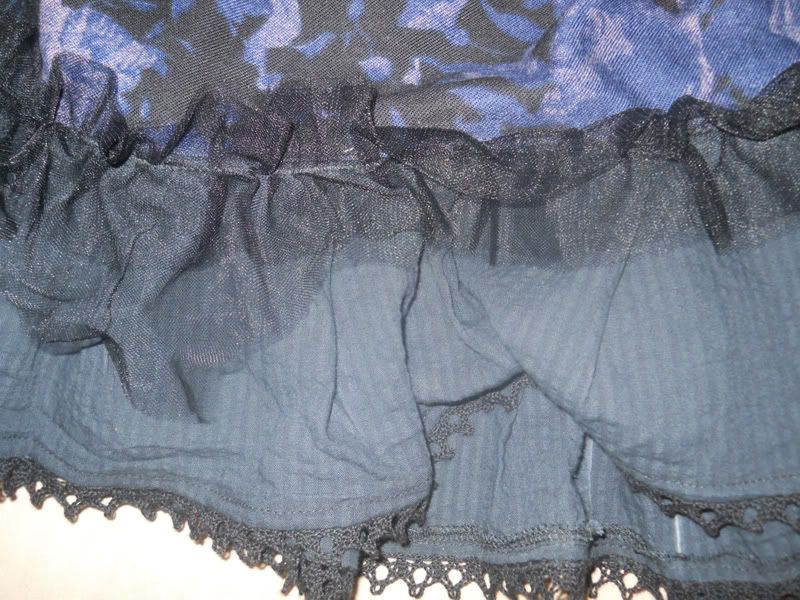 Netting hangs a bit lower than the rest in this photo. Not sure if that's a mistake or intended to give a 'messy' effect. It's not an issue for me though.

Closeup of inside: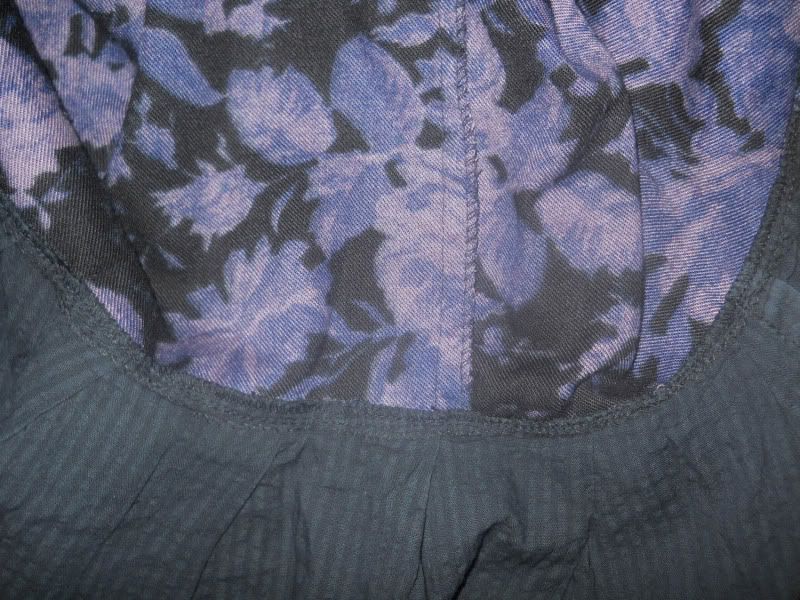 You can see some wear on the edges of the fabric which are zigzagged (the seam). This is minor though and like I said before, I think this skirt has been worn a lot.

---

Hope that helped somewhat. Sorry the photos aren't brilliant, I had to borrow my friend's camera and it's a bit funny with taking photos.