I love the easy shopping experience with this service and they answered their e-mail immediately. I thought it was wonderful that I got an even deeper discount thanks to this service. The dresses were already on sale and I thought that was a bargain.
I started the ordering process with the help of Obook purchasing services on:
Oct.21 2010 made contact with service to see how much it would cost.
Oct. 22 2010 Obook responded with an e-mail that listed what was needed for the purchase to go through and for them to order on taobao.
Oct.23 received invoice of total purchase price with shipping included and commission of obook.
Purchase price of two dresses w/shipping and any other fees.
Final price: US$107.84, including all the ,item prices, international/domestic freight, commission, and paypal charges.
Paid through Paypal Oct.23 2010
Nov.3, 2010 given a refund through the bargaining of obook to seller.
Total now: $98.78.
Nov. 3, 2010 Received tracking information for my dresses. Dresses are being shipped airmail 2-3 wks.
Nov. 17, 2010 received package in the mail~! :"D
(I asked OBOOK before I posted about them and they asked me to post this. :"D)
...
Our Services
We provide purchasing services to buy items from these platforms on behalf of our customers with a reasonable service charge: 12-15% of product price (minimum US$2.5per item).
http://www.myobook.net/
ORDER WORKFLOW
Please kindly note the workflow as follows:
(i) Buyer send the URL of the item, size and quantity of item you want.
(ii) Obook quote the price base on the list. [Quotation]
(iii) Buyer agree the quote through email.
(iv) Obook send payment instructions. [Ouotation, bidding and payment]
(v) Buyer pay the amount
(vi) Obook confirm receipt of fund. [Receipt confirmation]
(vii) Obook confirm with the seller about the size, bid the item and the seller check the warehouse.
(viii) Seller get back with the item available and the item not available.
(ix) Obook revise your list.
(x) Obook send you top up request, if required. [Status and top up]
(xi) Obook ship the goods
(xii) Obook forward you the tracking number and refund the surplus, if any. [Delivery and invoice]


And this is the package I received:
(They taped the heck out of the box, it was pretty hard to open. XD)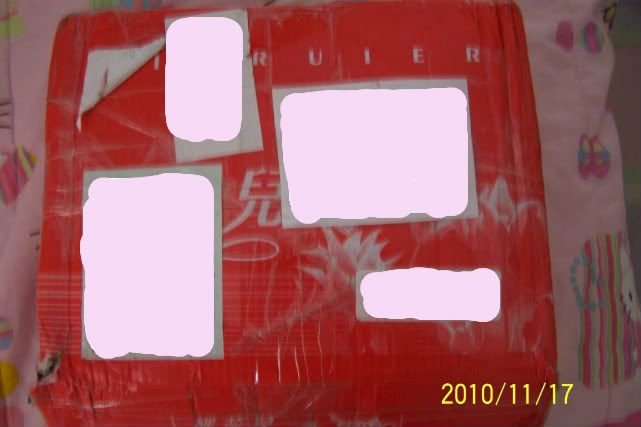 Now on to the dress ~!
Whole Front:
Whole Back:
Bodice: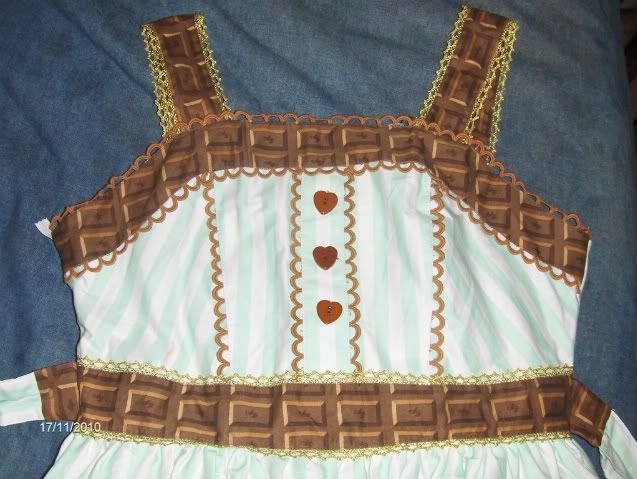 Bodice Back: (It's very good shirring just don't pull it too tight, pulling it a little is fine, because the ribbon goes through the lace.)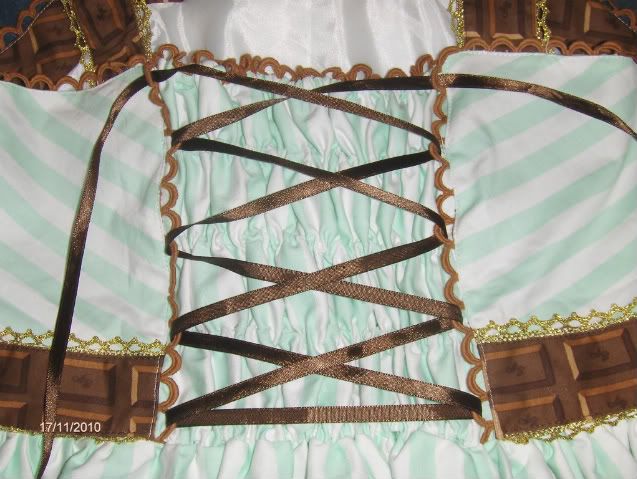 Bodice Close-up: (The lace is actually really cute and good quality. The buttons are also really nice despite not being chocolate like on the actual AP dress.)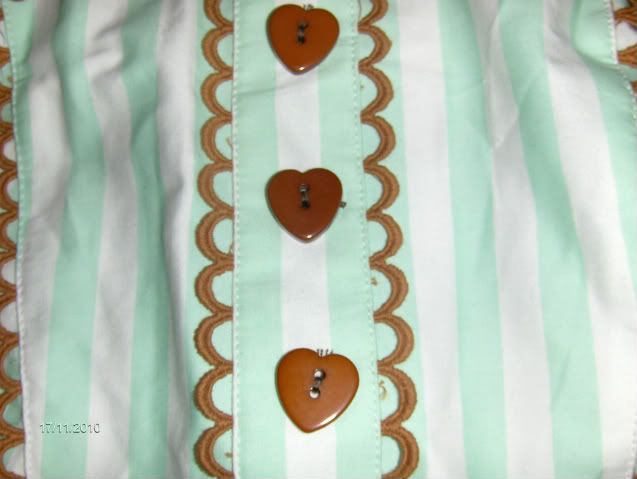 Problem: There's strange little pieces of thread coming from the area where the lace was sewn. (as you can see in the picture)

Close-up of bottom print: (Very cute and the ribbon is good quality, no typos whatsoever on the ribbon.)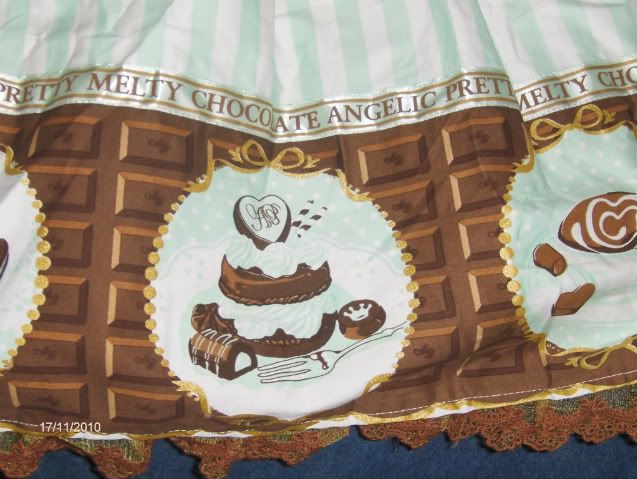 Problem: The dress is printed lovely but, in the mint version it gets kind of washed out. Details are much more visible on the pink version.

Bottom Lace: (It's actually very good quality, the only thing is that it doesn't really match the dress too well. The background of the lace it's actually a yellow-ish colour.)



Straps: (The lace is kind of itchy but, I don't know how it will feel after wash. It's shiny but, not as shiny as it looks in the picture that's just the flash from my camera.)



Sides:
The waist ties aren't detachable but, they're sewn on very well if you like them. :"D



Close-up of waist ties: (I don't know if maybe it was a printing error or if it was like this on the original dresses but, the print on my mint wast ties match whereas the print on my pink waist ties don't.)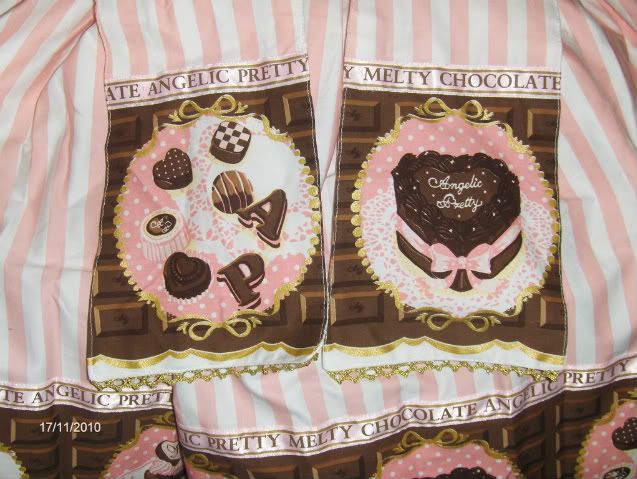 Problem: The waist ties are actually a just a little too short in length, this makes it a bit difficult to tie without having to pull them really tight.

Zipper: (The zipper is one of those invisible ones. It's rather difficult to zip up near the area where the waist ties are and often gets stuck.) My biggest problem was how the zipper looked when I took the dress out of its packaging. It's a quick fix but, it's not nice that they sent a dress whose zipper is coming out. :'/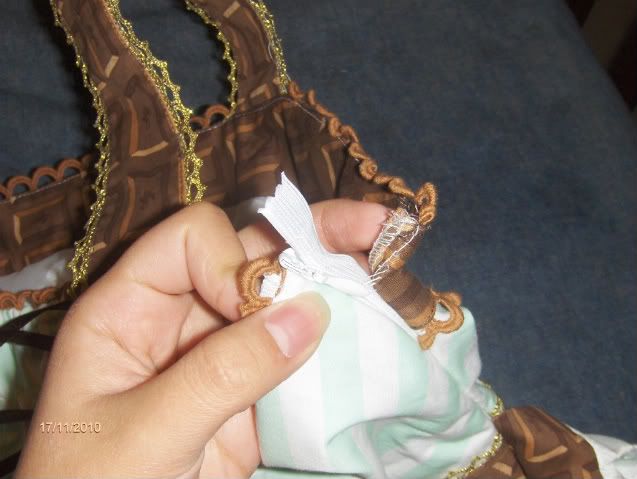 Rating:
Overall this is a wonderful replica despite minor details. It's made of great quality fabric (some type of cotton that's stretchy... I guess stretch-cotton. XD)and lace. I give the dress a...
4/5 :"D (because of the zipper, scratchy gold lace, and a couple of small threads that I keep finding peeking out.)

And the bows that came with the dress: (They're a strange size to be completely honest. Like they're not big enough to look proper on the dress, yet they're not small enough to put anywhere else. XD But I suppose they would be just fine if you can get them in your hair.)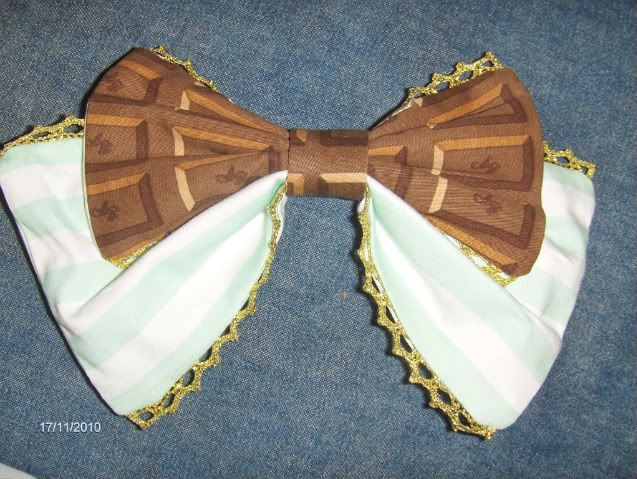 Back of bows: (They look the same on the backs with the messy black thread stitches.)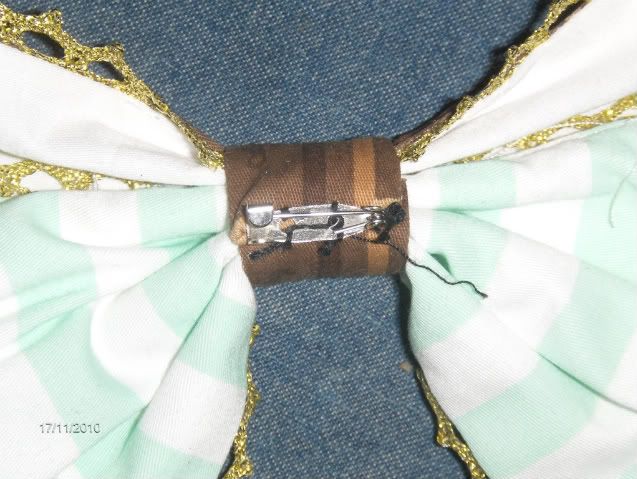 I give the bows a 3/5 (because they're constructed strangely and don't really have a purpose. But this of course is just my opinion on them.)

Fit:
I ordered a size XL mainly because I have a larger bust. I got the dress on with no problems (I didn't even stretch the shirring at all) and it fits wonderfully except for the bust. XD I have to singe it up kind of tight so that the bodice lays flat on my body.

Sites measurements:
Bust: 100 cm
Waist: 86 cm



My measurements:


Bust:96.5 cm




Waist: 81.5 cm



I could have gotten a large but, I figured this would be better. My suggestion is that if your measurements are close to mine to just get the XL size because there's room to fit a blouse underneath and you can always just pull it a little tighter if it's too big. :"D I give the fit...
5/5 (because even though the top was a little strange I was still able to get it to fit me properly.)

The only thing not shown: (because the flash on the camera makes it impossible to see and I can't take pictures without it) is the inside lining of the dress. The lining is very nice and even though it's a bright white you can't see it at all through the dress. There's even a, I guess it's supposed to be like a built in petti at the bottom of the lining. The tulle is soft and sturdy but, doesn't give a poof at all. (if it was supposed to that is) And the tag they put in the dress says, "Sweet Angel." (I kind of laughed because China makes a bunch of knock-offs with tags but, for some reason they couldn't make an AP replica tag. XD)

Overall I give:

Dream of Lolita: 4/5, It's a wonderful replica with only minor flaws. I definitely recommend this for anyone who wants it. :"D

OBOOK: 5/5, They were very cooperative and fast at responding to messages. Also they get a BIG plus for getting Dream of Lolita to lower their price! I recommend them 100% :"D

(This is my first review, I hope it's alright. And I apologize for it being so lengthy D":)