About a month ago, in the midst of all the hustle and bustle of last-minute studying, I caved in and placed an order for a Happy Garden Replica.

Today, about a month later, it finally arrived. It took a week to process the order, a week to make the dress, another week to arrive in the storeroom of TaoBaoBuying, another week to reach me. If the dress had arrived in the measurements I had given to Dream of Lolita, I wouldn't have minded. The bust and waist measurement were quite accurate, but the length of the dress was a world away from the length I have wanted. I asked for 95cm. TaoBaoBuying upon receiving the dress told me it was 93cm and asked me if it was okay. When it arrived today, I measured it and it was 90cm not including the lace (The lace can't really be seen when worn because it's so floppy and limp). This is terribly disappointing. The reason I would buy a replica, amongst others, is because I can custom-order the dress to be longer, since Angelic Pretty only makes it in a specified, very short length. This really puts me off.

Anyhow, onto the dress. When I first touched the material, I was quite shocked. It felt like a waterproof material that swimsuit companies use to make their swimsuits. After a while, I got used to it, but it really, really, irks me.




I think the lace is a little limp, but nevertheless still OK, and the print is very vibrant. The dress is lined with an in-built petticoat, but the lining is stained!! It's not surprising, since the print is also stained! The lace at the bodice is also really weird; aligning netting lace and eyelet lace together is just awful, unless done in the right shade, which in this case, just plain fails. Bad points for Dream of Lolita.



Stain at the print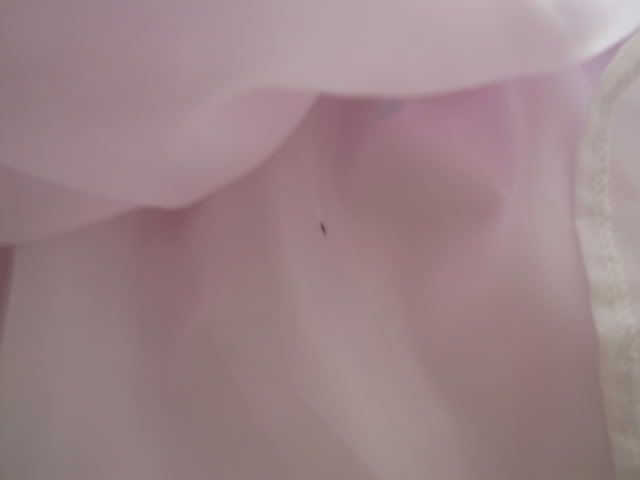 Stain at the lining




Despite having a lot of flaws, there are still a few details that I find to be really pretty. Like the details of the waist-ties, which is sadly not detachable. The waist bow however is removable. From afar the dress looks great.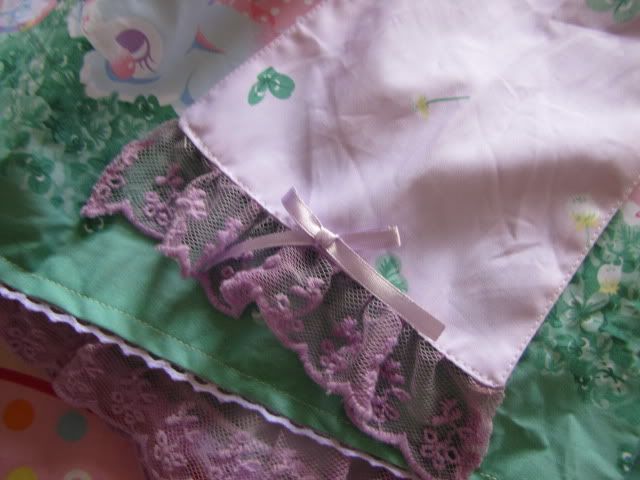 Sizing: 5/10
Construction: 7/10
Quality of Fabric: 1/10 (1 point for the vivid print)
Overall: 4/10

I might just be a harsh critic.

In conclusion, I wouldn't really recommend this dress, but if you're looking for wardrobe fillers or for every-day lolita wear, go for it. Just don't expect too much, or better yet, don't expect anything at all.