Alrighty, so:

After running around on Taobao for awhile, I decided to place an order using TaobaoSpree.

Timeline:

-I sent my first email on Sept. 7th, and got a reply the next day from someone named Esther. I was told that the most of the items I had wanted were out-of-stock (bawww) and had some issues with colours in stock as well.
-We shot emails back and forth; most of them being me asking stupid questions, but she was very patient with me and got back to me usually within a day.
-On Sept. 11th, I added a few more items to replace the ones I couldn't get, and then decided I was done and she sent me a neat little spreadsheet so I could see exactly what I was paying for.
-On Sept. 14th, I asked if I could add a few more little nicknacks at the last minute and she said it was fine, adjusted my order, and I paid the first payment on Sept. 16th.
-On Sept. 27th, I was informed that all my items had arrived. Note that this was a little longer than usual, because a few of the things I wanted were out of stock, but were restocked in a week or so and I was willing to wait. I paid my second payment, and they shipped out my order and gave me my tracking number the next day.
- On Oct. 2, everything arrived at my house. :D

Breakdown of TaobaoSpree SS:
-Communication: 5/5 - Replies were very prompt and all my questions were answered. Esther was very patient and nice, even though I asked a lot of annoying questions haha. At times her English was a little confusing, but overall it wasn't really an issue and I could understand a majority of what was said.
- Fees: 5/5 - The fees were very very reasonable. I'll go more into detail about that at the end of this review when I do a price breakdown.
- Packaging/Shipping: 4.5/5 - Everything was wrapped reasonable well; usually in their own plastic bags and stuff. The boots I ordered did not come in their own box, but I'm totally okay with that if it saved on shipping. Everything arrived safe and sound. They mention the option of getting insurance on their website, but Esther herself did not offer it; I had to bring it up. (It was only about $7-8 more, so I got it just to be safe)

Box pictures:



Overall, I highly recommend TaobaoSpree! I will definitely be using them again in the future. :D

ONTO THE ACTUAL ITEMS--
Since this was my first taobao order, I was a little wary about buying clothing, so instead I limited my purchase to shoes and accessories like bags and jewelry. Some of these items may not be 100% lolita, but maybe some other people will be interested in reading their reviews (instead of adding to the dozens of DearCeline/Infanta/etc reviews that we already know are great)


-An*tai*na IW Style Ribbons Sugar Boots




This is the real reason why I decided to try out Taobao. I really liked these IW boots a pretty long time ago, but they didn't have them in the size I wanted by the time I had the money saved up. :I
I hit up Qutieland, but holycow shipping was insane, and I didn't feel up to paying ~$80 + shipping ( ~$135) for replica boots.
I found them directly on An*Tai*Na's Taobao page for ~$47. I purchased a pair in dark brown, size 40 (25cm).
Photos: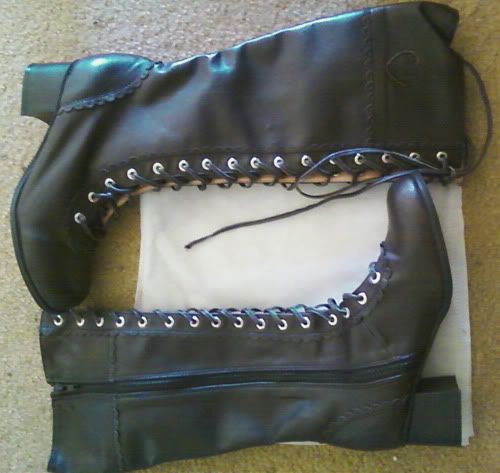 As I mentioned earlier, they did not come in a box, but were individually wrapped in plastic, which protected them well enough since I could not find any obvious scratches or scuffs.
-


Clip-on bows. At first I was totally confused as to where they were supposed to be attached to, haha.
-


This kind of irked me because I thought these looked really sloppy. (the other boot has the same thing going on) After awhile, I realized that I think you're supposed to clip the bows onto these things (at least that's what I gather from the website photos), so they won't be visible anyway. :D
-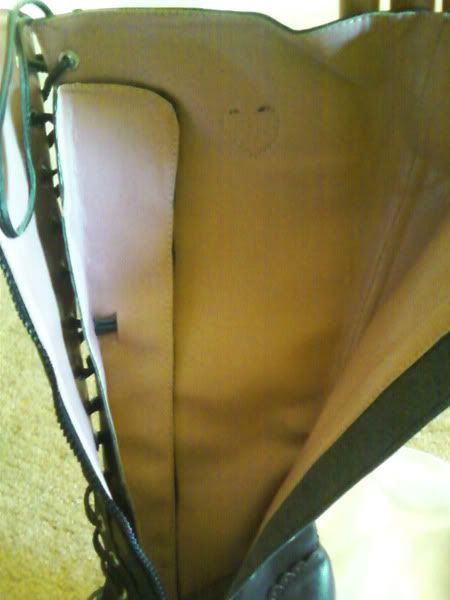 Inside, which opens with a size zipper. It's more of a pinkish than what my horrible phone camera picked up.
-
Sizing: 4.5/5
Quality: 4/5
Overall: 4.5/5
Comments: I'm very happy with these boots, especially considering the great price. They fit just a little snug, but I think they just need to be broken in. The laces they came with are these...weird faux leather type laces, haha. I'll be replacing them with better ones.

---------

-Midofi Baby Style Heart Bag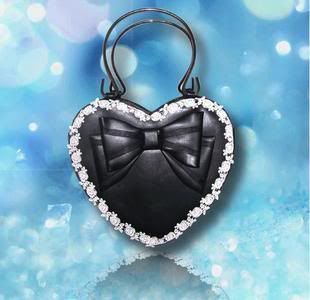 Purchased in black, like the photo above. Price was 108 rmb, which came out to ~$16.
Photos: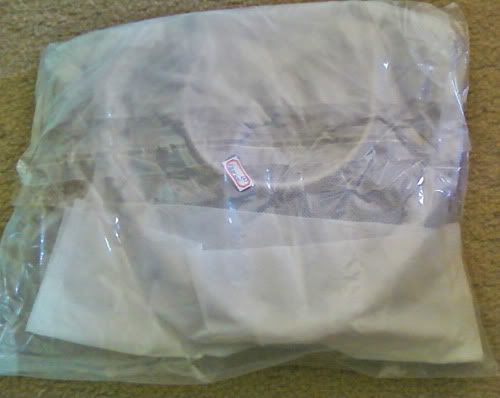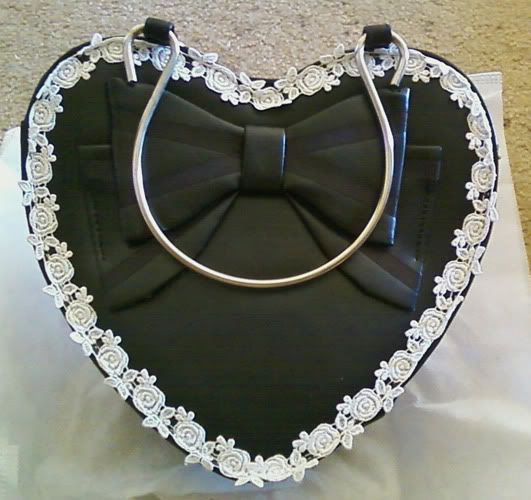 It was packaged really well. No damage on the bag as far as I could tell. It had some newspaper inside to keep it's shape, which failed miserably, haha, but I think it'll be fine once I stick a few things in there.


-




Inside was the 'shoulder strap' that can be attached to it. It's a little thin, and had a few loose threads, but fine otherwise.

Here's a photo of it attached.


The inside of the bag has this rad deep-red velvet-y type material.
-
Quality: 4/5
Overall: 4/5
Comments: What I didn't manage to take a photo of, was under the front bow. If you lift it up, you can see the cardboard(?) material used as the base shape, and the faux leather material wrapped around it. It's not visible at all from the outside, but it would have been nice if they had made the underside covered, too, or at least firmly attach the entire bow so you wouldn't be able to see it if you tried. Room-wise, this bag will carry your wallet, phone, and some other little items. It's not meant for those of us who have to carry half our belongings in our purse, haha. I don't like the lace trimming (though the lace is pretty nice), and was actually hoping to be able to remove it, but after seeing it in person, I really don't think it's possible; it's firmly attached.
---------------------

-Bani Rabbit laptop bag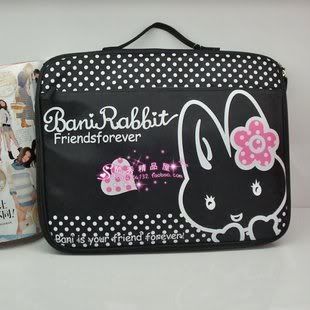 Purchased their largest size, in black. (see photo above) It was 70 rmb, which came out to ~$10.
I bought this so I could have a separate place to lug around my Wacom tablet (Intuos size M, for size reference) to school, since I figured it would work just as well for that as it would for a laptop. (Not to mention it's ridiculously adorable!)

Photos: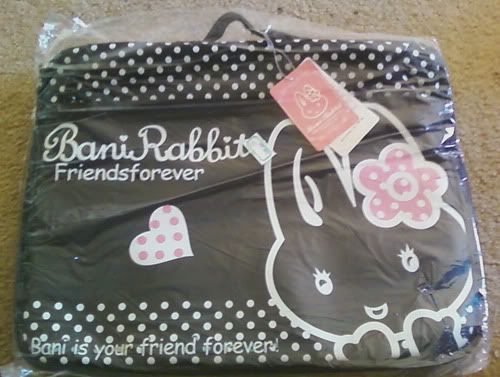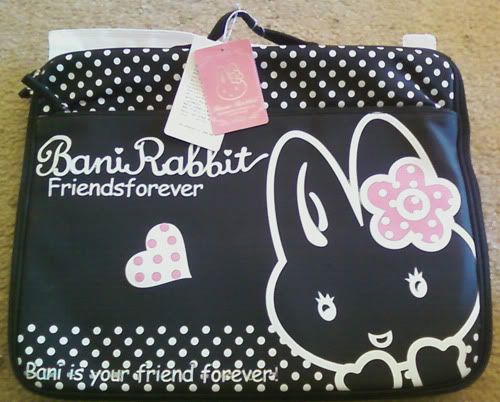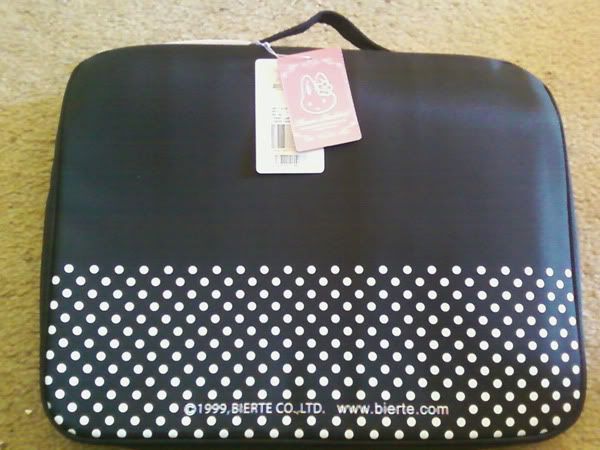 This is cutecutecutecute. <33 Looks just like it does on the site. Inside was a thick piece of foam to its keep it's shape, which really helped.
-
Quality: 5/5
Overall: 5/5
Comments: I really love this bag! I'm so glad I got the large size, because it just barely fits the width of my tablet. The inside of the bag is slightly padded to protect it, and the outside looks like it's waterproof. The handle at the top is very sturdy, and there is a second big pocket in the front for other items. AND ONLY 10 BUCKS YEAHHH.
------------

- Bani Rabbit black wallet



Needed a new wallet since my old SWIMMER one was falling apart and was too bulky for my liking. I chose this one in the black colourway like the photo (they also sell a red version) for 58 rmb, ~$9.

Photos:



-
Quality: 5/5
Overall: 5/5
Comments: Packaged well, and again, looks just like on their site. It's a fairly small wallet in terms of how much it can hold. There is a space for change, and that side area for bills. It only has two slots for cards though, and they're pretty tight so it's difficult to shove two in one space like I usually do. Feels like it's built sturdy enough. The inside where you put bills has a polka dot pattern. c:
-----------------

-Mori-Fans jewelry: The Queen necklace, Old Time necklace, and Open Your Door bracelet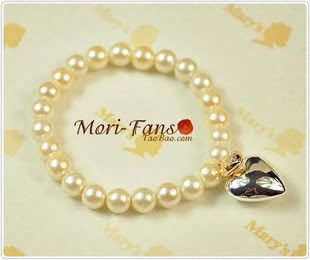 I was curious to see if there were any morigirl type shops on taobao, so I just randomly typed it up in the search and found this AMAZING store with some gorgeous jewelry. ;; A lot of it suits classic styles really well. I had to stop myself from getting everything I fell in love with because at this point my bill was getting a little high, haha.

Photos:



-
Quality: 4.5/5
Overall: 5/5

Comments: Everything was individually wrapped. The cameo necklace is super pretty, though there are a few black specks on the cameo. The watch necklace is super neat and the clock inside actually works, though I'm not sure if there's a way to set it correctly or if it even tells time accurately. I'm writing it off as a purely aesthetic thing than practicality, but it's still very pretty. The bracelet was kind just thrown in there and it's pretty cute, too. There are two hears on it; one big silver one, and a smaller gold one. It fits my wrist just fine.
---------

Well that's all fine and dandy, but how much did I pay? (slight price fluctuations are due to the ever-changing exchange rate)

Price Breakdown:



- Boots: ~$47
- Heart bag: ~$16
- Laptop bag: ~$10
- Wallet: ~$9
- Jewelry: ~$12
-Domestic Shipping: ~$8

Total cost for the items shipped to my SS: ~$105

+
TaobaoSpree fee (10%): ~$11
PP fees: ~$5
+
International Shipping: ~$37
Insurance: ~$7

=
Total: ~$165


All I have to say is, ~$165 for a pair of boots, a purse, a laptop bag, a wallet, and three pieces of jewelry shipped over from china is an AWESOME PRICE. (Just buying the boots and heart purse from Qutieland would have came out to $177!) I highly recommend getting a good shopping service like TaobaoSpree to purchase things from Taobao for you; it's incredibly cheap and is easy to navigate through once you spent some time on it with a good translation app. (I use googlechrome, which automatically translates the pages, and there are a lot of good currency converters out there, too)

If you have any other questions about my order, feel free to ask, and I hope you found this review useful.(because it sure took forever to write out, haha ;;; )