Hello ladies and gentlemen! I've finally gathered enough time to post my first review(s). C:

Innocent World's recent sale had a lot of items I've been lurking over for a while, so I decided to ignore the fact that I'd just quit my job and should actually save the money from my last payment, and throw it all at this amazing brand.

These are the things I wanted:

http://innocent-w.jp/shopping/093924/index_e.html Ankle ribbon boots in Milk Tea, size L
innocent-w.jp/shopping/093705/index_e.html Espandy JSK in Black.
innocent-w.jp/shopping/093928/index_e.html Forest Harvest Festival Clip in Brown.
innocent-w.jp/shopping/102914/index_e.html Rose Lace Dress Ribbon Head Bowin Black x Black.

Due to my country's customs fees (Anything over 1000 NOK (~165 USD), gift or not, will be charged almost or more than 1000 NOK in customs and 'handling fees'.), I decided to split my order in two. I ordered the JSK and hair accessories directly from IW, and used chibi_tenshi's shopping service for the boots. The JSK + hair stuff + shipping cost less than the boots, and less than the customs' "scary price", as I like to call it. I needed a SS to mark down the price of the boots and send them as a gift.

I decided to go with chibi_tenshi's SS, since her prices are low and fair (the 690+ positive feedback helped make the decision).

I sent her an email asking if it would be possible for her to find the boots in the right size and color, and got a response soon after she got back from some private bsns telling me she would check it with KERA. Shortly after, I was informed that KERA was willing to order a pair from IW. Everything went smoothly and I was careful to follow her response-within-24-hours-preference. Within a couple of days, the boots were bought and ready to ship. I paid and wosh, the boots were at my door some days later, marked down like promised! :D

Communication: 6/5! She's super friendly and fast, and kept me updated as soon as something happened.
Pricing: 5/5. She charged 5% of the total price, plus some extra for her train rides to and from the store. :)
Shipping: 5/5! I got the boots very quickly with the method I asked for. They were wrapped very carefully so they wouldn't get damaged; I thought it was my JSK at first!
--
Now onto Innocent World...

Their International Order form is very easy to follow, and they have detailed information on their website. Their customer service is also very friendly and sweet, and they've responed to questions within 3 days.

Since I ordered during their sale, I wasn't expecting to hear from them instantly. I got the receipt instantly, though, and the invoice came shortly after. It took about a week for them to send me the tracking number, which I think is pretty effective!

Communication: 5/5! Their customer service made me feel valued as a customer, and they answered all my questions without any hints of annoyance. (Idk about you, but I love it when businesses use happy smileys!)
Shipping: 5/5.

The items!

Everything arrived on the exact same day! IW's package sadly got attacked by customs, but I avoided the crazy 1000 NOK fees.

Boots: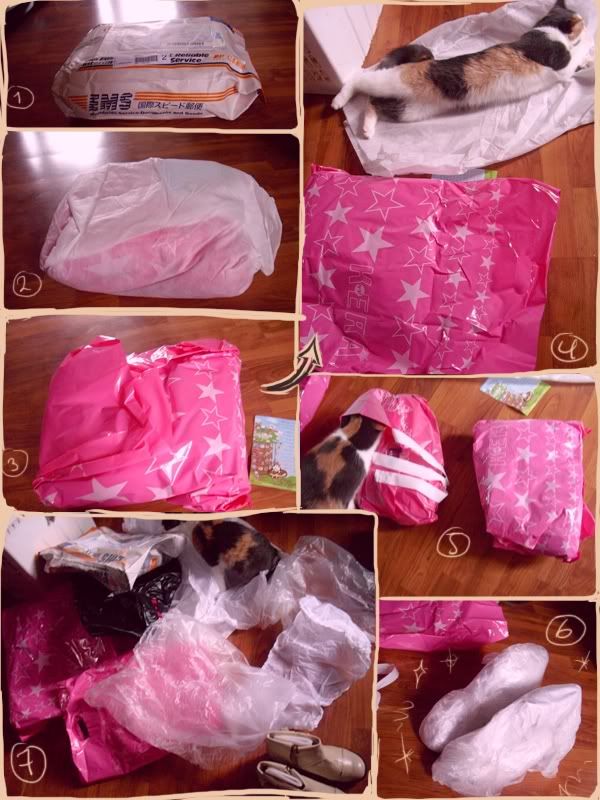 The unwrapping process of the boots!



chibi_tenshi's sweet little note with an amazing sticker!



I LOVE these.
I'm a EU size 39, and this size L fits perfectly.

Now, I'm not sure how to rate them... They came in the expected color; a creamish beigeish.. milk tea. They're extremely comfortable, durable, and also waterproof! But... see the ribbons? They're detachable. They're a little too detachable. I lost one of them on the way down to the post office to pick up the IW package, which is 5 minutes away. :C The other one fell off three times when I was in the city for two hours. It's nothing a little sock tape and frequent checkups can't fix, but... yeaaah. You can order new ones for 890 yen each.

I'll give them a 4.6/5, cause I love IW too much, hahaha;;; The customer service person was very understanding and put one of the ribbons on hold for me until I get enough money. ; v ;

The JSK:

Ommg. The stock image made it look kind of rough and see-through, but it's so gorgeous in person! The fabric is some sort of polyester, so it's soft, drapes beautifully and doesn't wrinkle. Very comfortable!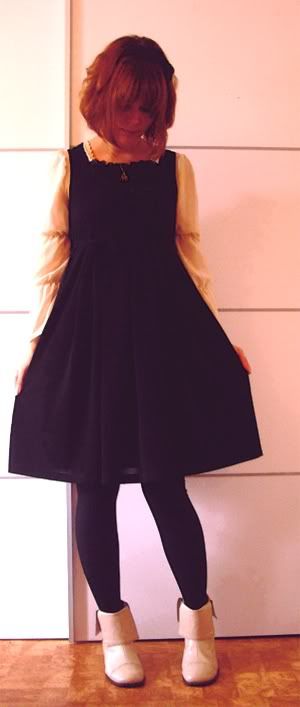 Please forgive the bad lighting, it's been raining nonstop since forever e H e;;
There is a flaw with this dress, which I guess is why it's price has been reduced by 50%:


Haha myspace. See the chest piece? I thought it was because of my small chest, but it gets even worse with a stuffed bra :C It might be my shoulder width? It's fine when I pull the straps apart a little, but quickly goes back to this neckboob shape. Does anyone know what to do?

I give it 5/5 because it's gorgeous. And it's IW. Sweet, sweet IW.

Hair accessories!



I have a laaarge head, but this headbow doesn't hurt or dig into anything. I'm very pleased.
5/5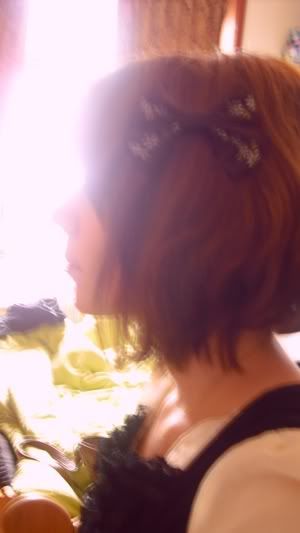 And this one is adorable. I have pretty "slippery" hair which gives most hair clips trouble, but this one has a sturdy alligator clip that stays in all day. C:
5/5



Thanks for reading!