I made an impulse order from BODYLINE on September 3rd. I just couldn't resist that sale! I've decided to make an overly- a very detailed review of my experience, just because I enjoy overly detailed reviews :].
What I ordered:

Skirt 1120 (size medium)

Shoes170 brown (size 230)
Shoes184 off-white (size 230)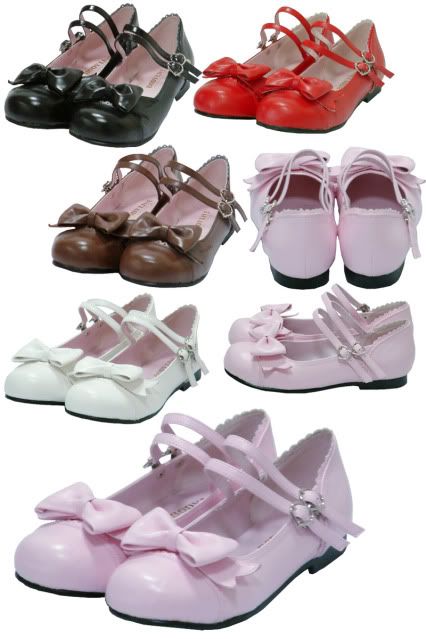 Nails008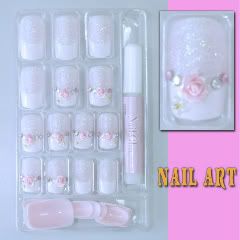 COMMUNICATION (4/5)
After placing my order (which took a few hours because the server was slow and took so long to load things that by the time I got the page to load for the last item, my shopping cart got refreshed and I had to start over), I immediately received and invoice from BODYLINE through paypal. After paying, which I did right away, I received an automated e-mail from BODYLINE containing my order information and stating I'd receive my tracking number on the next business day. I ordered on a Friday, so I expected it that Monday. Monday comes and goes with no further contact, and I decide to wait until the supposed arrival of my package (09-07-2010) to contact them about it. So, once the 7th comes I e-mail them by replying to the confirmation e-mail they sent me and replacing the e-mail address of the automated service with their paypal address, which is how they say to contact them for customer service (I did this so that my order information was included in my e-mail).
I said:

Hello.

I ordered from bodyline last Friday, and never received a tracking number the next day. I had assumed it was because the next day was not a business day.
It is now past the date I was told I would receive the package (2010-09-07).
The e-mail containing my order information is below.
Please send me the tracking number.

Thank you.

Three days later, on the 10th they replied:

Hello
Your tracking number is 2359333664
Have a nice day
Thank you

I'm giving them 4/5 because they were a little slow, and needed to be prompted for information about my order, instead of giving it as promised. Otherwise, I'm lucky not to have had any hassle in the process.

SHIPPING (4/5)
Really, I'm taking half a point off BODYLINE and DHL each. When I checked the tracking number BODYLINE gave me on the 10th, it showed my package as being shipped on the 10th. Which almost makes me feel like they forgot about my order until I asked them about it. My shoes were also just thrown in the box without bags or anything packaging them individually, but I expected something like that so whatever.
DHL took faster than I expected getting here, which is nice. The box was a little smushed, and while it's not preferred, it's normal.

Now, to the pictures!
My package arrived at 10 o'clock this morning, and I was so not expecting it. The DHL tracking said it arrived in a city kind of close to mine at 7:00 this morning, so I thought I might get it this afternoon. Ironically, when the doorbell rang, I was looking at a recently posted BODYLINE review on egl XD. This is how it looked: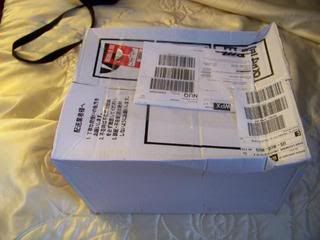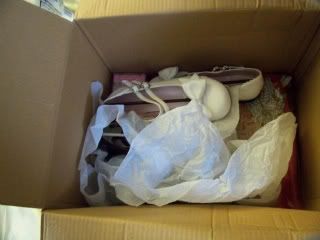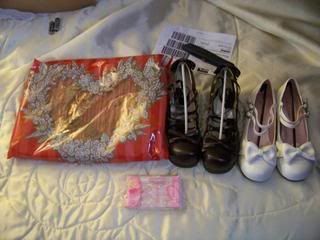 The first thing I did was pull on some socks and try on the shoes. I ordered both in a size 230, and had heard that a us size 6 1/2 was 235, so I was a little worried.

Shoes170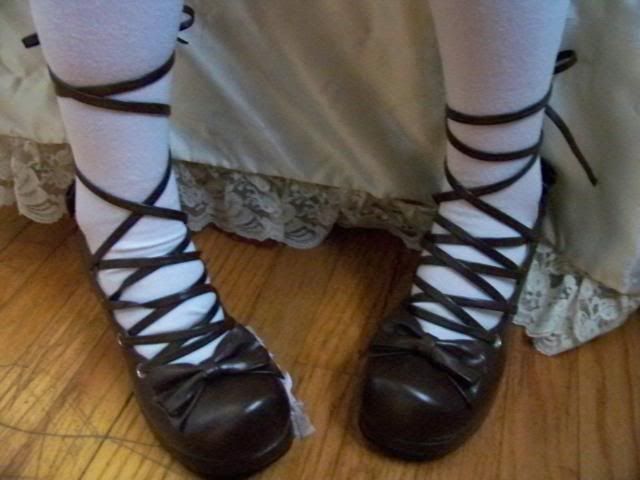 (Sorry for the grainy quality.) If anything, the shoes are a little loose in the heel! They fit very comfortably, especially for a pair of heels. I'm used to heels feeling a little tight when I wear them, so this was a nice change. When I was first putting them on, I was shocked because it almost felt like my foot was too wide to get in them, very weird to me because I have very narrow feet. But loosing the straps further help, and once I pulled them on my feet popped right in, and they fit wonderfully. I think they might have felt narrow because the sides curve in. I wouldn't recommend these for girls with wide feet.

Some detail shots: (Again, sorry for the grain. My camera doesn't do close-ups very well in poor light)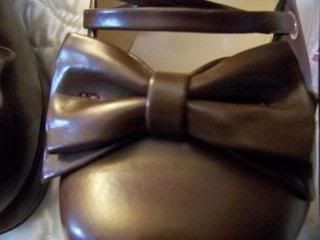 Bows are attached securely with discreet stitches.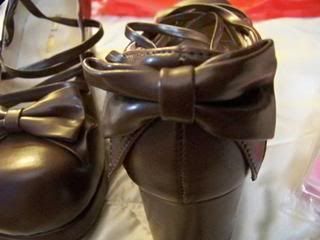 The bow is a little lopsided on the back, but no problem.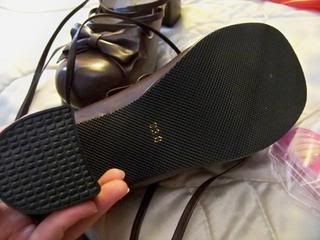 I was surprised at the amount of traction on the shoes!

All in all, I give these shoes (5/5). I see no construction flaws, they fit my 6 1/2 size feet very well, are comfortable, and seem to be more durable than shoes you'd get for the same price at payless.

Shoes184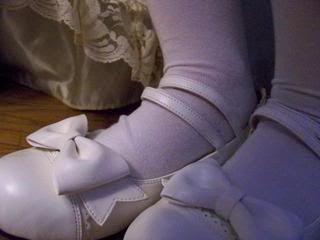 These shoes are also size 230, but unfortunately they didn't fit me as well. They are still wearable, but there is quite a bit of room left over in the heel, enough to stick my index finger in, and the same with the two straps on top, even after tightening them all the way. I would recommend them for a us size 7.
The construction is as nice as the other pair, and what I like was that there was enough support in the arch. I have very high arches, and flats can hurt my feet, but I think I would have been able to wear these without insoles if they weren't too big. As they are, I have to, haha.

Detail shots: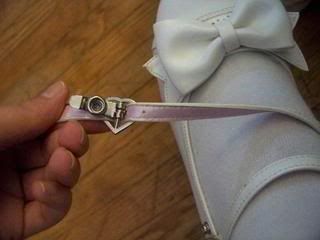 The inside of the shoes, along with the straps, are pink. The heart buckles attach with snaps, and I like how the snaps have little tabs so I don't have to yank on the buckles themselves to get them off.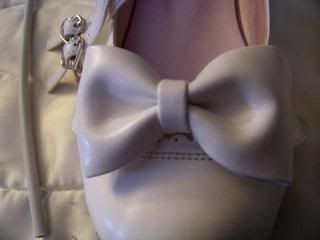 The bow looks even.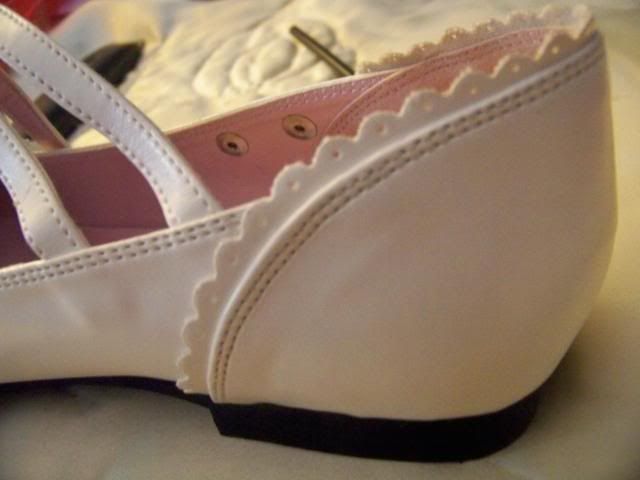 The scalloping detail has rougher edges, but that's common with leather-style details.
The bottoms are textured but not the same kind of traction as the other pair. Didn't get a picture of that.

I give these (4/5). I wish they were as true to size as the other pair, but that's really my only complaint. There's no loose threads, glue marks, or scuffs. Like for the other pair of shoes, the construction looks and feels better than payless shoes.

Skirt 1120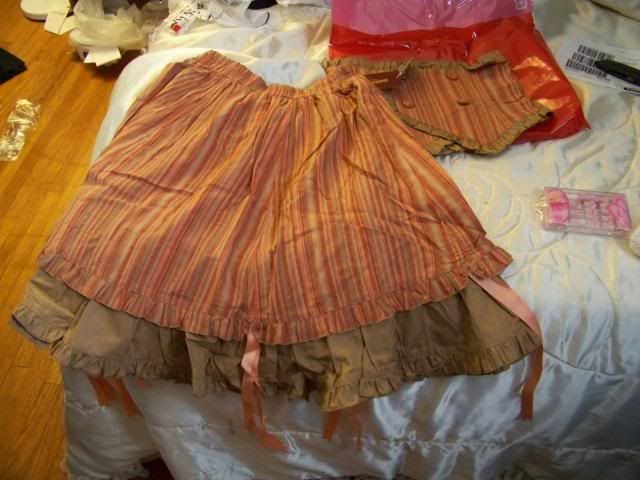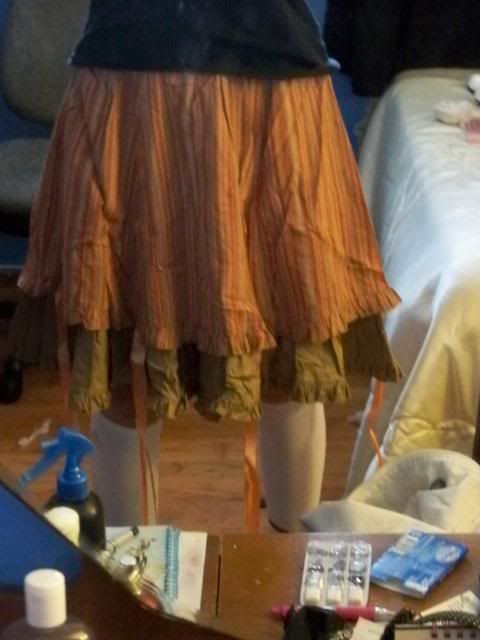 This is it with a petticoat. There's enough fabric for it not to look really droopy, and it should be able to encompass a very full petticoat. I'm 5'3", and it hits me a little below the knee, which I like. My waist is 25", or 63cm, and it fits me without moving around, and with plenty of room left. The skirt is two pieces. The skirt part is fully elasticized, and the corset has a panel of shirring in the back. (Sorry for no blouse, it was early and I was still in my pajamas when the package arrived, haha.)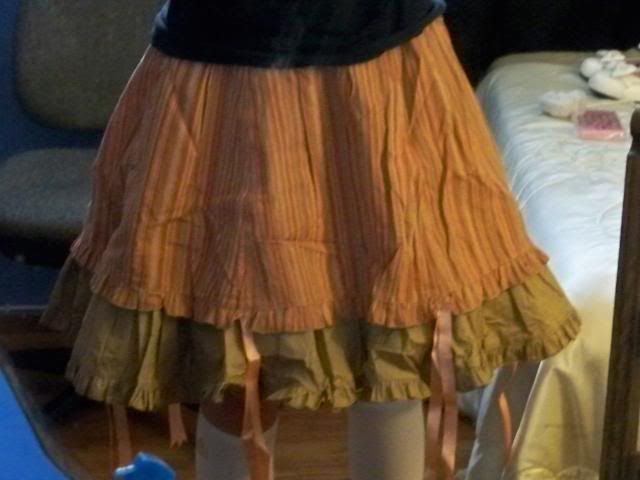 This is with a medium-poof petticoat. The skirt is surprisingly heavy and squashes it down a little. I'd recommend layering petticoats.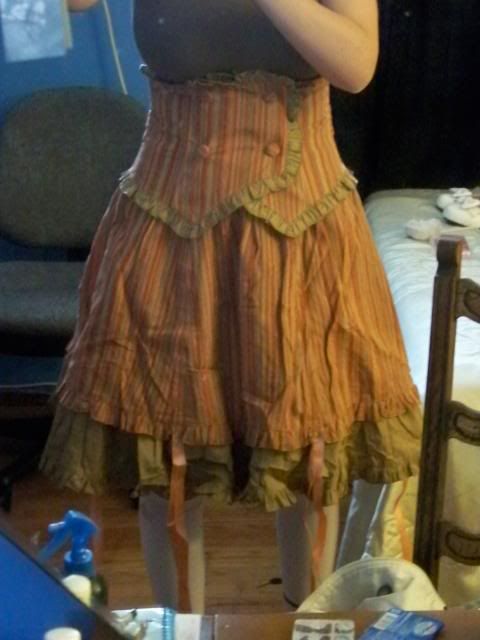 A better picture of the skirt. My petticoat is already being deflated by it.

Detail shots: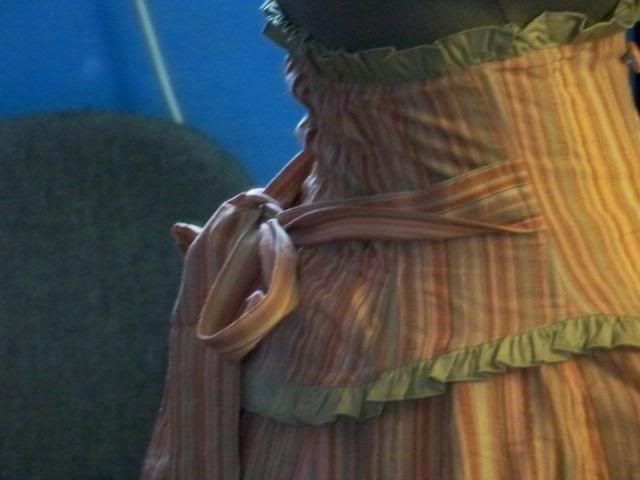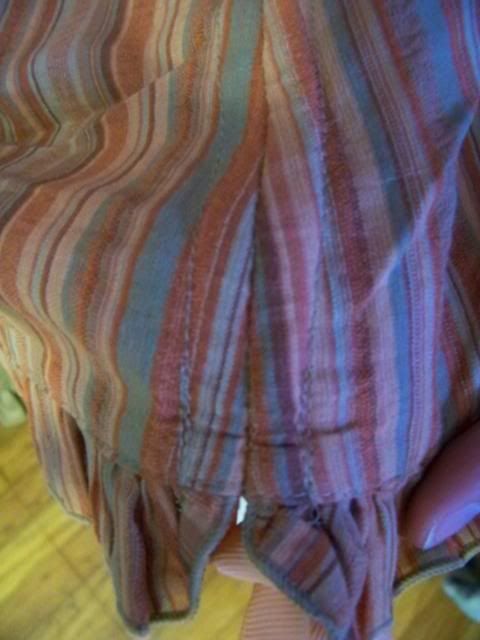 Outside seams.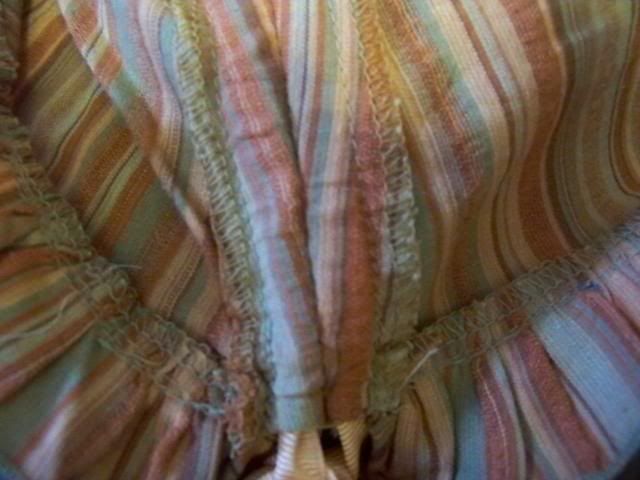 Inside seams.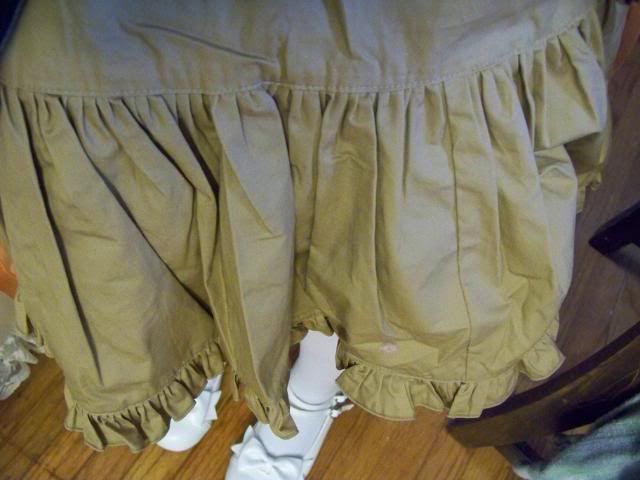 The skirt is done in two separate layers, with the brown underskirt being it's own separate layer, rather than a row of ruffles sewn at the bottom of the top layer to give it the illusion another skirt is underneath.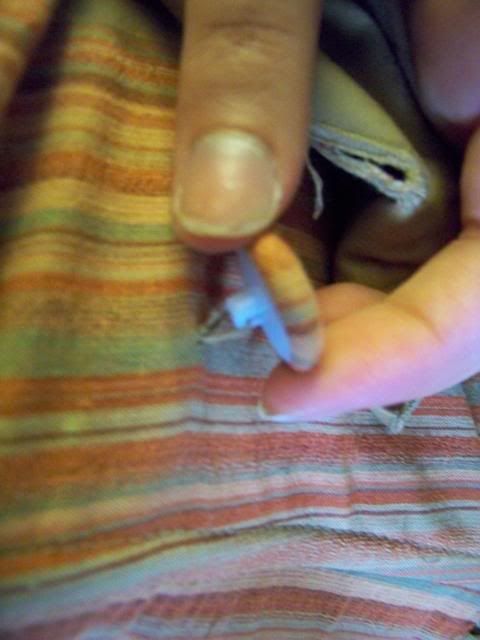 The buttons on the corset are only attached with a single loop of thread. After taking this picture, I went to take the corset off by gently unbuttoning it, because I knew they were loose, and...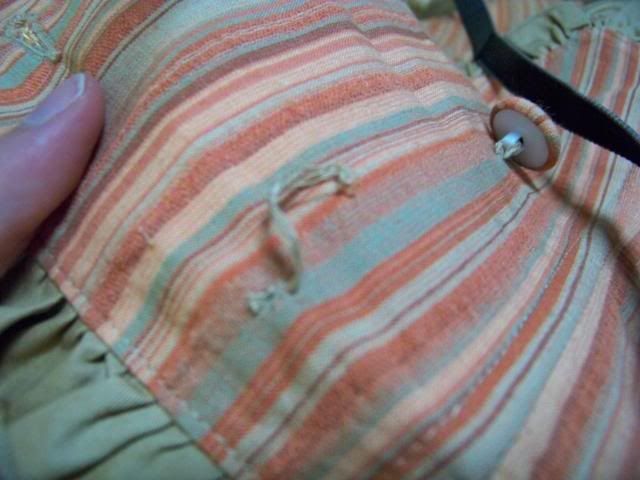 The button flew across the room. No big deal, because I was planning on sewing them on tighter anyways, but it definitely is a flaw.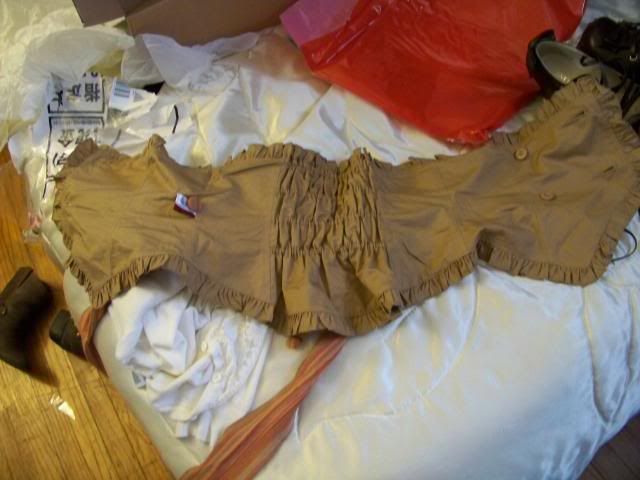 The corset is fulled line, though, which I was expecting. It buttons like most double-breasted things, with a set of buttons inside, a set of buttons outside, and a set of decorative buttons.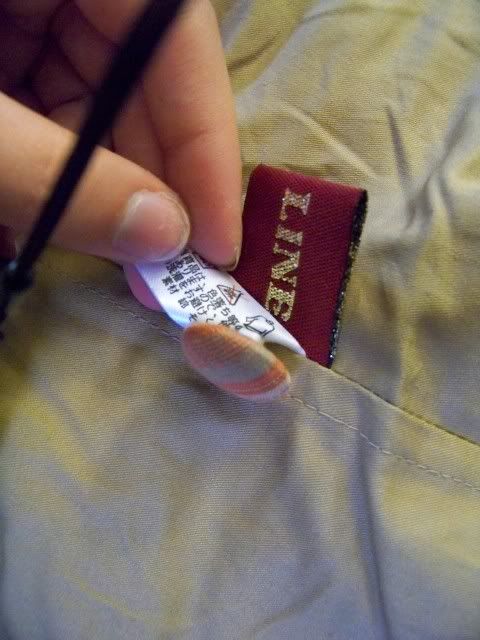 It also came with an extra button, in case you can't find the one the flew across the room.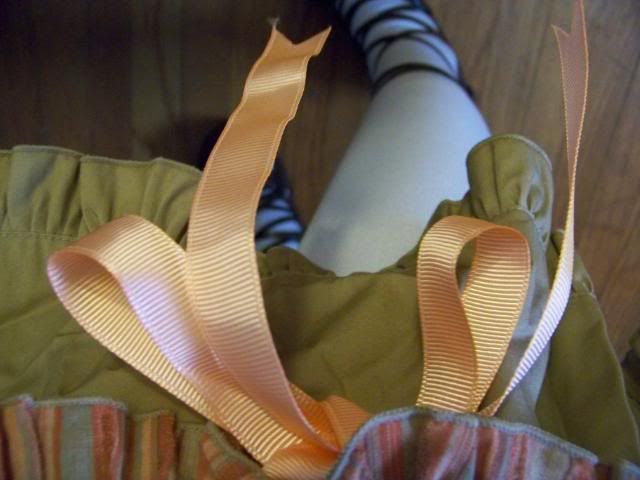 Lastly, I hated the ribbons that came with it. The color doesn't match, and they feel really plastic-y and cheap. I plan to cut them off.

I give the skirt a (4/5). Why so high, after my nitpicking? Because it really is just nitpicking. The faults I found are easily fixable (sewing on buttons, cutting of ribbons). The construction of the garment in general deserves a higher score. The edges are all finished (a few loose thread here and there, but they don't damage the structural integrity of the skirt), the ruffles are gathered evenly, the fabric is a good weight, and it feels nice. Part of me was expecting very thin, costuming fabric. This skirt, while far from being brand, is much better quality than what I can go to the mall and pay twenty dollars more for. I'm very happy with this puchase.

Nails008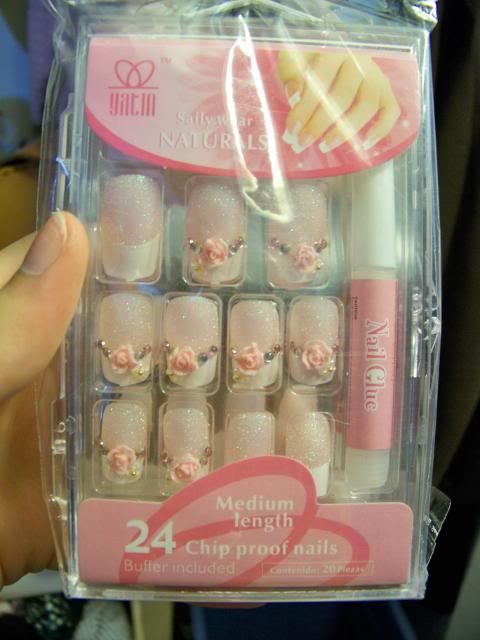 Much more detailed than what you can see on the site. I haven't used them yet, but I'm impressed with the looks.


OVERALL (4/5)

I'm really happy with my purchase. I'm surprised at the quality of the items. You do get what you pay for, loose threads and loose buttons included, but I'm glad that BODYLINE surpassed my expectations. I'll definitely buy from them in the future.

Hope I was informative! :]