My Lief JSK finally arrived two months later than expected, with a bit of a surprise. I know a few people have asked about this series and Lief in general, so I thought I would give a full review of my experiences.



Packaging: 10/10
The dress arrived in a sturdy box, wrapped in tissue paper and a sealed plastic bag. The box actually has a very cute black and white kitty print all over it.

Communication: 4/10
This is where things got wonky. According to the original GO post, this was the group order plan:

ORDER PLAN
* March 30th ~ April 9th - fabric printing (it takes 10 to 15 days)
* April 3~4th - Uproad the photo of dresses
* April 10th ~ April 17th - Making dresses in factory
* April 18th ~ 21th - 1st shipping
* May 1th ~ 7th - 2st shipping (with headbow)

My order was confirmed and paid for on April 16. On May 21, when there was no sign of my order, I emailed Lief with no response. I left a comment on the GO post on May 25, and on May 27, Lief made another post explaining the factory delay for many of the dresses. Although the delay was clearly out of their control, nobody in the group order was informed that their items would be late until a full month after they should have been shipped.

The delayed items were supposed to be shipped out "on June first week," but no further notice about the status of the order was made until June 21, saying that all orders would be shipped on that Wednesday. On June 30, I sent Lief an email asking whether my order had been shipped and if there was a tracking number. Her response did not come until July 4:

Hello!
I'm so sorry for late.
You can get it on this week.
I'll put headbow for my apology.
Thank you so much!

This was now two months after the dress was meant to be shipped originally, and two weeks after it was supposed to be shipped in her most recent message. Again, factory delays are understandable, but the lack of communication on the status of the delays was frustrating and made me fear that my dress would never arrive at all. However, as she promised to include a headbow as an apology, I was prepared to accept that to make up for my wait.

As the dress was supposed to arrive when I was staying at my mother's house, and I therefore had used her address, I had to wait for her to forward me the package a few weeks after its arrival. At this point I found that the promised headbow was missing, as well as the waist ribbon for the dress. I emailed Lief, and she promptly replied:

Oh, I'm sorry for that.
In here, the fabric market is vacation up to August 4th. So after that day, I'll but the waist ribbon and send with headbow.
Really sorry.

I appreciate her fast response, but after so much else has gone wrong with this order, I'm not holding my breath. Shipping to Canada can take a few weeks, so it is still up in the air whether this will arrive any time soon (if at all).

Update: After a long delay, the ribbon arrived in a regular letter envelope. The promised head bow was not included. I emailed Lief about this, but with no response--they seemed to basically pretend that I was never promised a head bow. I have finally given up on ever receiving it. This is a final blow to my opinion of their customer service.

I should note that during all these delays, those whose dresses were made on time received them on time or only a few weeks late. My roommate had already worn her pink Gardenberries JSK a few times before I ever saw mine.

Quality: 9/10
The dress quality easily rivals a lot of brand. The print is crisp, the seams look good, and the dress is fully lined. There are a few places where the stitching isn't quite straight, and the serging seems to have been done with a weird blend of polyester and plastic thread, but this is not visible and hardly a bother.



The thread holding the buttons on seems a bit thick and knotted, but at least they'll stay put.



The small bit of lace around the neckline is nice and soft.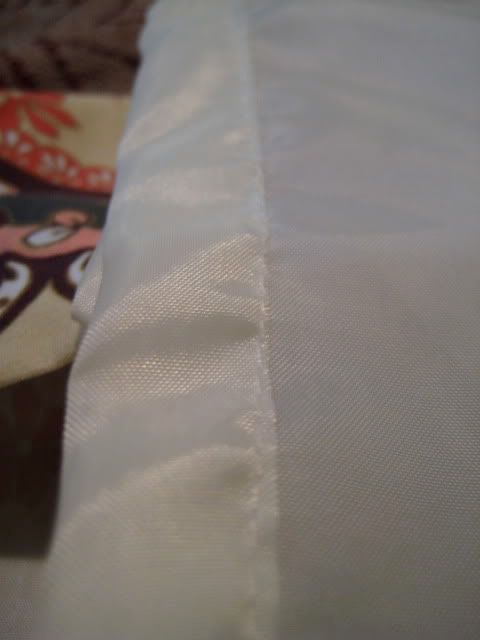 The stitching does go off-course in some spots, but most of the time it isn't visible.



The serging inside the hem of the dress.

Garment Satisfaction: 5/10
I have made this its own category, because my disappointment with this dress has nothing to do with the quality. I ordered a cream dress. What I got was a yellow one. I have yet to confirm with anyone who received their Milky items early whether theirs appear yellow in real life, but if you look at other reviews, from the first set of Milky items, they clearly look cream like in the stock photos. What I suspect happened is that when they switched to a new factory, the print came out different from the previous set. This is extremely disappointing because this is, quite simply, not the dress that I've been waiting two months for. It was supposed to be an elegant classic dress, but instead the yellow makes it very sweet-looking.



With flash on, it's very true to color.



Color comparison with an antique white VM dress.



Outside, just to make sure that it wasn't my room's lighting making it seem yellow.

I doubt I can do anything about this, either, as I don't want to go through the nightmare of trying to exchange it (even if Lief did have another one left that was cream-colored). Although I would love to at least ask her what happened to make it yellow, I have already complained about the delays and missing items, and I don't want it to appear that I am simply looking for things to complain about.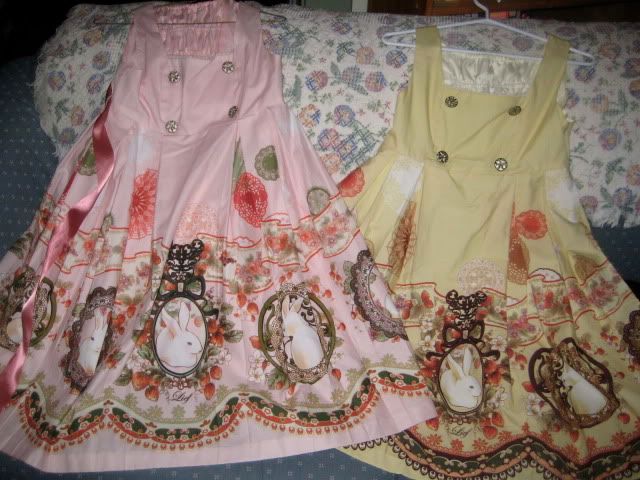 Just for interest's sake, a side-by-side comparison with my roommate's pink version, which appears to be identical other than the slight changes to the print. Despite the fact that hers came with the first wave of dresses and mine with the last, the quality doesn't seem to have diminished.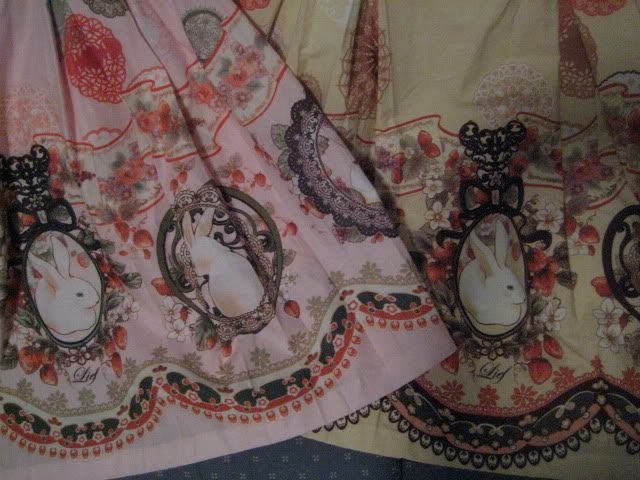 Close-up of the print in both colors.

Summary:
While overall it's a great garment, the print is gorgeous, and I know people who have had fantastic experiences ordering from Lief, I wouldn't risk it again. A two-month delay for a dress that looks totally different from the stock photos, for the price of brand, just doesn't seem worth it to me. Although Lief has assured people that they have switched to a new factory and mistakes will no longer be a problem, I still have a hard time trusting her word anymore.