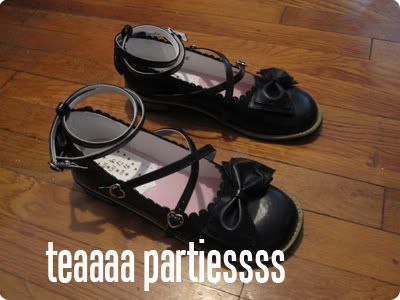 Ever since I started looking at and liking sweet lolita, I have been in love with Tea Party Shoes. However, I have US size 10 feet (Japanese size 26) and so I couldn't wear the real AP ones or the Secret Shop replicas. So, when I saw that the an-tai-na replicas on Qutieland came in my size, I had to order them!

I was weary of purchasing them because I hadn't found any reviews here, so I decided to make one just in case anybody else is on the fence of ordering them.

Qutieland
These are the shoes that I bought. I placed an order for them on July 8th and received them on August 6th. They quoted a 30-day production time and 7-day shipping, but it was faster than that. The shipping only took about three days from when they contacted me to when I received them. I payed $96 USD for them (it cost extra for my size, but not too bad) and I'm sure that I could have gotten them cheaper elsewhere, but I like the security of using a company as opposed to a shopping service (if that makes sense!) Everything went smoothly communication-wise, since I didn't have any extra requests or anything. Like other people have said in their reviews of Qutieland, the box came to me in really bad shape, but everything was fine on the inside

Communication: 5/5
Time Estimate Accuracy: 5/5
Shipping Time: 5/5
Cost: 3/5 (though that was my bad, I didn't want to look for them anywhere else, haha)

an-tai-na/the actual shoes!
I LOVE THEM. I don't have any brand shoes to compare them to (as I said before, my feet are too large for most Japanese shoes) but I have Bodyline, Montreal, and offbrand US company shoes, like from Target or Shoe Carnival. These are much higher quality than my Montreal rocking horse shoes, and a little better than my Bodyline ones, too. There were a few loose threads, but nothing major or that I couldn't fix. I wore them around for two hours or so yesterday, and my feet didn't hurt, and they didn't scuff at all. (Then again, I have pretty sturdy feet, not a lot of shoes can make them hurt.) The synthetic leather is nice, but the shoes smelled terrible when I first opened the package. The scent is going away slowly but is still kind of foul, though this isn't really a big deal for me.

The photos on the website are slightly misleading -- there is a weird black band around the shoes that real (and SS replica) Tea Parties don't have. I hated how this looked on the website, but since I was going to order black shoes, I decided that it wouldn't really be seen. However, I was pleasantly surprised when I received them and found that there's a brown stripe around them, like the real ones have! They are much closer to the originals, appearance-wise, than they look on the website, and this is a very good thing.

I ordered them in 26cm, which is what I wear in other shoes. They are very accurate with sizing! Mine fit really well, and they're not ridiculously wide on me, like my other lolita shoes. (Still kind of wide...but not too bad.)

Photos! No review would be complete without some photos: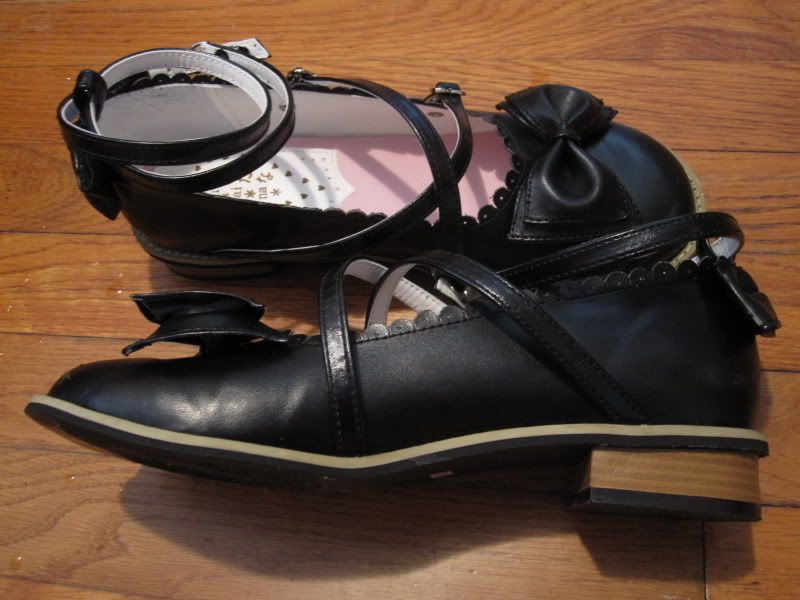 the shoes.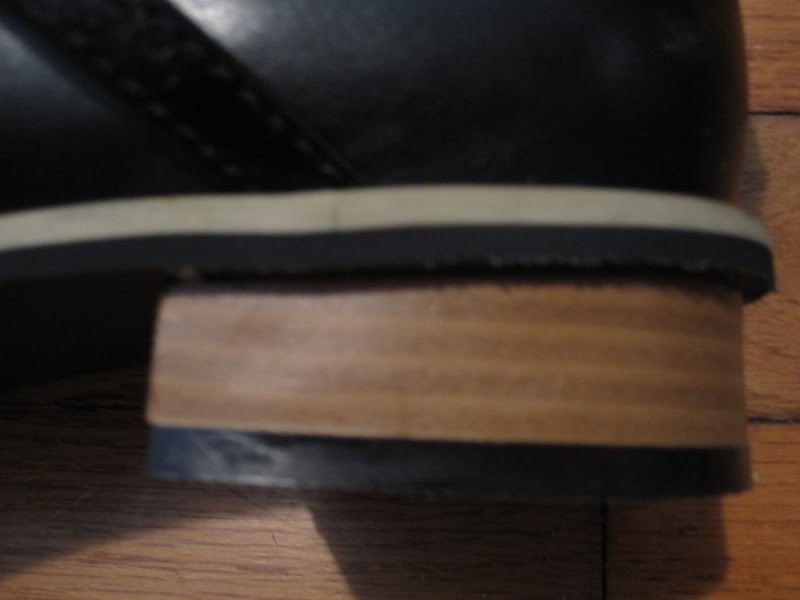 the small, "wooden" heel.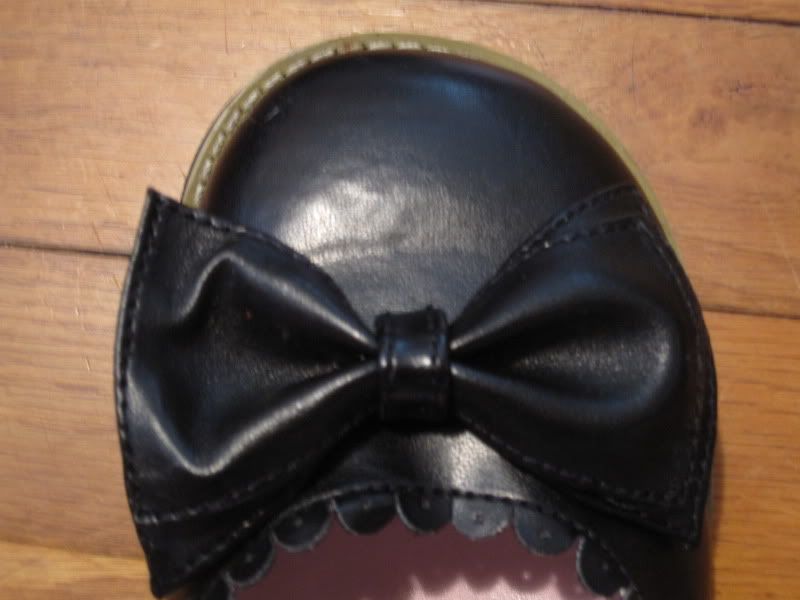 the bow on the toe, which is made nicely.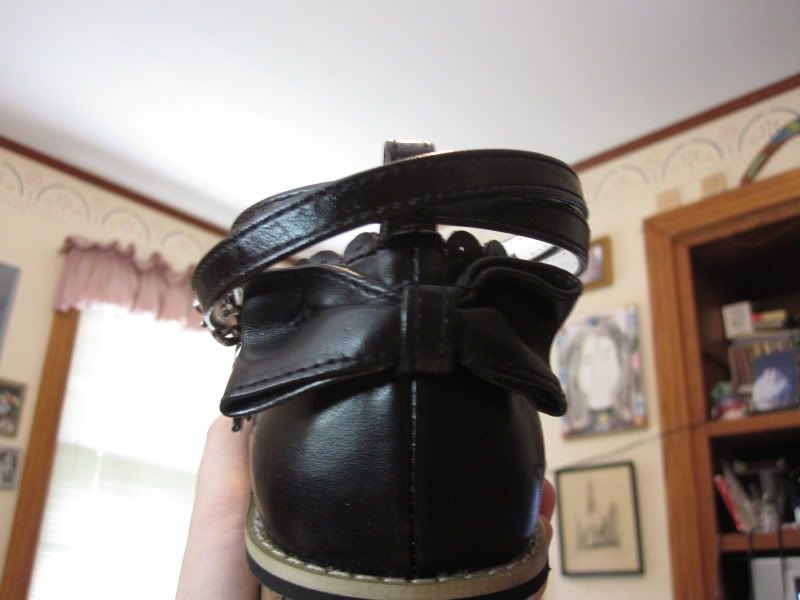 the bow on the back, also nice, and stitched on very sturdily. (though my mom said to me, "that is not going to last five minutes." I hope it does!)



close-up of the toe, and the stitching, and the stripe.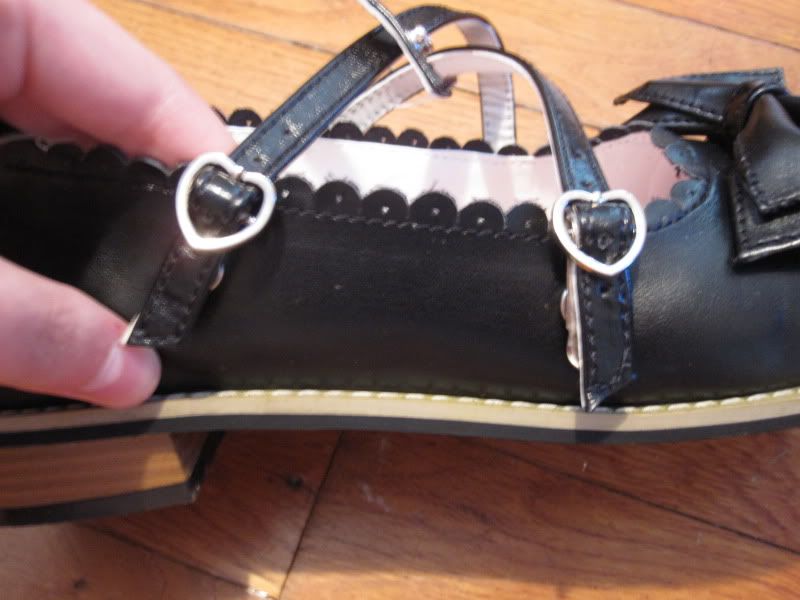 the side of the shoe, with the buckles (very easy to get on and off! They snap, like other lolita shoe buckles.)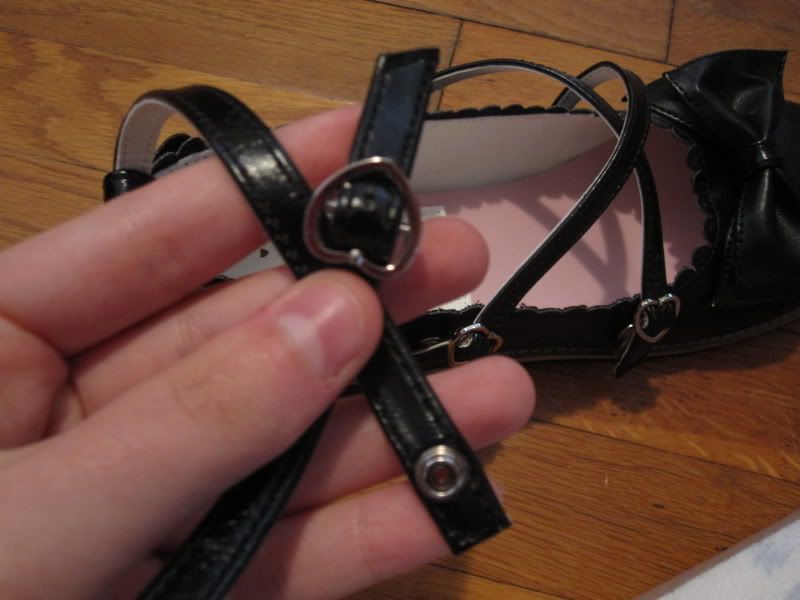 ankle strap buckle.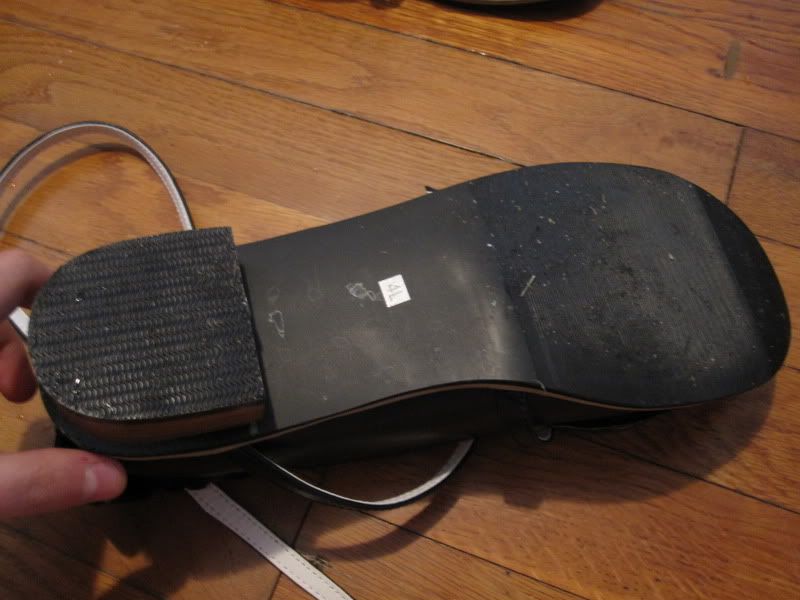 the bottom of the shoe, you can see the "4L" sticker, haha.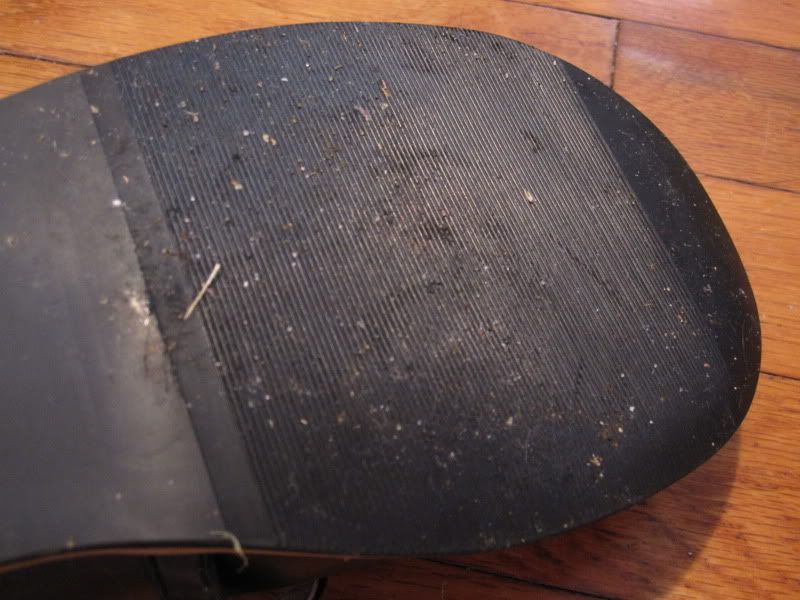 close-up of the bottom of the toe part. There's a bit of grip, hopefully enough traction to not make me slip all over the place.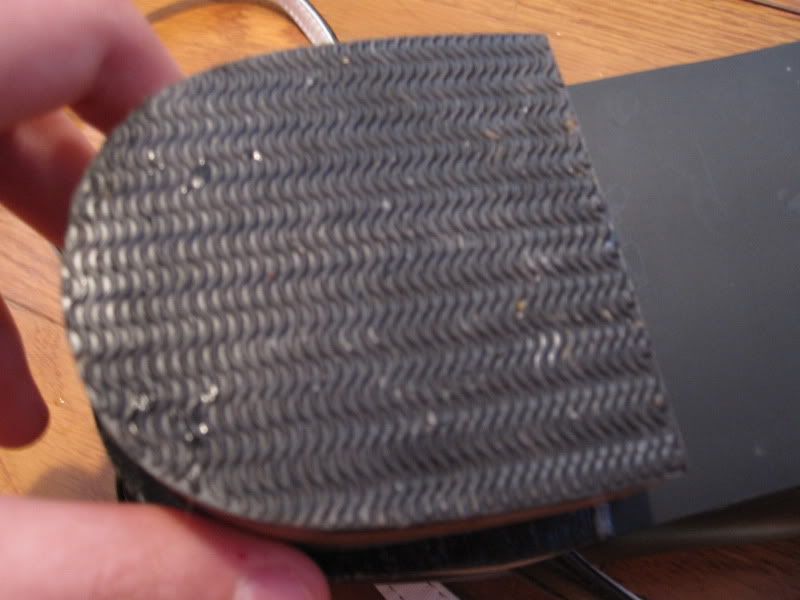 bottom of the heel, also good amount of traction.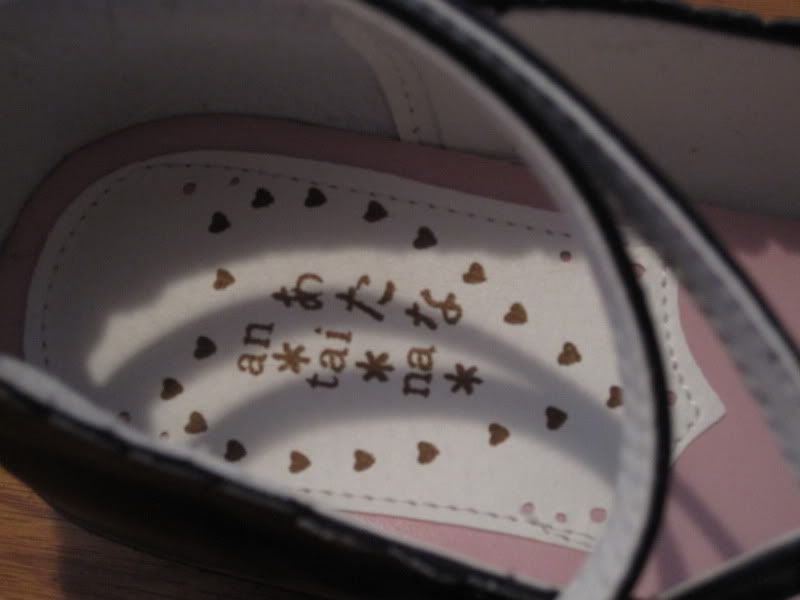 the inside of the shoe.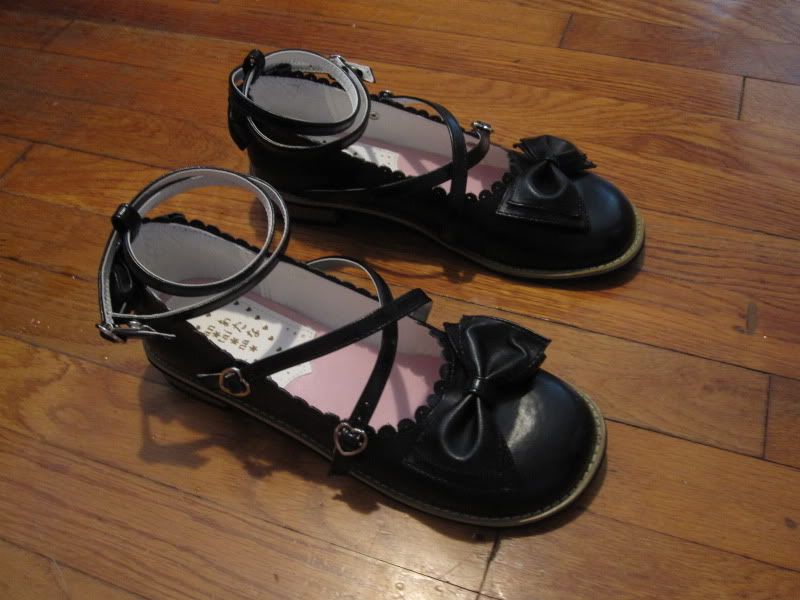 the shoes again! I'm so happy with them!

Quality: 5/5
Appearance: 5/5
Sizing: 5/5

All in all, I am very pleased with my order! I want to buy some more in pink now! Thank you for looking~

this was my first review, if there's anything else you want to know, please ask!