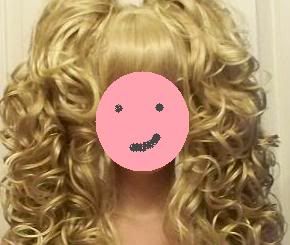 Recently I participated in a pre-order for wigs from kirakirajenjen and I thought I would write a quick review for those curious.
The pre-order I participated in
is seen here
Ordering details and extra pricing information can still be found there.
The pre-order ended June 13 and the post said she would ship the wigs on June 17.
The post also informed participants that we would be invoiced for half now and half later plus shipping.
I left my order form in a comment on June 09 and was invoiced for the first half on June 12
The second, final invoice was sent on June 14.
Happily the wig arrived to me via USPS priority on June 19.
The packing was wonderful and everything arrived in perfect condition.
I had also forgotten that they all come with a free netted wig cap so that was nice reminder surprise.
~~~~~~~~~~~~~~~~~~~~~~~~~~~~~~~~~~~~~~~~
~~~~~~~~~~~~~~~~~~~~~~~~~~~~~~~~~~~~~~~~
~~
While I am very pleased with this wig there are few things to be aware of.
The bangs, as they are, are too long to be worn as normal bangs, they have to be side swept.
In fact, I chose to style the bangs quite a bit so I took some photos along the way.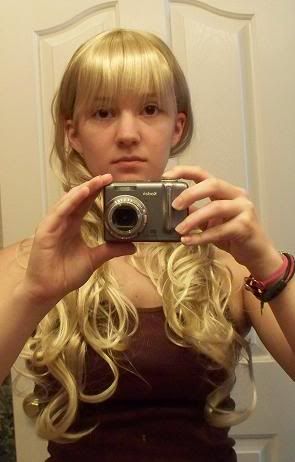 This is
after cutting a little over an inch off
the bangs (which you can see as stuck to my shirt XD )
They were still too long but I wanted to style them before cutting any extra off.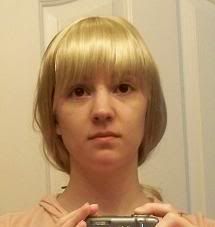 This is after wetting down the bangs and blow drying (without heat)
I highly recommend doing this to any banged wig you purchase as it helps to fluff them up and give them more life
as well as keeping the fibers from clumping together and showing your forehead through.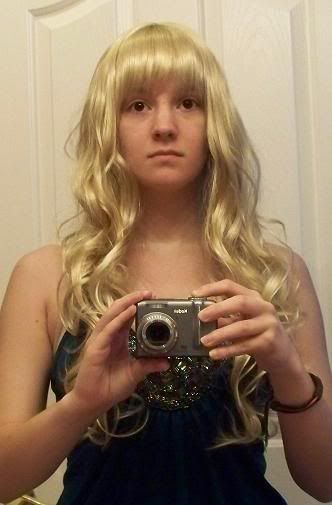 (sorry for the scary face! I figured out after this not to look up during these photos)
Next I re-wet the bangs and used a couple of large foam rollers to further lift them up then smaller foam rollers to help curl under the ends.
It only took a couple of hours for the bangs to dry before I could take the rollers out.
I also trimmed them a tiny bit more at this point.
~~~~~~~~~~~~~~~~~~~~~~~~~~~~~~~~~~~~~~~~
~~~~~~~~~~~~~~~~~~~~~~~~~~~~~~~~~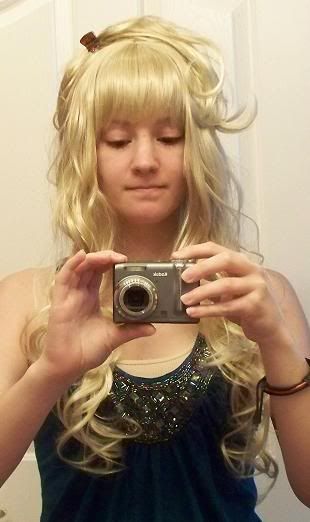 Style wise I like doing it this way myself. I have seen a few other girls that just leave the wig down which is perfectly fine
but I like the idea of faking like they are actually pigtails as opposed to just looking like you stuck fake ones on top.
I left the front down on each side though and lightly parted the back with my fingers.
I pulled each side forward at the base of the wig, twisted it, and then clipped up in my hair until I clipped the hair piece on top of it.
Zephyr wig illustrates it best here except they use their entire wig as opposed to just the back half like I do.
Their wigs are
as seen here
but their site does not offer international shipping I believe
Using this method the wig cap will not show through in the back surprisingly.
So, ready for the final product yet?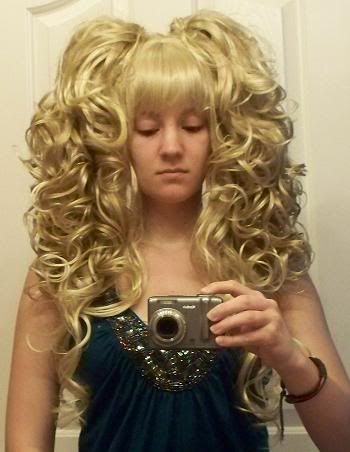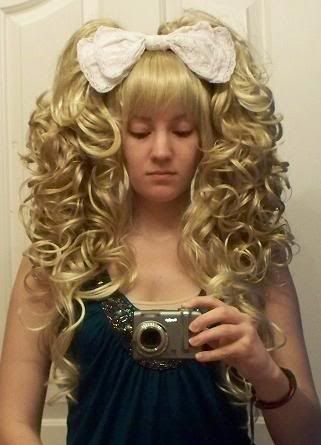 Second photo is with an AnnaHouse bow on top
I ordered 1 light blonde wig and 2 light blonde falls.
My down payment was $45 and my final payment was $55 making the total including US shipping $100
Worth it? I definitely think so!
You can get cheaper alternatives to these types of wigs on Ebay but I have never seen any quite this full or with such a nice base wig.
You can also get cheaper hair pieces through Gabalnara but as far as I know they are only available in dark hair colors, not blonde.
Also worth noting, I have heard some concern expressed as far the staying power/comfort of the claw clips in these rather heavy pigtails. They worked fabulous for me!
You have to push hard enough that they clamp into the wig a bit but with one on each side they stay balanced out and do not pull the wig one way or the other.
If you were to try and put two just on the back of the wig for a crazy sort of different voluminous look I cannot promise it would not pull the wig back.
I hope this was somewhat helpful! Sorry for my scary faced/no makeup or outfit photos.
I now have a couple of new photos to share!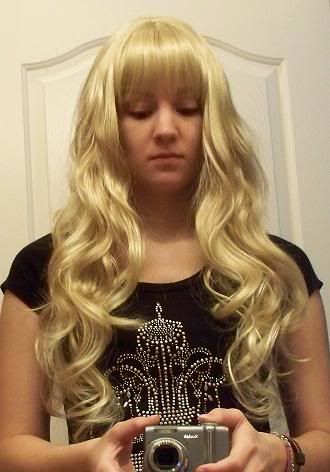 This is what the wig looks like after I brushed it out with a wide toothed comb.
Unfortunately though after brushing out the wig you also have to brush out the falls or you will have perfect curls on those but looser fluffier curls on the wig.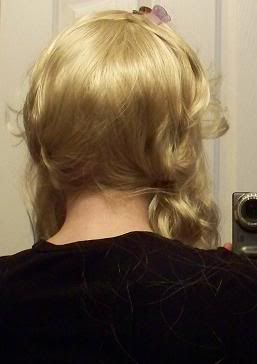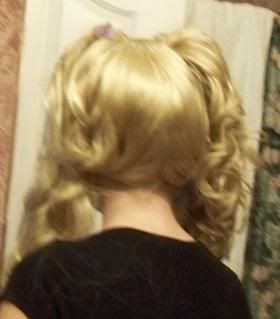 The first photo is the back of the wig after I have clipped the hair up in preparation for the falls to be clipped on.
The second terrible quality photo is after I have actually put one of the falls on.
None of the hair sticking out at the bottom is my own hair, my hair is a very dark color right now so I promise you would
notice if it was :) As long as you don't do a definite part as you can you should have no problem with the cap showing through.
Sometimes it also helps after clipping the sides up initially to tug at some of that hair just to loosen it a bit. This way
it sag a bit more back there and is not pulled up so tight.