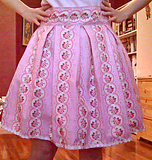 Hello, hello! I'm reviewing the shop Poison Sugar (InsideGenius on Etsy). I ordered three skirts-- one as-is; one with the same design but sized down for me; and one with the same fabric as an existing design, but redesigned to better suit my style. Details about commissioning are in her shop policies.

Communication: 5/5
From the start, we communicated often and very smoothly. She was fun to have conversations with, and we had a mutual understanding that since we both had back-to-back weekend trips, there wasn't a rush to get the two commissioned skirts done. She took progress photos for me of the skirt she was sizing for me, and with the new design, she sent me sketches to give comments on, photos of lace options, and then the finished skirt to confirm that I was happy with it. Great to work with her!

Shipping: 5/5
I paid late Monday night, she shipped Tuesday, and they arrived this morning (Thursday). Shipping was priority and in a very sturdy box, with the skirts also wrapped in bags to further protect them. I very much appreciate that touch with Florida's frequent thunderstorms! They also shipped in with a personal letter and surprises to coordinate with one of the skirts.

Quality/Details:
Please note that these pictures were taken without me washing or ironing after they arrived, and with my laptop's built-in webcam after a late afternoon thunderstorm, so there was a combination of inherently bad quality camera with not great indoor lighting conditions and wrinkles from shipping. I tried to tweak what I could as far as the lighting and such, but the cam just couldn't pick up the details. You can see photos that InsideGenius took here on the sales page. Note that she puts them on the dressform with properly fluffy petticoats, whereas I don't own one yet and used a Wet Seal tutu skirt that's well above the knee and only cost me $0.01 because of a sale they were doing. It gives a little puff for a little time before deflating, so that doesn't show the skirts to best advantage. I'm wearing a BTSSB cutsew with the skirts to help show what kind of pinks we're dealing with... and because, uh, shirtless immodest much? Anyway, onward!


Spring Bouquet: 5/5
Without Poof
With Little Poof
Closeup Poof

This is the skirt that I ordered as-is, and I love it! The webcam unfortunately couldn't pick up the subtle details in the fabric pattern, so you'll have to see InsideGenius's for those. The roses are a gorgeous bold pink and the white accent designs are outlined in lavendar. The lace trim is so, so soft. No scratchiness here! My wimpy tutu couldn't handle the weight, but it should be just fine once I get a petticoat. I'm amused that the pattern was lined up so nicely at the seams that I had to search all over to figure out where they actually are. The waist is fully elastic and I find the length perfect for me. For reference, I'm 5'0".


Victorian Roses: 4.5ish/5
Without Poof
With Little Poof
Closeup Poof

Once again, the cam couldn't handle the prettiness, especially the beautiful pinks. This skirt was commissioned to my size; I loved the existing design, but it would've been too big on me. InsideGenius left "eating room" in the waist, which is fastened with a sort of tabbed-over-button-thing and a zipper. The shipping understandably did some flattening to the pretty pleats, but they actually still held up pretty well! I did find the waistband a little tricky-- not to put on, but to figure out where it should sit. It wants to stand up straight rather than hug to my body and it's wide enough to sit lower on my hips than up more towards my natural waist-- but once I put the tutu underneath, it wanted to ride higher and poof there's my knees! Something I'll need to play around with, eh? The bottom trim is in a design of small flowers, suiting this so nicely.


Mint and Berries: 5/5
Without Poof
With Little Poof
Closeup Poof

For this skirt, I loved the fabric but not the design that was available on Etsy. As I detailed above, InsideGenius came up with a new design-- and I love it, even more now that I get to see it and wear it. There's a row of pretty (soft again!) white lace, a ruffle made with the skirt fabric with red trim stitching at the bottom, and then a second white ruffle (sewn behind the first). The two white bows are detachable and I'll probably detach them for laundry, though I already like the current placement. The tutu again met its match when I put it to an unintended purpose, but it still gave some poof despite that. Another fully elastic waist here, though one of the seams ended up in an awkward press against my leg when I sat down, so I'll need to play around with how I spread the skirt for sitting. The featured fruits are cherries, raspberries, strawberries, and blueberries, plus the green leaves and the lovely mint background. I see a lot of coordination potential here. I've got a number of colors I can play off of, and the cutsew I'm wearing likewise has cherries, raspberries, and strawberries. It'll carry well across seasons-- look out, Christmas!

Overall:

♥ ♥ ♥ ♥ ♥


The skirts are fantastic and comfy-- and machine washable, even! (Gentle cycle of course) I would absolutely order from InsideGenius again, and look forward to someday doing that. She has some more whimsical designs as well that aren't my personal style, but that I'm sure would find great homes in the community. Highly recommended!