So a while back, I ordered a commission through
ginghamcherry of a black bonnet. I'd been wanting one for a while, perhaps a half bonnet, and had even made a WTB post on the community sales. When she posted a few new pictures of herself in one of her handmade bonnets, I knew I had found exactly what I was looking for.





The process was very quick and painless, here's a timeline of the events:

April 10th, 2010

ginghamcherry posted her photos, and I left a comment asking about commissions. She answered by showing me samples of previous work, and we discussed design options. I described what I wanted to her, and she offered to provide a design sketch. I asked about prices and materials, and we agreed on $65 plus the cost of shipping. Considering the quality of her work, I was surprised at how low the cost was, but very happy to accept.

April 11th, 2010

ginghamcherry linked me to her design sketch, which was spot on with what I had described. She made suggestions for materials, but said that her latest order of trims wouldn't be arriving for a while, yet, and asked if I could wait. I agreed.

April 15th, 2010

ginghamcherry contacted me again to let me know that her trims were in from her order. She showed me the materials that she had in mind in a photograph, and we agreed on a timeline for construction. I paid my first invoice to her on this day, for the cost of the materials and construction.

At this point, the timeline gets a bit fuzzy, because we moved to PMs and I've lost the dates!. The bonnet was completed in less than a week and
ginghamcherry provided me with progress photos along the way. She kept in touch with me the whole time, especially when there was a small delay because the haircombs that she had ordered were delayed in shipping.

April 27th, 2010
I paid my second invoice for the shipping of the bonnet, and the next day it was in the mail!

May 3rd, 2010
The package arrived! Everything was safe and sound, very neatly packaged (and securely, too! I had to get out a box cutter to open it). It was wrapped in a box in brown paper on the outside, and came with a very cute thank you note from ginghamcherry inside. Now. The part I know you've all been itching for. The photos!

These first photos are the ones that she took to show me, they're very clear compared to mine. I was so excited for it to get here that my photos aren't very good. I took them in very poor lighting... haha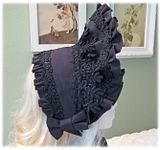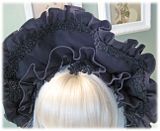 My photos: the packaging and the haircombs (there's one on each side, that snug up a bit above the ear).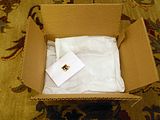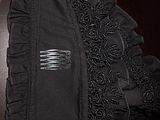 A sample coordinate: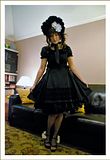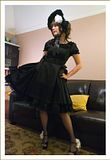 Thanks for looking, I hope you found this review helpful!

For more examples of her bonnet-making or information on how to set up a commission with her, please see
ginghamcherry 's journal: Bonnet Gallery and Commission Information.