Friday was the first day of Akon 21! Sarah/
grimy13 and I drove up together from her house, and stayed at the Aloft hotel. I ended up booking the wrong hotel, since I thought that it was only a block from the convention. Turns out it was a block from the Dallas Convention Center, which is not the same thing. We were only a mile off, so it wasn't a long drive, but we did end up wasting a fair chunk of money on temporary parking at the event because of the error.

Anyway! On to the photos!









My preparations actually began the night before, with packing and then washing my socks in the sink with Woolite.
The white ones were dyed with black marks from my Sketchers boots a while ago, and I was desperate to fade the stains.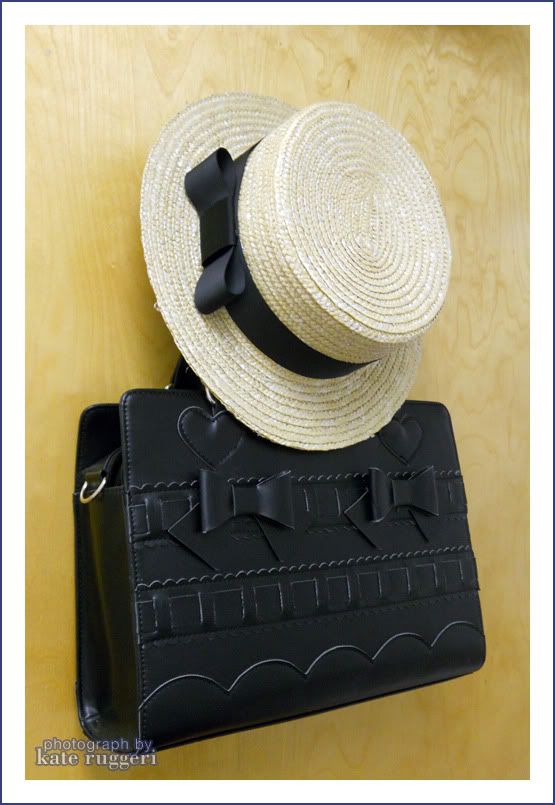 In Centerville, we stopped for Dairy Queen, and for me to use the toilet.
I just thought my hat and bag looked way cute hanging there together on the door hook.

Yeah. I know. I take photos of weird things.





After we got to Dallas, we realized that our hotel was in the wrong area of the downtown for the convention. I felt really bad about it, and apologized repeatedly for the rest of the weekend. Sarah insisted it was okay. We went inside to check-in, and discovered that there were no rooms available for about an hour, so we got our parking ticket, and decided to get some food. We walked over to a really awesome McDonald's (it had a revolving door!) and got some food.

It was at this point that Sarah looked at me with wide eyes and declared "I forgot my shoes."

Being the geekystupid girls that we are, I whipped out my laptop and she got to texting. I sent a plea to the local lolitas for help, but we got no response. Luckily, when unpacking, I realized I'd impulse-stashed a pair of black shoes in the car in case my boots were too uncomfortable. I also still had my little driving shoes**, so we were set!





** I drive manual, so wearing heels is not an option in the car. I usually change shoes and keep a pair under my seat just in case.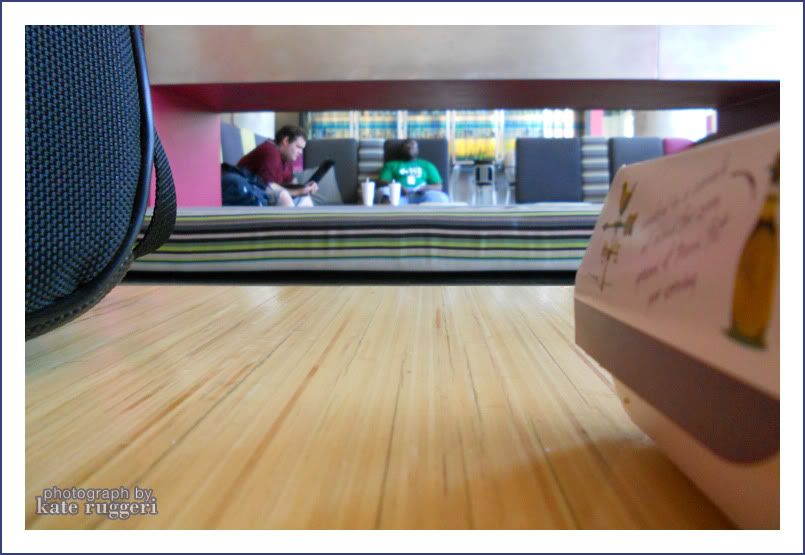 I'm a bit of a creeper. We spotted a few other con-goers staying at our hotel and I was trying to scope 'em out.
They ended up being on our floor, and we ran into them a couple of times at the convention, too.

After eating, I checked with the staff on the status of our room. Turns out, there was one ready, so we headed on up!


When we got to the room, Sarah declared it was the "best wrong hotel EVER!" We were technically in what most other hotels would call a suite. We had a little dining/office area with a TV, a bedroom area with a lovely view of a concrete pole, and a nice bathroom.

We decided that whoever stays in this room together must be very comfortable with one another. At first, we thought the bathroom had no door, and then we discovered that the shower had a foot-wide, fogged glass panel that you could see into from the bedroom. We ... were a bit amused to say the least.

After we had settled in, we got ourselves together to go to the convention and get our badges. We probably left around 3?





I wore Vampire Requiem with pink! But. Since I fail at mirror shots ...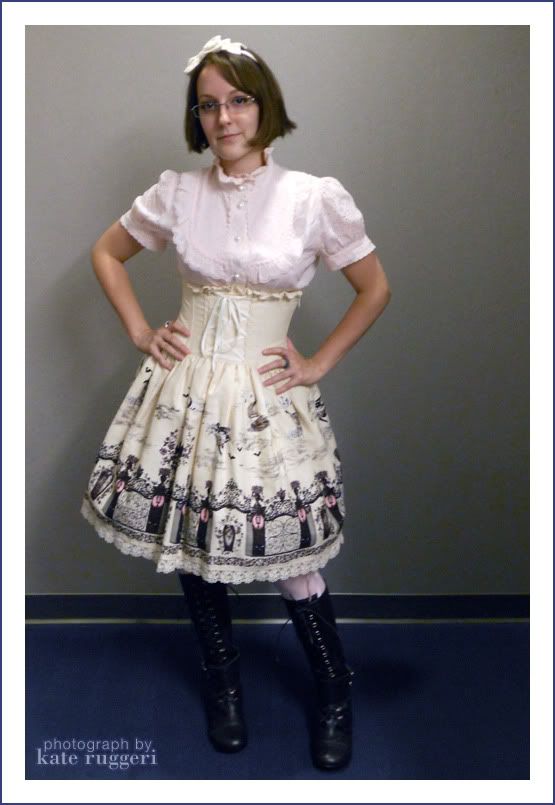 ... Sarah took a better one for me. Originally, I was going to wear a wig with this, but I decided that it was too hot to bother.

After we got our badges, we started our walk of the convention!

Unfortunately, I didn't get as many photos as usual because every time I tried, a constaff member shouted at me to move out of the way of traffic (of which ... I saw nothing? most of the time).

This happened a lot through the course of the weekend, even in areas that were definitely not blocking the path, so I didn't get as many shots as I would have liked. I was too paranoid about getting yelled at, and missed out on taking photos of a lot of really great costumes.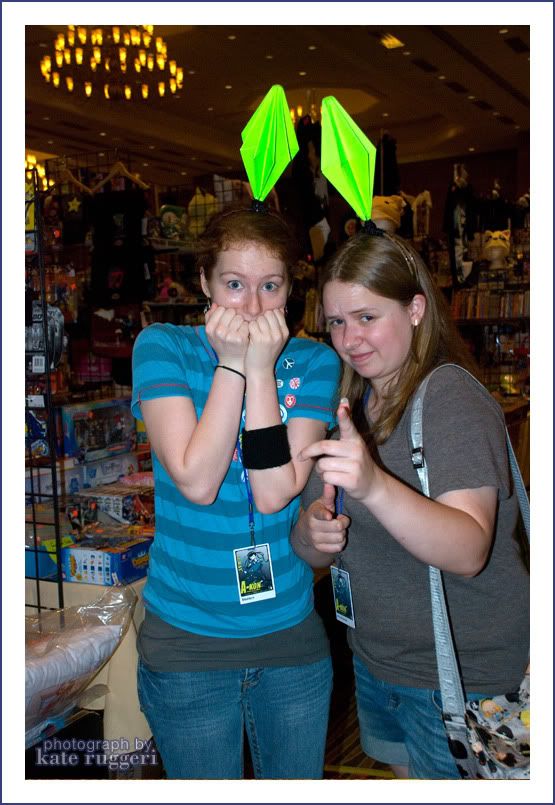 Sarah and I decided that this was actually our pair of favorite costumes of the weekend.
Simple, but very cool!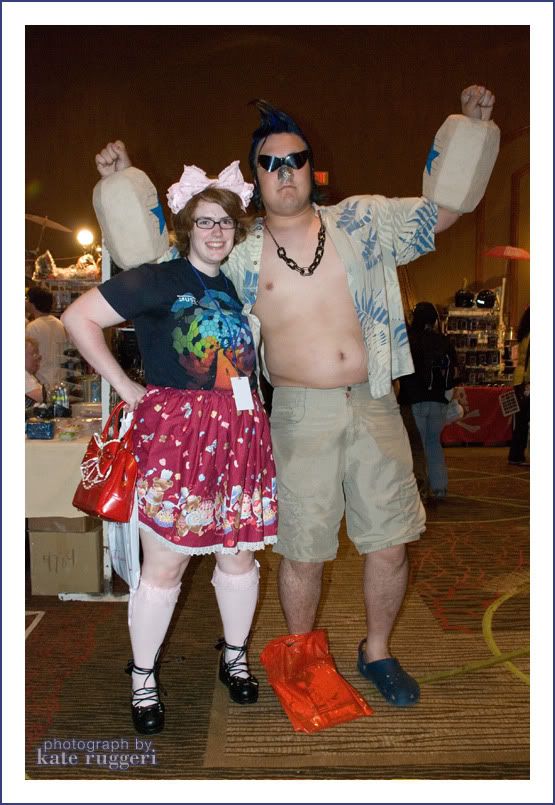 ... and then Sarah changed her mind.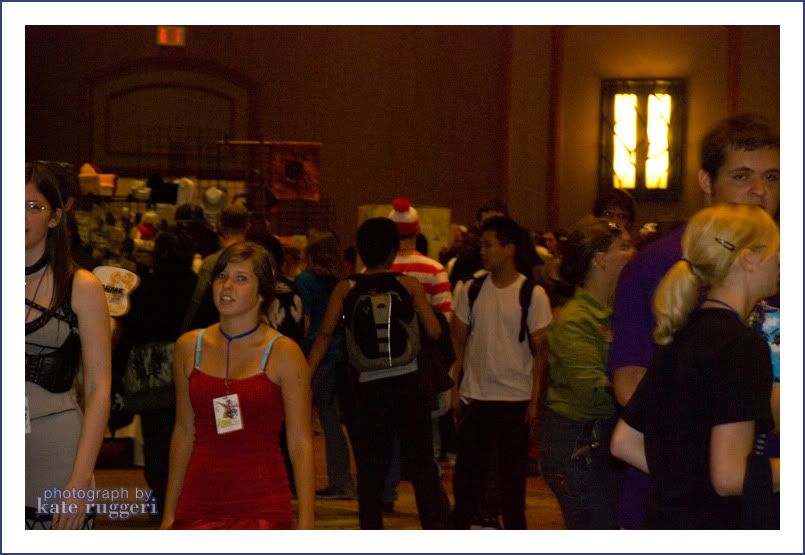 ... where??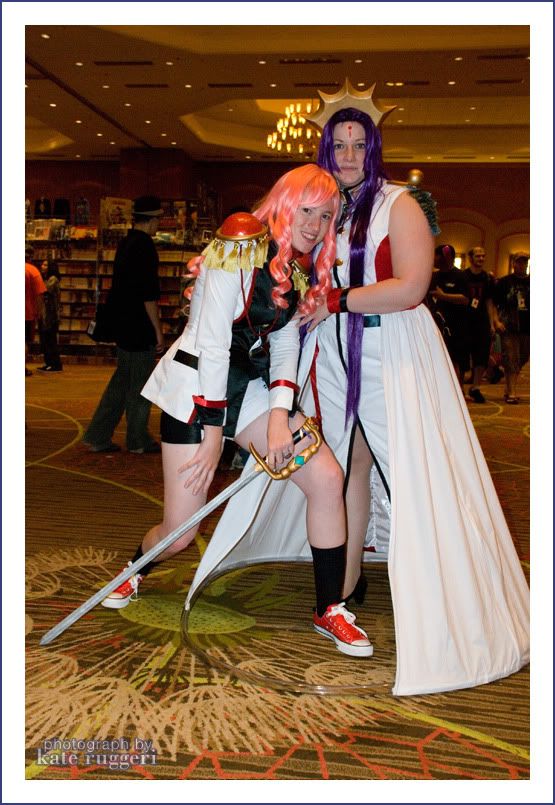 Utena and Anthy! I know some people who would really dig this.
I love how Anthy's skirt is put together, too. Very clever, indeed.





After wandering a while, Sarah and I stood in line for the elevator for about a half hour to get up to the room where the lolita swap meet was being hosted. Dani/
corfina had told us to meet there around 6:30. We knew the nature of A-Kon's elevators in advance, however, so we got in line early. We ended up getting upstairs around a half hour early, but still had to stand in the line for nearly 45 minutes. The Sheraton's elevators get abused, badly, during the convention. It's nasty business.

After we got upstairs, we waited for the others to arrive. We sort of just chilled out. Read Sarah's newly purchased (but waaaaaay old) issues of the G&LB, and listened to the drama going on in the room next to Dani's. It involved broken hearts, teenagers, slapped faces, lots of swearing, screaming, and probably property damage. It was pretty entertaining, though you had to feel sorry for the kid who got smacked.

Eventually, the others arrived, and we discovered that a) Dani did not have a room key, b) Dani's roommate was not in the room and c) the person who had the extra room key was not next door as expected. Thus, we sat. And we waited.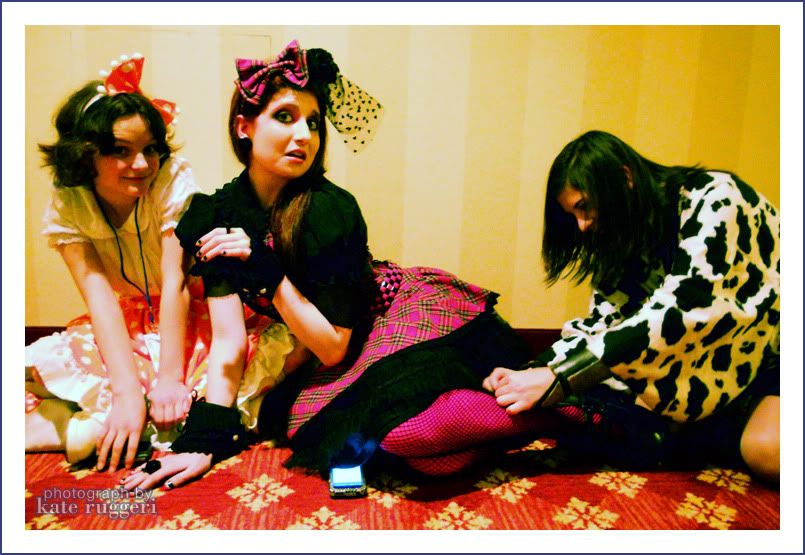 Camille/
insecurelobster , Dani/
corfina and the cow ninja (whose name and username I have forgotten! I'm sorry!)

While we were waiting, Dani's tights got bored. The rhinestone backseams decided to mate withe the fishnet on the opposite leg.
The cow ninja had to extract the pair from one another gently, but neither would ever be the same again.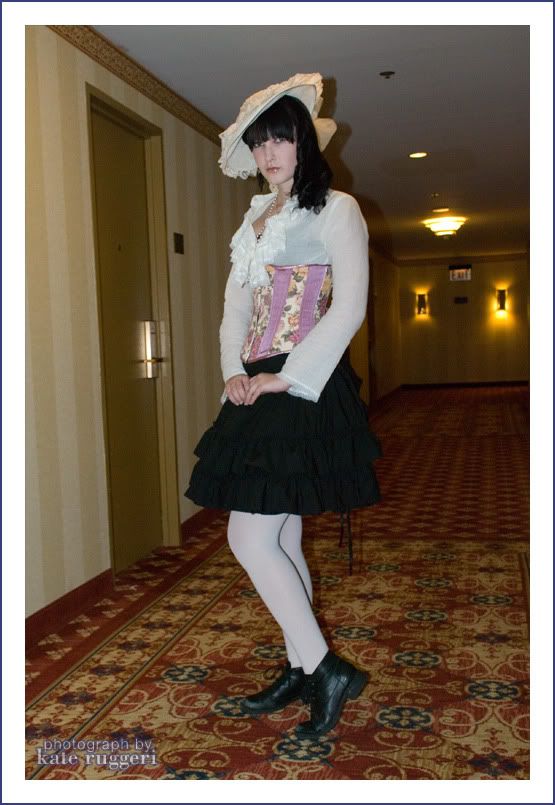 This young lady came out of her room and down the hall while we were waiting.
I found myself in love with her gorgeous hat and corset. <3

After a while, we decided that it was time to kill time with some outfit shots!

If you're here, and I didn't remember your name or username, please hit me really hard remind me in the comments.

I promise that it's not because I didn't like you, I'm just really, really bad with names!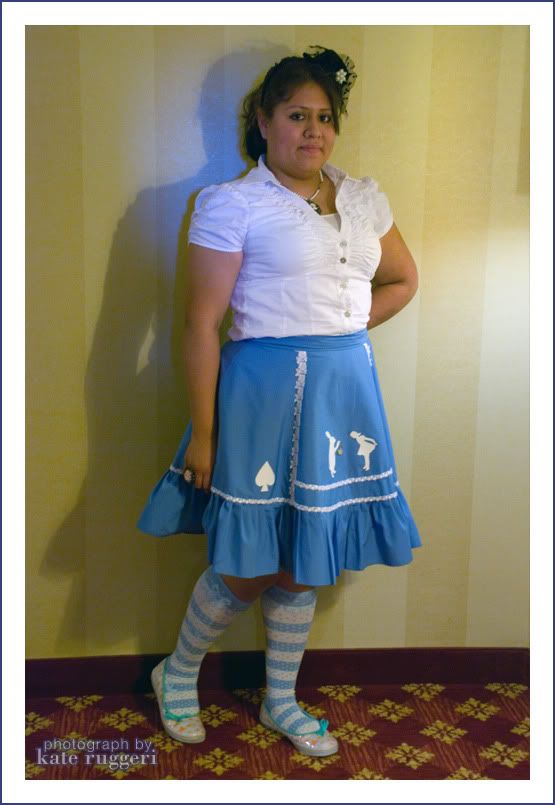 ???/
lacepoppet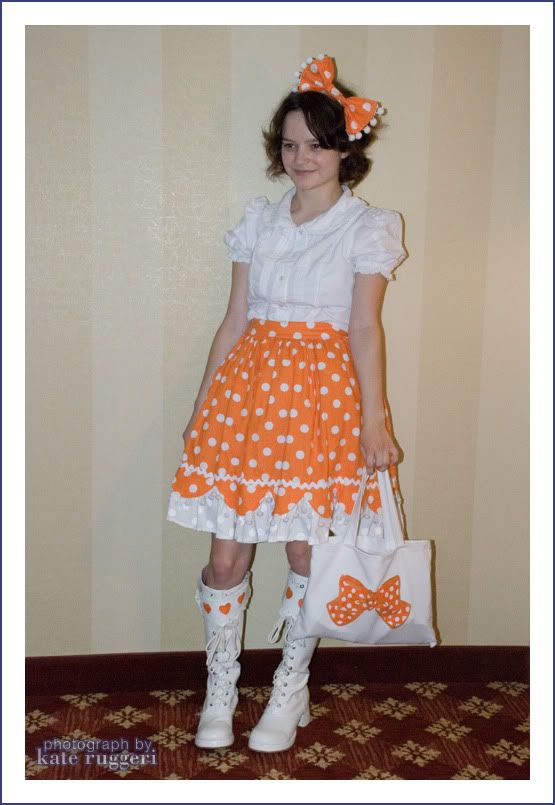 Camille/
insecurelobster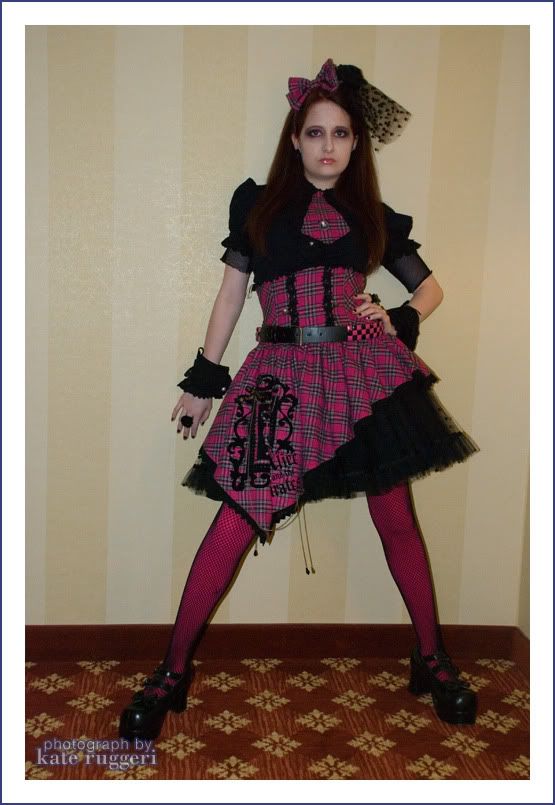 Dani/
corfina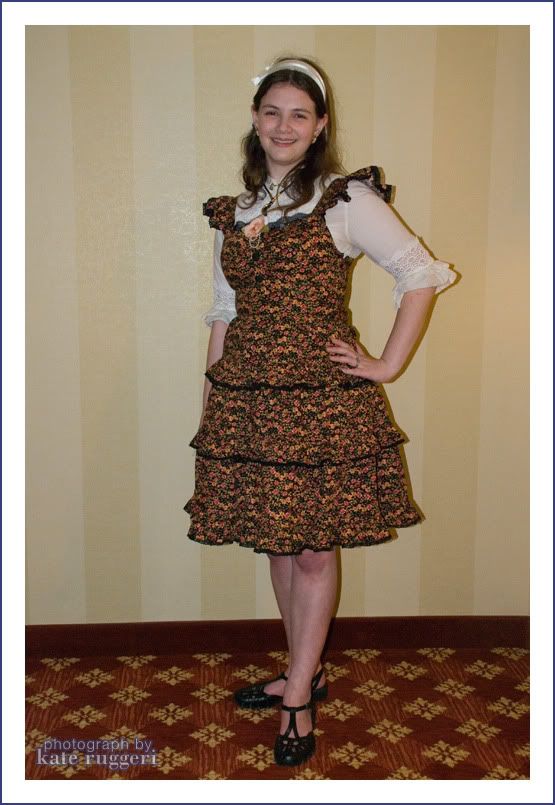 Alice/
authenticalice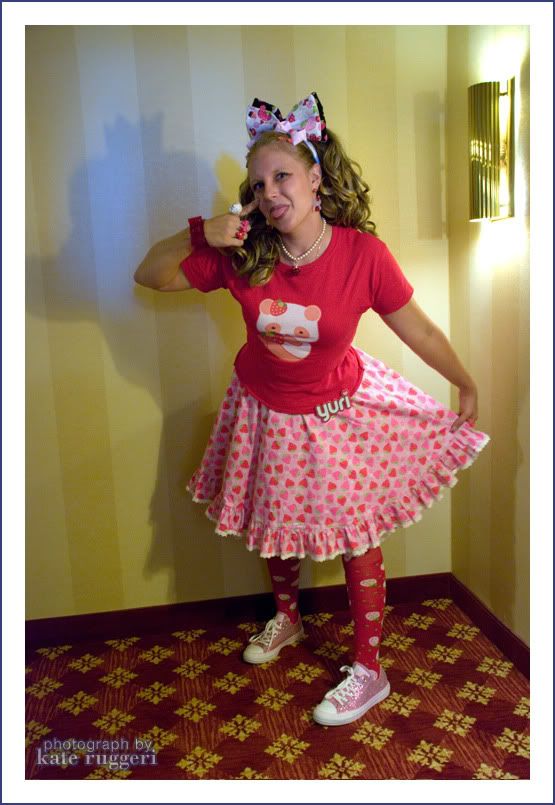 Heather/
pika_loli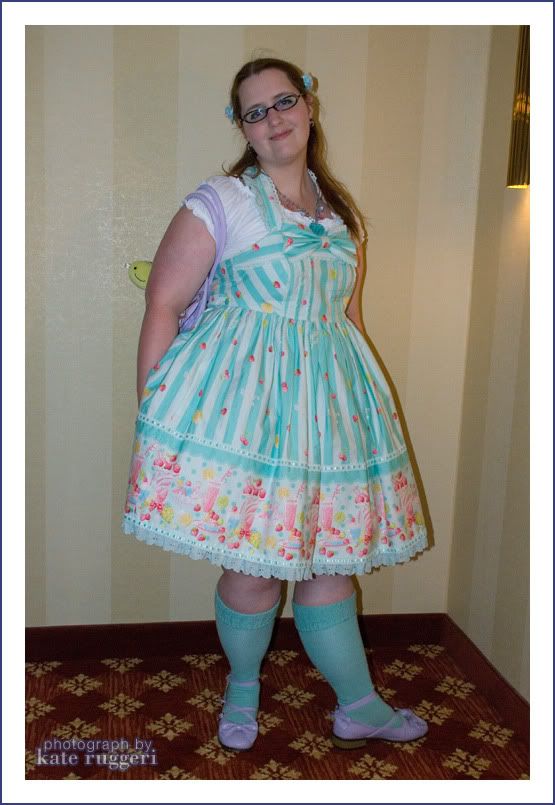 Laura/
shinnyneko (I think?!)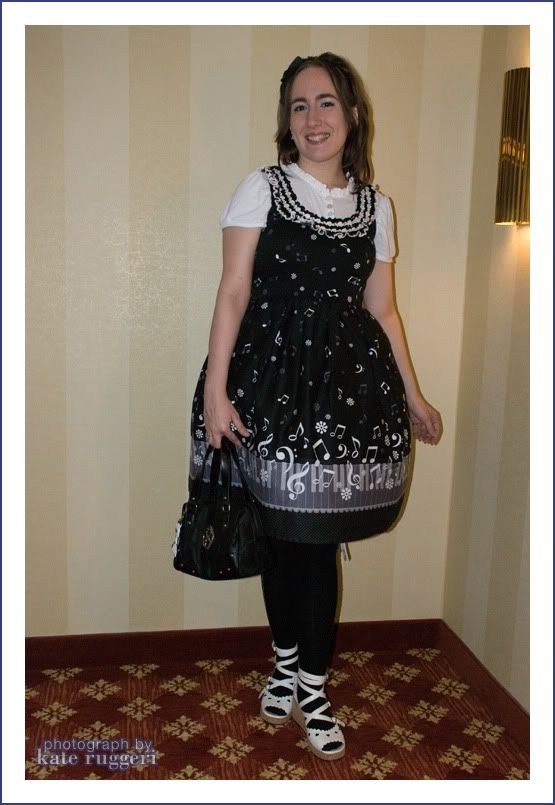 ??? (I feel so bad now, because I knew your name AND username when we talked!)





???/A new lolita, first dress!





Amy/
aisfor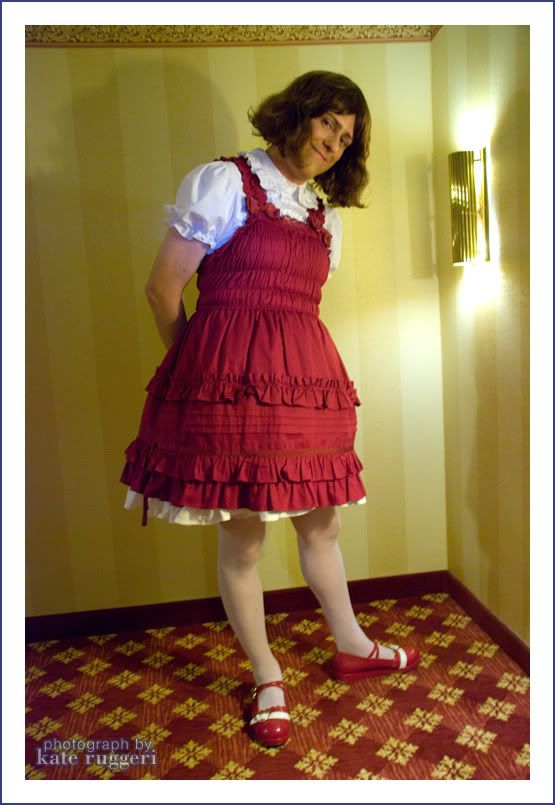 Brian/
satsuke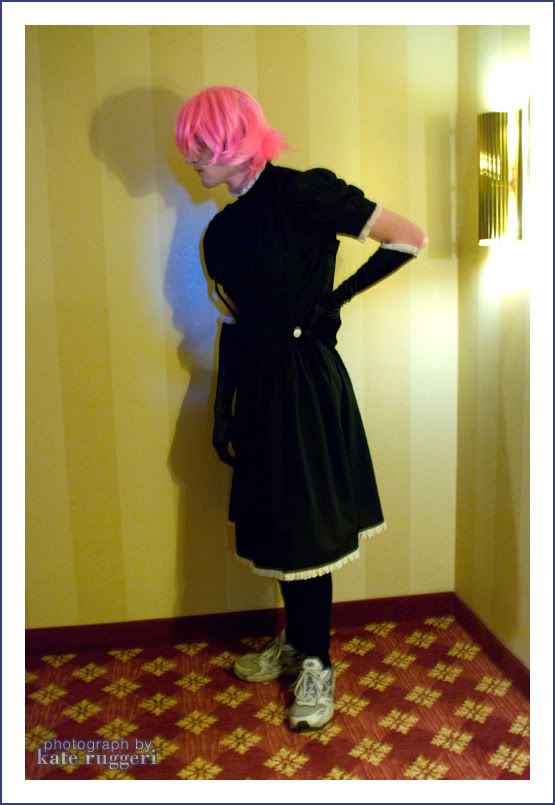 ???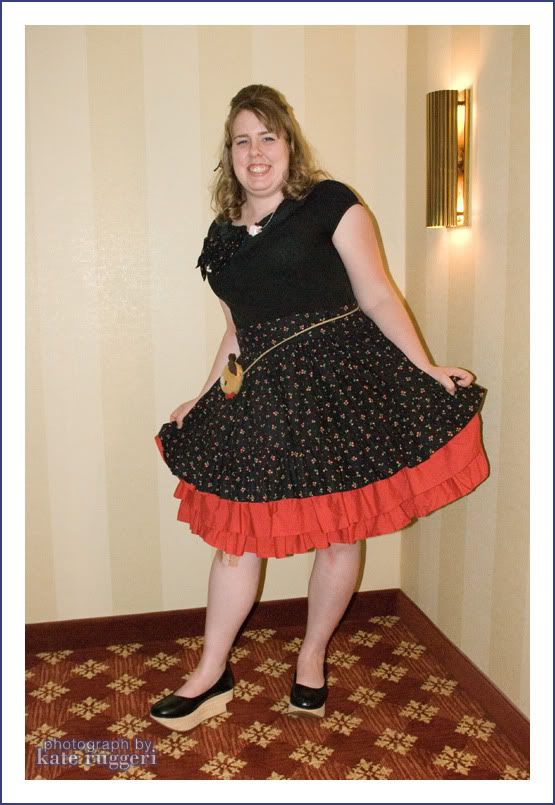 ???/
eristell_neko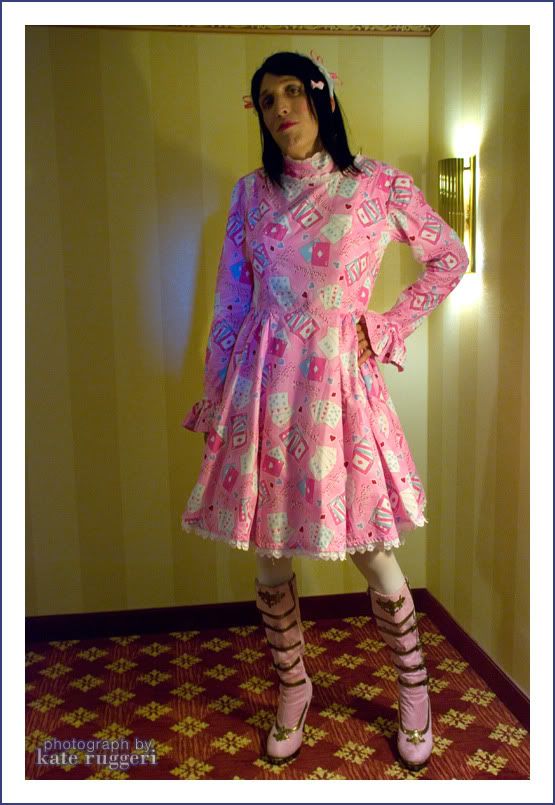 ???/(Really feeling bad, since we talked so much--is it Adam? Eek)





Eventually, Dani's roommate showed up with the key, and we were able to get in to hold the swap meet. It was pretty crowded! Not everyone was in lolita (some people came in cosplay, or casual dress), but it was cramped and very hot.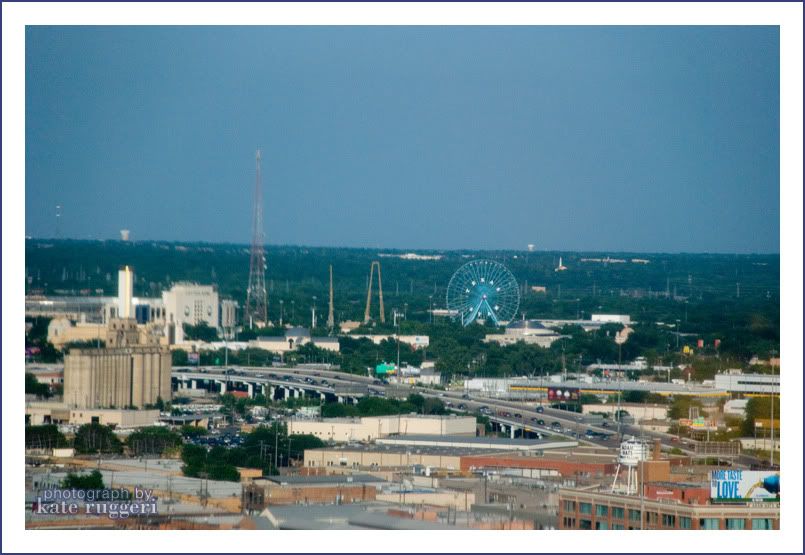 I wiggled my way to the window to sit by Sarah, and got distracted by the spiffy view out the window.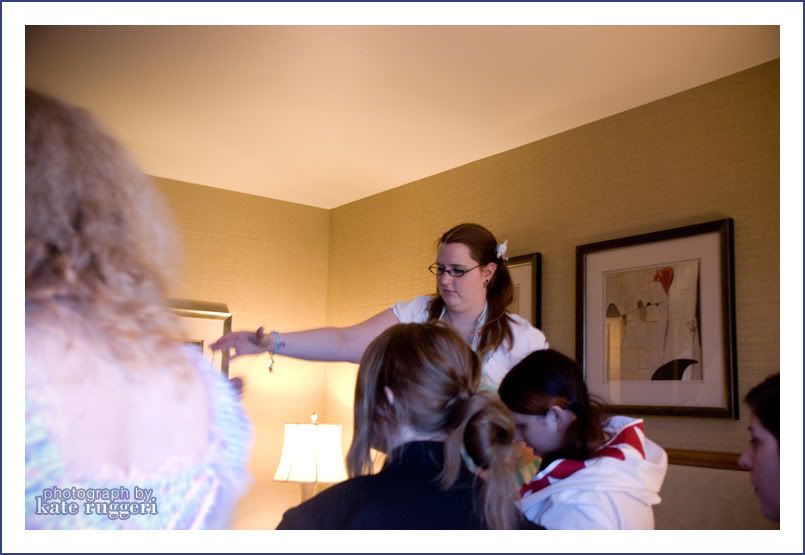 The view inside was interesting, too!
shinnyneko stepped up and acted as a sort of "auctioneer".
She showed off the items that were up for offer, and listed the price/trade offer the owner wanted.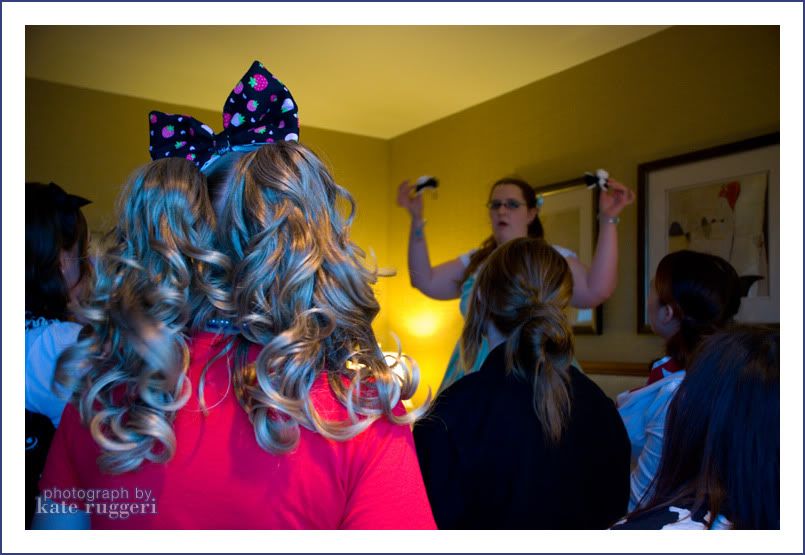 I think this photo sums up the swap meet pretty well. haha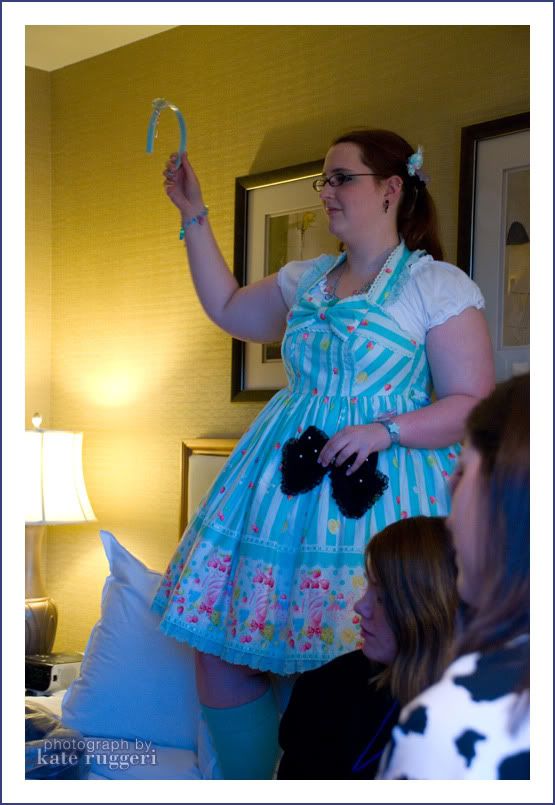 Pretty Rose Toilette headband in mint ...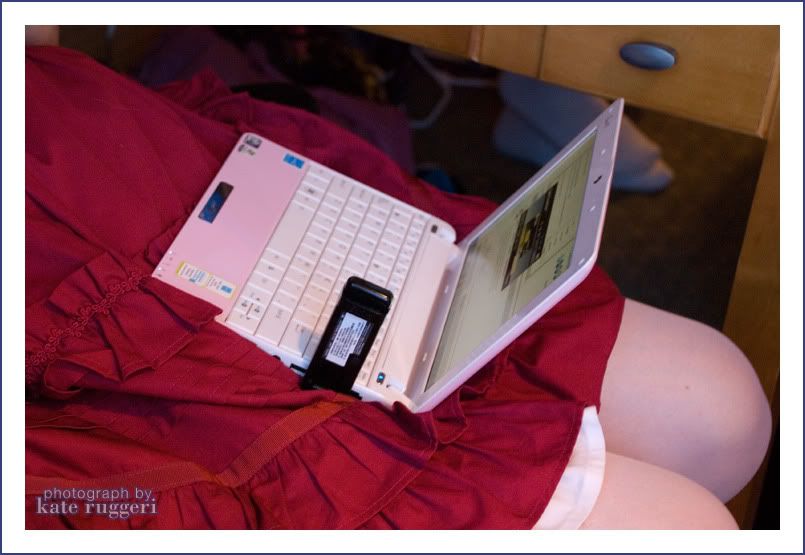 Somebody came prepared... I really have no idea where that thing was stashed, either.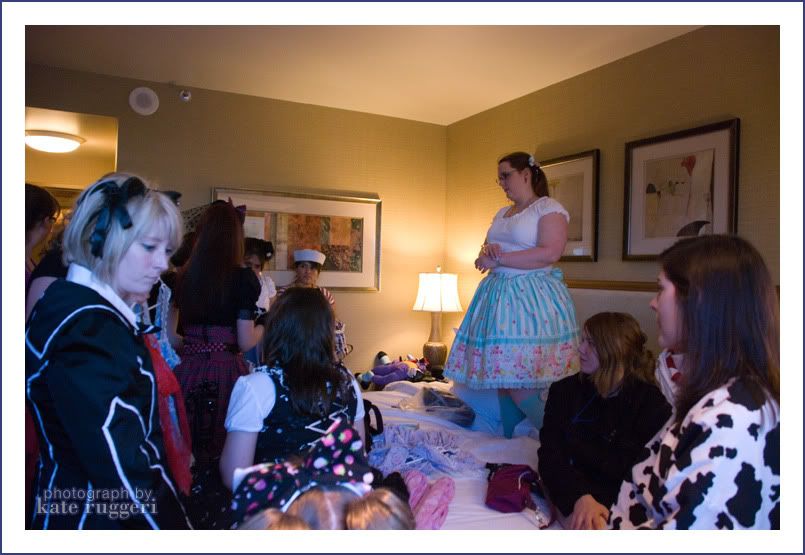 The swap meet started to wind down, mostly because the room was so hot that people were getting listless.
As you can see, our grand auctioneer converted her JSK into a SK to beat the sweltering heat in the room.

After the swap meet ended, a few of us lingered to chitchat, and eventually decided to get food. First, however, there was a bit of camwhoring, because I had promised to come see Dani for aaaaages. About a year, I'd guess? haha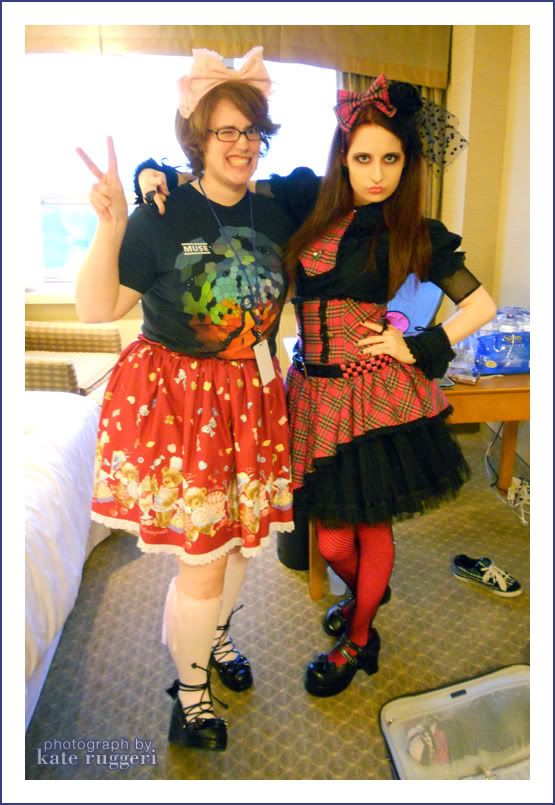 Fierce!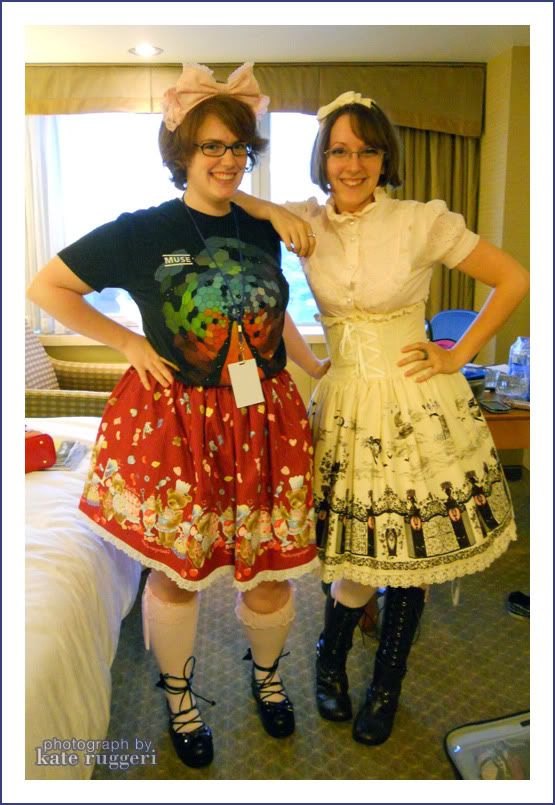 Ohjesus. My gums.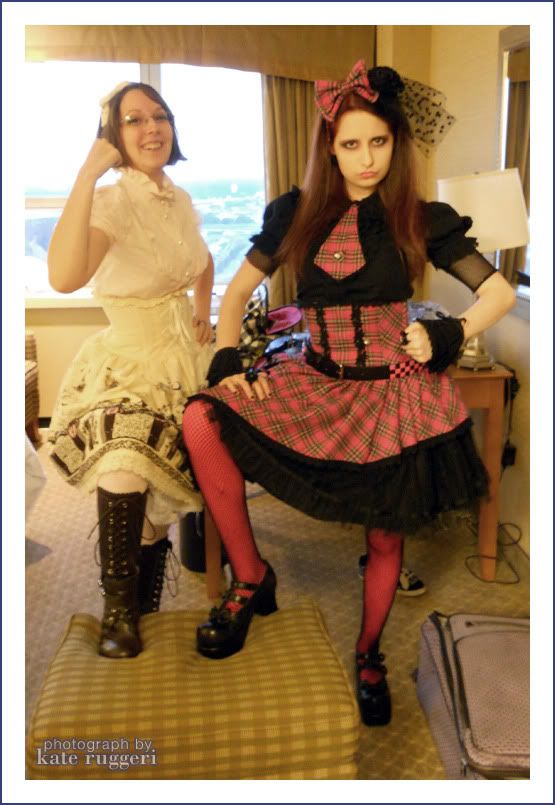 I had a hard time keeping a straight face for this, but Dani's an expert at these things and did amazingly well.

At this point, Dani realized something important: she had lost the room key that her roommate had given her. Forlorn, she escorted us downstairs, and went off in search of the spare, while Sarah and I hit the food court for some late evening dinner at Taco Bell. While we were settling down, this guy with an awesome tattoo went by and sat near by.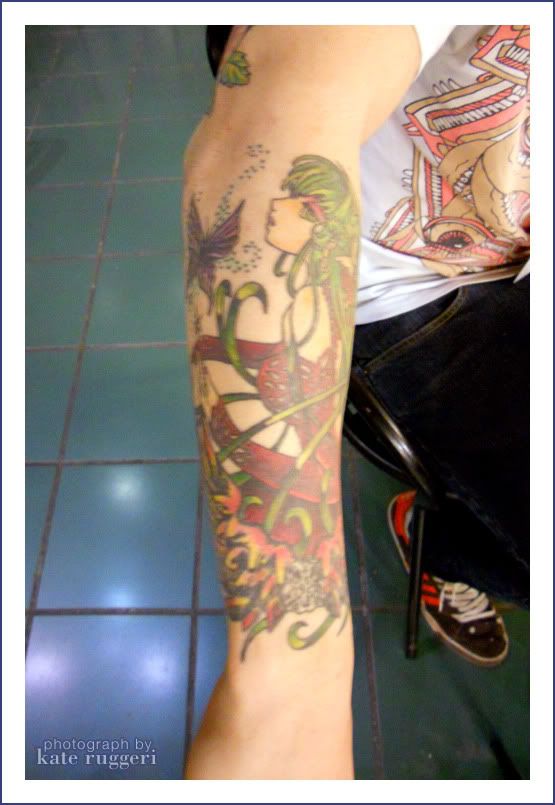 I asked for a photo, and his friends lamented that the guy's arm has had more pictures taken of it than they have combined.
Poor things. haha




After that, Sarah and I drove back to the hotel. There, in the lounge, we found a live DJ near the bar, and waved to a very nice couple who was oogling us from the bar (the woman smiled and waved back at me very enthusiastically), and watched a bit of TV before bed.

Saturday morning, Sarah and I got up early (for us!) and got ready for the meet-up. We booked it to the convention from our hotel, but had issues finding parking, though it was barely ten in the morning. We finally found a spot in a lot about a two blocks away, so we walked back towards the convention center from there.

When we arrived at the Plaza of the Americas skywalk, there were already a slew of other lolitas present! We had to beg for the door to be opened, since apparently we went to an Exit Only door, and joined the group.

Eventually, we massed together and headed for the Westin's restaurant, while Amy/
aisfor waited behind for the missing parties.


Again! If I missed your name or username, please tell me! I feel really awful about not remembering names. :(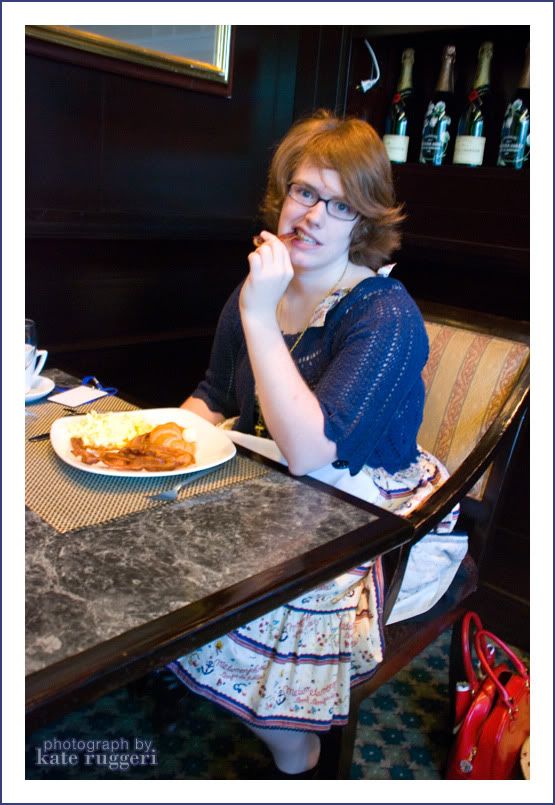 Sarah and I camped out what I referred to as the "date table".
It was far away from the rest of the room, in a little alcove.

After we settled and she got her breakfast, I wandered around taking photos!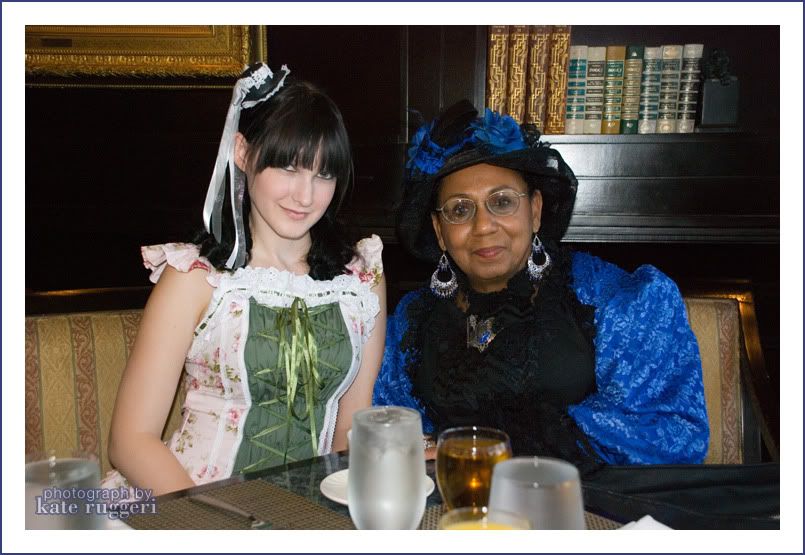 I believe the girl on the left is the same as whose hat and corset I loved the night before.
Her dress was remarkably well-matched to the color of her eyes. I thought she had on contacts!

The lady to the right arrived well before the rest of us, and I didn't get to talk to her much.
I believe I overheard her saying she'd made her entire outfit, except for the jewelry?



vicki_bot and ???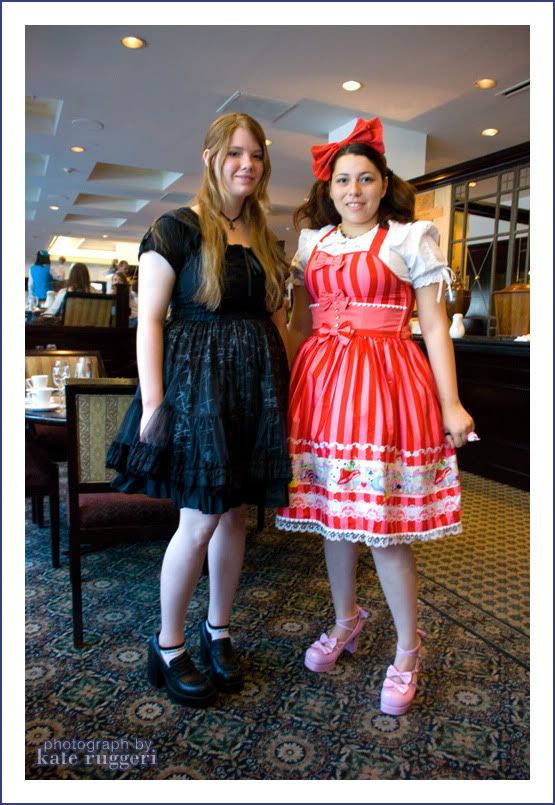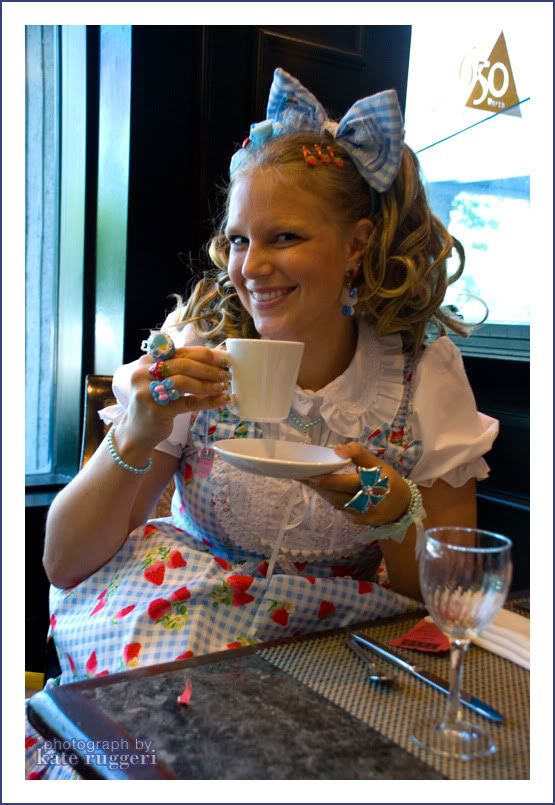 Heather/
pika_loli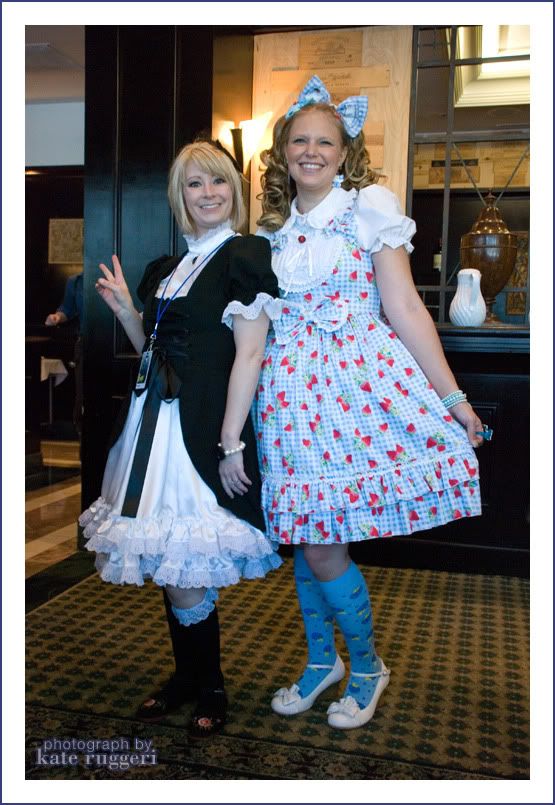 ??? and Heather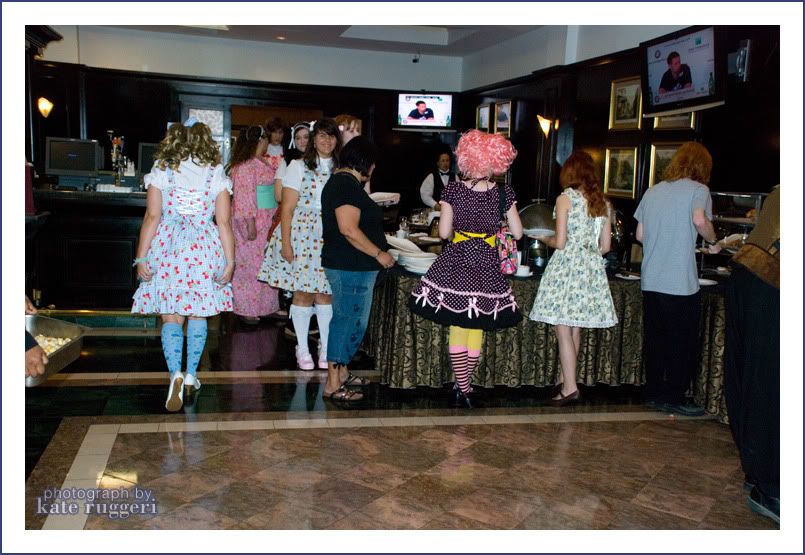 The breakfast buffet. :)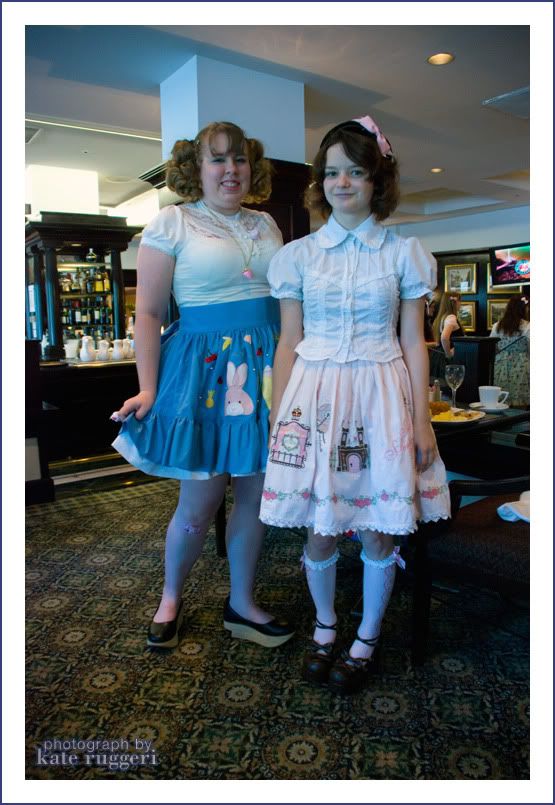 eristell_neko and Camille/
insecurelobster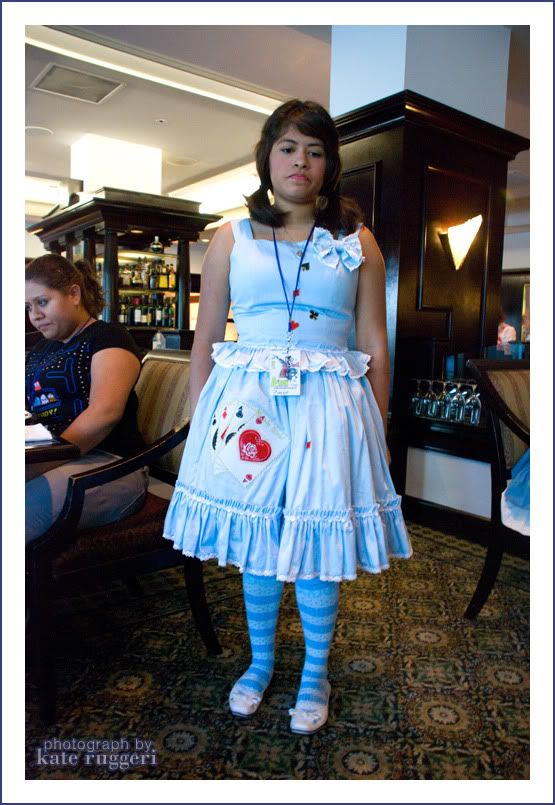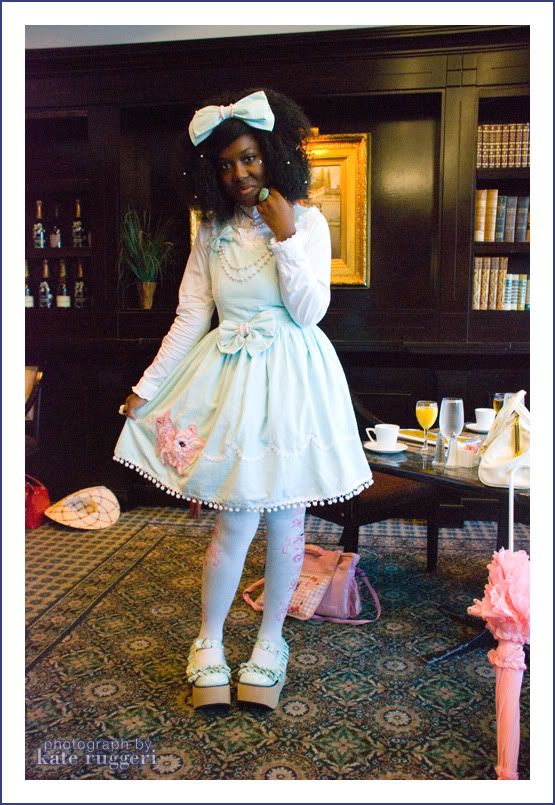 Aisha/
aestheticasatu

I think this meet proved to poor Aisha that I'm a horrible creep. I asked to fondle her shoes, and pet her skirt.

... I'm just affectionate, not weird. I swear. :(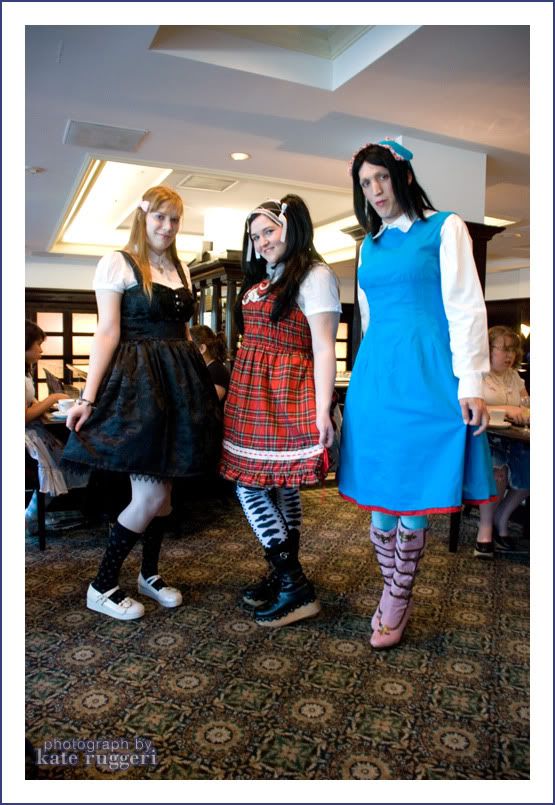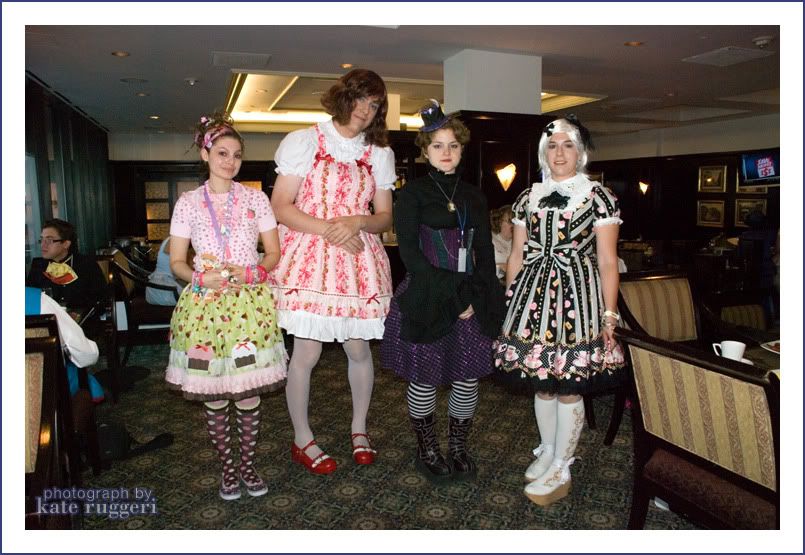 Melissa/
dear_mo ,
satsuke and two lovelies I didn't get to talk to!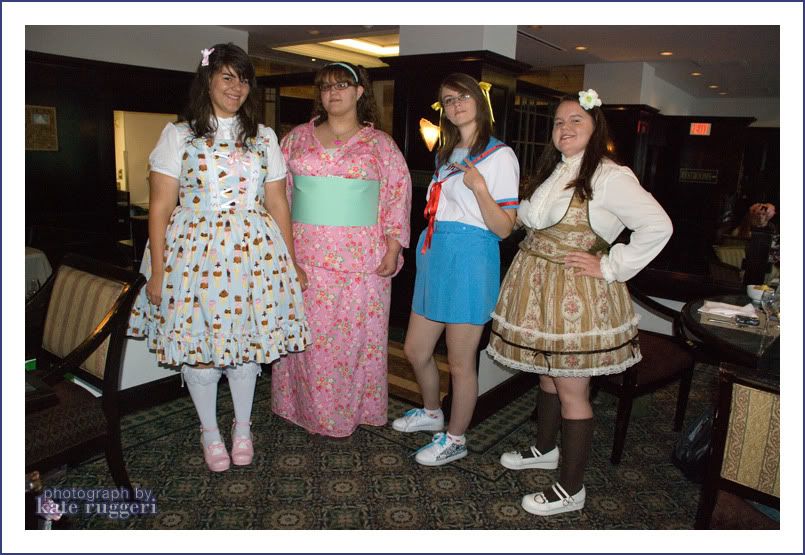 mew_risachan ,
anime_panda_89 , ???, and
hotaru230 (I think??)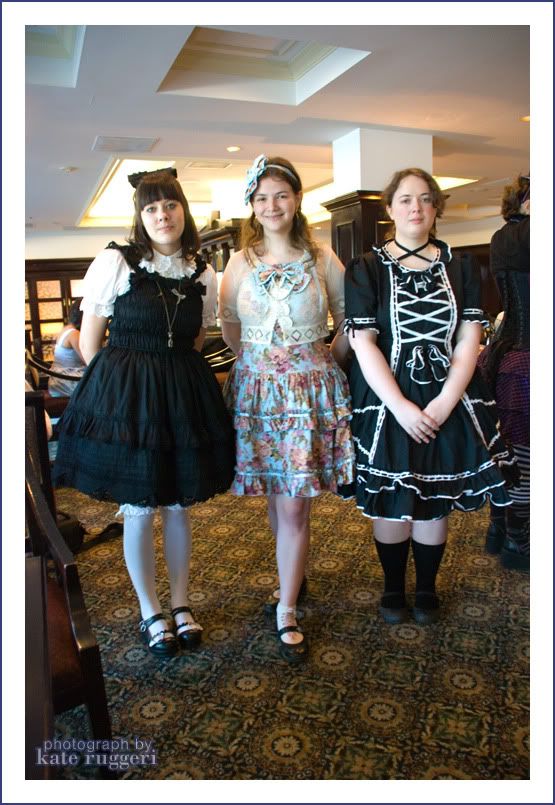 devilsdaffodils ,
authenticalice and ???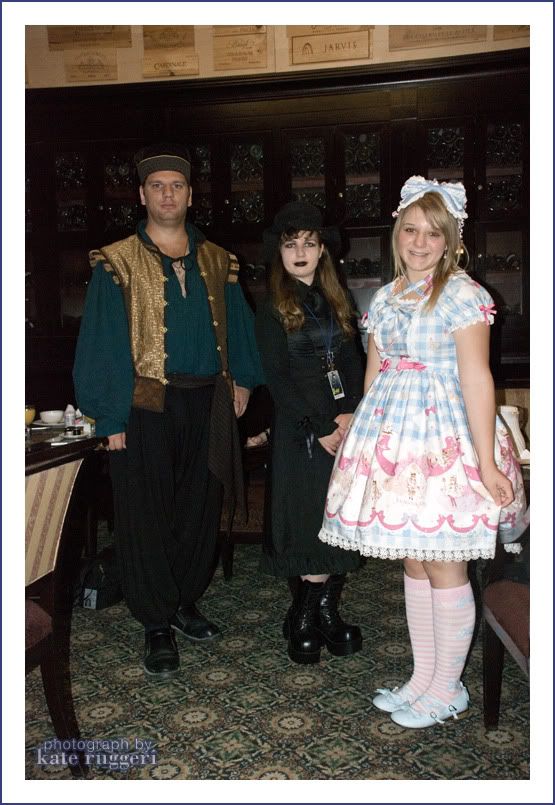 Two folks I don't know unfortunately, and Ruth/
blondehaolegirl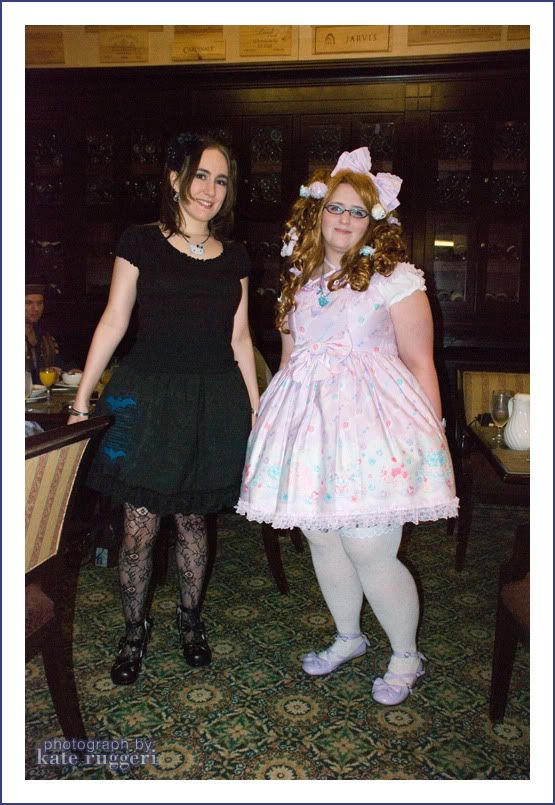 ??? and Laura/
shinnyneko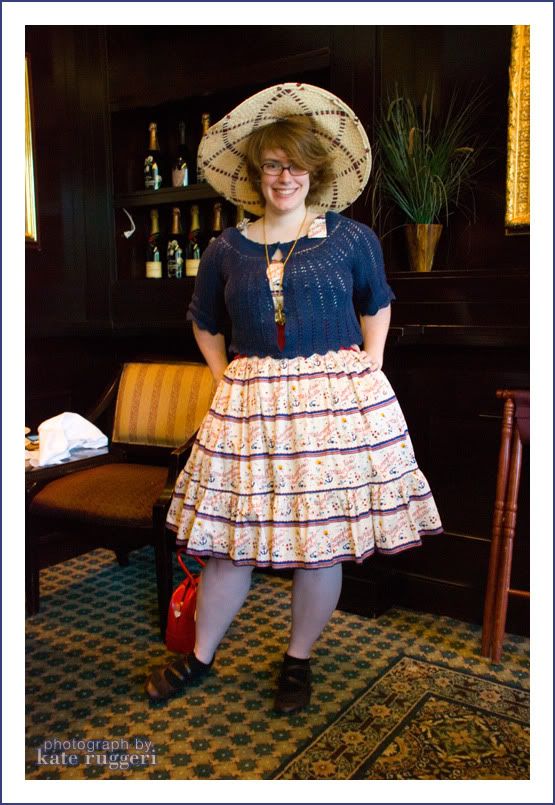 Sarah/
grimy13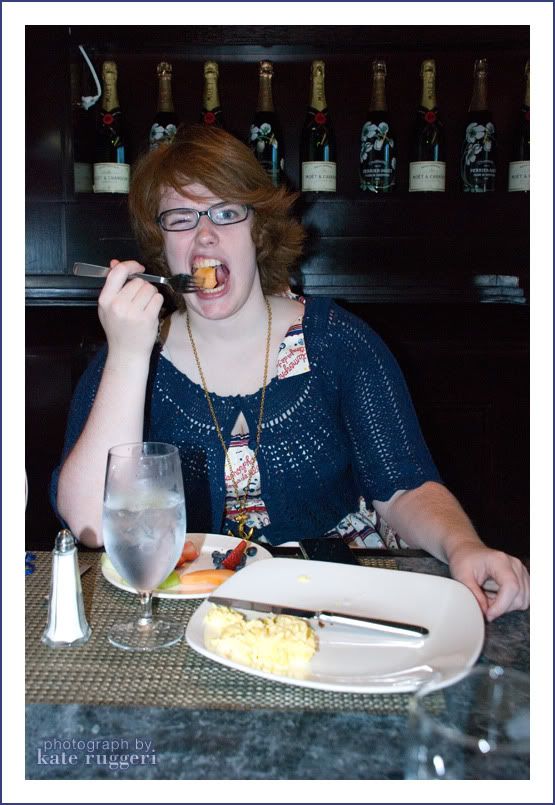 Mmmn. Fruit.





It seems a waste to put minors near that much wine!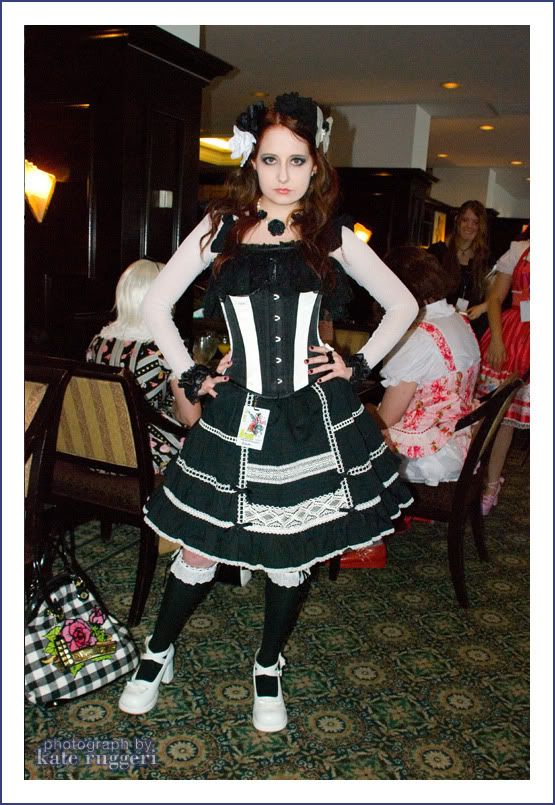 Dani/
corfina was fashionably late!





... Sarah had gotten bored while I wandered around. Sorry Sarah! Maybe the Date Table wasn't such a good spot.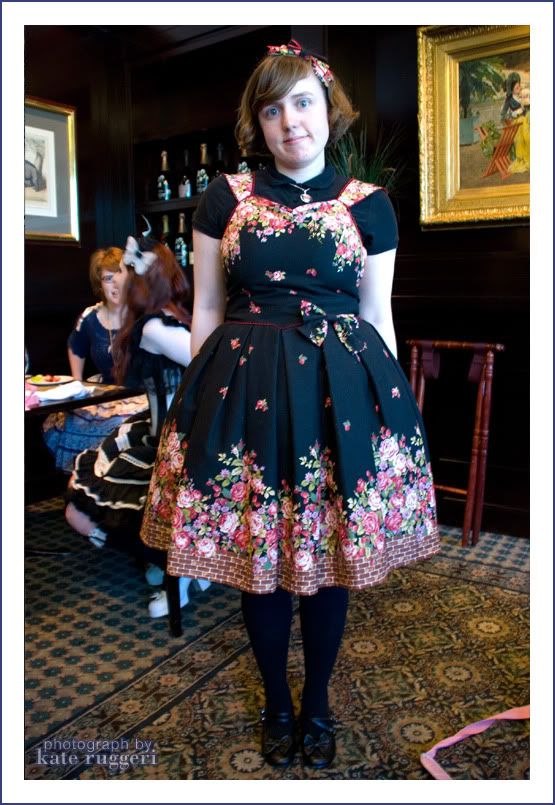 And amy/
aisfor was run off her feet taking care of us all!

We then went outside for individual shots for everyone else to take. I didn't get the group photo (when I stuck my hand down the back of
vicki_bot 's dress to investigate her gorgeous tattoo! and then stepped in gum), or pictures of the other girls, but Sarah told me to "hop up on that grate!" so I gave her my camera.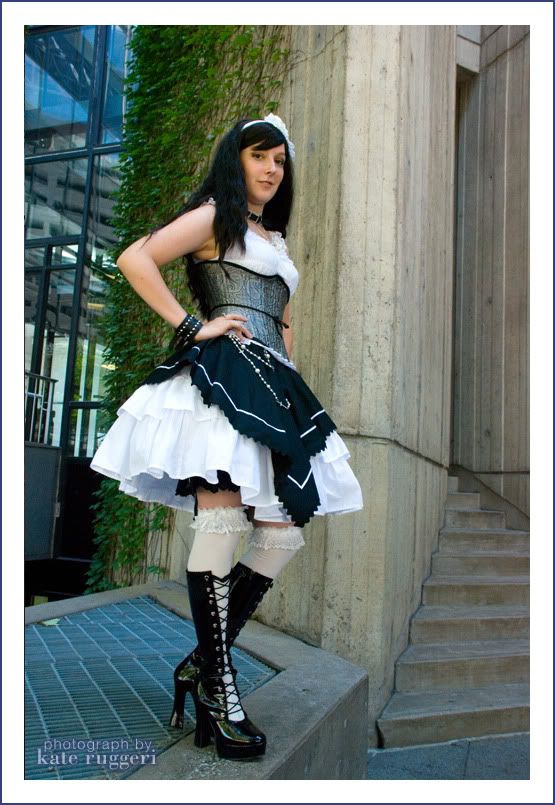 After the meet-up, we killed some time in the mall food court to cool off, gathered two more lolitas to our flock, and headed to get into line for the h.naoto/Sixh panel where I took a bunch more photos!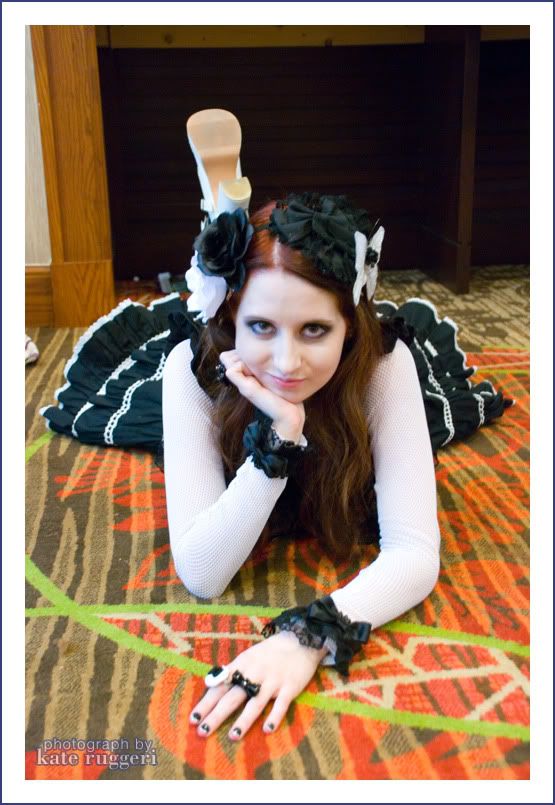 Not long after this, I joined Dani on the floor. Face down. We looked dead.
We came away covered in red and brown fuzz. It was pretty gross.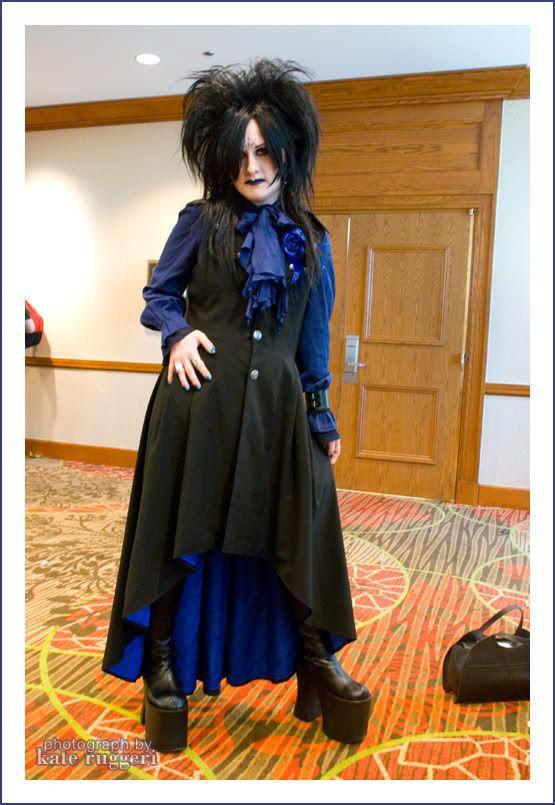 Of course, it's not a convention until you find Mana (which is lately harder to do than finding Waldo).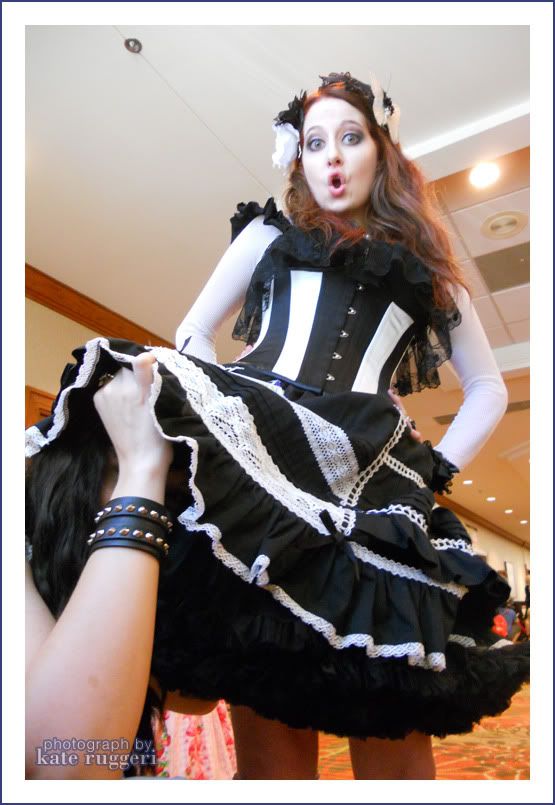 Remember where I said I wasn't a creep or weird?


... I lied.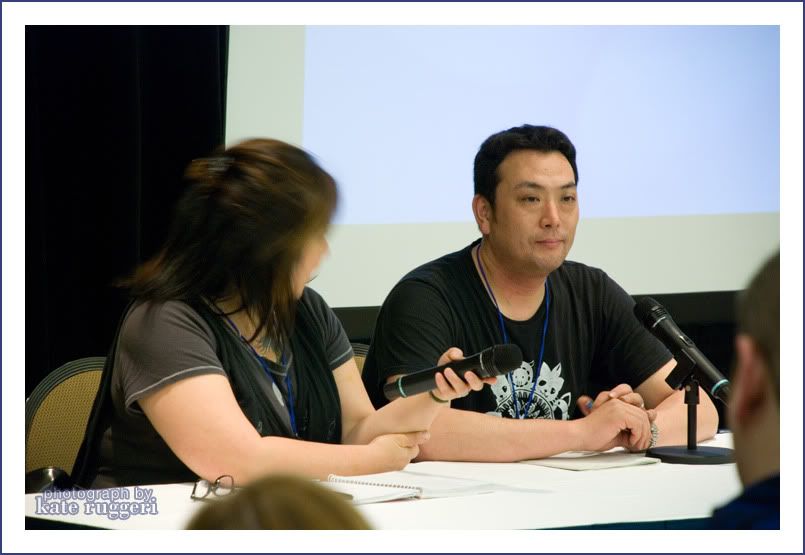 When the panel started, our group accidentally took the front row without realizing it was reserved for constaff (we had wondered why it was empty!). The people behind us informed us of the plan, so we moved around behind them. The room was pretty full! I'd say there were close to 200 people in there for the panel. Most of the seats were full but for a small section behind me.

I was quite surprised by the panel. I thought it would be primarily h.naoto/Hirooka (I never know how to refer to him when he's doing PR in person) doing the talking, but it actually wasn't. Apparently I misunderstood this gentleman's introduction. So now it makes sense why they didn't talk much about the main brands!

They showed a timeline/history video of the brands from 2000 to the present, with an emphasis on the clothing lines. They did bring up the home decor, accessory, and childrens' lines, however, saying that in Death Note the movie, Misa Misa's room was decorated 100% with h.naoto and Hangy & Angry housing merchandise.

Having not seen the movie, I can't comment on that, but the concept is pretty impressive.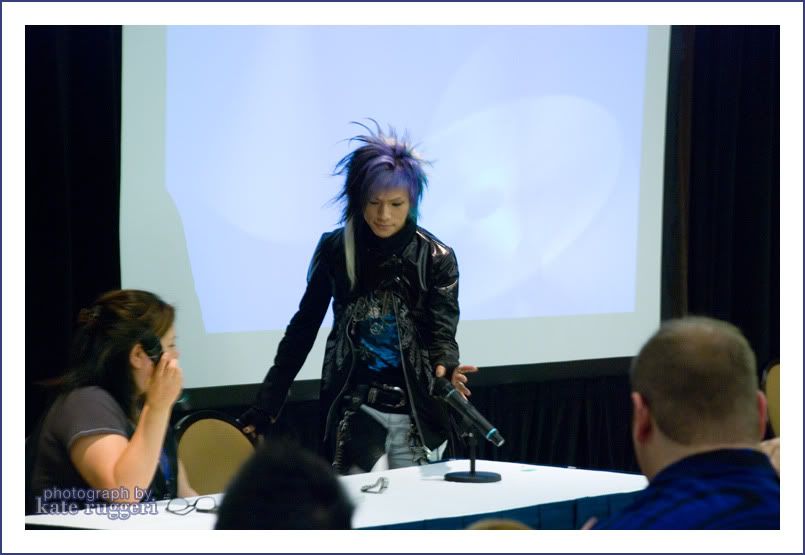 Majority of the panel was spent as a Q&A with IBI from Sixh. He is both their vocalist/frontman, and designer. The other Sixh designer is Mint.

Both are being featured in the Hangry & Angry comic as IBIGRY and MINGRY (which is ... funny when you say it out loud). While he and the interpreter (who has been doing this 20 years for fashion and visual kei groups, she said) had their interview, h.naoto was running around snapping photos of the crowd on his iPhone. I tried to get a shot, but he was moving too much and came out blurry. haha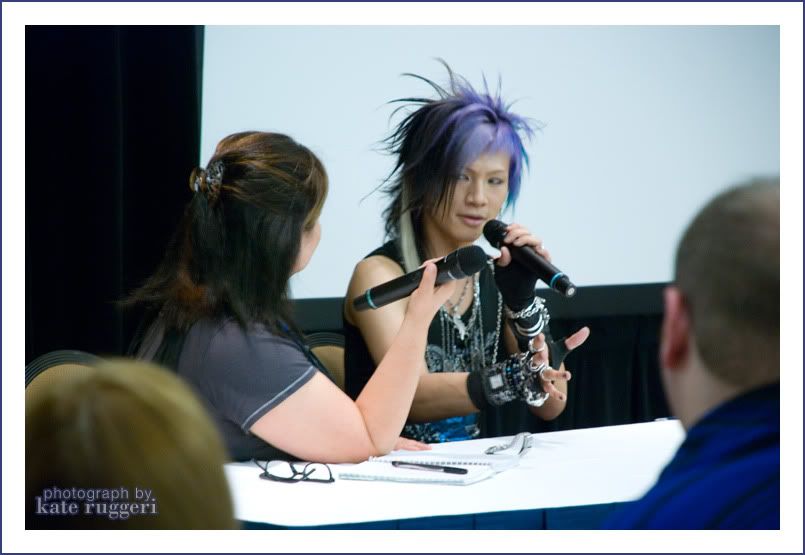 During the interview, the interpreter convinced IBI to strip show off the different layers of his outfit. The fangirls went nuts, but I didn't get photos because of how dark it was in the room, and how many people jumped up to do the exact same thing.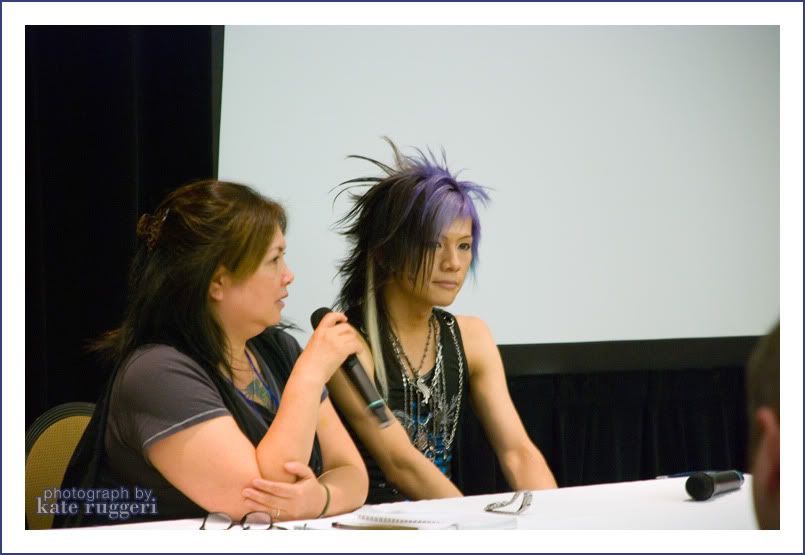 One of the last questions she asked, since no one else had asked, was "what kind of girl do you like", giggling the whole time. She had been very keen on pushing how handsome she thought he was, and told us at the booth when we were handed flyers that "the hot guy" in back would be at the panel. I thought it was funny and cute, since she seemed like she had a bigger crush on him than most of the people visiting the booth!

Anyway. He got really embarrassed and shy while everyone laughed at the question, and finally answered that he likes a girl who can put herself together, make herself look good, even if she isn't dressed up or spent much money on it.

After the panel, we headed out to do some more shopping!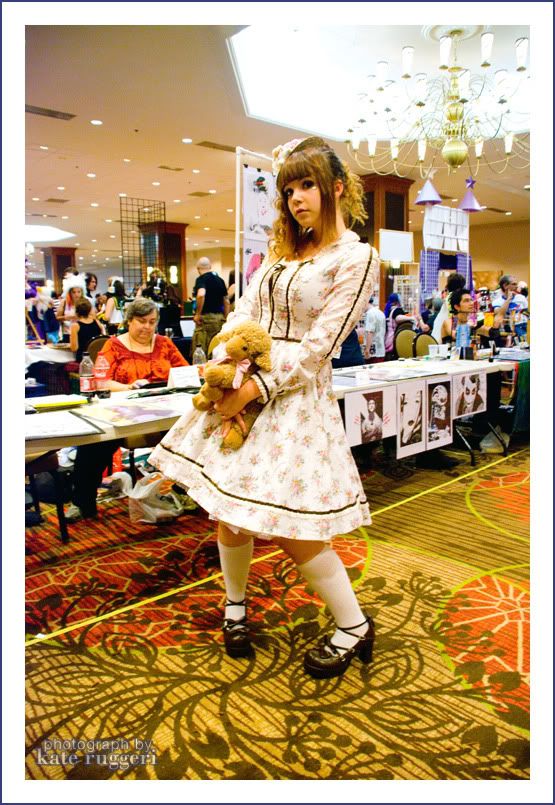 A lolita in the artists' alley. I think she had a table?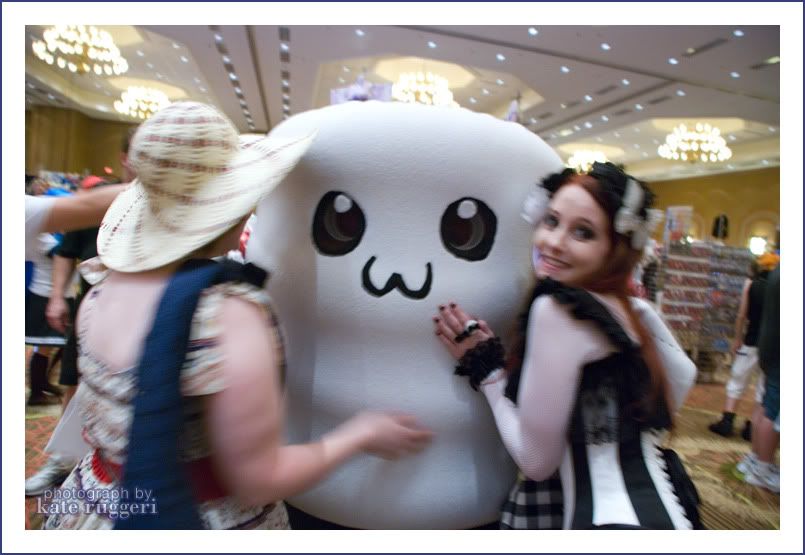 Sarah had told me that this would happened, and I didn't believe her. The Toilet Paper Roll mascot came out, squealing and giggling.
... it was all kinds of scary, and intensely cute.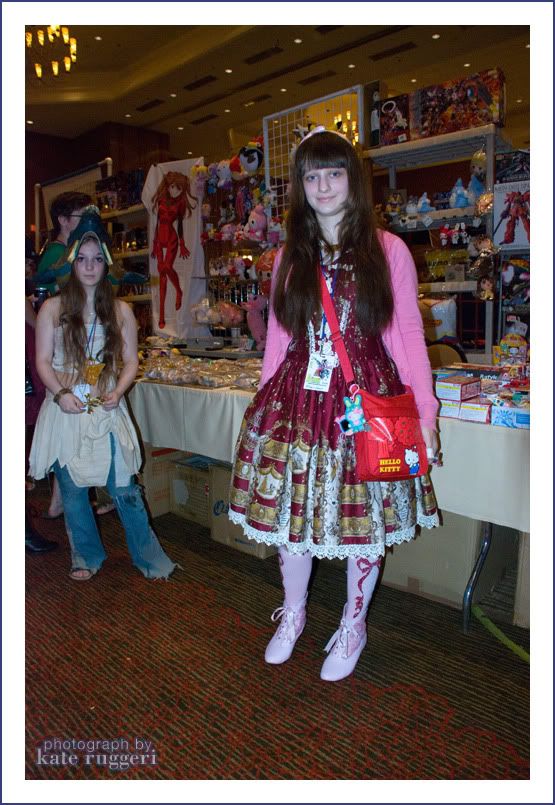 I know I've run into these two before, at Matsuri this spring.

After I bought t-shirts, presents for friends, and Saya's sword for myself (... it's a convention, so sue me) ... we went back to the hotel, where Dani and I took a nap, we all ate some pizza, and the day ended. The next day, we were only at the convention very, very briefly, so I don't have that many photos: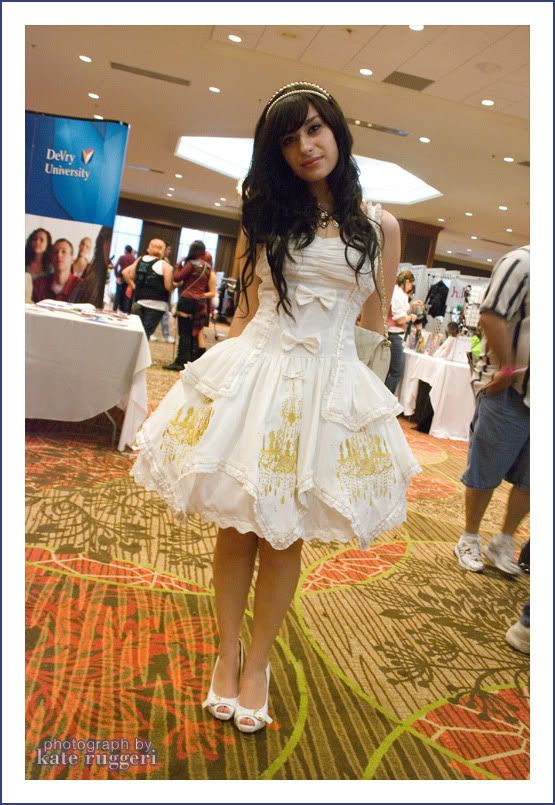 She tilted her head, so I tilted my camera!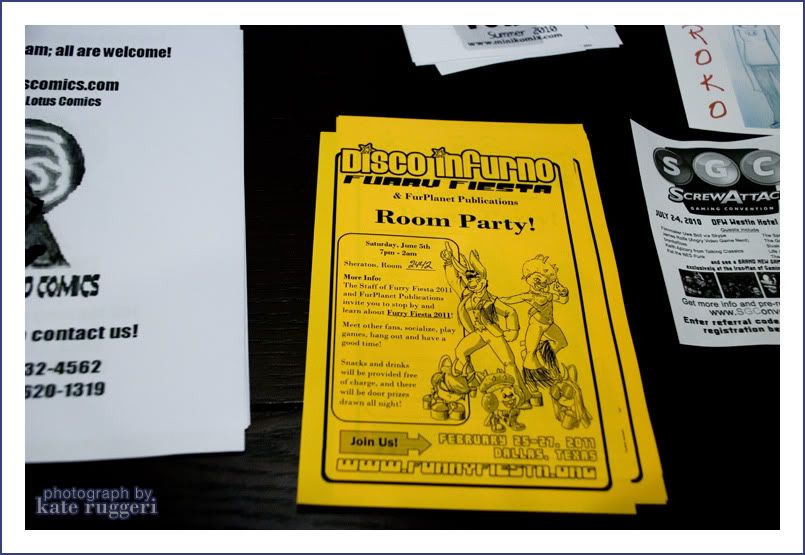 The flyers we kept finding amused me.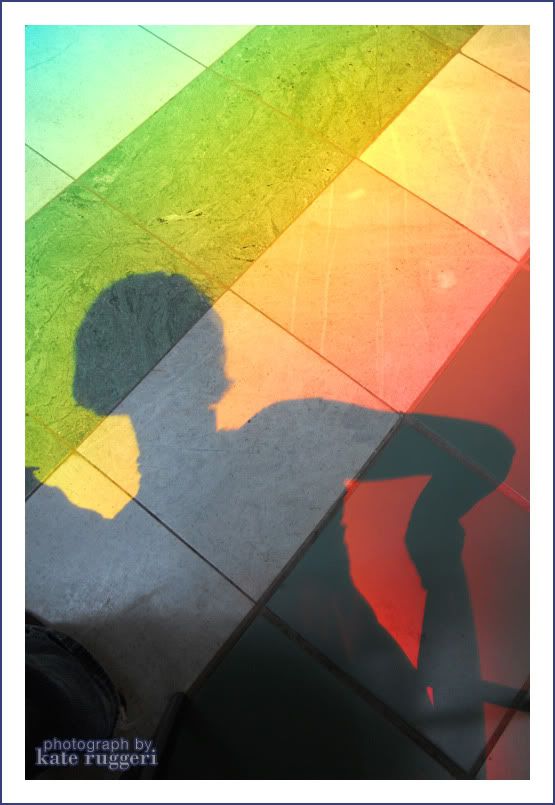 Sarah and I ended our convention experiences in the food court, with a rainbow and a smile. :)

It was a good weekend, and a very quick drive home!

I hope you enjoyed the photos and my ramblings, the rest of my photos can be viewed on my journal:

Friday, Saturday and Sunday