In this post I had a picture of a half finished bonnet made out of glittery barbie prom dress fabric, well, I just now finally finished the bonnet. Actually, I finished it hours ago and I've spent most of the day decorating it. I was originally going to go for a bit more eccentric deco style, with some sweets cabochons all over it, buuuut I just didn't like the way that looked, so I went with a little more "simpler" look with a ton of roses and clusters of bows.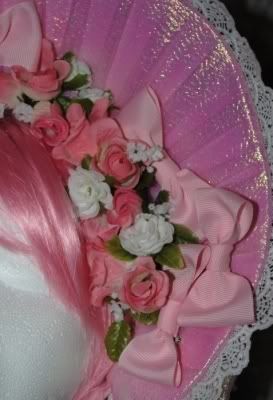 .
I was experimenting a bit for this bonnet, besides the obvious deviation from my normal aesthetic XD I tried a half bonnet in a much longer design. My half bonnets typically will either cover about half of the ear, or stop just above it, but this one covers the whole ear, making it look much fuller from the front. Because of this I used a wire other than my millinery wire, so the shape is a bit more mailable than most of the bonnets I make. The bows and roses are all detachable, so you can move them around however you would like.
I hope it's allowed to say this, and I really don't mean to be using EGL to advertise sales, but since a lot of people were asking about it when I just had some progress pictures, this bonnet is up in
my shop.
.