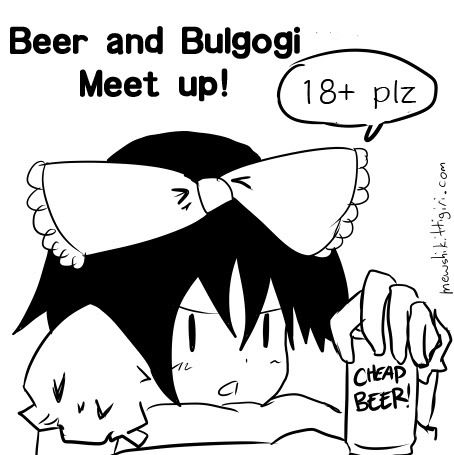 Credit to mewshikittigiri.com for banner.
So I'm pretty sure some of you girls are tired of sweets. So why not have some tasty Korean BBQ? Better yet why not have some tasty Korean BBQ with beer? So why not just have a good ol' time drinking with fellow frilly gals and stuffing our faces?
I was originally planning on having this at 21+ only meet but I felt it would be more fair to those who are going to be 21 very shortly to lower the age. Plus there is a 21+ meet in the works. As the banner states this meet is for ages 18+ simply cause there will be booze.
The Plan so far:
Meet at 34 Street at 1PM
Go stuff ourselves at Seoul Garden 1:45PM
Head on over to Duet 35 after we're done to sing our hearts out. I suggest we do the marathon cause it's $14 person till 8PM.
After that we can just wing it and have fun doing random stuff in the city.
I need to know what date is best for you guys? It's either July 10 or 11.
So please vote on it.
One last thing. PLEASE NO OFFERING BOOZE TO MINORS!
Guest List so far:
communistmuffin
highmagemaxwell
amanikitty
dixmacabre
rose_n_carousel
jean_emily
arsenicold_lace
itachifangirl26
nashiko
+1
antiquebeast
tiamat4eva
lolita_eva
t3h_janitor_jim
+1
xvmorganalefayv
+1
miyuki418
corrosivematter
enjerumuffin
littlemissnyx
hime_mimiko
ongaku_chan
baby_biohazard
kytrax
gmperkins
sakuralenayuy
No point in voting for dates, Saturday clearly won. the meet is now happening on Saturday July 10!