Since this month's theme is bonnets, I figure I would make a post about the various bonnet I have been working on, as well as some of my plans for future bonnets. I posted a few of my bonnets a while back, but I've made a ton more since then XD

First up, my most recent bonnet, made for
cheriecherie
to match Alice & the Pirates Sleeping Beauty print. I fell in love with Triple Fortune bonnets a while ago, and their design was a big inspiration for the shape of my bonnets (The brim on my bonnets is much different from the 3F bonnet's I've seen though, mine curves downward, while 3F kind of just cuts off flat) so I decided to use them for a bit more inspiration and do some chiffon gathers on the back of this bonnet. Because it needed something fancy going on back there too. More pics can be found
here
.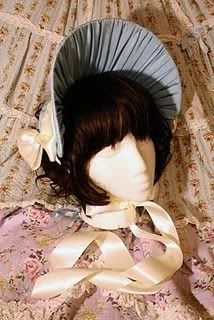 Photo by Miss Lumpy
,
XD I hope she doesn't mind me using this picture a little more than I asked to use it, as I only have pics on my phone of this bonnet.
Here are some pictures she posted of this bonnet worn with the dress she wanted it to match.
And here's a review she did of it *wink wink* :D
I've been wanting to try the straw hat method for a while (all my other bonnets are made with buckram and millinery wire base) so I finally found some straw bonnets I wouldn't feel bad about chopping up and got to work! I, of course, got home to find out that I had used up all my bias tape, so I just used some ribbon instead, which ended up looking a little puffy.
More pics of this bonnet here
, as well as the tutorial I used. This bonnet was really fun to make, because it was so quick and easy, but next time I'm definitely using bias tape! I might add these to my shop at a later date for a price much cheaper than my regular bonnets.
Here is a pink half bonnet I made, this one is up for sale on my Etsy,
click
for more pictures of it there. I just wanted to make a pink bonnet I guess XD mostly because I had those really pretty peonies that I felt I had to use.
A very Moitie inspired bonnet XD Because I looove black and blue, even though I own very minimal (haha, one bolero) Moitie. This one is up for sale as well,
click for more pics
.
Okay! That's all the finished bonnets, now onto the half finished and future bonnets!
The lace and bow is just pinned on to give an idea of what it will look like when it's done. This bonnet is super... Spank and Barbie-y XD I've had this awful Barbie prom dress-esque fabric laying around for a while and have been thinking about using it in a bonnet. The frame on this bonnet is a bit of an experimental length, while most of my half bonnets either stop about halfway over the ear, or just above it, this one covers the ear. I also used a thinner gauge wire on this so it's a bit flimsier than my other bonnets. Whenever I get around to finishing this (and honestly I don't have much more to go) I plan on decorating the hell out of it with bows and pearls and deco stuff, and also probably letting it go for a cheaper price, since the thinner wire and experimental length means it's not up the the quality of the other bonnets I have made.
This next bonnet isn't much past the planning stages yet! As I have just been commissioned to do it. Actually, it's 2 bonnets, one in black, and one in white. In design it's kind of a mash up between Cherie's bonnet and one of BtSSB's bonnets. I'm really excited about working on this one! I just have to go pick up some materials for it this weekend before I can get to work on it.
One bonnet that I've been dreaming about ever since I learned how to make them is a cake bonnet. I love making
little felt cakes
, and I want to combine that with bonnets and make a huge OTT bonnet with felt dollups of whipped cream all around the edges of it so that it looks like you've got a giant cake wedged on your head XD It's super OTT and totally not my own personal style, but I have been dreaming of this bonnet for a while, so maybe when I have some time I will actually get started on it!
Here's a pic of me in one of my bonnets. This is actually the first buckram bonnet I made! I swear it's not a weird shape XD My head is just tilted at an angle. This bonnet is a little plain, it just has some trim around the edges and a ribbon, certainly not as fancy as I have been making my bonnets as of late!

I actually have a whole separate blog for my bonnets, as well as a few other crafty things, because I didn't want to clutter up Fyeahlolita with bonnet chatter. The blog goes hand in hand with my Etsy shop.

In conclusion, I am obviously bonnet obsessed @_@