I've been lurking here enough, time to finally get the guts to post. I have a few questions for you lovely ladies (and gentlemen) about my first delves into lolita fashion.

Okay, so I'm mainly facinated with classic lolita, as I got into this fashion through my love for victorian fashion and classic seems to share the same sleek sophistication that I've come to love from victorian. I don't have enough money or the body type to be ordering clothes online, so I'm learning to sew!

I have a question about sewing material... I've read all the memories and the handbook, and I know that synthetic fabrics and satin are looked down on... but I recently made a skirt from shantung suiting (not shiny, only a slight bias stretch, it's good quality I forked out the money for it) and it looks lovely. I am working on a brown OP dress, and I'm wondering if this suiting material will be okay for it or whether it's looked down upon because it's not cotton? I really love using this fabric because it hangs so beautifully and it NEVER creases! But I never see lolita dresses with this look, am I just going to look bizarre and ita in a dress made of this?

One more thing I'd love advice on... I've only recently been able to throw together a full lolita inspired outfit. It looks pretty gothic lolita since it's all black, but I wanted to take it easy on the lace and frills to keep it kinda classic looking... I wear this kind of stuff out every day, as I've been wearing victorian fashion since I was 15 or so, and my question is do I just look ridiculously ita in this outfit? What are the FIRST things I should change? Since this fashion is so strict, I refuse to actually call it lolita to the general public until it actually is.





Sorry about the cat flashing you all at my feet... it's impossible to get a picture of me without her clinging to me somehow :P the skirt is the one I mentioned earlier that I made from the suiting fabric.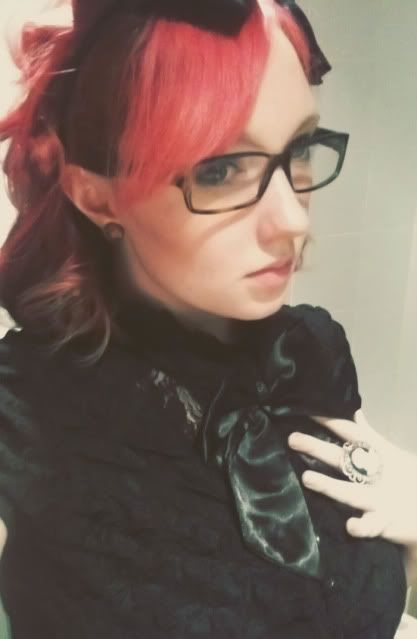 Is the satin bow a nono? Is this blouse lolita? Argh so many questions!

Thank you all in advance for your advice!