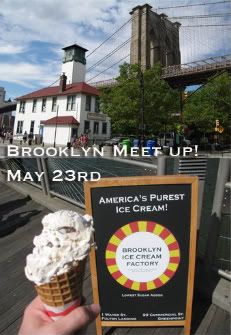 Hi everyone!,
Here are some updates and details regarding the Sunday May 23rd Brooklyn Ice Cream Factory Meet-Up.

Here's a run down of the schedule->
(Area 1 on Map Below) 1:00pm-1:30pm-> Meet at the Brooklyn Ice Cream Factory. The place is small inside so we will get our ice cream and eat it on the boardwalk area at the front of the factory. (There is also an outdoor seating in this area).

1:30-2:15pm->We will all take a nice stroll around the Pier 1 park. Along the way we can take pictures and enjoy the views of the brooklyn bridge, manhattan bridge, the statue of liberty and the financial district.

(Area 2 on Map Below)- 2:15pm- ? -> The lawn at Pier 1 park allows picnicking. I will provide some blankets to sit on (depending on the size of the group people might have to provide their own). During this time we will chat, play games (I will provide some board-games) and we will snack on some more sweets (I will also provide this). Feel free to help out with more treats and games :) Let me know if you will be able to bring anything. Thanks!

Also note this area can be very VERY windy. There aren't many trees in this park because they try to keep the space clear so you can have great views of the city. So if it's a sunny day it will be really hot with not much shade. For this meet-up I would suggest wearing light (fabric) outfits and or any outfits that would be good in this kind of weather.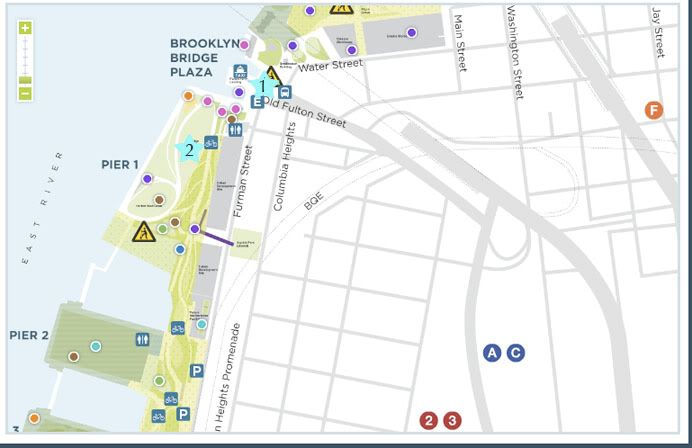 Subway Directions->
A/C to High Street
F to York Street
2/3 to Clark Street

Bus Directions->
Bus
B25 at Fulton Ferry Landing (for Pier 1, Main Street and Brooklyn Bridge Plaza)

PM me if you want my cell number or want to give me your cell number just incase you get lost or need more details. I look forward to meeting you all!

Current RSVP List

littlemissnyx (+1)
kurenai86
asterisknova
tiamat4eva
lightsabers247
jean_emily
sakuralenayuy
shadow666x
jblver3 (+1)
kyu_oba_rokku
lightasair223
itachifangirl26

spearmint413
Link to original post.