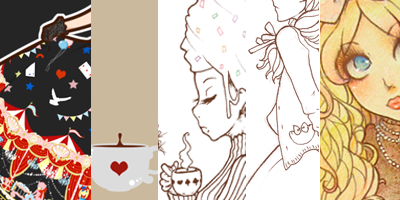 First up was a commission from
balloon_boom of her in AP's Starry Night Theater. I wasn't really taking any commissions at the time, but she's my bro and you can't let a bro down.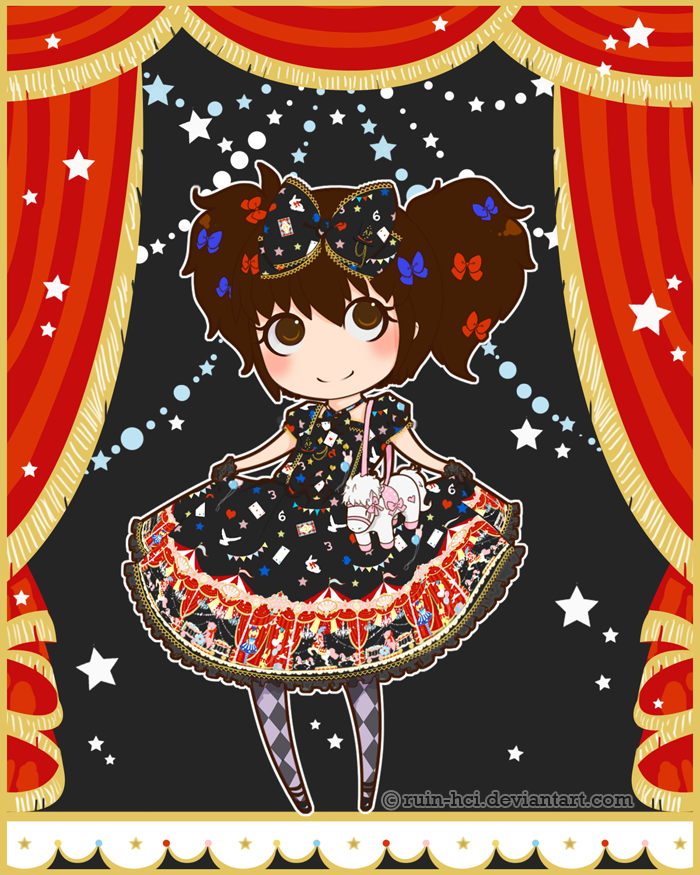 I redid the entire print. It took a good few weeks and a couple gallons of blood, but it got done.
About halfway through rebuilding the border print, I realized that I'm completely batshit haha. The file for it is HUGE; way bigger than the overall commission itself. The curtains and stuff used in the bg are the exact ones in the border print.
Pencil sketch, ink+colour in photoshop. 80% pen tool, 20% tablet.
-

Second was for my graphic design class, where we had to design shirt graphics for Threadless, or something. It's probably the only thing I've submitted to that class that I got an A+ on, because this project was mostly illustration based and I can't do graphic designing to save my life haha. ;;;;;;;



While I'm at it, I think this is one of the few things I've submitted here that isn't sickenly cute and chibi lol. I'm actually really into vector stuff, but I don't get to do it too often. :c
My design was the top voted in my class, but I have to submit it to threadless myself if I actually want any kind of tshirt makery to happen. I think it needs a bit more work though, so if you have any suggestions, please let me know. Originally it was very busy and she had a lot of tea pastries and roses in her bonnet, but I was strapped for time and it looked cluttered, so I settled with this plain version. I think if I were to submit it to Threadless though, I'd revamp it, at least with some roses. I'm appalled that they have no rori-esque shirts on their website. 8[
Pencil sketch, photoshop for colour; Pen tool ftw.
---

Next is an ink drawing, which is crazy since I haven't really inked anything since forever. My hands are too shakey so I usually avoid it. It was for my 2D design class, where we had to invert texture haha.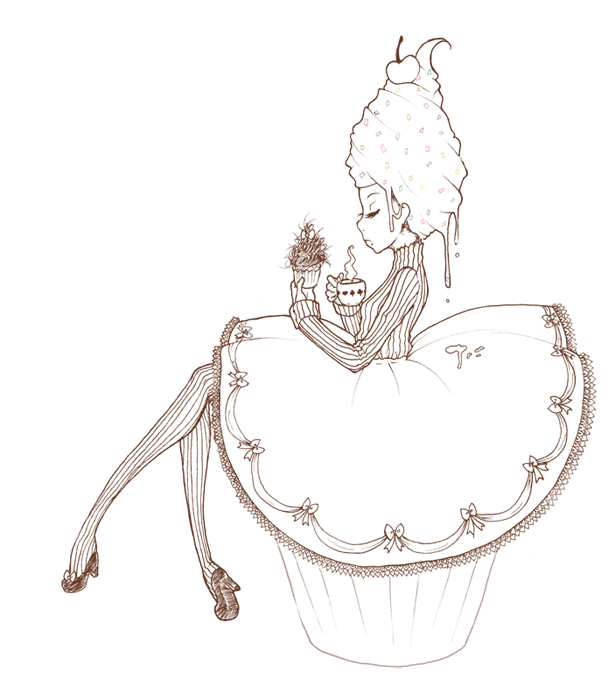 Hairy cupcakes sound like some awkward innuendo.
Pencil sketch, inked with sakura microns.
-

And then some pencil lines I did a few months ago. I was going to watercolour it, but then I realized that I have no idea how to watercolour, haha. How depressing.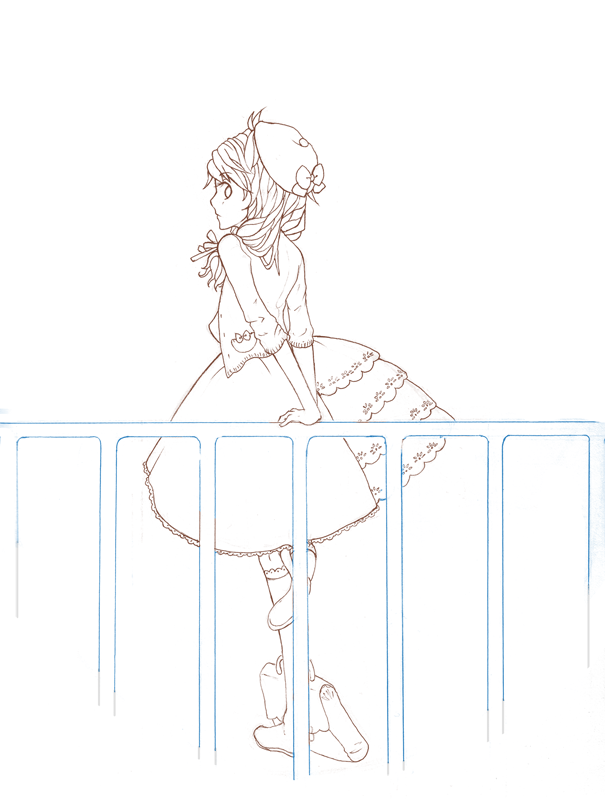 My pencils will never be this clean again, ever.
---
Then I broke out the coloured pencils and bristol paper for the first time in months.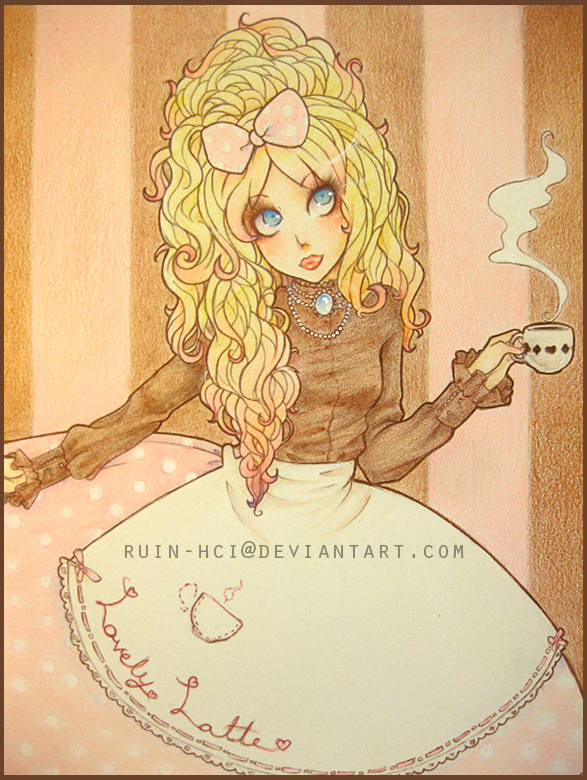 Shoddy photo is shoddy. My new scanner hates me and won't pick up colour to save its life, so I had to improvise.
It's a few months old; I'm selling the original on my etsy if anyone's interested.
Prismacolour pencils, white acrylic
----
Also, lolitas with beards need to happen. I doodled this while watching The Mighty Boosh.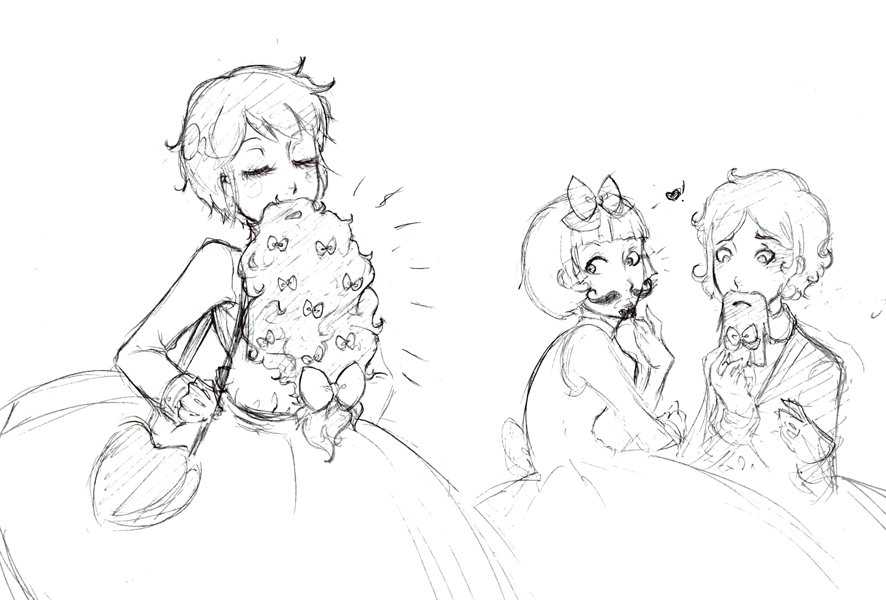 Stylin'. The one on the right looks ashamed of her lack of facial hair poof, AS SHE SHOULD BE.
---
AAAAAAaaaaaaaaaaaaaaaaaannnnnd, I was thinking about updating the sales banner, since my chibi style has changed a whole lot. I came up with this sketch.


It sums up my sales_comm experiences pretty well.
But a part of me thinks it looks a little too pessimistic, haha.
--------------------

Also, for my Graphic Design final, we need to design a cover, 2 page spread, and a single page, for a made-up magazine. If it's not obvious, I'd like mine to be lolita-themed.
Would anyone be kind enough to send me some photos?
This will NOT be for any kind of monetary gain AT ALL. Just a simple class final. Since I'm sure the people who'd share their photos would be curious to see the final product, I'll probably post it here, but that's all. No printing or selling.

- I'd much rather prefer 'artsy' or 'OTT' shoots with really good photography, rather than simple coords shot with a camera phone.
- Nice close-ups are just as welcome as wide shots with pretty scenery.
- Please let me know if you're okay with some photoshop work done on your photo. I won't shop off 10 pounds from anyone lol, but I mean just changing colour balance or fixing some minor things in the background.
- I don't need 300dpi since it's just on the computer (so 72dpi will be fine), but the higher the resolution, the better!

If you have anything you'd like to share, please comment or message me with a link with an average size version if you have one. If I think I could use it, I'll reply and give you my email so you can send me a larger file. :)

Thank you so much! I'm really excited to get started on this.