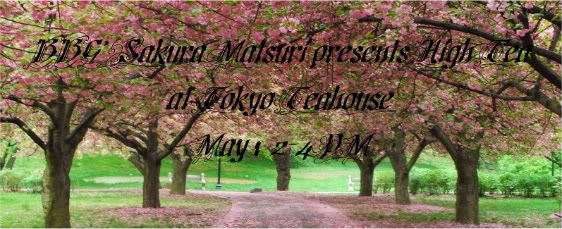 I know a lot of you have been preparing, primping and deciding on various coordinations for next weekend, and would like to let you all know about this good news. Some of you may have looked at the event schedule and noticed something called "High Tea at Tokyo Teahouse."

This is an event specifically for Lolitas by Lolitas. From 2-4PM, you can enjoy tea, cookies, and good friends (and meet new acquaintances). Also, this is a semiprivate event.

Semiprivate?
Lolitas will get priority attendance for this event and the Tokyo Teahouse is reserved just for you.

How can I attend?
You will need a special event badge (which I'm told will be a boutineer).

Where/How can I get an event badge?
Meet near the J-Lounge event stage at 1:15. There'll be a short orientation, and at 1:45 you'll be escorted to the event space to get settled. The event badge includes complimentary plate of tea and cookies. Anything additional will need to be purchased separately.

Where is the J-Lounge?
The J-Lounge is located at the entrance of the Brooklyn Botanical Gardens. For those who have/haven't been to Sakura Matsuri or BBG, it is the large green lawn space when you first enter. At the end of the lawn there will be a small stage for various events going on.

Any comments? Questions? I'll try to answer as much as I can. I apologize for this being last minute, but I needed to get all the facts clear before I posted anything in further detail.

Hope to see you there!