YO

Well, no one ever seems to do reviews for the big brands, which I always found weird because even the almighty burando screws up from time to time.
So this is my review on IW-- It was my first time directly ordering from them (or from any brand site for that matter!), but all in all things went really grand.

I sent my order in to reserve the Royal Crown Embroidery skirt in brown on 04/05/10. A few days later I received an invoice via paypal for the skirt, but oddly enough got a second invoice for what looked liked someone else's order, haha.
I shot a message through IW's "Contact US" page on their site to let them know. While I was there, I also inquired if I could add to my order for the Classical Rose blouse (since I had no short sleeved blouses, or any offwhite/cream ones to go with the skirt), and I'm a huge sucker for berets, so I also brought up the Mohn Torte Beret. I also asked if the which colour of the blouse would go best with the skirt.

I received a reply 04/07/10 that the second invoice was a mistake. No big deal; I didn't mind or anything. I was also told that I could include both items with my order, and which blouse colour I should get as well. I was really pleased with their english employee (
go_slow_ly ), who is incredibly sweet, polite, and informative. I've always been nervous about contacting japanese brands directly because of translation and social differences (the level of politeness I should have while typing; I don't want to accidentally say something rude!), but I felt completely comfortable speaking with her. :)

I ok'd to add the beret and the blouse, size M, and was invoiced for all three items 04/15/10. At the last minute though I decided to up the blouse size to L, since I had heard that their stuff, especially the blouses, tend to run smaller than the measurement guides. She was happy to change the order for me, and I was emailed my tracking number the next day.

Customer Service/Communication: 5/5! - I couldn't have been happier with the communication. :)

I believe the package got to my door step 04/19/10 or the day afterwards (HOLYSHIT FAST), but since I wasn't home I had to pick it up at the post office the next day while the anticipation was eating away at me.

Shipping speed: 5/5 (BTW, I'm in the US) As soon as IW had the items, they shipped them out.

Enough with the TL;DR, onto pics!

----------------------



Everything came in a fairly large box, all sides taped securely.
---------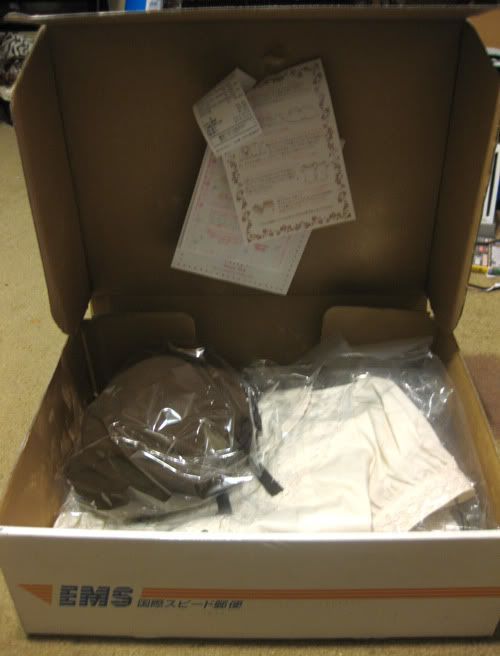 SWOON. Everything is wrapped in individual thick clear plastic bags. My receipt, some...things in japanese that I can't read lol (I think they're care instructions?), and a cute handwritten note are taped on the roof of the box.

Shipping/Packaging: 5/5 - Nice sturdy box and sealed sides. All the items are in waterproof bags. (which I will be NOT taking off when hanging this stuff up in the closet; extra protection ftw)
While we're on the subject of hanging things up, I was THRILLED that the blouse and skirt came with their own hangers! Lord knows I don't have enough proper skirt hangers.
-----------




See? Didn't I say this is cute?? That's some damn fine stationary you got going on IW. UNF.
I mean--
I really really love it when sellers take the time to hand write letters to their customers, I really do.

(if my own handwriting wasn't the spawn of satan, I'd write my own, too, but that's another story)

It's so thoughtful.
--------------------




First up, the Mohn Torte Beret, in brown. (site page: http://innocent-w.jp/shopping/093919/index_e.html ) It kinda just looks like a brown blob from this shot, hahaha.
-



Oh my ;n; I adore the simplicity. The bows and pearls are securely fastened on. The bows ARE a bit darker brown than the beret, but not as dark as this photo.
-



Insides were stuffed with tissue paper to make sure it didn't get smushed.

Mohn Torte Beret: 5/5 - I was a bit wary that it would be too small for my head since I've heard of other girls having trouble with hats from overseas, but it fits just fine, woo, with a little room to spare. The colour is also very true to the site's. It's a warmer brown than my photos show.

-------------------------------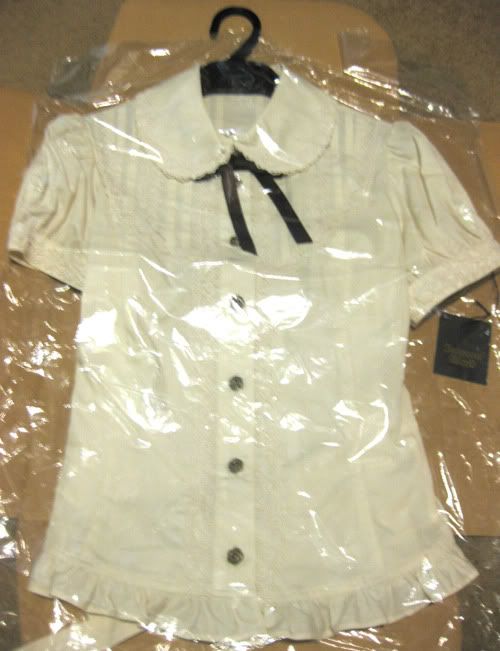 Next, the Classical Rose Blouse ( http://innocent-w.jp/shopping/102104/index_e.html ), in beige, size L.
At first I was surprised at how long the blouse looked! But after trying it on, it's not particularly longer than my other IW blouses, but it certainly wasn't too short either. (I'm about 5'7-8", so blouse length is always an issue!)
-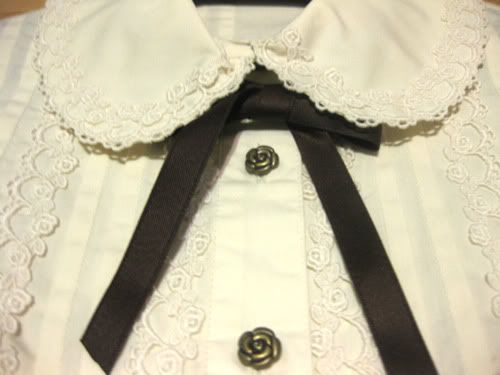 Collar closeup. Hotdamn, the lace is the most GORGEOUS thing I have ever seen. The little bow string thing is detachable (it's really just a ribbon; no special attachment device or anything), and it's a deep warm brown; my photo makes it look darker.
-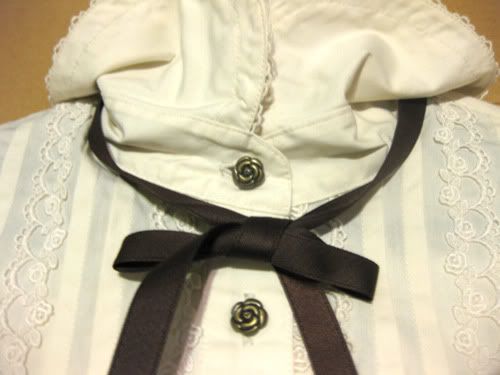 -


I love the buttons so much. It's probably the main reason why I bought the blouse, haha.
-


Sleeve lace detail, and an inner button if you need more room.
-


Back
-


Ties in the back.



Classical Rose Blouse: 3.5/5

- This blouse is GORGEOUS. The construction is amazing and the details blow me away, so why the so-so score?
It's the SIZING. I'm actually a few cm UNDER what their size M is, but even this, at size L, could probably only fit someone a few (and I mean very few) cm larger. My bust is pathetic, so it's not extra room being filled up with boobery either. This blouse will NOT fit someone with a 78cm waist and a 98cm bust like the website advertises. For your best bet, I'd say think of the size L as the M measurements. I'm so glad I switched to an L, because I know I'd have no chance of fitting into the M.


On a slightly unrelated note, I'm not horribly thrilled with how this blouse looks on me. :I Hmm, maybe I can pull it off better with a blouse+jsk combo rather than with a skirt. I really don't want to give it up; it's just so pretty.

Brb, running around the block a few times.


-----------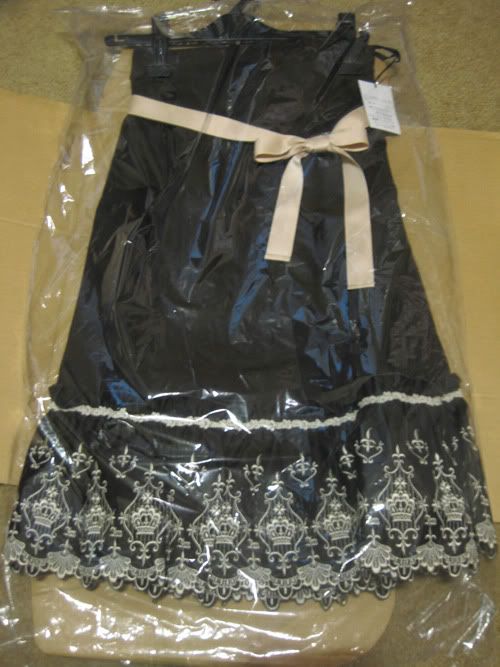 Finally, the skirt that sparked the fire in my loins into paying full price for brand. It's the Royal Crown Embroidery Skirt, in the Chocolat×Cafe au Lait colourway ( http://innocent-w.jp/shopping/101203/index_e.html ). I'll note that ALL my photos make it look black, when it's really a very dark brown. Again, I love how this came with it's own hanger, and a bag to protect it from whatever McFate decides to throw at my unsuspecting closet.
-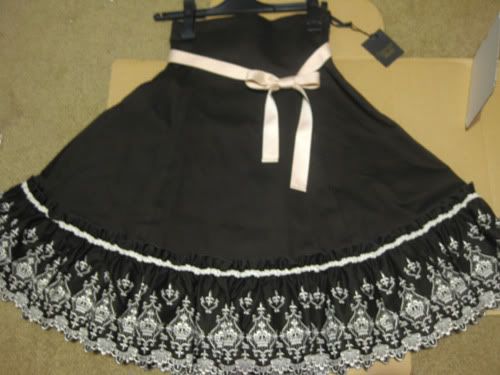 Despite how cramped it looked packaged, this thing has some reasonable room in it. Probably not enough for your epic cupcake pettis, but it'll give you that great A-line classic look no prob.
-



The embroidery! Ohgod I melted the first time I saw it. I think it's one of the most beautiful things I've ever laid eyes on. My first born goes to whoever created the design over at IW. The details are amazing. It's not littered with 'everything but the kitchen sink' like most prints these days, and that sits just dandy with me.
-

Underside of the fabric.
-


Lining.
-


Back shirring.
-



Okay, this made me wtf just a little haha. The things that are holding that pretty ribbon in place are two flimsy threads on each side of the skirt. I took one look at that and knew, one way or the other, they're going to end up ripping. It doesn't look like something that would be too difficult to repair, but I think it could have been a bit thicker. My IW goblin bunny ribbon (orwhateverit'scalled) jsk has a waist ribbon a lot like this one, but with sturdy cloth loops, so I'm curious as to why they didn't do the same for this skirt.
-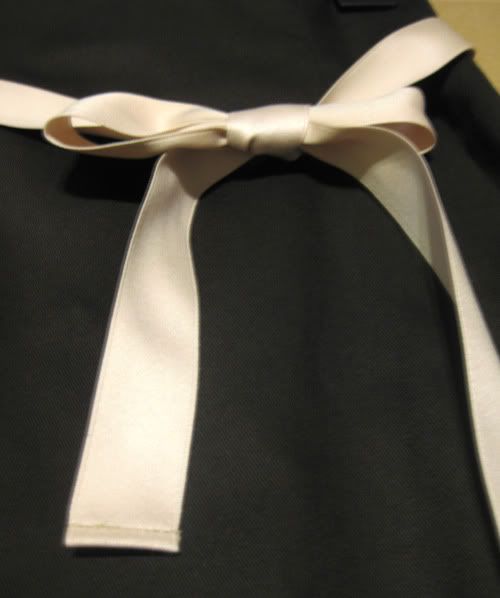 Annnnd the ribbon, which I'm very bad at tying, haha. ;;;;;;; *needs to learn how to tie bows better*

Royal Crown Embroidery Skirt: 5/5 - It has it's quirks; the belt string thing, but these are very tiny flaws on an otherwise PERFECT skirt. The details are outrageously lovely, and the construction is flawless. I adore it.
I have no worn pics, but for length referance, I'm about 5'7-8" tall, and this meets about an inch above my knee without a petti. I imagine with an a-line petti, it would be maybe 2 inches above the knee.

-----

Overall, I was VERY pleased with my order, and would love to do business directly with IW again sometime, and would recommend them to anyone! cccc:

(But tread cautiously with the blouse sizing.)

Hoped some people find this useful. Feel free to ask me any other questions about the items/order if you have them, too.