This is my first review (and post I think) here on egl. I ordered a wig from ebay seller swjtu2000 on March 26 and it just arrived today. I know many people like wigs when you don't feel like doing your hair that day, or you just can't get it styled properly. It's nice to have a low price option for those kinds of days.

EDIT: Here's the shop link http://stores.ebay.com/swjtu2000

Shipping : 5/5 No shipping fees. It was a little slow, but I think it had a lot to do with the volcano. My wig came in a brown bag, but my friend's wig that was ordered a few weeks before mine came in a box. Luck of the draw, maybe?

Communication : 3/5 At first the seller was quick with emails, but when I sent one a few days ago asking about the status of my package, they never replied.

Quality: 4/5 This wig is very nice. It's super soft and only has a little shine to it. (Thus the 4) There are a few flyaways, but no flyaways on a kanekalon wig would be an act of god. XD Besides, I paid under $20 for it with no shipping fees!


Pictures!

This is a flash picture. It looks darker inside, but this is probably what it would look like in a good amount of sunlight.



Sorry for my terrible no-makeup pictures. >_____<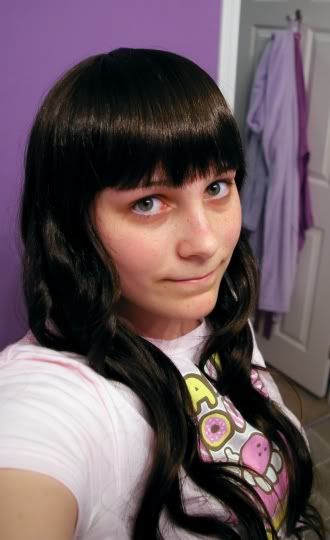 Will I order again from swjtu2000 ? If I find myself in need of another casual, but loli-able wig, most definately! The quality for the super cheap price is hard to beat. ^___^