Hello EGL! This is my first time posting anything on EGL. Up till now, I have been a lurker who occasionally posts comments, but I feel it is time for me to come out...of the Lolita closet. :D
Hope my cuts didn't kill anyone's F-list or anything.
I used a local shopping service here in Singapore called
SpreeSpree
with a couple for other friends. I sent my order in on the 26th Mar. After waiting for payments, last minute orders and changes, the total group order was sent on the 6th of April and the items were ordered.
I ordered two items (both from Dream of Lolita)
-
Cat Window replica skirt in cream

-
Black Corset
The items were sent out from China on the 14th April and arrived on the 16th.
Enough of my rambling. On to the pictures!
At first I wasn't really too sure about items from Dream of Lolita in general as some of the pieces there either look like lace monsters or just plain weird. But there were a fem gems that I thought would be okay to take a risk on. The ones I wanted had very sketchy pictures, as if they had just cut and pasted something from another site. So, when I chanced upon
yumikoyui's Taobao review
a while back, I decided to just go for it!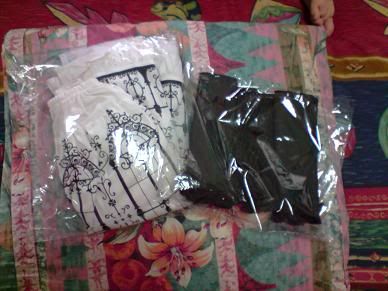 My two items!
I was so excited, I was totally daydreaming about them in the bus ride home.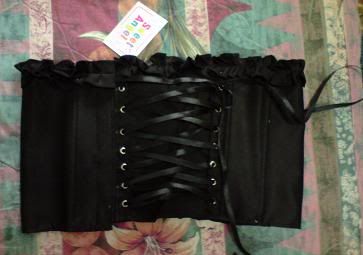 First up, the black corset!
The corset is gorgeous. Well, technically it isn't a "corset", but I'll leave the definitions up to you.
It isn't meant to cinch your waist in, but it does give some definition to your waist.
I was surprised at how not bad it was. XD
It has some nice sturdy plastic boning at the sides to give you a nice shape.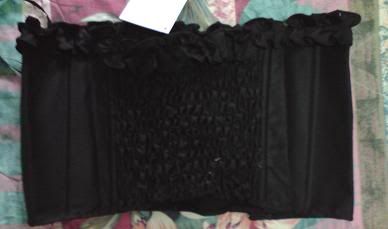 BACK of the corset
The corset has some shirring at the back so it can accomodate variations in size.
It is a free size item, after all. I was scared it wouldn't fit but it fit perfectly. (I have a 27--28in waist)
However, I wouldn't recommend anyone above 30in maybe?
You'll see why in a bit.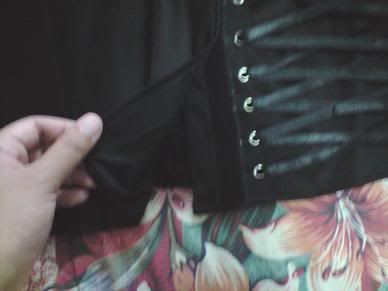 Okay. Here it is...
VELCRO
.
I mean, I personally don't mind velcro. I think velcro is wonderful, it makes it easier for me to put on the corset instead of zips.
I don't trust zips.
But I'm putting this out there just in case, anybody wants something more secure than velcro.
Which is why I don't think it would fit anybody above 30in, (I'm just guessing here) it might "pop"
...or start to
un-velcro
itself.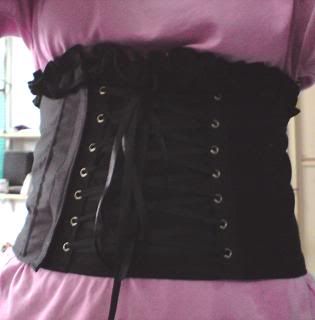 Me wearing said corset.
Pardon my un-loliness. I was just too excited. :D
NEXT
DUMDUMDUM DUMMMM....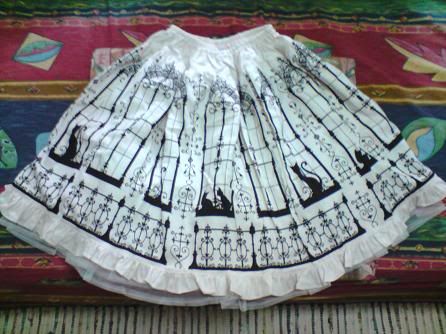 Cat Window Skirt Replica
I absolutely LOVE the print! Though I'm abit upset about the colour.
Like
yumikoyui
mentioned in her review, the colour is more pinkish than cream.
I think in my excitement I promptly forgot (rather, deluded myself) into thinking it would be a nice shade of cream. The true is colour is more like a very very light strawberry milkshake. Mmmmmm....
So coordinating this might be a tad difficult.
The fabric is kinda thin, you can see the design clearly from the reverse side.
But I don't think it really matters. I haven't tried it with dark colours but I think it will be fine.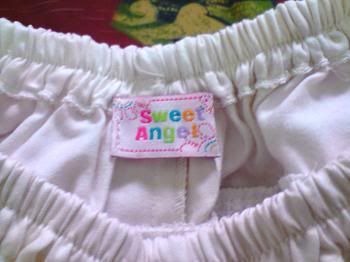 The label "Sweet Angel" is on both the corset and the skirt.
In case anyone's interested...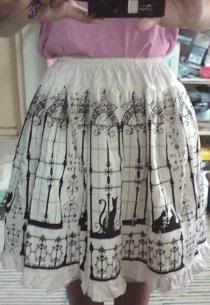 Cat Window Skirt worn.
obviously there is no petti underneath.
oh yeah, I forgot to mention that there is a layer of netting inside, to give a lil' poof. But not by much.
Cat Window Skirt worn with corset

Notice I wore the corset the other way round now, frills at the bottom, which I think looks better.
Or maybe I just wore it the wrong way round the first time...



All in all, I paid about SGD 40++
(not USD, mind you, so it should be wayyy cheaper for you guys...I think)
for both items plus shipping.


Overall, I think it is worth it if you want something nice and cheap
that you can romp around without caring whether it gets abit dirty.

I give a thumbs up for Dream of Lolita!

But don't take my word for it...some of the items are still look...
...questionable.

First Outfit Opinion


Minus the bunny ears, of course. Though I think it looks cute with a white bob wig.
But I thought it might look abit too costumey for lolita.
What do you guys think of this outfit?