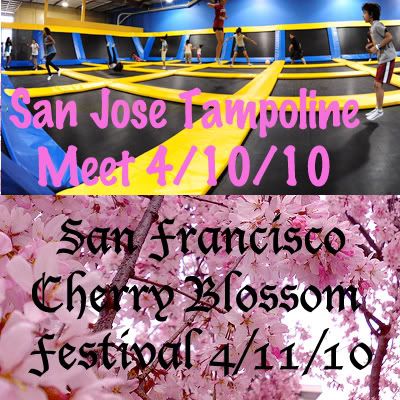 TRAMPOLINE MEETUP-


Where:
Great Jump Sports
http://www.greatjumpsports.com/
616 S. Main Street
Milpitas CA

When:
Saturday April 10th
Meet at 12:45pm by front entrance
Trampolining at 1pm (you pay by the hour, so it's important that we're all there on time and go in as a group)

Suggested attire-
Overall keep in mind that this is still a lolita meetup so not having at least some sort of lolita worked into your outfit in some way (even if that's just a cute cutsew & a hairbow with jeans) wouldn't really be appropriate. Also, we will be trampolining. You probably don't want to risk wrecking your rare $400 AP JSK or flashing your underoos to the entire world:
*Jeans or leggings underneath a typical lolita outfit (maybe something fun to post over on
daily_ala_mode )
*Homemade, offbrand, inexpensive and/or durable outfits.
*At the very least you best be rocking some cute bloomers because we'll probably all see them ;)

REALLY IMPORTANT IF YOU'RE UNDER 18!!!!!
Please go here and click the yellow "download waiver" button on the right: http://www.greatjumpsports.com/parties.php
You and your parents must fill this out and you must bring it with you. Trust me, it's not actually dangerous but if you don't fill out this waiver they will not let you participate.
To anyone over 18, please bring your ID/drivers license with you to prove your age!

What do we want to do after?
Trampolining is tiring, so it's entirely possible that some people aren't going to be feeling up to more adventures after we're done at Great Jump. For those of us that want to do more, there are lots of options nearby. We could grab some food- there's lots of sushi shops, fast food and nicer sit down restaurants nearby. The Great Mall is right around the corner. There's even a movie theater at the Great Mall. We could go to mini golf-
black light minigolf: http://www.glowminigolf.com/
normal minigolf: http://www.golfland.com/milpitas/
I think it's best to decide as a group on the day of what we want to do, that way we can have a better idea of what people are still feeling up to.

What if I need a ride? Milpitas is far!
I suggest anyone coming from Davis, San Francisco or the East Bay find other people from your area and carpool. I'm willing to pick up anyone in the San Jose area, including picking up people from the Milpitas lightrail station or the San Jose Caltrain station.

How much money should I bring?
It cost $9 for an hour of jumping, plus $1 for jumpsocks (which are reusable or $20 if you wanted to buy jumpshoes). I really doubt we'll want to jump for longer. I'd suggest bringing at least a few dollars for water or snacks while we're there. You might want to bring a bit extra if you want to join the group for any activities after trampolining.

RSVP List:

j9isawesome +1

chaos_rocker
lovelyona
therrymonk13
merli
baroquemaiden
pure_terrorist
xx_momoko_xx
seikomia
tiffanystardoll +3?

belucre +1

Maybes:

_abattoir_
manmadememories
xmadrabbits
turbo_san

If you say you're coming and then can't make it please let me know. I can even get email (LJ messages & PMs) on my phone the day of. If anyone wants my cell # just in case, let me know and I'll PM it to you.


~*~*~*~*~*~*~*~*~*~*~*~*~*~*~*~*~*~*~*~*~*~*~*~*~*~*~*~*~*~*~*~*~*~*~*~*~*~*~*~*
CHERRY BLOSSOM FESTIVAL-


When: Sunday April 11th
Meetup at noon
New People Fashion Show 1:30

Where: SF Japanese Cherry Blossom Festival
1714 Post Street
San Francisco, CA




General Plan:
12:oopm-12:30pm: meetup at the Peace Plaza, over at the side, in the shade under the Cherry Blossom Trees. I'm leaving half an hour of wiggle room here because I know it's usually hard to find parking and takes forever to get around Japantown.
12:30pm-1:30pm: explore the festival. There are food booths and art & craft booths lining the streets of Japantown during the festival.
1:30pm-2pm: Watch the New People BTSSB & BPN Fashion Show/Contest at the Buchanan St Stage.
2p-5pm: Check out the Artist Village X Bazaar Bizarre in the New People building. Maybe get food. Maybe walk around Japantown more.

It's only a general plan because it's usually a bit hot and crowded. Because of that and the variety of events going on there are usually people that break off from the group and rejoin throughout the day. There are also probably at least a few people that will be entering the contest/fashion show and they won't know exactly when they will be free throughout the day because of that.

More info on...
the Fashion Show/Contest: http://www.pinktanpopodesigns.com/bssbusa/?p=1051
the Bazaar Bizarre: http://www.bazaarbizarre.org/sanfrancisco/shows/artistvillage/
You can download the schedule for the entire festival here: http://www.nccbf.org/index.php/schedule-of-events
I recommend anyone who doesn't already have a phone # of someone that will be there PM me for my cell #, just in case.

RSVP List:

j9isawesome
chaos_rocker
lavenderlillies
getdolledup +1

jigokusaru +1

kuroikat +1 or 2

manmadememories
turbo_san
lovelyona
itskelp
alanna_lioness
kawaii_koneko18
strawrose +1


Maybes:

emily1strange
merli
fire
lespapillons
lady_lunacy
missnightshade
sweetmomoko +2

m3zzop1ano