Hi there, first post -- A review, yay!
Let me try to be helpful. :D

----- QCUTE REVIEW -----

This is my first order from QCute so I'm happy that the ordering process went easily and smoothly.
I spent a few days looking over what I wanted to buy and decided to invest in a nice, poofier petticoat and a parka for the cold spring here up north!
I sent an e-mail to QCute with my order in early December. At that time, they were getting a lot of orders for Christmas but they responded back in 2-3ish days like they said they would. I think Billy did most of the e-mail responding.

To be more specific, I wanted to order Dear Celine Bunny Parka and Rose Melody Polka Dots Petticoat.

I had a bunch of requests, which we took care of first. Then, he told me a lot about my order like picking a custom length for the petticoat and that the parka's sleeves would be longer. Oh, and Rose Melody only had the Deluxe petticoat left. It was only a few dollars more so I didn't really mind. My order was placed and it was time for me to wait.

About late January, I e-mailed back asking if my order was ready. Billy informed me that Rose Melody had a lot of petticoat orders so mine was a little delayed and should be shipped early next week.

About a week later, my items got shipped and another week passed until I received the package. YAY!

In my excitement, I forgot to take pictures of the package but it was in a nice bag with lots of tape. There wasn't any major damage (like tears in the bag) so I was happy.
Inside the bag, the two individual items came in their own plastic packages. The petticoat was folded compactly and when I unfolded it, it poofed back up. (Actually, I shook it a bit.) Totally fine! 8D

In conclusion:
Communication: 5/5 (Awesome!)
Shipping: 5/5 (Typical EMS price.)
Packaging: 5/5 (No damage.)
Overall: 5/5
(Do I need more categories to rate them in?)


----- ROSE MELODY PETTICOAT REVIEW -----
(This is going to be slightly image heavy. I apologize in advance.)



Here is the petticoat overall. If you squint, you can see the dot tulle (I think that's what its called? I'm such a noob at this)
I just took this out and shook it when I took a photo so it's a little not orderly. Haha
Actually, I think they might have done some starching. Man, this thing is stiff. O_O
It's also super poofy.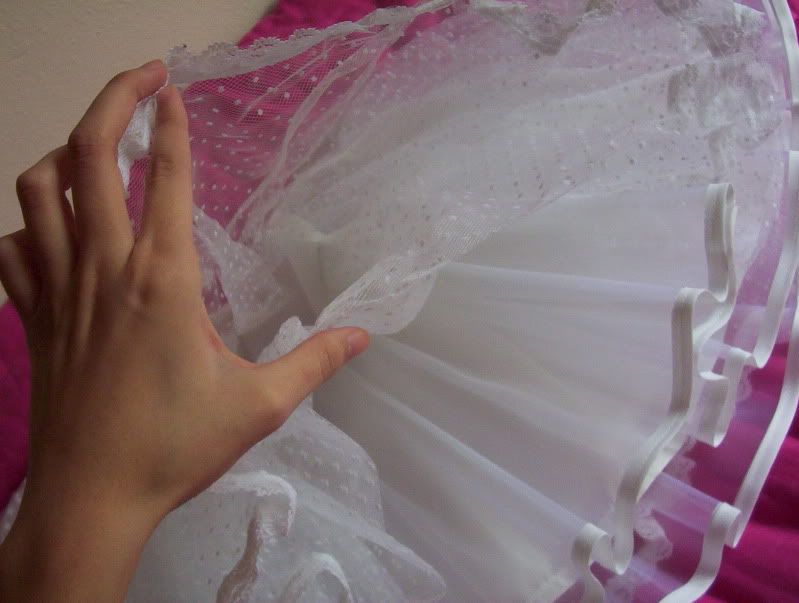 There's two layers of dot tulle on top. That layer below the two dot tulle layers is what's making the petticoat poofy.
It's ruffled and stiff. I'm not really sure what the material is. Stiff netting? Well, it's also pretty thick & tough.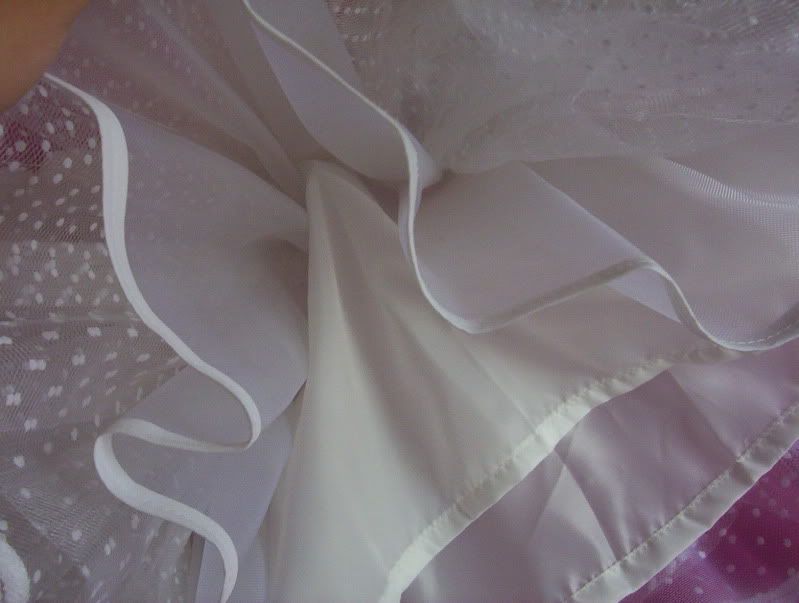 Under that layer of stiff netting is lining. It's not that bad if you don't wear bloomers but if you're really sensitive, because of the stiffness of the netting, I still suggest you wear bloomers or shorts. Better safe than sorry.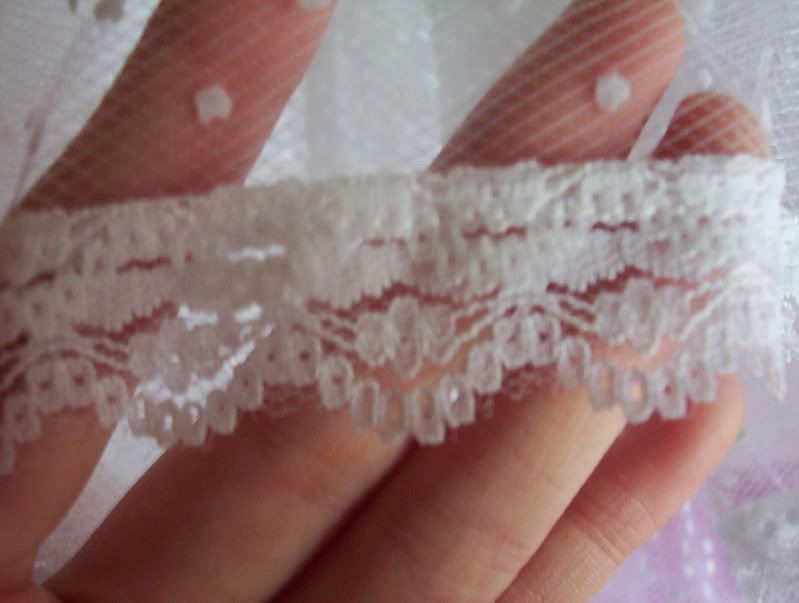 Picture is slightly blurry. I should have been on close-up mode, whoops. Anyway, this is a closer look at the lace. It looks nice but it feels cheap. But I honestly don't care much about the lace. Would have been nice if it were softer though. Moving on...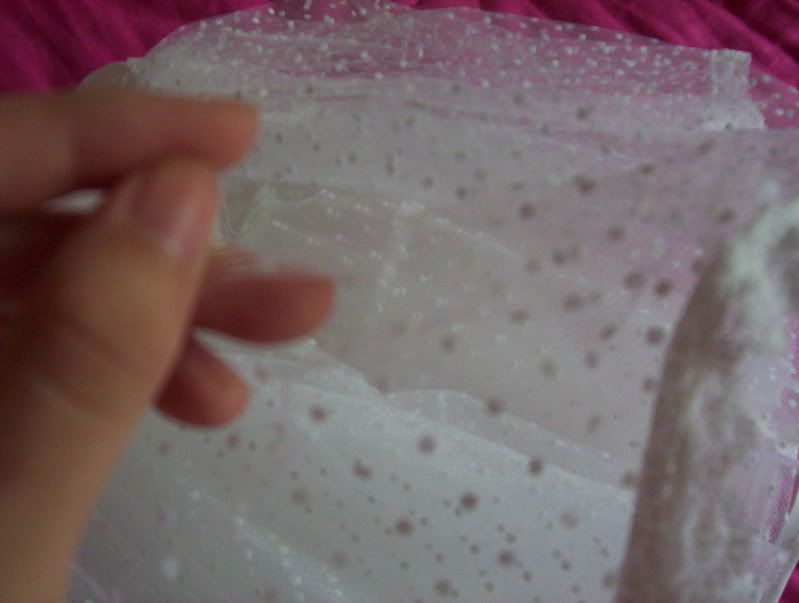 Well, you can't really see this because I fail at taking pictures and my camera is about 5 years old. There's a long hole in the dot tulle. I can't tell if it was ripped or if they sewed pieces of dot tulle together and didn't sew these two edges. But anyway, no one is going to see my petticoat anyway so I'm not really disappointed or anything. I couldn't even tell this hole was here until I folded my petticoat up to see how it would fare in my drawer. The lace is also connected on the bottom edges. I guess they were in a rush?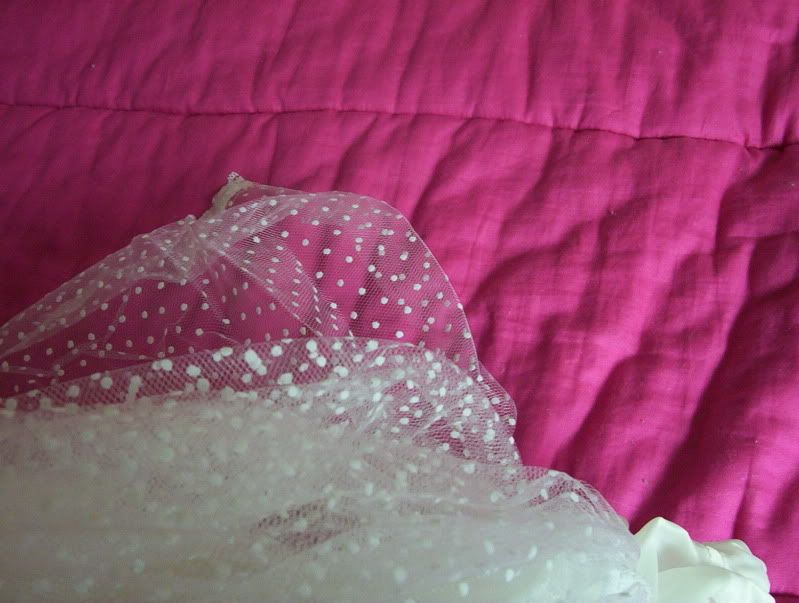 But then I found this. This one isn't even a hole. It's like a flap. O_o I folded my petti in half and pulled it outwards so you could see how the lace and the tulle weren't connected to wherever it's supposed to be connected. Or is it supposed to be connected?
I don't really know. XD
Anyways, the tulle is more like a decorative layer to make the petticoat look clean? and like a petticoat I suppose. You don't really notice these two mis-details and it's not like people will be looking at it.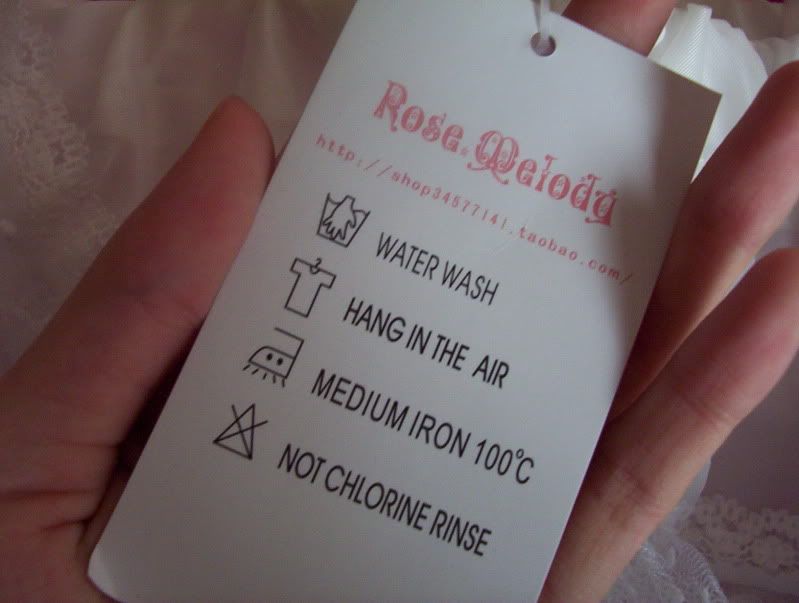 Tags on the petticoat.
I think the directions for these are supposed to be for their outer clothes (JSK, skirts, etc.). I don't think you should iron the petticoat. (Would you need to? O_O)

What you've all been waiting for:
No Petticoat vs. Petticoat Comparison!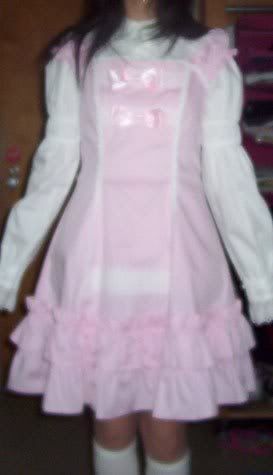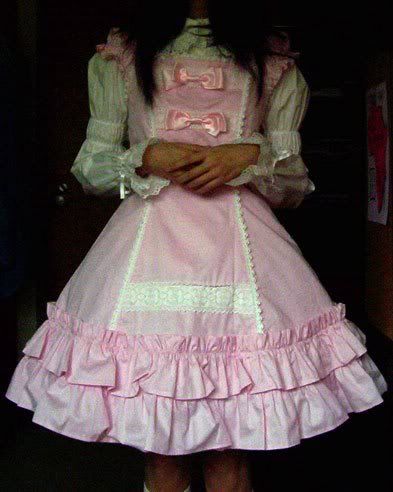 Should be obvious right?
I should apologize for the bad photo qualities and my untidiness. I just tossed clothes on without really looking in the mirror. U_U
But you should get the point. It's not cupcake poof. It's A-line poof. (Exactly what I wanted, since I'm more classic/hime style.)
And it's really poofy.

=====EDIT=====
Actually, upon further inspection, the A-line of my BtSSB JSK was making the petticoat A-liney.
So here's pictures with BodyLine Lovely Poodle JSK where the skirt part is gathered and not tailored A-line style: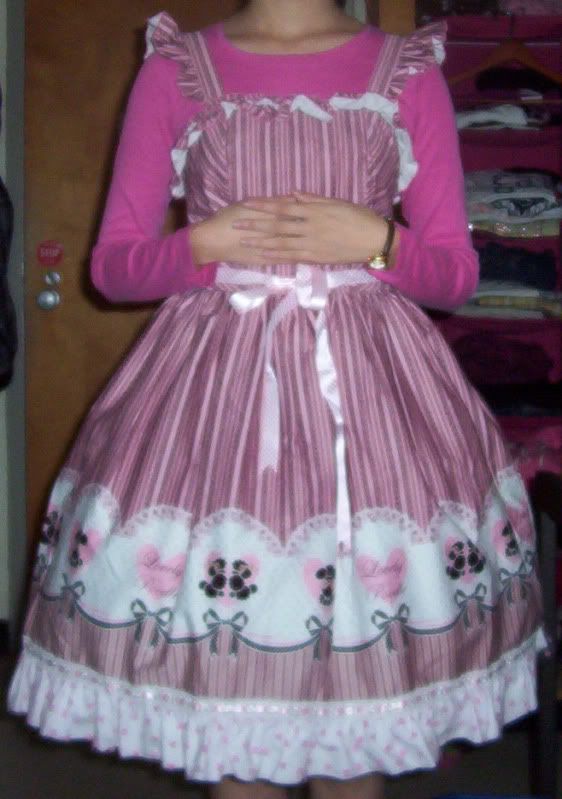 (Ignore the hot pink shirt--I just got out of class and didn't feel like putting on a blouse and I did not iron the JSK)

The first picture is with the petticoat at natural waist. It makes a BIIIG cupcake poof. Cute, but not classic. XD
The second picture is the petticoat lower down on the waist, right above the hips. (This JSK is long on me, so it works.) A much more subtle cupcake poof & slightly more A-lined. Try smoothing the petti down, it helps. XD

But if you're really more classic, I think most of your skirts/JSKs should already have the right skirt construction if you are going for poof. If not and they are mostly gathered, try ordering it at custom, shorter length so that you can wear yours right above the hips instead of at natural waist.

And I don't think I can sit through class with this. Perfect for photoshoots and walking though~

If you have any questions about the petticoat, you can leave a comment and I'll try and answer it. Also, photo requests.

In conclusion:
Construction: 4/5 (I'm giving them some leeway since they were busy and trying to get these out fast. And because they're not fatal flaws.)
Price: 4.5/5 [280 HKD (~$36 USD) Reasonable, but they probably could have used better lace...]
Overall: 4/5 (Super poofy but it's not super comfy. I does its job dang well, though, so you can't hate it.)


----- DEAR CELINE WINTER BUNNY PARKA REVIEW -----

Stock image! (Just for reference)



I have this exact color scheme. It's super cute and I can wear it with jeans too. *o*

Anyway, this is just a brief review. The parka is less of a winter jacket and more like a chilly spring jacket unless you layer up lots. Definitely cannot stand Upstate New York/Canada's 20­°F weather. I wouldn't wear lolita in this weather anyway (I'm such a wimp in the cold but I love it, anyway XD).

So, don't get this parka unless your winters are milder or your springs are a little on the chillier side. (Or if you can stand the cold.)
Outside is fleece. I rubbed it against a white blouse and no black fuzzy stuff comes off. It does attract lint though. Nothing a good lint roller can't fix. It doesn't have lint-sucking powers so waving it around isn't going to ruin it.

When it came out of the package it smelled a little funky. So, either air it out really well or spray it with something. I'm dorming in college so I can't really air out my clothes--sprayed it well enough and smell wasn't so bad.

The inside is lined with silky fabric. Really smooth and comfy. The fleece actually does insulate pretty decently, so don't wear it on warmer days. XD

The fluffy fur-like light pink stuff is really soft. I actually felt up the pocket ribbon things for a few minutes and the line around the hood. Oh yeah, the big rabbit ears flop over when you put the hood up, so if you're a person who actually uses hoods (I'm not one of them) and you want cute ears, get the bear version instead. Exactly the same but the ears are small and bear-style. I suspect that those actually stand up.

Also, Billy said something about the sleeves being longer but they were pretty normal length to me. I do have a preference for longer sleeves but they weren't hiding my hands or anything. My arms are a little longer than normal but they're still pretty typical. (I can take a comparison picture with the parka & a typical hoodie, if you want).

I can't wait to wear this~~~

=====EDIT=====
Pictures Worn: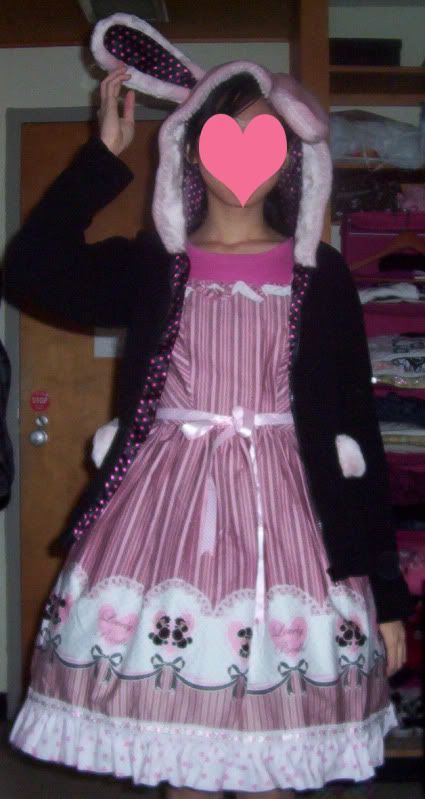 Front + Hood & Ear floppin' | Back + Hood down~

If you have any questions/photo requests about the parka, leave a comment. :3

In conclusion:
Construction: 5/5 (Awesome! Couldn't find any flaws~~)
Pricing:4.5/5 [485 HKD (~62.4 USD) A little expensive for a spring-ish fleece jacket, but it does have fur, hood, bunny ears, and pretty lining, so I guess it's fine? XD]
Overall: 5/5