This caught my eye, mostly because reading the description made me think of Shirley Temple Cute gone hoe-bag.

Does anyone detect a relation between this line's collections and perhaps the influence of lolita? (I realize not everything girly/poofy/whatever is lolita...and yeah, it's probably just some weird Hot-Topic-echo)



Here's a picture of a stock photo next to the product being worn by Heidi Klum's little girl: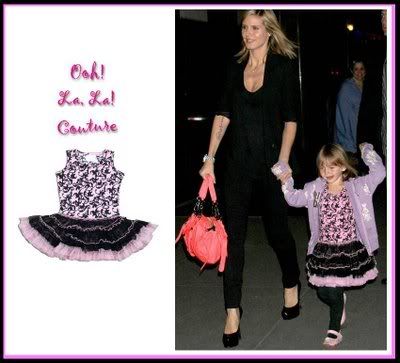 And here's a video of a little girl sporting the whole "O!LL!C" look:


I was musing about having a little girl, and what I might dress her up in; of course I would never force a kid to wear something they didn't want to! But it's romantic to think about a sort-of-matching mother-daughter pair. (Anyone have that link to that one woman who wears a lot of lolita and always has pictures of her kid with her? It's so cute!)

It's funny though... with such similar designs, between Japan and America.

One of them (Japan) is emphasizing the charm of innocence (at least when I think about STC).

The other (America) is trying to slut it up as much as possible (I dunno about you...but the fishnets and when she pulls up her skirt...it just seems way too sexy!). & the label recently announced they would start selling...little-girl lingerie.

I guess I'm trying to open up a discussion about dressing your kid (particularly if you're intending to put a lolita influence on their clothing), and what it means to different cultures when they see your kid wearing whatever.

At the same time, I feel a lot of the lolita I wear and see on others is too grown-up for a little girl. I suppose I find that comforting as defense against the claim that we're all searching for our lost childhoods.

So... let's discuss!