Time for a super easy hair tutorial!
From flat lifeless hair (my usual everyday dilemma) to full wavy hair either in pigtails or down on its own
Some of you will probably laugh at the idea of even making this a tutorial but hopefully someone can find it helpful :)
I don't know about everyone else my hair has no natural life and refuses to hold nice curls without rollers (which I hate using)
So here is my simple easy way to get nice fluffy wavy hair without rollers or other hair pieces.
First you need to have soaking wet hair fresh out of the shower.
Towel dry a little but then immediately pull your hair up into two pigtails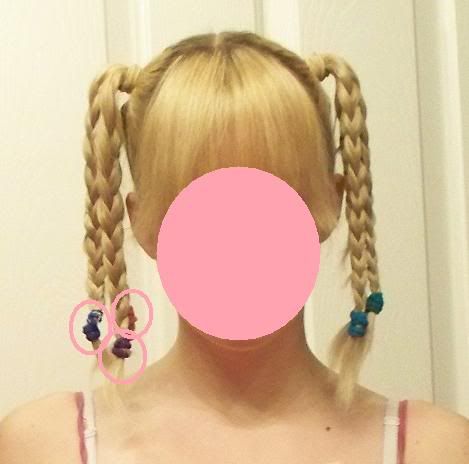 In each of these pigtails be sure to make THREE braids (circled on the photo for emphasis even though it's hard to see all of them)
That's right though, all it takes is two pigtails and three braids :) Super easy!
I blow dry and style my bangs after braiding my hair. You may also need to rewet your hair as you braid it in case it dried a little.
The above picture was taken an hour or two after I braided mine hence the dry ends.
Now it takes about 10 to 12 hours for this to dry completely just to be safe, so I always do this a few hours before I go to bed and then sleep on it :)
The next morning if you just take out the braids and leave your hair in pigtails you will get this lovely result
I'm not always huge on pigtails though so I usually end up taking mine down which results in this
Huge scary lines up top! No worries though they are very easy to get out :)
Also your hair in this style is really durable so right after I take mine down I brush it through with a comb making it extra fluffy.
Be sure to brush it a lot down the back to get rid of your part as well. If you're having trouble with the part disappearing try
pulling the hair in the back that you want to come together in a ponytail for an hour and that will usually resolve relax the part.
Now to get rid of the lines up top all you need is a curling iron or straightening iron. I use low heat too
Just lightly clamp the heating tool on the hair where the line is and quickly rub it back and forth
Be sure not to take the heating instrument too low in the hair and hurt the rest of the waves.
Here is your end result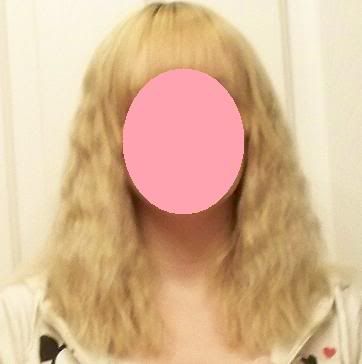 It's super fluffy and durable and will hold for at least two days without problem or extra products in your hair :)
If you're worried about it though I suggest curling mousse in your hair before braiding and after taking it down and brushing it.
Thanks for reading!