Hello!

Recently I purchased a pair of shoes from Miranda via QutieLand.

I placed my order 11/09/09, and recieved them in the mail about two days ago. A wait of about 24 days. This was expected, since it was stated that the estimated making time would be 20 days on top of mailing them to me, so they're on schedule.
Billing went okay, and I recieved an email with a link to where I could get status info. After they were done, I got an email with my tracking number.

The shoes I bought were an*tai*na Candy Lolita Ribbon Shoes (flat heels) by the brand Miranda through QutieLand's website, which is still under construction, but the shopping cart and everything seems to work fine.
Page: http://www.qutieland.com/product.php?id=67 (you might have to refresh the page to see it)

I'm one of those weird people who likes plain shoes, haha. I think there are way cuter shoes in the same flat heels section and for the same price, but I guess at the time I wanted something simple, and that's pretty much what I got.

I'm between 24.5cm and 25cm, so picking sizes was hard, since they do all half sizes (23.5, 24.5, 25.5, etc). I decided to play it safe though and get their 25.5, which cost a little more. For colour I chose black.

Onto pictures! I apologize in advance for the lighting; my room kinda sucks in that department but I tried to fix them up in photoshop a bit.
My Wii balance board will showcase everything since I...haven't been putting it to much use myself, hahaha. *lazy*




Package. Every package I get from China looks like someone played soccer with it first, haha. At least I know what those customs people are doing with my stuff now.
-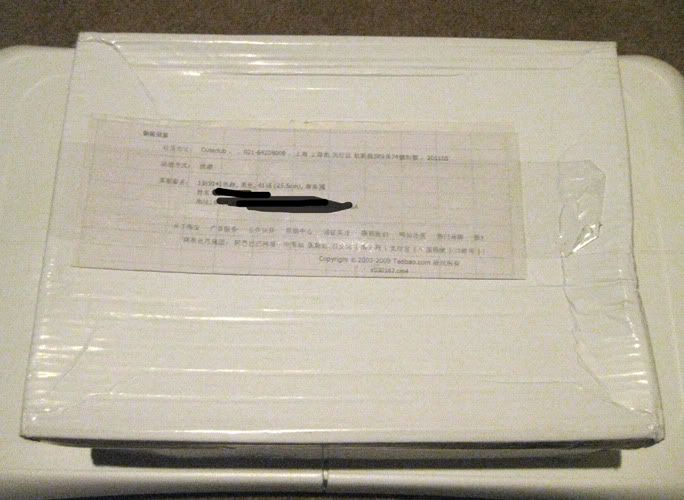 Shoe box, also looks like someone physically assulted it. I dreaded opening it and finding my shoes liquified or something.
-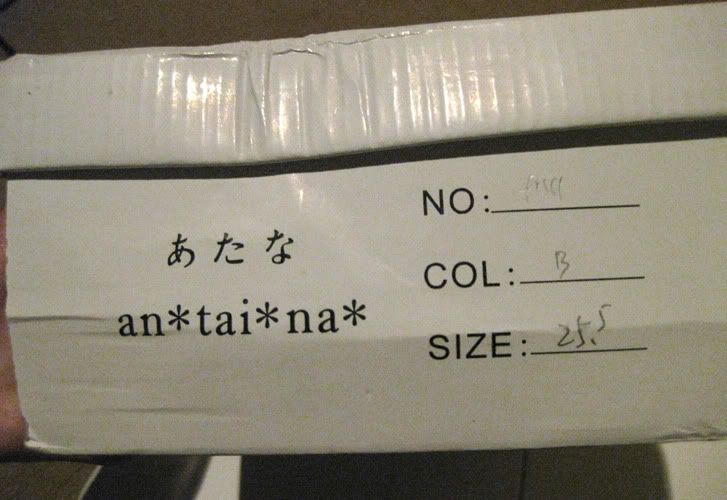 Side; pretty standard.
-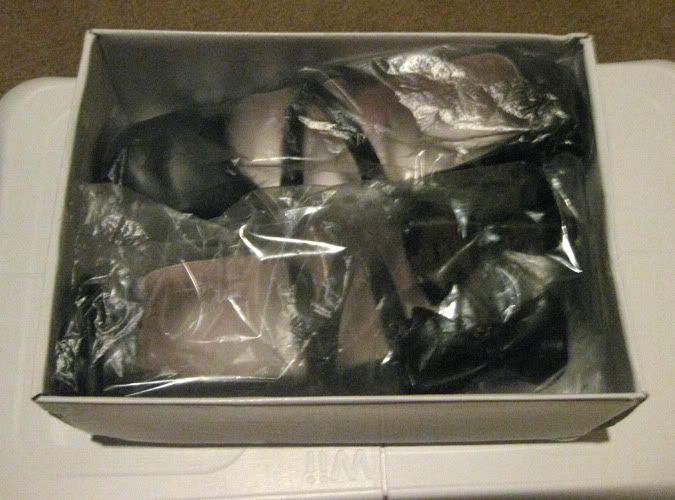 Opened the box and OHGOD--no they're okay, thank goodness. No bubblewrap or anything though, but the plastic (rather thin) apparently did it's job as I noticed no damage to the shoes.
-



Individually wrapped.
-



Came with two extra bows to stick onto the shoes. These were also wrapped in their own little bag.
-

Bow pictures GO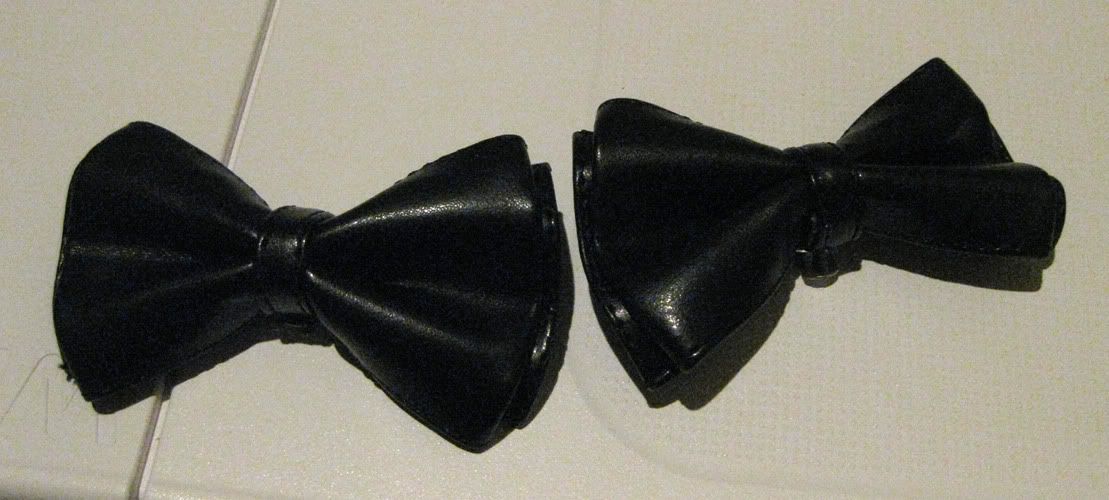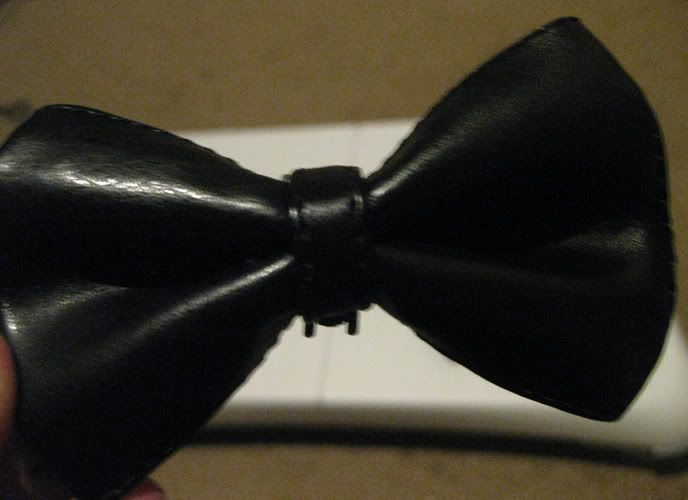 They're kinda eh. I personally think they're a bit too big, and I don't like the back of them (but who sees that anyway?) I probably won't stick them onto my shoes.
-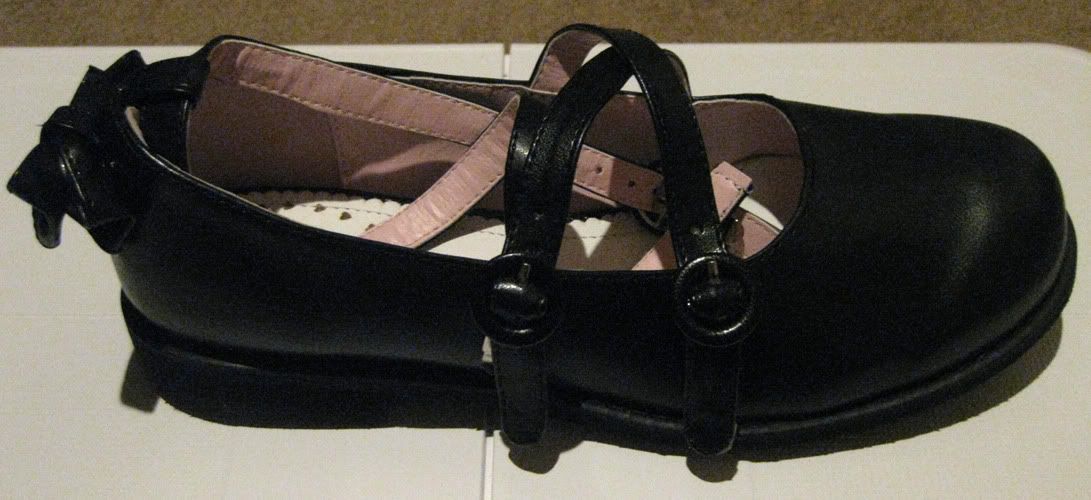 Actual shoe photos time. They look fine, nothing showstopping, but like I said, I wanted plain shoes, and that's what I got. The material feels a bit thin, but they're not too shabby. I like them. :) They're 'okay' shoes.
I took a photo of the sole inside, but accidently deleted it, which is a shame because it's DARLING and it's white with scalloped edges and gold hearts and says 'An*tai*na. (you can kinda see it in this photo)
-



Otherrrrrrrr side. I'm not a fan of the bow on the back of the shoe, as it kinda just looks like a squished ruffle...thing. I can probably hack it off though, but probably shouldn't since they're sewn on. BTW, these smell a bit chemical-ish, like I just walked through the tire section of a store. They should be aired out a bit.
-



Bottom! I thought the little swirls underneath were rad, haha. They kind of look like fancy cursive 'K's.
-



Upon inspection, I started to notice quite a few problems with the stitching, such as here with one of the straps.



And here were they seemed to miss about 1-2cm. I didn't take photos of all of the little kinks I found, but there were two or three more. For some odd reason, the right shoe only had the above flaw, while the left had the rest, mainly loose threads. Nothing too butchered though.
-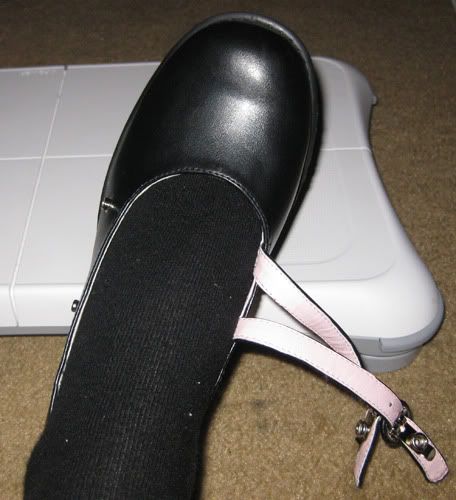 On a foot, first without straps buckled.
-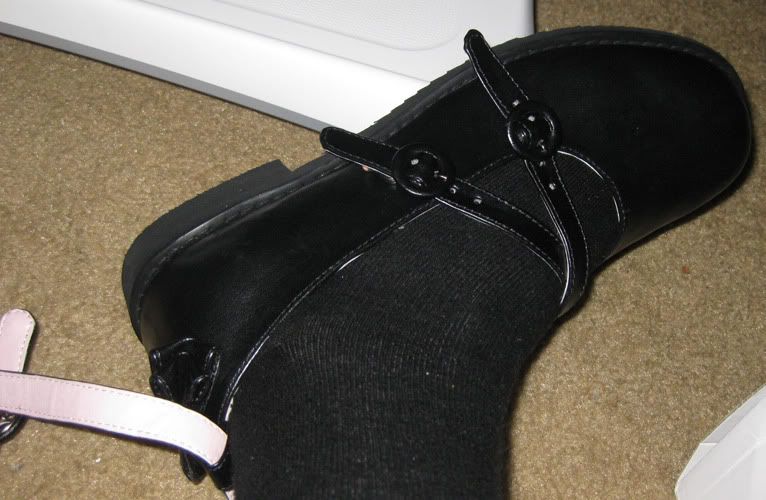 Straps on. Well, the first two anyway.
-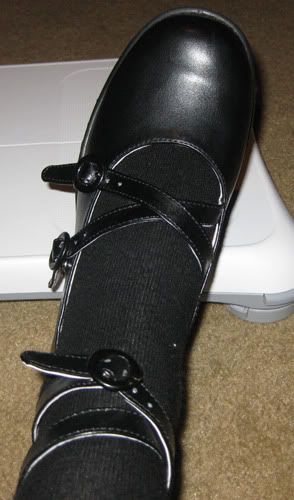 All three.
Photo flood ACTIVATE: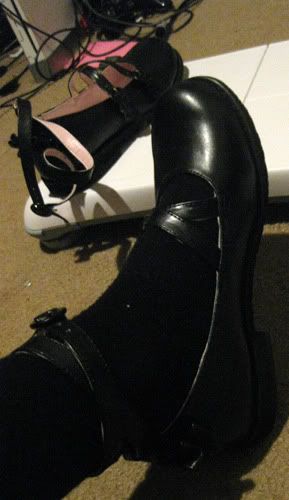 (...I really need to organize all my cords from my consoles sometime)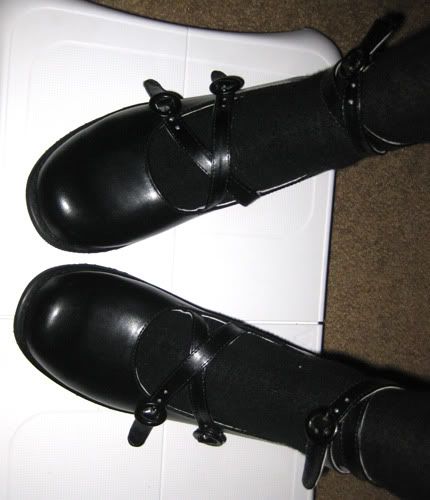 Playing Wii fit in rori probably isn't a good idea.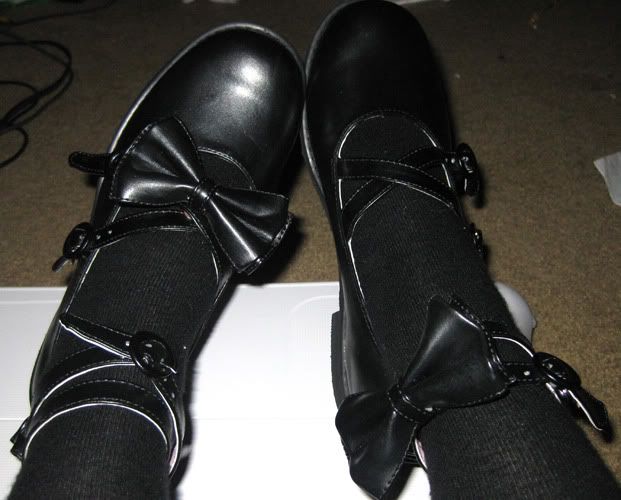 Bows equiped. One of the front and one on the ankle straps. I guess they're not that bad.



No flash.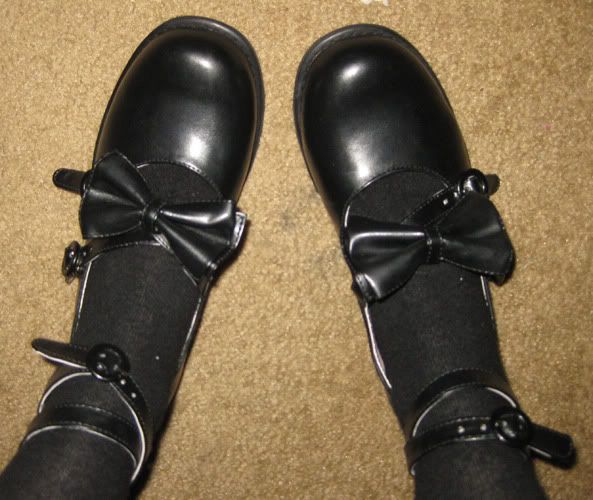 Both bows on front.
-

Decided to put a bit of pressure on the foot to see how the material would crease.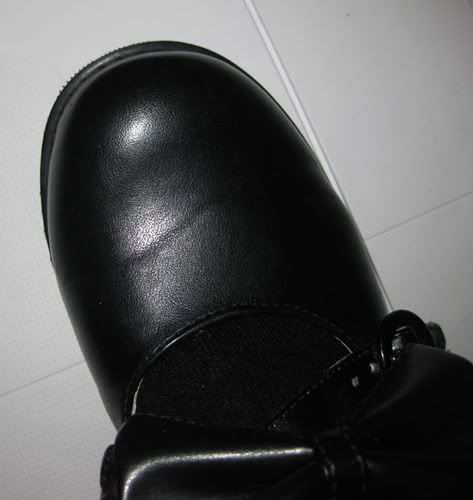 -------------------------------
I took a few steps, walked around my house with them on. They feel pretty nice actually, but squeak a bit, which means I'll have to break them in. Size-wise, there's a tiny bit of space, but that'll be good if I ever decided to wear thick socks with them. (And I ordered them a bit bigger, so~)


QutieLand
Communication: 10/10 - I got emails when they were shipped and a place I could see how my order was doing. No complaints here. Billy was also great at getting back to me with my questions. :)
Shipping: 8/10 - They arrived just fine, but a littlebubble wrap, or at least thicker wrapping plastic, would have made me feel more secure. Timewise, it was accurate to what they said.

Miranda:
Design/quality: 7/10 - Lost points because the material is a bit thin, and there were a few loose threads here and there. The straps buckle and make it over my feet , and even though I kinda don't like the backbow, it's sewn on pretty sturdy. They look just as advertised, which is good.

Overall I like these shoes. They're certainly not at the quality my brand shoes are, but they're very decent. No flaws big enough for me to hate life, but because of a few kinks, it keeps them from being better.
I would order through QuiteLand again in a heartbeat, and I will probably consider ordering from Miranda again.

Hope this was somewhat helpful!