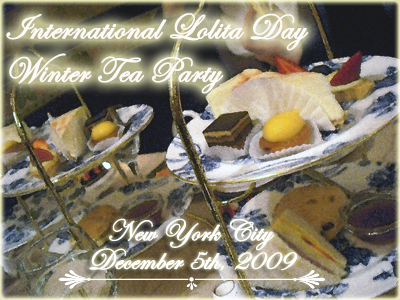 First off, I apologize for not posting any sooner, not posting an RSVP page when I said I would (got bombarded by replies through all sorts of communication, and the guest list was already filled =A=), personal life bum-rushed me and I've been completely busy trying to get over the hump. I'm sorry!

Anyways, like I've said, the guest list is completely filled at the moment. I have a few people on the waitlist, so for whoever haven't paid yet, I'm going to give until this weekend to receive your payment until I pass it on to someone else. This is who we have so far:

Guest List [Who paid completely so far]:
1 -
oxxcyanidexxo
2 - +1
3 -
lolita_eva
4 -
palantiriell
5 -
miss_lumpy
6 -
princessleia1
7 -
hallarch
8 -
childdoll
9 -
tspcircus
10 -
legsdiamond
11 -
archfaith
12 -
lenimari512
13 -
ugly_kitties
14 -
xphosporous
15 -
suzu_hime
16 -
chibiusagi
17 -
nashiko
18 -
rindou_yume
19 -
mr_cutiepants
20 -
dixmacabre
21 -
visualkeiisdrag
22 -
dohreimee
23 -
curly_b
24 -
the_rose_prince


[Who haven't given full payment]:

25 -
bakaneko47
26 -
ongaku_chan
27 -
dj_kyan_di
28 -
corrosivematter
29 -
nerorizim
30 -
marthaness



And, the current waitlist:

1.
shadow666x
2.
misadesu
3.
arsenicold_lace
4.
lingozero
5.
t3h_janitor_jim
6. +1
7.
aliknyankochan (I forgot if you said you couldn't come? Lemme know)
8. +1?
9.
vapor_saturnine
10.
draekyr


NOW. Anyone who -has- paid, I've already paid the Rose House the money as a deposit so if you happen to back out, there's no guarantee that I can refund you until someone else pays. After this weekend, there will no longer be an option for a refund PERIOD, in case you have to drop out last minute, so yeah. Just throwing that out there!



~~~~~~~~~~~~~~~~~~~~~~~~~~



One main point of this post is to remind all guests of the strict dress code.


Once again the theme is Princess style, and it excites me since "Princess wear" can be interpreted in so many ways. That means you can have your own take on your own "Princess" outfit: whatever historical inspiration, color scheme, etc. is in your hands, so make your outfit the most creative possible! I can't wait to see everyone's outfits (and if anyone wants to share, PLEASE give me a peek via PM ;3 especially if you need help or if you aren't sure if your outfit fits in!). Sweet, Classic, Gothic, it doesn't matter. If you drape yourself in the richest fur or a ton of pearls, it's all you.

Some acceptable styles other than Lolita include Neo-Victorian clothing, steamfashion, goth (a classical look is preferred). Anything formal or semi-formal that falls under Himegyaru or "Agejou" style are also acceptable.



Keep in mind that if the way you're dressed isn't deemed fit, you will be turned away, regardless of whether you paid or not. Not to get all Totalitarianism on you guys, but remember this is to ensure that your fellow guests are respected in the sense that you should have effort put into your outfit like they do. Some of the things not accepted include but is not limited to: cosplay; things regarded as "Ero-lolita" (wearing decorative corsets is one thing, but decorative corsets with skimpy skirts and breasts toppling is completely different), or "punk-lolita" (there may be an exception, please come to me about this), or casual-lolita; costume-elements such as whiteface, maid, mallgoth, vinyl, ripped fishnets, flip-flops, miniskirts, etc. You get the picture. No deconstructed clothing unless it's done tastefully. If you have a guest coming that will not be dressed up, they must wear something formal/semi-formal. e.x.: if you are bringing your boyfriend, slacks, dress shirt and shoes are preferred, no sneakers or fitted caps, period. Please don't make me have to turn friends away!



Once again, if you are confused or need help, don't hesitate to PM me, and I will help you out to the best of my ability :3 If you need inspiration, I have thousands of pages of magazine scans to help you out.


~~~~~~~~~~~~~~~~~~~~~~~~~~~~~


Also, The White Elephant Gift Exchange. Remember to buy your gift! The gift has to be between $8 and $20 dollars, to keep it fair. You must have then IN HAND before you enter the Rose House. If you don't have a present, you won't participate in the gift exchange. Don't make yourself left out! If you have a guest, they must bring a present too. That means if you MUST get it the day of, you better get it! Even if it's wrapped in 10 plastic bags, if it looks like a bag of crack, BRING IT. xD The girl who receives it will appreciate it.

Some ideas for presents includes things like trinkets, hair accessories, jewelery, scarves + gloves, handmade goodies, books (something you'd recommend, or something classical like The Nutcracker or something), trinkets like a nice jewelry box, socks, plushies, things like that.


~~~~~~~~~~~~~~~~~~~~~~~~~~~~~~~~~~~



Also, I forgot if I mentioned it before, but here is the updated information for the party. We're meeting around 2-3 hours beforehand, to walk around the nice places near Main Street, and for Purikura.

Where to meet: Main Street- Flushing stop on the 7 line; it's the last stop so you literally can't miss it. The Rose House itself is in Queens Crossing.
What time: We're going to start meeting at 3/3:30PM ; the party itself is set for 6:00PM, and will end at approximately 8:00PM.
Money?: Purikura is $10.00 for the Japanese machine, Korean machines are $6 (though honestly are really crappy.) Most items in the accessory shops are usually around 20 tops for accessories and jewelry, so I suggest bringing maybe $50.00 to satisfy whatever shop-addict urges, purikura-crack and if you happen to get a little hungry before the tea party.



If something happens that you can't make it in time for the party and need directions, be sure to let me know. I will be sending my cell phone number around in case anyone need it.