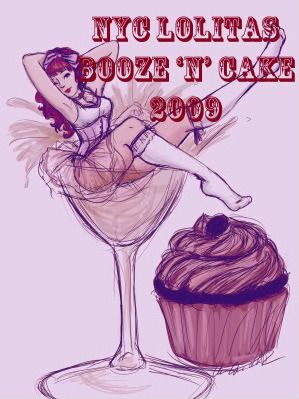 This is a duplicate of the one I did Saturday night, which I deleted 'cause I'm a 'tard at editing.

Original post is here.

Alright, update time:

Since everyone who voiced an opinion on the matter was against the transit in the cold, we will be going straight to DUMBO for the Floating Kaberette at the Galapagos Art Space.

So the standing itinerary is:


9:00 pm- Meet at Water and Main St in Brooklyn. We'll be eating a late meal at the Water Street Restaurant.

10:10 pm- We head across the street to the Galapagos to get seated for the show.

This meet up is casual! We're just going out for a fun time. But please, do let me know if you are coming and bringing a guest. I will need a close to definite number so I can call the Art Space and Water Street ahead to give them a heads up. I do hate to suddenly drop on a venue with a large group I wasn't anticipating myself.

The Kaberette is FREE, but they do have a bar and we will be dinning beforehand. $15 can cover a meal there if you don't get one of their pricier entrees, but do remember tips and drinks. Drinks at the Galapagos are pretty standard bar prices, so bring as much as you think you'll be drinking. Oh, and please don't ask others to buy you drinks, if you're under aged. ;;

Attending:
moi (+1)
amanikitty (+1?)
yumewo
mr_cutiepants
enjerumuffin (+1)
ayansai
nerorizim


Maybe Attending:
dohreimee
bakaneko47
toymoonhorse
lunagrrl180
communistmuffin
nashiko
lolita_eva
kytrax
visualkeiisdrag
corrosivematter
archfaith
xvmorganalefayv (+1)

UPDATE: Ok, this is where I feel like a dick, and not just 'cause I poisoned myself Saturday night. I went to the Galapagos for the Floating Kaberette (it's held quite often, actually) and while I had never be IDed at the door before unless I pre-ordered a ticket, they did when my friend and I got there that night. So, I had to ask them in dread if the Kaberette is 21+ only. They said yes. So we have a dilemma for the 18-20 girls and guys who lack fake IDs, sadly. HOWEVER, I have looked around for something to do before hand, and IT INCLUDES GAMES AND CAKE. It stretches us out more on travel, but we easily still stick to the same train route I would be taking myself to DUMBO. Anyone who wants to join or leave as they may is welcome to. I know the changes make for a long party, but I'd hate to exclude so many people on what was already an age limiting meet up.

7:20pm- We meet at Leisure Time Bowling. I will need a definite headcount by the end of the week for the alley to reserve lanes for an hour ($10 per person, six to a lane, so if we have fewer people going to the alley, it will cost more). Important note: If you are late, you NEED to get in before 8pm or get my number to meet us at the next location unless you are 21+. At 8pm, they close doors to people under 21. They will not kick out our group if we make good time, but after wards, you can't come in without an ID.

8:20pm- Move out to the station and head down to Essex-Delancy for cake. There are a lot of really nice boutiques in the area as well as bakeries, but I highly recommend we go to the Cake Shop if their event is open to all ages. On top of being a bakery, they're also a bar, cafe and live music venue.

Pending upon whether or not we eat there, as there has been food open to us all night, we will move down the trains again following the old itinerary at around 9ish for dinner at the Water Street in DUMBO, and then our 21+ event. I again apologize for the girls that will not get to see the big show and were looking forward to that portion. I really hope to see you for the earlier segments, however, and truly hope everyone has a good time though not as good a time when I last went to the Galapagos, 'cause things happened that I'd rather not be able to recall.

So, rundown again:

Meet Up Location: Leisure Time Bowl, on 8th Avenue between W 40th and 41st Street.
Meet Up Time: 7:20pm
Date: November 28
This meet is 18+ only!

Additional costs to the above include $10+ a head for bowling (the plus is if we can't neatly fit six at each lane we will reserve; the number will be definite at our final head count), $8.25 for a MetroCard, and cake/shopping money.




Guest list is still open, but is still 18+ only sadly changed to 21+ and will be closed in about a week for the final update. IT IS IMPORTANT THAT EVERYONE WHO SAID THEY WISH TO ATTEND PEER AT WHAT'S UNDER THE CUT! I WILL NOT BE RESPONSIBLE IF THEY TURN YOU AWAY AT THE GALAPAGOS.

Edit again: The main event, which is the last part is 21+, but I have open options still for those between 18 and 20 that want to go.

Edit again again: . Please read the cut again for details. The changes are huge, but I'm trying to accommodate all the guests who wished to attend from the first list.