I went to
ginger_kitty
's beautiful headpiece and accessory website
Il Sangue
on the 9th of October for a choker and hairpiece for the Chicago Halloween tea. I was going to wear the BtssB Vampire Requiem short JSK and needed something to match it.
After seeing the
review for Il Sangue here on EGL
, I decided I wanted a similar choker. I knew I wanted a mixture of cream and black with the side rose and draping bead chains. After that, I trusted ginger_kitty 's artistic judgment. She worked with me over the next two weeks, consistantly showing me pictures of what she came up with and allowed me to make changes.
The end product was absolutely beautiful and cost me only $24.
The next two pictures are by her, posted to EGL a little while ago-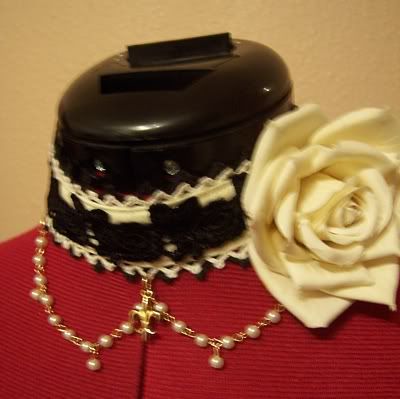 without the rose-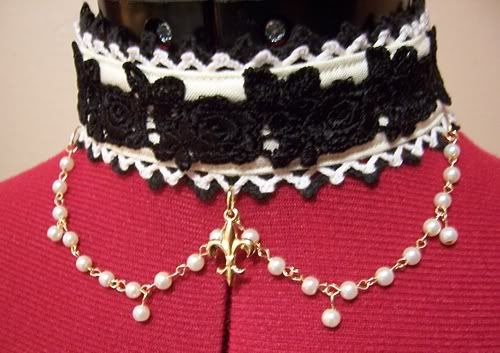 Materials as she listed on EGL:
Kona Cotton
Venise & Cluny Lace
14K Gold Findings & Clasp
Gold Vermeil Pendant
Glass Pearls
The base of the choker is stiff and holds it shape beautifully. Her work is very clean. The rose is detachable, so I can wear this as a non-lolita choker as well!
Back of the choker:
I also ordered an Ivory Rose Hair Corsage with her. It is well made. The three roses are situated on a hair barette that she covered in the same ivory kona cotton fabric as the choker. There's a pearl chain that hangs from the barette as well. My only issue is that it gets hidden by the roses, so I think next time when I order I will ask for a longer chain.
The corsage was $22. The roses are so high quality that it definitely justifies the price!
The hair barette is perfect for my hair- it doesnt' slip like a comb would and holds a good amount of hair so that I don't need to use other clips or pins!
BONUS! Pics of me wearing the two pieces with Vampire Requiem!
Quality: 5/5
The roses are just fantastic, the craftsmanship is clean and well done.

Shipping: 5/5
My items were shipped the 26th of Oct and I received them in time on the 30th to wear to the tea on the 31st!
Packaging: 5/5
The items were individually wrapped well to prevent any damage, and she included a nice handmade thank you with the order as well.
Overall: 5/5
I am DEFINITELY ordering from her again!