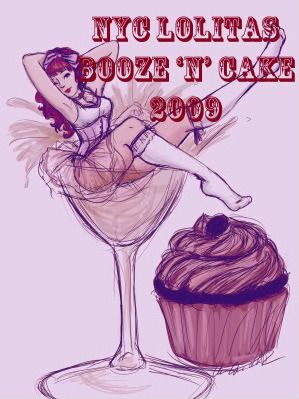 Ok, I apologize for this cutting it close, but this is an event I only got info on just this past week, but I figure close to three weeks should be workable. The event itself is free admission, 18+ only, which is great for those who will be recovering from Dances of Vice and trips to see the folks for Turkey Day out of the college college crowd.

We will be going to DUMBO in Brooklyn on the 28th (the Saturday after Thanksgiving) for the Flying Kaberette at the Galapagos Art Space.

The Flying Kaberette in the past has hosted:

-aerial acrobatics and dancing
-live music
-comedians
-dance acts

And best of all

-BURLESQUE!


Now, this is pretty late as far as meet ups go, so my itinerary only reads thus:


9:00 pm- Meet at Water and Main St in Brooklyn. We'll be eating a late meal at the Water Street Restaurant.

10:10 pm- We head across the street to the Galapagos to get seated for the show.


...Yeah, pretty short and late at night. Also lacking in cake (though I will explain that bit shortly). I wanted to see first, before we finalize everything, if anyone is willing to start the meet a couple of hours earlier at the Chinatown Fair Video Arcade and shop a bit there first. There are also a couple of places to get desserts before we head to DUMBO. However, there are two things to take into consideration:

-The Flying Kaberette is not a short show. Last time I went to a show at the Galapagos Art Space and it started late, I didn't leave until about 2am. Do you want to start a meet at 7:30 when it ends that late?

-One of the bakeries closes at 8 (hence the timing listed above) and the ice cream parlor that is the alternative only has one type of cupcake, it looks like.

-We'd be going from Chinatown to Brooklyn.

I just wanted to leave the option open regardless, though. The obvious pros are that we'll have a shot at getting whatever desserts we want and have something else to do apart from the show.

Now, if we don't do the Chinatown thing, however, I wanted to bring cupcakes to the Art Space so that we make truly indulge in cake and booze. I encourage others coming to bring baked goods. The venue does allow for us to bring in outside food, so long as we are clean and courteous.

This meet up is casual! We're just going out for a fun time. But please, do let me know if you are coming and bringing a guest. I will need a close to definite number so I can call the Art Space and Water Street ahead to give them a heads up. I do hate to suddenly drop on a venue with a large group I wasn't anticipating myself.


So, rundown with the current itinerary:

Meet Up Location: Water and Main St in Brooklyn, in front of the Water Street Restaurant
Meet Up Time: 9:00pm
Date: November 28
This meet is 18+ only!!!

The Kaberette is FREE, but they do have a bar and we will be dinning beforehand. $15 can cover a meal there if you don't get one of their pricier entrees, but do remember tips and drinks. Drinks at the Galapagos are pretty standard bar prices, so bring as much as you think you'll be drinking. Oh, and please don't ask others to buy you drinks, if you're under aged. ;;

Attending:
moi (+2)
dohreimee
amanikitty
yumewo
mr_cutiepants
katabulous (+1)
bakaneko47
enjerumuffin
ayansai
nerorizim


Maybe Attending:
toymoonhorse
lunagrrl180
communistmuffin
nashiko
lolita_eva
kytrax
visualkeiisdrag
corrosivematter



EDIT: Current majority vote says, "Damn, let's stick to DUMBO and get more drunk with vidiya game money." So, unless that vote changes, we will not be going to Chinatown.