Only small to begin with, but it is a serious thought, I've been painting digitally for many years, and can replicate brand prints very easily for my illustrated characters as you can see from my quick illustration sample from my animation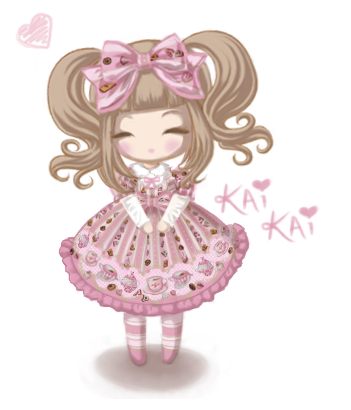 :)

however, i've been thinking of taking it one step further, I want to seriously start designing my own dresses and having people design their dream dress too. however my sewing knowledge is very limited. I can design dresses but I can't make them ploof. however that's when I thought of making my own fabrics. but that would get me nowhere alone so, i'm asking if there is a lolita seamstress, preferably in the UK who is interested in collaborating for this Brand concept, in the UK a lot of lolitas feel ignored that we have to search overseas for our love of clothes. why don't all us ladies get together and do something about it!?

I'm sure that there is enough of us creative types to create our own atelier so why not?? we can sell our clothes online for maximum profit too!
is there anyone interested?