I would've posted this earlier, but I just got home from visiting my mom in the hospital over 30 miles away.

anyway

A while ago someone had posted a positive review for Milanoo about a pair of bloomers. Unfortunately, I was one of the few not-so-smart (I'd say dumb, but that's not really nice to say) girls who decided to ignore the many negative reviews just to save a few dollars. I wish I had read all the prior reviews and actually spent the extra money on better quality items.

So here is what I ordered from their website (ETA: the links aren't working for some reason? just go ahead and copy/paste):

http://www.milanoo.com/White-Lace-Lolita-Blouse-p16319.html
and
http://www.milanoo.com/129604-p7751.html

Not too shabby, hmm?

And here's what I got: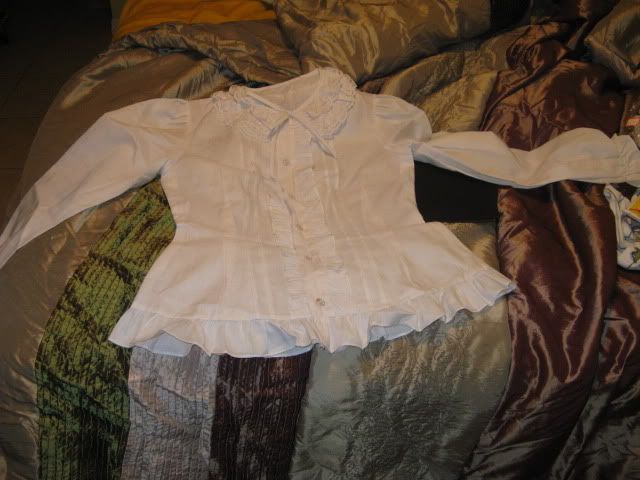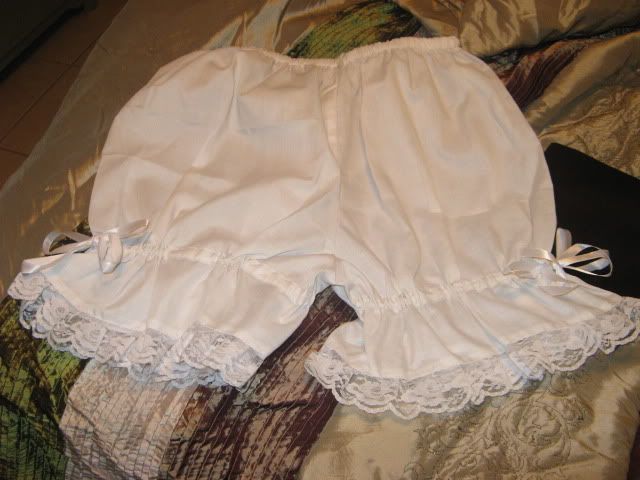 plus a tacky black shopping bag of some sort.

Hmm.

Now, the Blouse seems slightly different to me as far as the ribbon/bow at the collar. Not only that, but the material is very thin and kind of grayish? rather than white. Plus, it had a ton of pink lines all over it, and some tiny gray stains like so: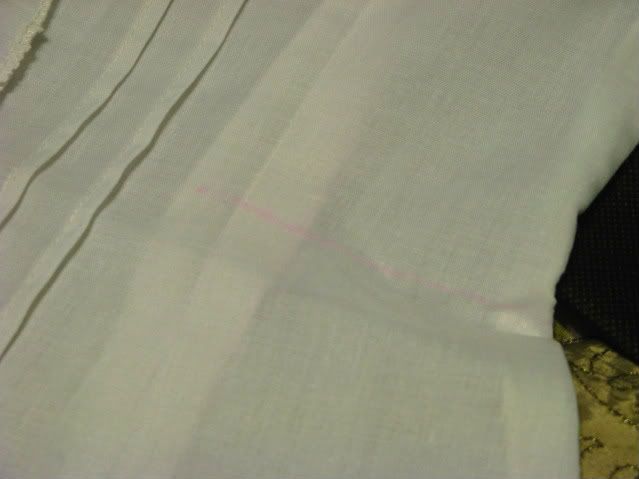 There was also some fraying by the hems of the button holes (not sure if I'm using the right terminology here,) and the bottom button had what looks like rust staining: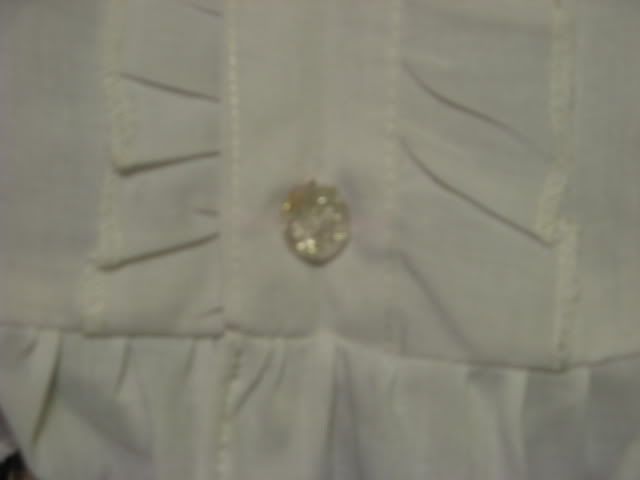 (sorry the pictures aren't so clear in this one.)

Now, as far as the lace, I'm not sure whether to categorize it as just generic or cheap. So I won't complain about the lace.

As far as the bloomers, the material is also thin and grayish. And the actual bloomers look different from the picture as well, but since it's meant to be worn as an undergarment, I won't complain too much about it.

All-in-all, here is my rating for them:

Quality: 2/5 Mainly because if these were meant to be worn as a costume, it's the kind of fabric I'd expect.

Communication: 1.5/5 After not receiving my items more or less 3 days after the promised arrival time, I asked "Peggy" via live chat why my stuff had not been shipped yet. I never got a response from her, but 2 days later I got an email stating my items had now been shipped.

Shipping: 3/5 Only because once the item was actually shipped, it did arrive quickly. It was shipped the 10/30, and it arrived on 11/4.

So after my experience with them, and now seeing the multitude of negative reviews, plus the ban, I will more than likely never order from them again. Lesson learned: quit being a cheapskate, and spring a few extra 20+ dollars on a nice quality blouse from either Anna House or Baby. Hopefully my review will help out other cheapskates.