I'm posting this on behalf of the Russian Loli community.

Some time ago an announcement was posted to the site of Japanese Embassy in Russia - Misako Aoki was to visit Moscow as Kawaii Ambassador. To describe our excitement better I should say that we've never had anything like this happen - while AP and BTSSB visit the US and France regularly, up till last year the best we've had were Anime Cons. Only in November last year did Tokyo Decadance come to Moscow, followed by An Cafe in March and then other bands. In the cultural sense Russia was a pretty much blank spot on the map for Japan, much to our disappointment.

The head of Loli community in Russia (and Moscow), Korin, did her best to make this event happen and, needless to say, it was mindblowing!

The event - J-pop Culture Festival included several things - first a lecture by Takamasa Sakurai about Anime Diplomacy, then the premiere of Evangelion 2.0: You Will (Not) Advance, a short show of Russian cosplayers and only then - finally! - a talk show with Misako and a fashion show.
But we came earlier than that because we were supposed to have breakfast with Misako! (Sadly, the poor girl had to spend the breakfast answering our questions, and while even the interpretor had a moment to shovel food, she couldn't eat. :( )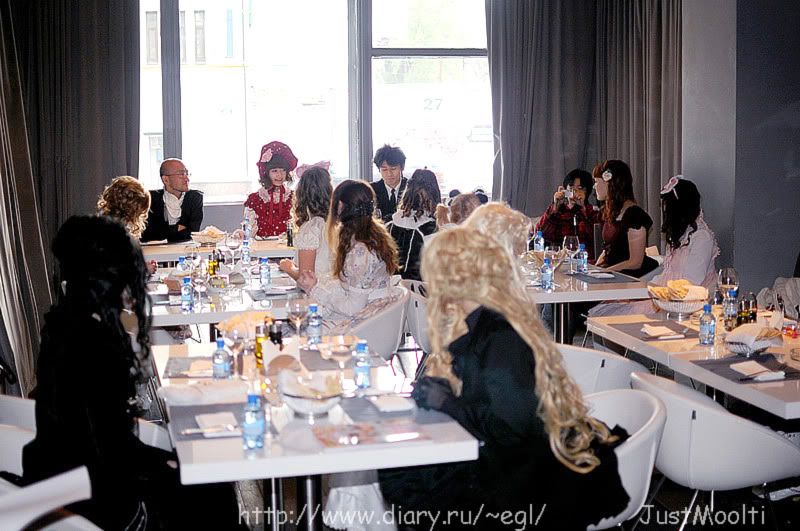 Stereophonique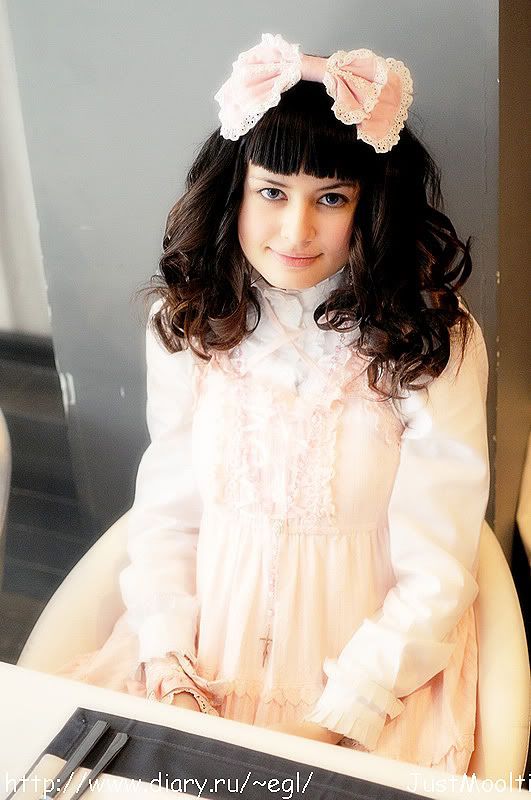 Kaze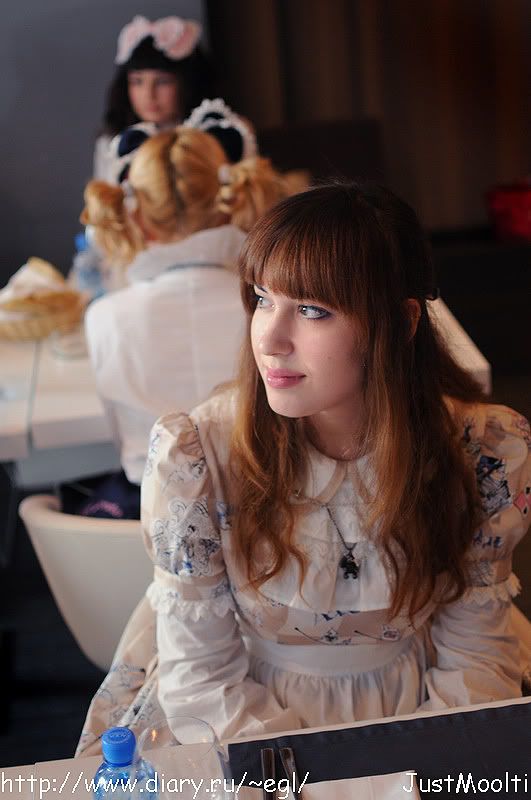 Terachi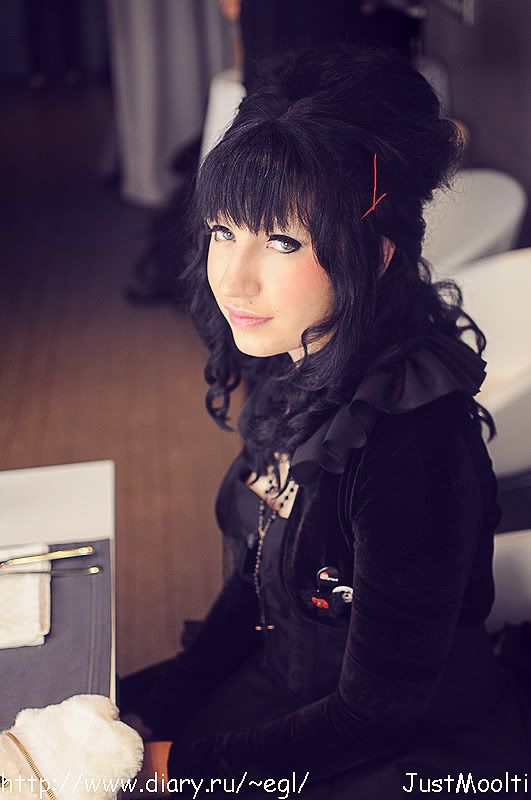 Chacha
Marless and -? (don't know the name, sorry ;o;)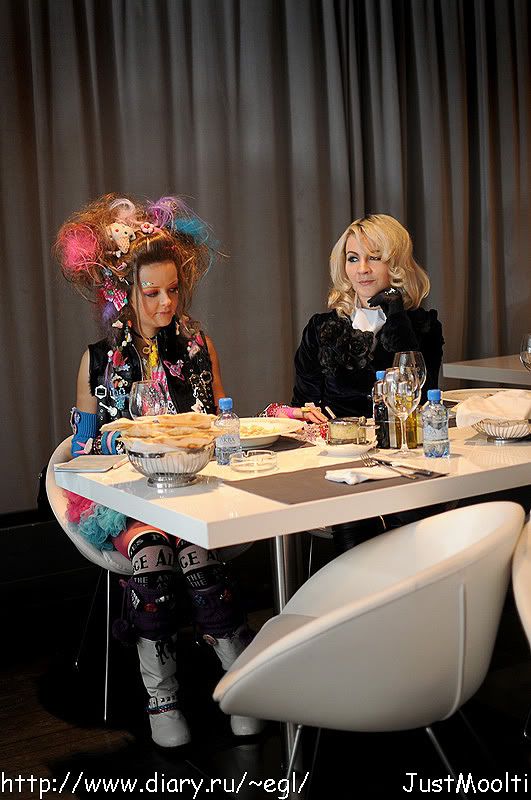 Afterwards each of us had a photo with Misako <3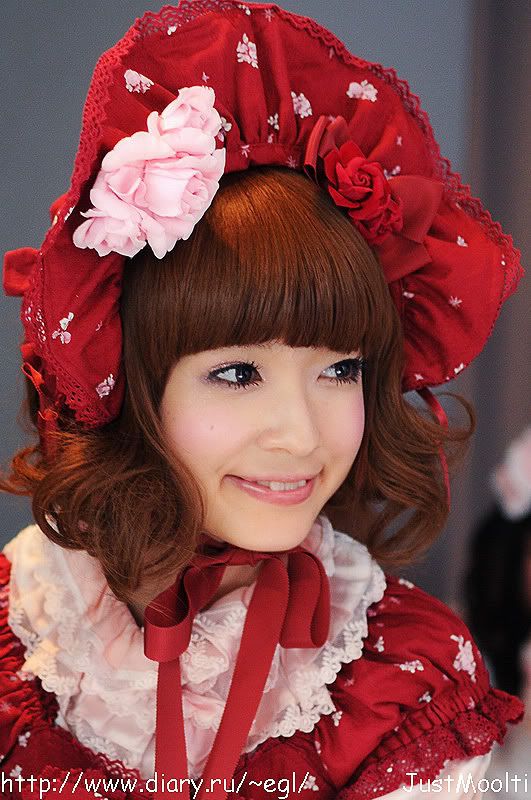 Misako and Korin <3
...and Alex
...and Aiji
...and Chacha
...and Kaze
...and Stereophonique (aren't both of them the cutest things? xDD)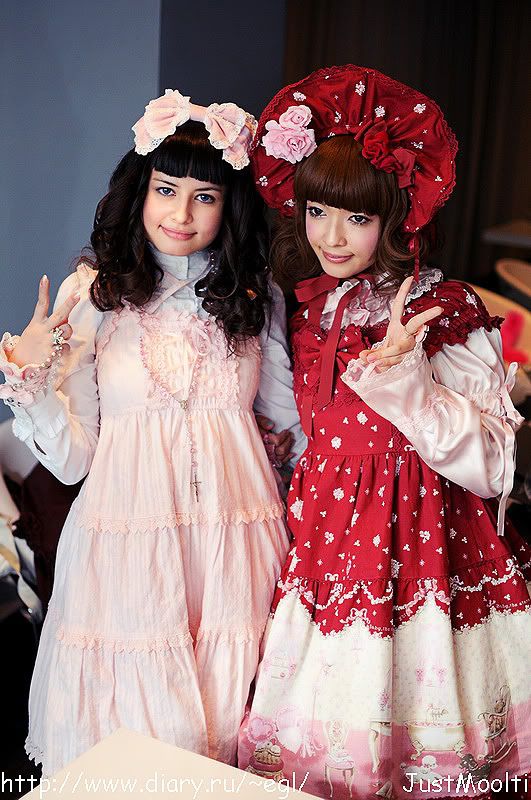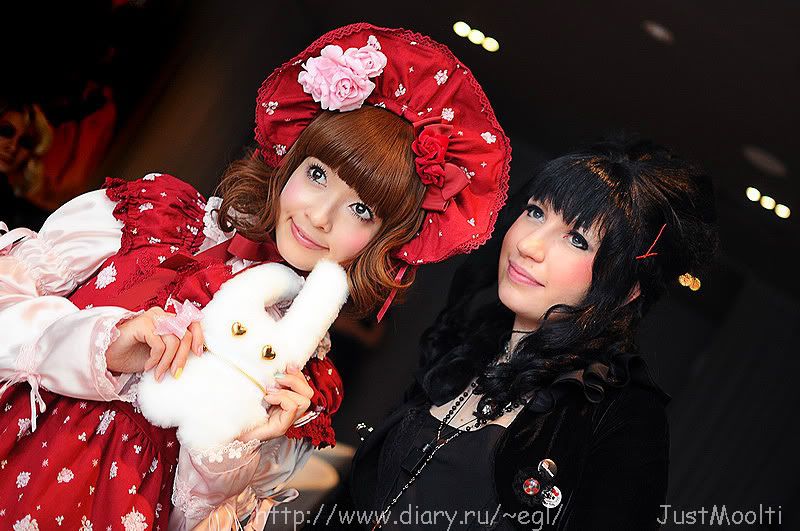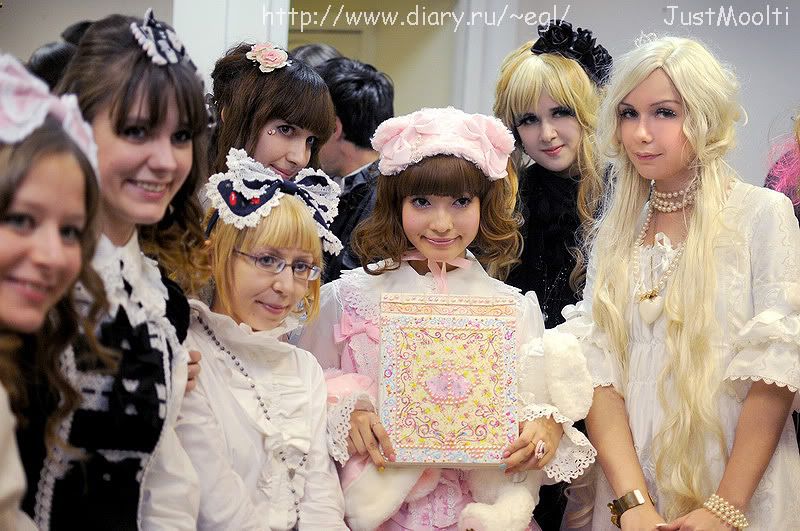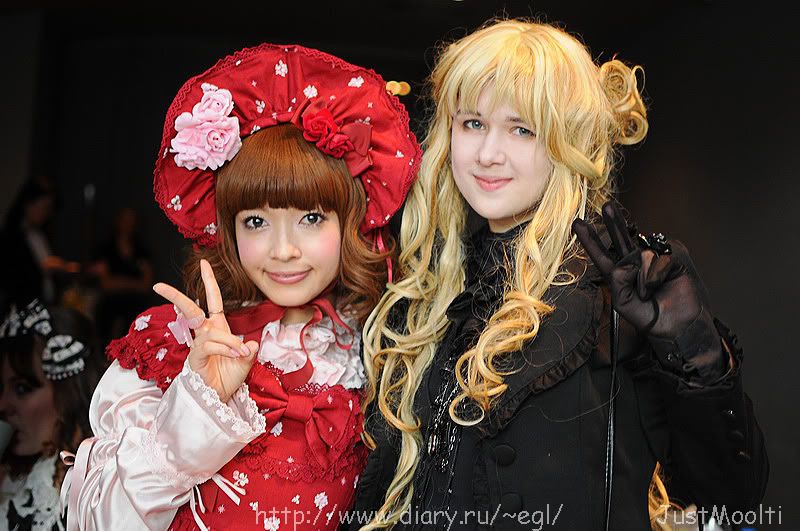 ...and Marless
...and me) Surprisingly, I turned out to be shorter than her! xDD
Some backstage photos!
Stereophonique <3
Chacha
Kaze (she insists that she doesn't make a very good Lolita. Hah!)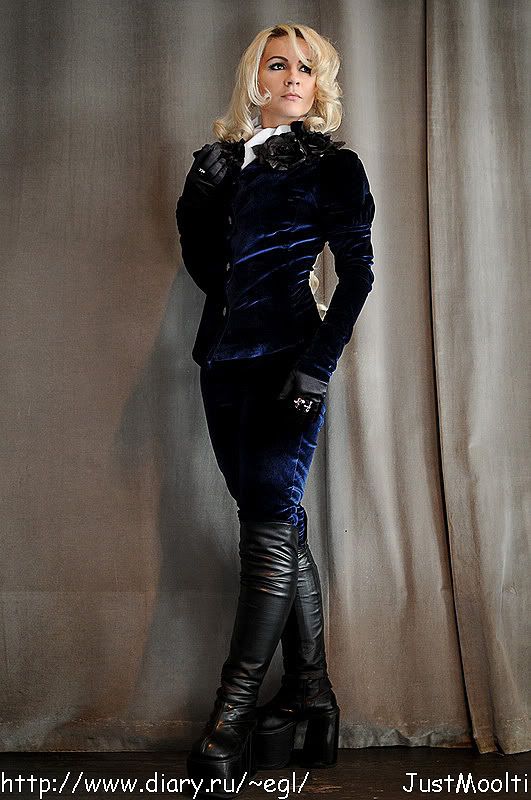 Marless
Our Caramel Club - Stereophonique, Korin and me)) I was planning to wear my new Mary Magdalene dress, but the day before the event Sakurai-san asked us to wear Baby if we have any items. I washed my Meta shirt hurriedly, but by the morning it was still soaking wet! And the only shirt I had was this Topshop one. It didn't fit the skirt very well and I spent the whole day fretting about it. :(
Alex being sad about her dessert. The food we were ordered had fish in it - and she didn't eat fish. The ice-cream had pistachio in it. And when she ordered some creme-brule, it happened to be decorated with passion fruit... which she hated. Poor girl(
Models for the fashion show! Misako did her best to take care of them, she was helping them get dressed and look their best!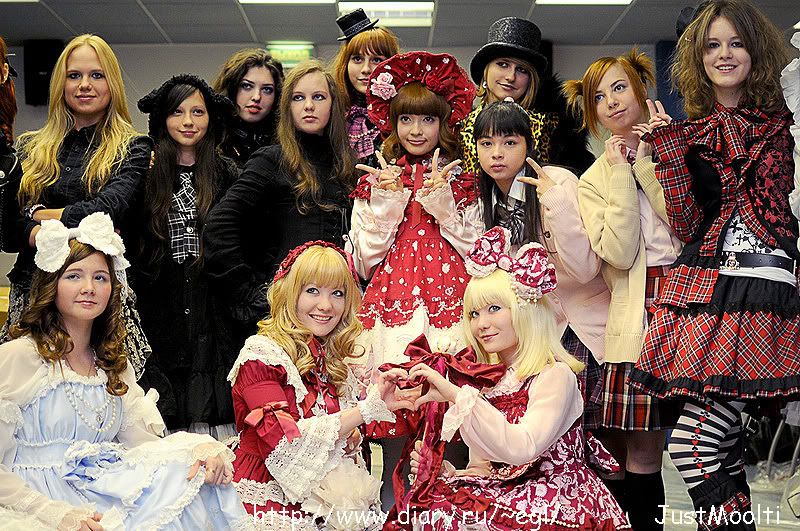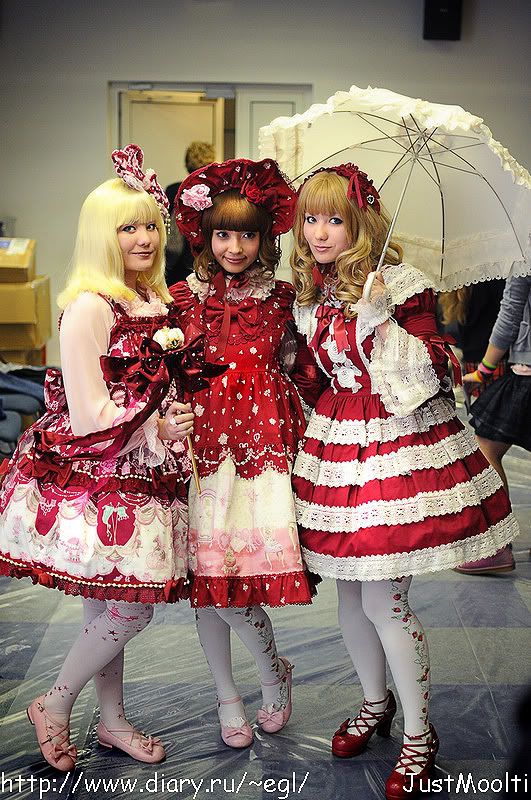 The fashion show photos. Sakurai-san also wore a shirt and jacket by Alice and the Pirates. He was ridiculously happy about that fact)))
First he and Misako talked about fashion a little and then each of us Moscow Lolitas walked on the stage)
After that the fashion show started. I'm not posting everyone - some girls wore school uniform and some punk clothes.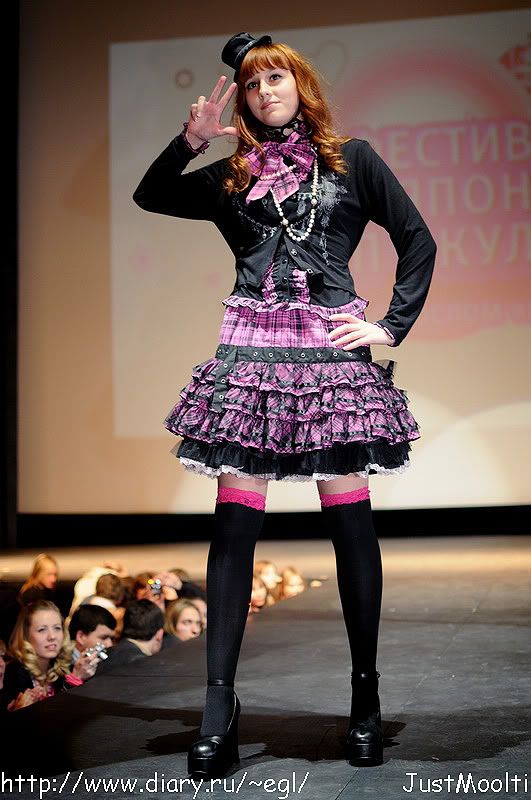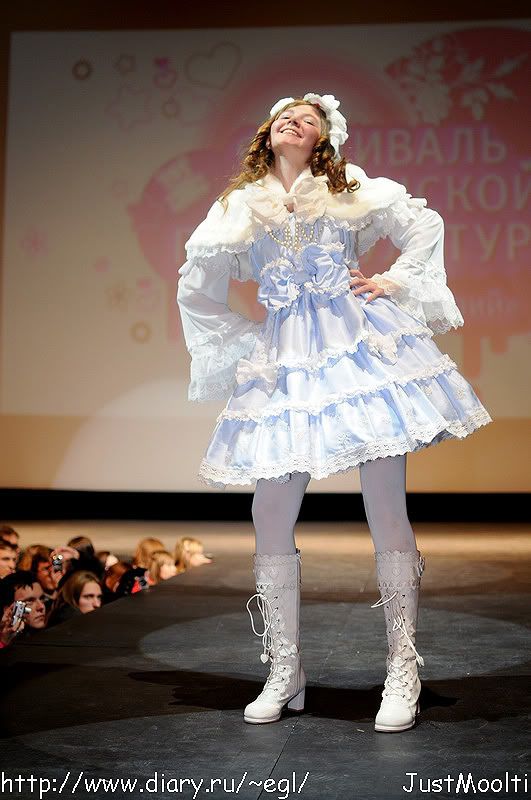 When the fashion show ended we met Misako backstage. We'd prepared her a present. Well, actually, each of us gave her something personal; Korin, Stereophonique and me gave her a Cheburashka (that's a
character
of an old Russian cartoon, very popular in Japan. A new Japanese movie,
Cheburashka arere?
started to air last month there xD. But this one was from everyone - we bought a simple album, decorated it and wrote Misako some messages. She liked it so much she started crying.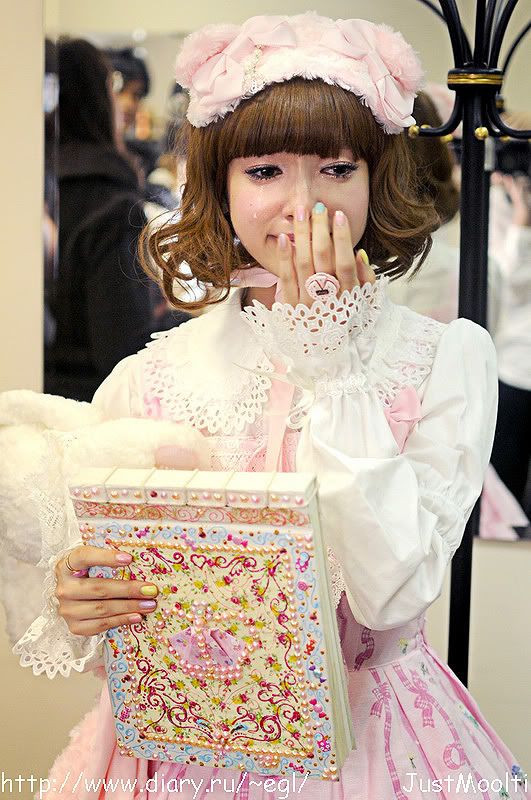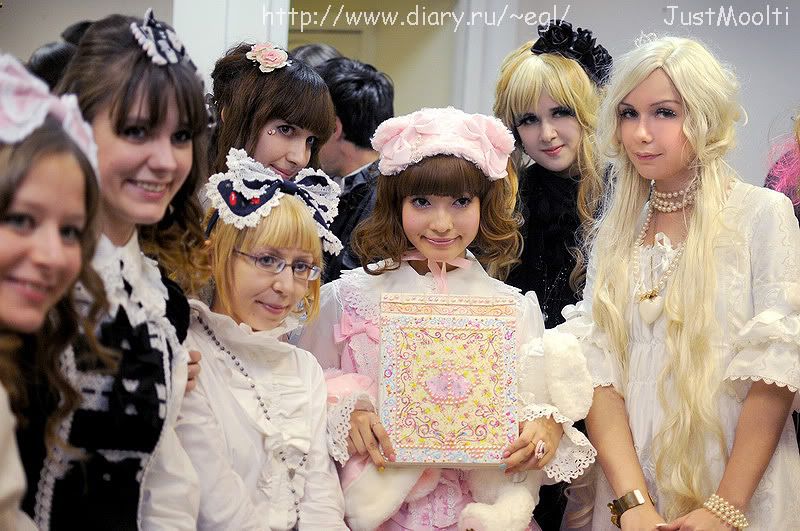 And that's it.

I'm eternally grateful to everyone who made this possible - Japanese Embassy in Moscow and Murui-san in particular, Sakurai-san and of course Korin! Really, if anybody would have told me a year ago that I'm going to talk to Misako - as in, actually talk! About going out drinking, about music (she said she likes the GazettE as well ;_____;) about it being cold in Moscow (she came from Spain and didn't have any warm clothes at all safe for a very flimsy jacket, while we'd already had first snow...) I'd have laughed. But she came. Please forgive me for being so sappy, but, as I'd said in the beginning we've never had anything like this happen here.

Thank you for looking! ♥



PS. Sorry for the HTML fail >.>