Hiya everyone,

I decided to order one skirt from Milanoo on October 1st. It was guaranteed to arrive before Halloween (by the Miss Peggy). It arrived on October 29th, so they kept their promise.

Here are the rankings:

Communication : 5/5 They answer their emails, and their live chat works.
Price: 5/5 Cheap!
Quality: 2/5 Also cheap ! (Buyer beware, you get what you pay for !)

Onto the skirt, it was a VM replica (as you can tell from the stolen VM stock images):

"Black Polka Lace Lolita Skirt" (What is polka lace? There was no lace on the skirt that I received XD)

Front:



Back: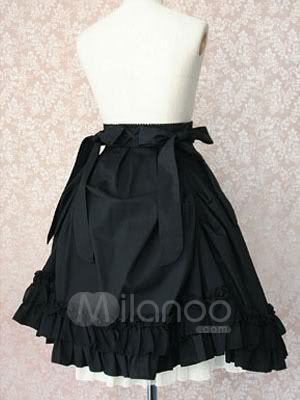 Picture of me wearing it today:




My camera is terrible, I had to turn the "flash" on since my room has poor lighting. The skirt is fine from a distance. It is very full, which I liked, and was the right size (waist and knee-length). But notice my unhappy face :(

I was unhappy because the hems were very poorly done. Almost the whole thing was done with rolled hem.. they were careless and some parts were fraying because it was not rolled correctly. Most of the stitching at the bottom of the skirt was poorly done, they crossed and zig-zag-ed a lot when they were supposed to be near-parallel. There was a lot of fraying going on =_=!

Bad image of fraying due to poor hemming:





Oh, it came with two waist ties so that I could make bows on both side of the skirt. I didn't use them because they didn't stay in place at all. There were 3 places to hold the waist ties, which didn't really do their jobs.

Black of skirt to show the 3 spots to slip in the 2 waist ties: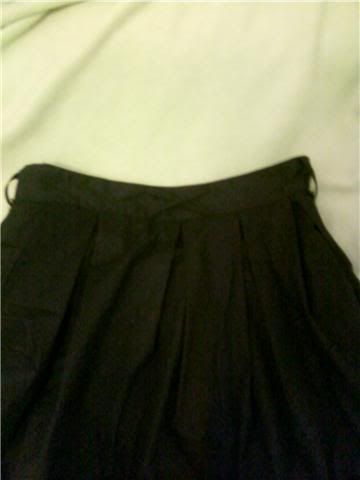 One nice thing was that they did do the pleats on the picture. The fabric was nice, it was almost the same fabric as a black ITS jsk, and a black rose melody jsk that I own.

Image of a pleat:




Oh, another issue about the skirt. The VM picture had a "bustle"-like, pulled back..thing on the back. I'm not very good with sewing terms and clothing terms. I was under the impression that a lot of those effects were done by placing a ribbon or strap of fabric inside the skirt, and pulling it up to achieve that effect.

Anyway, the stock image didn't show how the bustling was done, and I do not own the original skirt. But the Milanoo replica just..folded the skirt up a bit, and ran over it with the sewing machine a few times. I un-did it before doing this review...so..I'll draw a picture of it on MS paint XD. It was unsightly and looked rushed and really..ugly x_x

MS paint version of the "bustle", this is the back of the skirt (this is not an exageration! It looked that silly!) :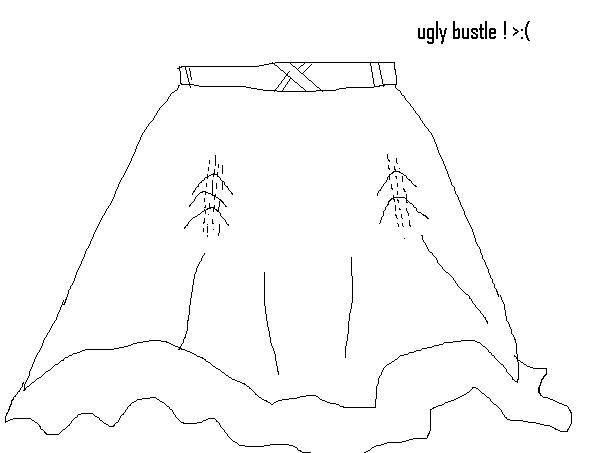 Oh, hey! A free pettitcoat! I actually like this, it's tough and rough so I wear it over my F+F petticoat. I wouldn't wear it by itself; it'd collapse and itch XD!




In the end, I would NOT order from Milanoo again. You can get much cheaper things from Bodyline that are of WAY better quality AND will arrive much more quickly. Or you could also commission a seamstress to make a replica; I could have made this skirt and I suck at sewing so.. don't order from them and expect wonderful quality replicas :(!

I don't see myself wearing this skirt daily and have it last. I know it'll fall apart and I'll have to re-do the hems if I'm not lazy xD!