This is a hairstyle I rely on when I want my hair up and big/puffy. It works really well for OTT sweet styles and is pretty easy to do. I went as a fairy princess for Halloween, so although my outfit is not really lolita, I figured I would take photos of the process and put them up as a tutorial.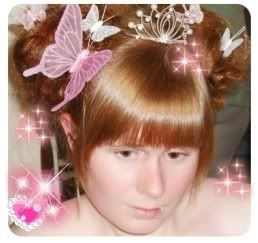 (Sorry for the excessive sparkles - the photo was taken pre-makeup so I felt like it needed a little extra n__n)



For this hairstyle, you will need:
- medium to long hair (anywhere from about bra-strap length)
- hairspray
- two strong non-snag hairties
- a fine-tooth comb
- lots and lots of bobby pins
- hair decorations of choice (hairbow, tiara, clip-in bows, pearls on hairpins, etc. I found these little glitter net butterflies at my local craft store - the smaller ones are on wire, and I hot-glued the large one to a plastic haircomb.)

(I have no makeup on during these photos x__x It's much easier to get my hair up first and then do the face-painting and excessive application of glitter. Also, this style is hell to comb out. Go with it patiently and work at a section at a time. The more carefully you do it, the less damaged your hair will be.)




To start with, make sure your hair is completely dry. If your hair tends to go flat, add a bit of mousse and blow-dry. The product will help hold it in longer. My hair is wavy just because I had it in plaits during the day, but you can do this from straight hair just as well.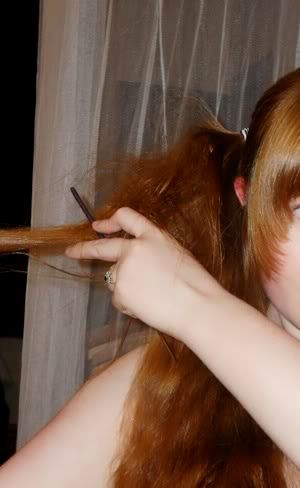 Put your hair up into two pigtails. It works best if you use a center parting - I part my hair slightly to the side, which means I have to deal with uneven amounts of hair and have to tease up one side more than the other. The pigtails should be just above your ears - you can see the placement in the photo above.




Time to start teasing: take a section of hair (better if you work in small segments), hold it out with one hand and liberally spray the hairspray with the other.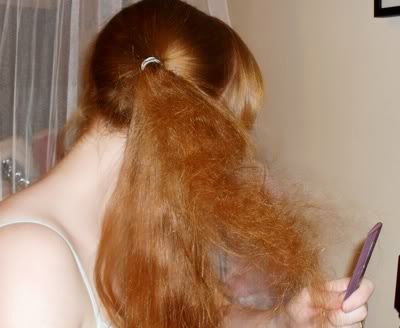 Using your comb, backcomb the section of sprayed hair from the bottom up. It should tease up into a big, fluffy, tangled-looking mass.




Now twist that piece of teased hair loosely into a coil and clip it above the hairtie using your bobby pins. The first bits of hair tend to act as a base for the puffball structure, so the most important thing is to start building the volume and shape of the style.




Continue doing the same thing with sections of hair until it's all pinned up. As you can see here, it doesn't matter if it's messy - if you want a smoother puffball style, keep a bit of hair unteased and wrap it over the top of the teased hair to give the impression that it's all smooth.




This is one side completely done. You can see that I've built up the height above where the ponytail was tied. While pinning it, don't be afraid to pull bits of hair around and reshape the ball until it looks best. LOTS of pins are necessary to get it structured and stable, so don't be afraid to fill your hair with bobby pins.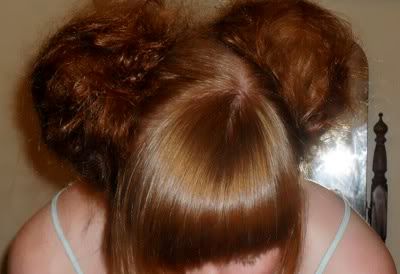 This is both sides up. As you can see, my part is right off to one side, so the left side of my hair is a lot 'airier' than the right - similar amounts of volume, but there's a lot more hair pinned into one side. I recommend trying to keep it even until you know how to wrestle your hair into submission :) At this point, give everything a good coating of hairspray to keep it in shape.




Now you can start filling your hair with OTT accessories. Here I've just pushed butterflies on wire down into the puffball structure, then twisted them a little to keep them in place. You could clip little bows or sparkly bits in.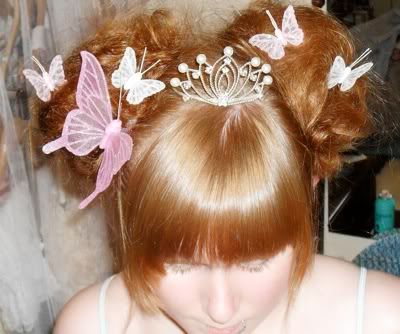 Aaaaaand... finished, with a tiara plus huge butterfly. The great thing about this style is that because it's so big, you can wear your headeating bows without looking quite as dwarfed by them. This is an example of it used in a more lolita coordinate, with a headbow instead of a tiara.




This is how it looked once I was decked out to match - the shiny on my face is white shimmer glitter, and I was also wearing it around my eyes. Sadly the flash destroyed most of the makeup effect, but I was quite pleased with it in person.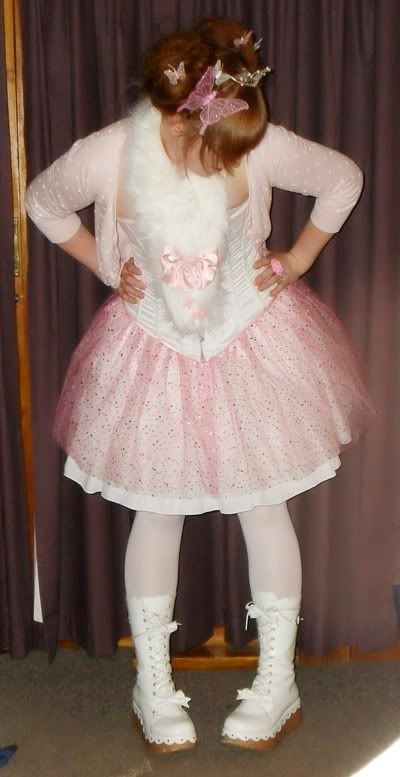 As a bonus I thought I'd include my Halloween outfit - not quite lolita, but fun and cute and fluffy nevertheless.

If anyone has any questions about what I've done here, please feel free to ask!