From the moment I saw Angelic Pretty's "Tricky Night" line of halloween jewelry, I loved it. Sadly, not only was it WAAAAYY out of my price range, the moment I saw it was more then a few moments too late. "SOLD OUT" nooooooooooooo TT_____TT

That's when I got crafty. I was casually browsing randomness on google and came across this tutorial for shrink plastic rings. [Brain gears turn] Heey, I bet I could apply that technique to bangles. A little bit of trial and error later I came up with this--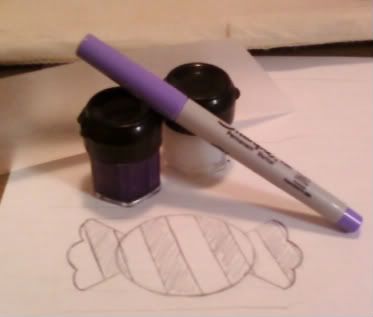 ......

Materials:
Shrinky Dinks brand shrink plastic in "Ruff 'n Ready" and Black
plain white paper to draw patterns on
Sharpies (for color)
Purple, Black, and Clear Gloss paint (I used Games Workshop paints because I happened to have them for painting miniatures, I imagine most any paint that will dry on slick plastic will work because of the gloss over coat)
Amazing Goop Craft glue (a super glue that doesn't fog up with it dries)
Decoart Triple Thick Brush on Gloss
Black and Iridescent White Glitter
Paint brushes




Approximation of the percentage of shrink



Close up of the bangle's candy piece


............

The pair of rings I made



Hair Barrette



Close up of the painted stars (at least a few on all the bats)



Last but not least, the bangle! With the AP version for comparison, not too bad I if do say so myself!



And the back of the bangle. It wasn't quite long enough with just a single strip of the plastic so i added start to both sides to make sure it wouldn't fall off during wear.


Hope you all enjoyed my crafting! Sorry the pics aren't better, gloomy day leads to terri-bad indoor lighting.