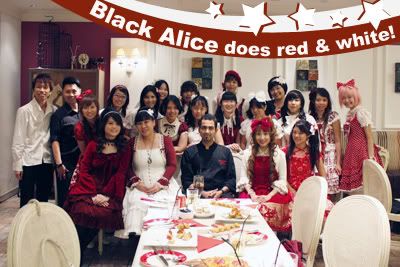 9th August is Singapore's National Day, and to celebrate it, Black Alce held a teaparty at Oomphatico's! In honor of National Day, we decided to be extra patriotic and set the theme of the party as Red and White, which are the colours of our national flag.

Photos mostly from Tim and Ling, with additions from my camera! :D

I was very very happy to see everyone in all their amazing Red and White coordinates!



Oomphatico's had very pretty decor and ambience, and they were very lovely to set the the table according to the theme! Isn't the plate design just adorable?! ♥



We had a nice tea menu specially prepared for us by Oomphathico's Head Chef, Akhil. Tomato and mozerella crostini, hazelnut muffins, calamari with lemon mayo, cappuchino cheesecake, pizza... *_*

raydance and myself (
starsthatshine) were hosts of the day and we prepared a game for everyone to play! We chose to play Don't Forget the Lyrics, and because it was National Day, we made it a special National Day Song version!! I have to admit that I was very nervous about how this game would be received... but I was pleasantly surprised at how well everyone knew their national day songs... even those that were not in English!

Lots of singing involved...



With hand actions, even!



And even more hand actions!



How did that song go again...?



Although there were some entertaining drawings as well... and no, writing "la~ la~ la~" doesn't earn you points!!! XD




And of course, no Black Alice tea party would be complete without prizes for the best coordinate of the day! Everyone voted for two of their favourite coordinates and votes were tallied at the end of the tea party. Winners recieved accesories from Mint Days and plenty of sweets!

Our third place winner,
blue_meddy!

blue_meddy's coordinate:
Headdress: Innocent World
OP: Metamorphose
Bolero: Mary Magdalene
Shoes: Yosuke



aserett at second place!

aserett's coordinate:
Hair Corsage, JSK, Bolero, Choker: Victorian Maiden
Everything else: Offbrand


and our first place winner,
sassystrawberry!

sassystrawberry's coordinate:
Headdress, JSK: Angelic Pretty
Bolero: Mary Magdalene
Shoes, Socks: Baby the Stars Shine Bright


A couple of group photos to round it all off...




Boss and Ladyboss of Black Alice, Tim and Ling!



Everyone, with the head chef in the middle!



It was a pleasure hosting the activities! Im really glad everyone was so sporting and put in so much effort into taking part in the game we planned!! I hope everyone enjoyed themselves, and we look foward in having everyone join us at the next Black Alice tea party! (: