Better late than never though, right?

I'll start with shoes.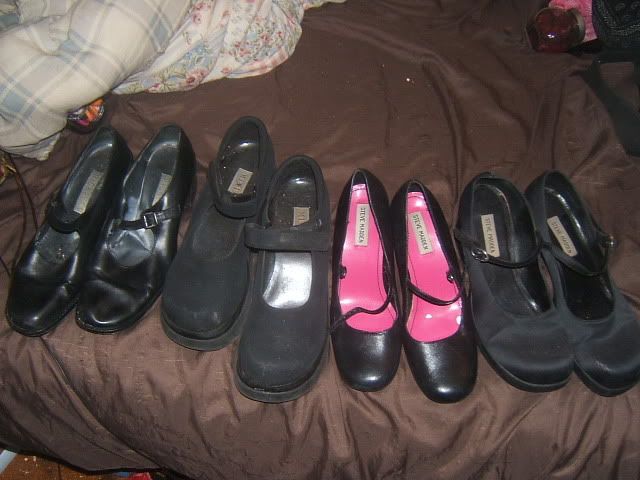 Mary Janes. I want to take a moment to vouch for Steve Madden, in terms of quality and comfort. Both my Maddens (last two pairs on the right) were bought second hand, and both are incredibly comfortable and in excellent condition for having been bought secondhand and worn god knows how many times.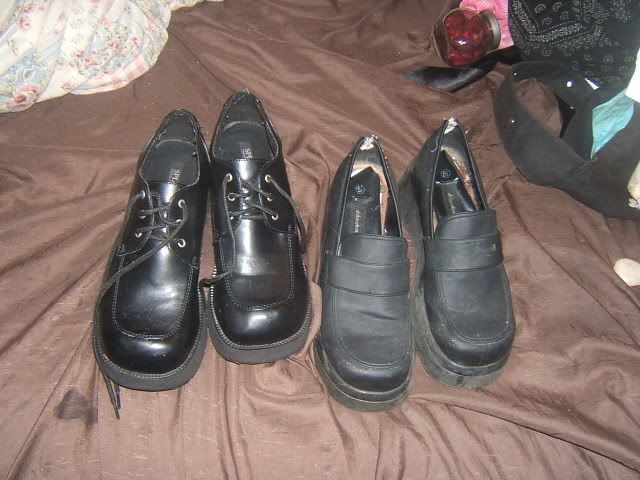 My platform shoes.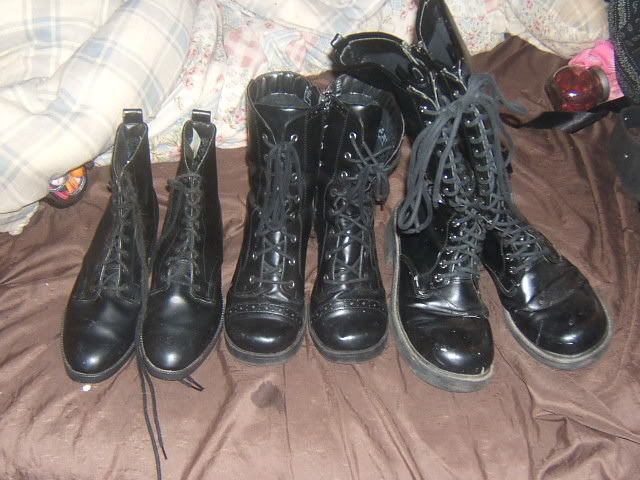 Boots. Granny boots on the far left are offbrand from Salvation Army, ones in middle are l.e.i, and long boots on right are Bongo. l.e.i and Bongo are also great nonbrand shoe brands, boots in particular- they're super comfy and I've had the long boots for four years and they just get better with age. Kohl's has sales on them quite frequently and they're worth a look.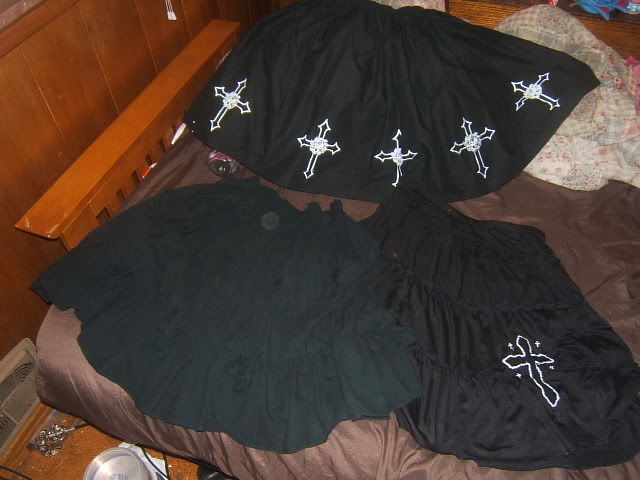 Skirts part one.
Back is one I handsewed and printed for a Visual Communications project, front left is modified Target skirt, right is modified (embroidery) from Goodwill.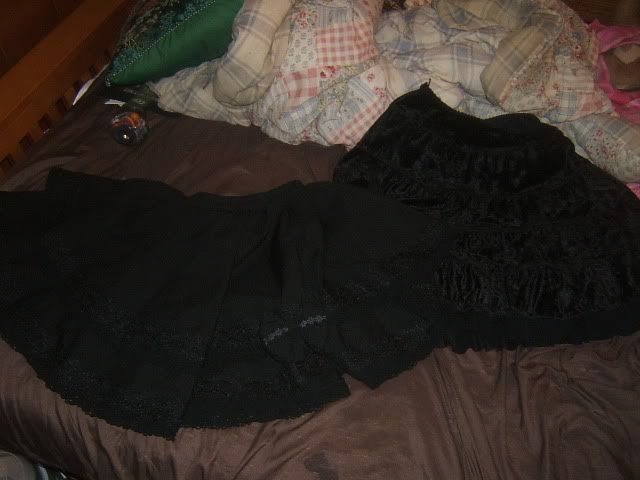 Skirts part two.
Left is Bodyline (it's a great skirt by the way), and right is a velour one that I just wear as an underskirt for the bottom ruffle.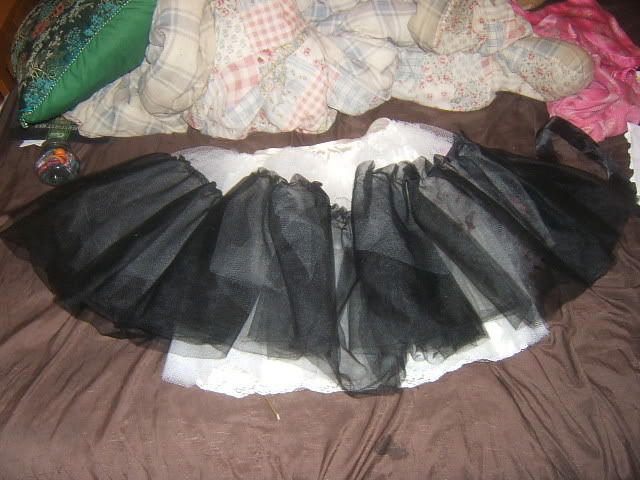 My crap petticoat. Not the best or poofiest but gets the job done until I make a decent one.



First batch of sheer blouses. They're controversial among Lolitas, but I personally like them. Worn properly they have a beautiful look and some of them have amazing detail.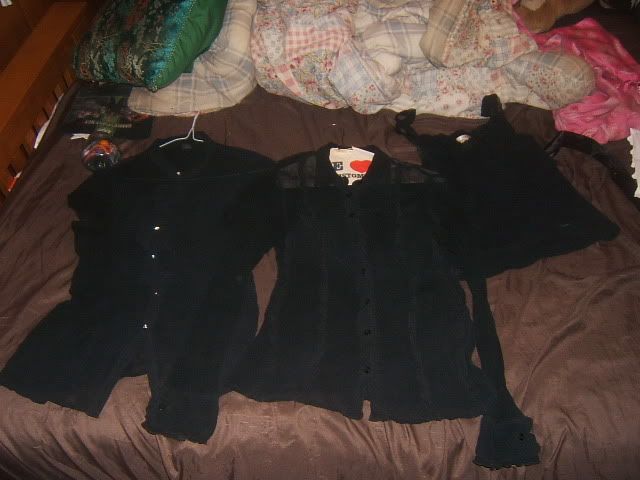 Second batch of sheer blouses and the camisole I wear under them (if I'm not layering under another blouse).



Traditional blouses. Camera hates the last one so here's a link to it in my poupee closet.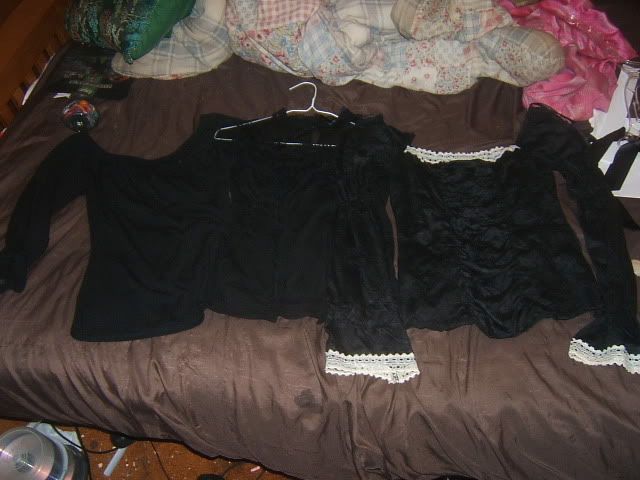 Cutsews.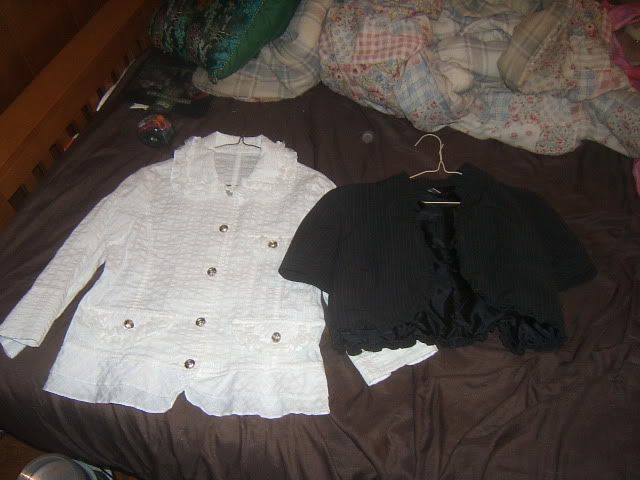 Jackets.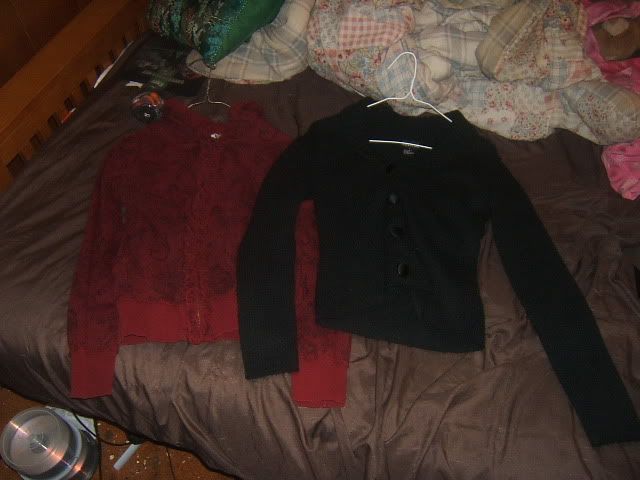 Sweaters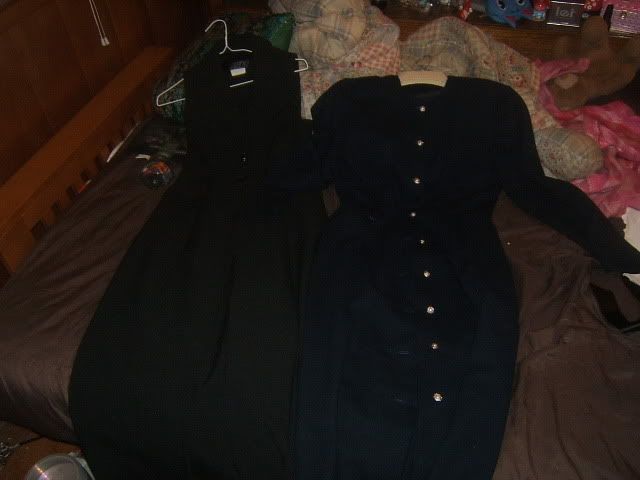 Aristocrat vest and a long dress that I wear as a light jacket.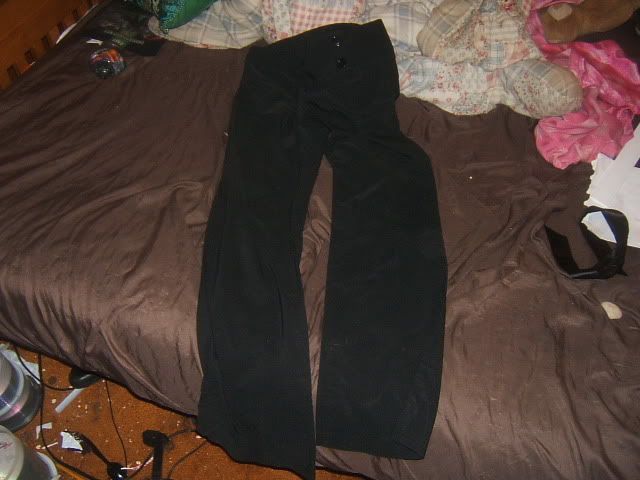 Aristo pants.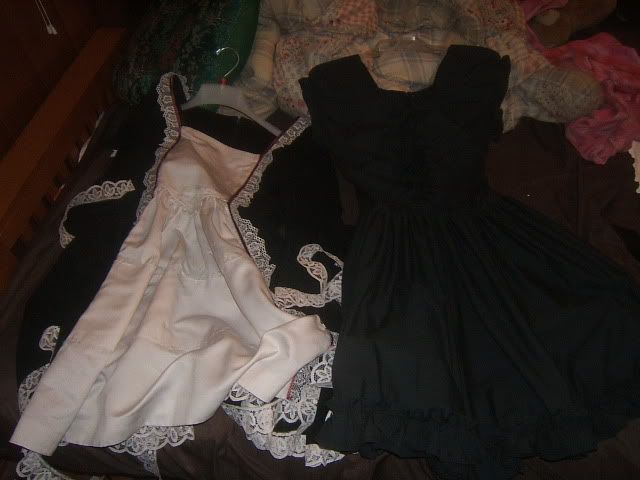 Onepieces. Left is currently a work in progress- my itatastic first dress (you can still see some of the bad lace) that I'm working on modifying into an Innocent World replica JSK. Other is my most recently handmade one. Both are my mom's work.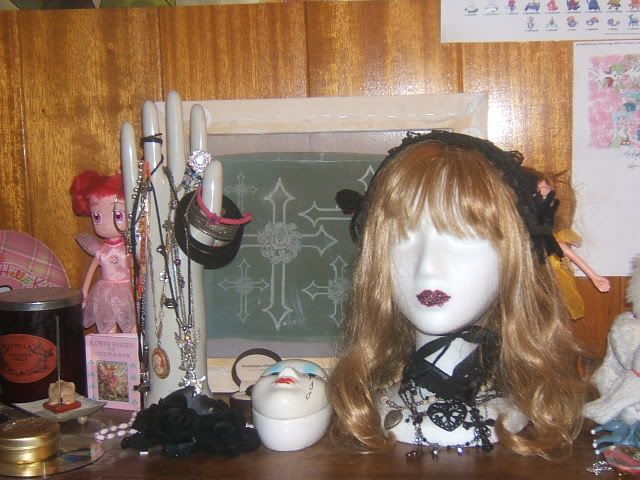 Accessories nook. In the background you can see the screen I used for my skirt.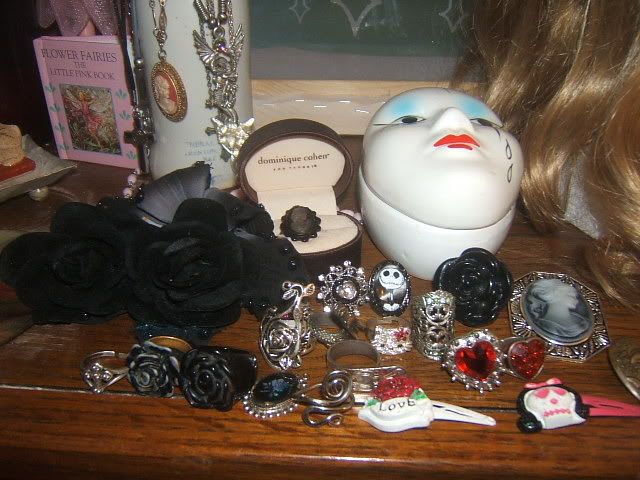 All the accessories in the harlequin mask box. Mostly Claire's, but some are Avon or from Big Lots. Ring in background (in the box) is from Target.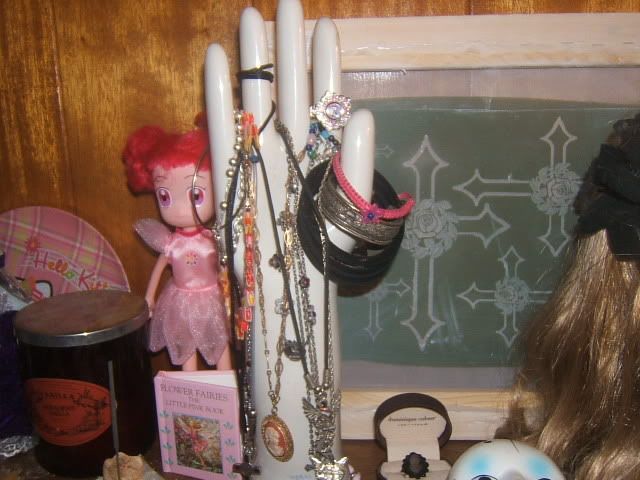 Ceramic hand from a rummage sale with most of my necklaces and bracelets.



My headdress, made from a Gothic and Lolita Bible pattern.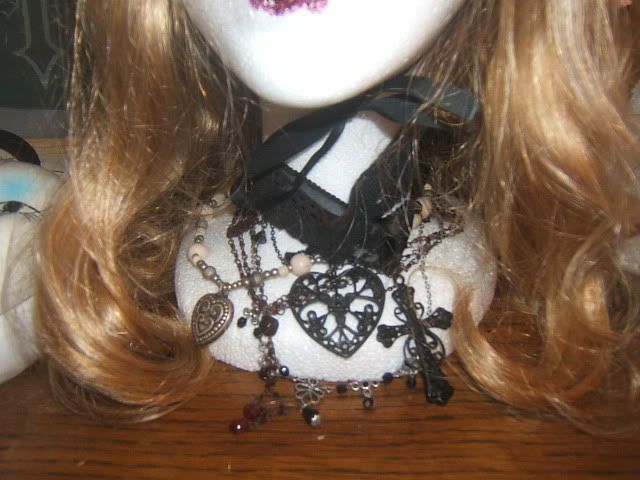 Closeup of the chokers on my wig head. Black heart and cross ones are Hot Topic, the chain and bead ones are from my grandmother, and the light colored one is vintage.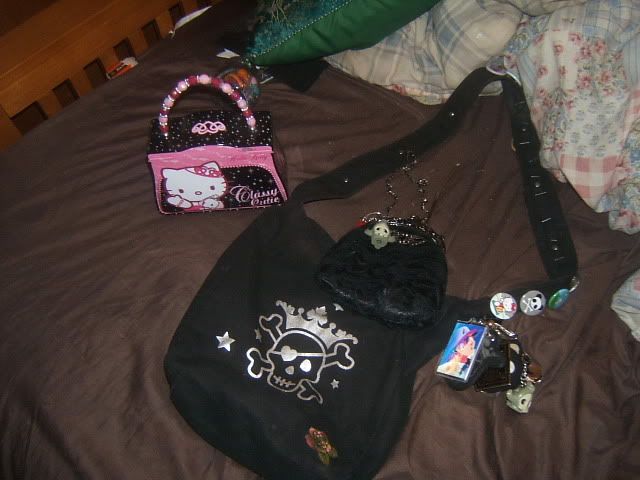 Purses! Big one is my everyday one but it also works with Lolita, and you can see my tin Hello Kitty bag and the lace pouch next to it.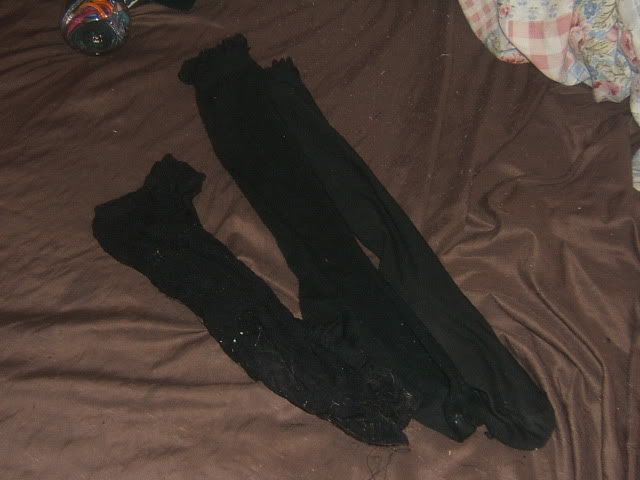 The most boring part of my post- SOCKS.

I have more but these are the two I wear most frequently. Left is Kmart, right is Forever 21.

You're probably wondering why I didn't post my actual closet. Simple answer- it's a friggin mess. Still, this was pretty satisfying, and I hoped you all enjoyed it.