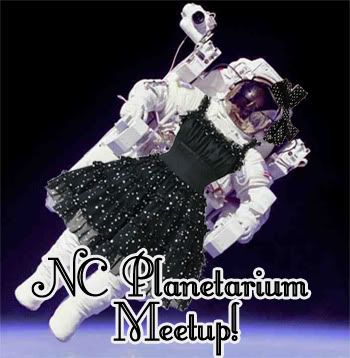 (Cross Posted to
egl)



Place:Morehead Planetarium


Day & Time: August 8th Meet at 1 pm, the show starts at 1:30


What: Going to see Destination Space


Price: $5 for Students and $6 for Adults


Afterwards: Browsing shops, dinner on Franklin, and lots and lots of Cupcakes!


Headcount: Like the museum from our last meetup, they require a reservation for more than 20 people, so I'll need a headcount again. Comment to this post or the one on
egl and I'll add you to the list, let me know if you're bringing anyone with you who doesn't have an lj too!

1.
meiki
2.
love_is_all
3.
ivycottagegirl
4.
icarus_suraki
5.
berrylibrary
6.
irohamomiji+1
8.
ichigoninja+2