Clearly it's review season!

Since I haven't seen a definitive Celga review in its new format (though I may be victim of 'need to lurk moar past 8 months'), I thought I would write one up for those of you considering on using their service (especially for auction sites like MBok). I'm also reviewing a Swimmer online shop Group Order shopping service by
koenji_cakewalk.

Note: The items I ordered through Celga are not lolita by any stretch - this is strictly a service review. And it's TL;DR, but if it helps you save money, I think it's something to consider.



Caveat: I took all the photos on an overcast day, so apologies for the ... greyness. I've tweaked the colours when appropriate through Photoshop, but it's gonna be drab, drab lighting from here on in.

EASE OF PROCESS (Note: TL;DR because it involves MONEY and money issues makes me RAGE)

Celga's process is fairly logical for a proxy auction bidder - you login, place a bid through their user interface, and pay them half or full (if your item is a Buy It Now) amount of your bid. However, you will end up paying them three times - once with your bid deposit, second with your remainder of the closing bid price (plus Celga service fee, internal Japan shipping fee), and then again for international shipping to yourself.

The biggest problem is that Celga will use their own internal conversion rate, which does not change each day. They claim it's the rate their bank gives them, but I personally can't judge on that end. What I do know, is that their rate tends to be fairly low, and this can start to hurt when you're bidding on higher-priced items (like OPs, JSKs, anything Moitié, derp) or multiple items. Unlike services like Mai who charge you a percentage for your grand total, Celga will charge for every individual item - $10 is the standard, and it goes up by $10 each time you rise another 10000 yen (e.g. 24000 yen item will incur $20 fee, 40050 item will incur $40 fee). They do not give better rates for more expensive items, unlike other services like Crescent.

Not to mention, their FAQ page regarding fees is quite misleading nowadays - it does not mention how Celga will use their internal conversion rate in applying to shipping as well as the auction item, which is where you will get hit hardest. It's also a highly outdated example, as it's back when the Yen was much, much lower.

My other problem is that when Celga issues you your second and third invoice, it's through a peculiar service that seems to only automate and accept Credit Card/American debit options. I had to dig up Celga's seperate e-mail accounts (either paypal@celga.com or bustakei@yahoo.com) in order to send them money through PayPal.

Tip for Shopping Services: If you want to maximise the worth of your currency when you don't work with USD (whether you have a strong one like the Euro or a pootly one like Australian or Canadian), use a service that will charge you directly in Yen. You will save significantly by not having to convert your money twice.

Second Tip for Shopping Services: Sometimes your bids don't go through because Celga's username may be 'banned' from bidding by some auctioners. There have been some interesting and/or rude speculation as to why Japanese sellers block big name shopping services on EGL, but there's not much we can do about it. I lost a gorgeous Suppurate System item pack because the auctioner blocked Celga on MBok (apparently MBok people have a greater habit of doing this), even though the item closed with no bids. ~_~ Celga I think is one of the larger proxy bidders for foreigners, so if you're exceptionally paranoid about being blocked from bidding, you may decide it prudent to buy the services of another company/person that is both reputable but still not as hugely (in)famous.

Score: 3.5 / 5

COMMUNICATION

Celga does make it clear in their FAQ that it does indeed take them some time to get into contact with you with the final invoices (up to a week or two). This is due on part of their having to sort through items individually which are not marked (that is, they have to figure out from scratch what item sent from where goes to who, and the sellers do not, of course, write down the link of the auction on the package), Japanese sellers being slow to ship, etc. It's not unfamiliar to have a two-three week gap between the closing of the auction and your receiving it in your hands. It's hair-raising, but considering the scale of Celga, understandable.

Any inquiries I have sent for previous items, I sent through billing@celga.com. They've always replied by the next day, and for an operation of their scale, I think that's fairly decent. They were also quite apologetic and explanatory too when my previously mentioned failed bid for a Suppurate set some time ago, and rejiggled my invoice sent beforehand for another item to add in the deposit and lower the total remainder. I'm guessing from past mumblings in the comm, this is a nice improvement on their communication end from before, but granted it's only through this particular e-mail.

Score: 4 / 5

SHIPPING

Celga will most often hold onto your won items in their warehouse, and will not ship out until you go into your account and request shipping. This is a courtesy on their end to save you on international shipping. They'll collect your various bid items and package them up together. Apparently they have had events where they had to 'force' shipping due to running out of warehouse space, but so far I've not heard wind of this happen recently. You can choose for shipping either EMS, Airmail, or Surface. For this review, I had chosen EMS: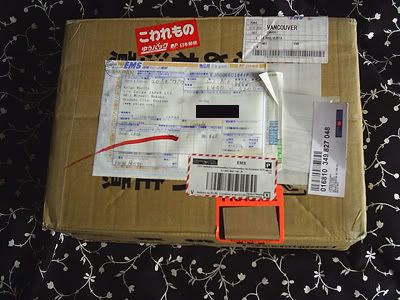 The items will be wrapped in their original packaging from the Japanese sellers (usually shopping bags) and boxed together - Celga are very careful with packaging, and you can see here (hover mouse over image to read some more detail):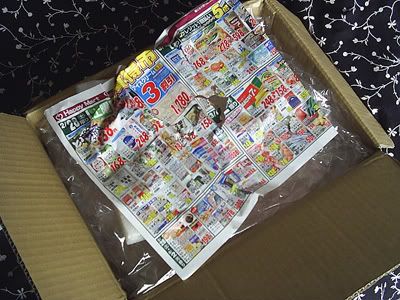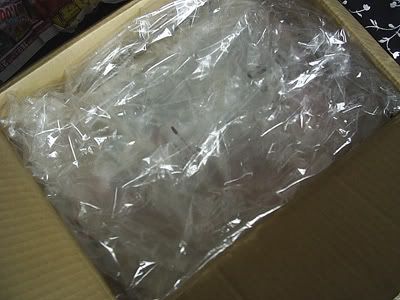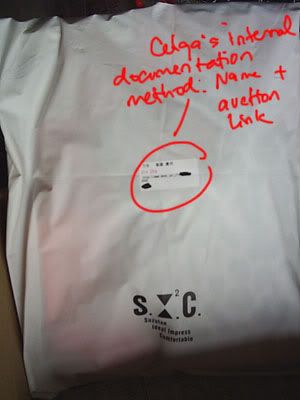 You can also ask them to lower the value on the box on their shipping request page, with a warning from them saying that while they're happy to do so, you will have to accept that if the item is lost, they cannot claim the original amount you paid for insurance due to it being marked down for shipping. Common sense thing.

As for my stuff, I got an oldschool Takuya Angel variety pack. :3 I was deeply and pleasantly surprised at how large and spacious (and velvety!) the bag was. I tend to wear newer TA with lolita when the weather is cooler (TA heart mask + white muffler with pink claws + black colourway sweet lolita = saucy clubkid lolita!).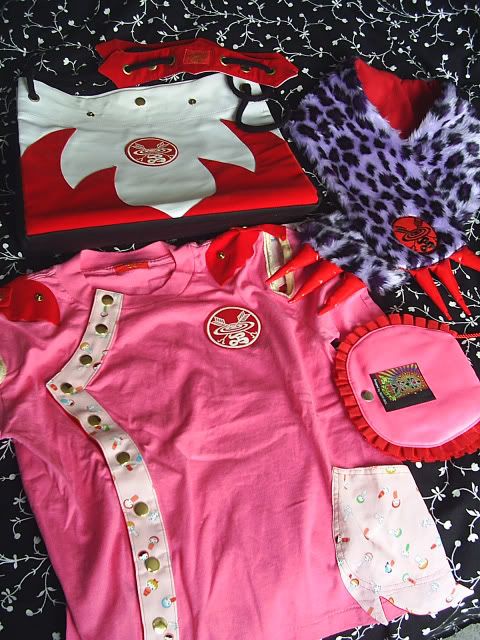 Score: 5 / 5

TOTAL: 4 / 5
TOTAL FOR RECESSIONISTAS: 3 / 5

Overall: It's not bad, but you can find better options, especially services that do not have an internal, unaccountable conversion rate. Any process outside of money involvement, Celga is very responsible in terms of packaging, shipment, and communication.
=====

Back at the end of June, I saw
neuromance's group order for Swimmer and Paris Kids online shops through her
koenji_cakewalk service go up on
egl_comm_sales. Having wanted Swimmer items for a while since they're dead cute/affordable/actually useful, I thought I'd give it a try.

EASE OF PROCESS


neuromance's ordering form was pretty simple, and I really liked how she didn't bother faffing with conversion rates. She stuck to a basic 1USD = 100Yen rate, and any difference in rate was made up by her 25% fee charge for the grand total of all items. The fee also covered internal Japan shipping, national 5% tax (this is law for all Japanese web shops), bank transfer fee, and of course, her commission.

I ordered a minimum of three items (998, 788, 1995 Y each) which converted to in USD: 9.98 + 7.88 + 19.95 + 9.45 (25% rate of item total) = 47.27

That, m'dears, is pretty damn good.

You gave her the links to your items, alternate links in case something sold out, as well as your preferred method of shipment - Air Mail or EMS. The shipment thing will come up again later.

She confirmed my order right away, and I had to wait until the July 2nd deadline for other orders came and went before
neuromance sent in the total group's order. When she received the items, she sent a second e-mail to request international shipping payment in USD - Air Mail ($22) or EMS ($35). I requested EMS again and sent her the $35, and then the package was shipped.

Score: 5 / 5

COMMUNICATION

Frustrating is the word. As it's my first time participating in a group order, I was full of worries and questions. In the following, I'll seem very pestering towards
neuromance, and I may or may not have a higher standard compared to others as to how business transactions and queries should be carried out. However, I feel anyone who is conducting a group order is responsible to answer all questions from their customers (the ones who actually pay on time and/or immediately) within a reasonable amount of time and with care. GOs by nature will be complicated, and GO organisers should frankly consider how their image will be affected if they fail to be consistant and responsible. Suffice to say, I was frazzled and unhappy at the communication.

Though the actual process was easy,
neuromance's communication abilities have MUCH to be desired. While she was immediate in replying to my first e-mails (one to place the order, another to confirm the expected date of internal Japan arrival), she began to have 2-3 day gaps between replying to my e-mails. I had given her a third e-mail because the date she estimated for her receiving the items passed and I did not receive any note from her, and this was where her trend of being quite slow to reply began. I even checked her personal LiveJournal to see if she was okay and not in a bad situation - from her public entries, all I could glean was that she was active and posted frequently. If she underestimated the shipping time from Swimmer to herself, she did not admit it - instead she only kept saying 'it'll come any minute now' and then 'it's expected tonight!' a day later, and then after another e-mail I sent her after receiving no word for nearly 3 days, she finally sent me the shipping notification e-mail for overseas. Relief!

Not really.

She claimed (after I had to go after her again) to have had it shipped on July 13, but I was confused whether she did or not as she didn't supply me with a tracking number within the same day, like other sellers (companies and individuals) I've dealt with who live in Japan. As EMS has automatic tracking and I paid for it, I was surprised that she forgot to supply one. I e-mailed her July 17 to ask again for a tracking number, and she never replied, and hasn't since.

Normally, I wouldn't have cared if the package arrived on time and safely. It did, but not quite - the package was shipped by Air Mail when I clearly reminded her something like 3 times (on the order form, on the shipping e-mail reply, and on the PayPal payment notes section) that I wanted EMS, and arrive a couple days later than EMS would have. I'm grateful that I got my items safely as there is no tracking on Air Mail as far as I know, but I don't know how to feel -
neuromance has clearly done GO's before, and I cannot think how she can flake this badly on shipping options when there is a marked $13 difference between the two.

After going back to her public LJ again to get some context (I don't want to think badly of people instantly), it seems she was busy preparing to move back to the US, and only recently got back. This leaves me to ask - why on earth would you hold a group order, and all the fuss and details and problems to come with it, right before you prepare for a trans-Pacific move? It's not fair for your sanity and certainly not fair to your customers.

Score: 2.5 / 5

SHIPPING

As noted, Air Mail option was $22, and EMS was $35. I paid for EMS.

The box is as so. The dents are from Canada Post's fucking godawful handling methods at their processing facility in Richmond, not any fault of the shipper.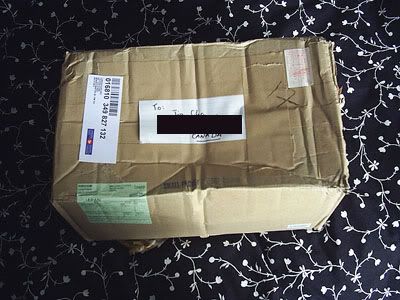 I was curious as to why there was no return address, but after seeing that
neuromance moved back to the States, it made more sense. Not practical sense, but logical sense.

As noted before,
neuromance used the incorrect shipping method, which you can see proof of here. You can also see clearly the Yen cost for Air Mail - no way does that translate into $35US in any form.





Compare this photo to Celga's EMS documentation clusterfuck above in the first review. Very, very different.

For packaging, it was very minimalist but it worked. I ordered 3 items - a rectangular jewelry case, a jinbei set, and a makeup pouch/pencilcase. The case was padded with the wrapped jinbei, and one far end padded by the pouch as shown. Please note that I actually took out all the items and threw away their packaging - I put the items back in their original positions to give you an idea of how they were packed. The pouch is actually on top of the end corner of the jewelry case which is underneath.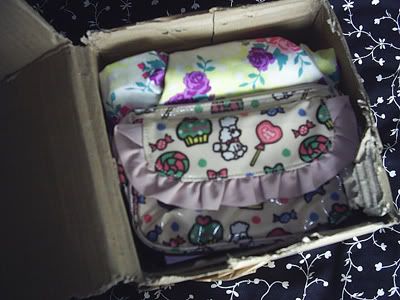 To pad the box for the jewelry case side,
neuromace did something interesting: she taped extra bits of thick corrugated cardboard onto the inside where the case would be right up against the side of the packing box. It's ... not the most secure thing in the world, but as the case was wrapped in another paper shopping bag (with quite a cool print), it worked well enough.




Overall, the items were perfect and safe, and I adore the jewelry case especially: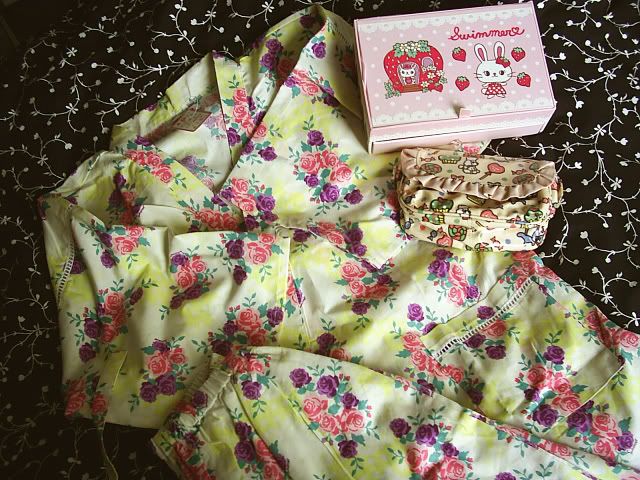 My main problem is still the incorrect shipping charge and service - not only was the service I was given have NO tracking (which I always get whenever ordering from overseas), there is a marked $13 difference between the quotes
neuromance gave me, and I e-mailed her yesterday when I received the parcel, requesting a refund for the overcharge. No reply yet.

My deep worry is if she'll even bother to check her e-mail at all now that she's back in the States and not doing any more GOs: the last e-mail I sent her, before the refund request, was on July 17th when I requested the tracking code for a second time, and she never answered. If anyone can give me advice as to what do do from here (e.g. if worst comes to worst and I need to place a dispute with PayPal, whether this situation will stand scrunity), I'd really appreciate it. :/

Score: 3.5 / 5

TOTAL: 3 / 5

Overall: Super affordable, easy process. Items were all correct, pristine, and perfectly lovely. But flakey communication, and a bad mistake on shipping charge that has yet to be rectified. I don't intend to slander, but I felt my dealings with
neuromance could have been more professional on her end, especially her decision to hold GO in the first place when she was about to move back to the US. She is not likely to hold any GOs anymore, but I wouldn't recommend her services if she does, unless she quickly rectifies her problems with communication.