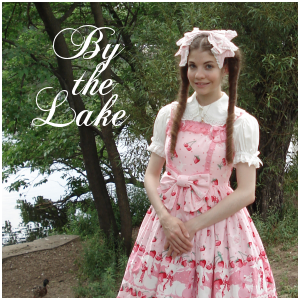 I hesitate to call this a "photo-shoot," as it certainly wasn't anything proper. Instead, this is a set of pictures taken today whilst out on a walk in some of the lovely parks near my neighborhood. There is a little pond near the nature museum, and my fiancé and I found a small flowery path that led close to the lake without being blocked by the typical fence.

All pictures were taken by him. They're not professional; he's just gotten over some grudges against my camera and the two are barely on speaking terms. These few seemed to turn out nice enough to share.

The setting was very serene, and we spotted the cutest fuzzy ducklings swimming furiously towards the dozing male duck near our location. I tried hard to capture their cuteness at least a bit!




I was quite a happy Alice to be wearing Cherry Berry Bunny, which I have very much wanted but haven't been able to afford. If it weren't for my little sister I wouldn't be wearing it today~ One of these days we'll have to twin again, but in this print! >3 Now that I've been able to wear lolita fashion again I have big ideas!




The lake would seem a bit more tranquil and far-removed from the hustle and bustle of modern life...were it not for the reflection of the enormous building nearby. These parks can't trick me into thinking it's not a city!




Please enjoy this final, stupid pose. It was a special request from the person behind the camera. He enjoyed a very, very, very, very, very, very, very, very, very very long laugh over it. I'll get him back... Oh, yes I will.




And now that everything is all set after a long day, a certain sleepy-lolita ought to go to bed~