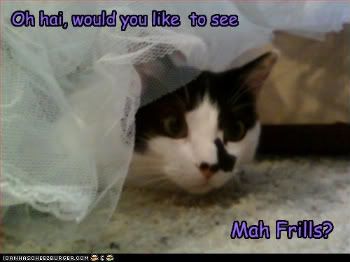 I wanted to show off my "closet" despite its size. So here you go EGL, from a member of the Itty Bitty Closet Committee!





Here are my thing as they hang in my closet on any given normal day. Pettis aren't pictured later, it's one white KKJJ and one black F+F petti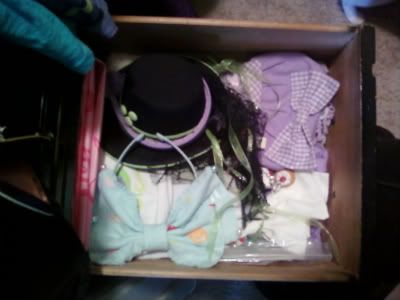 Accessory Drawer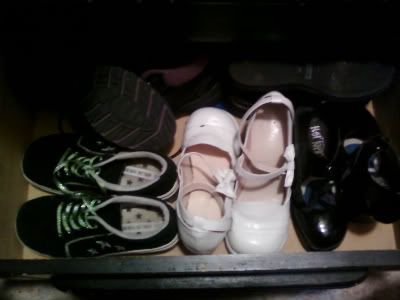 Shoe Drawer (I keep all my not-often-worn shoes in here)



My loli and loli-esque shoes out of the drawer. NO! I don't want to hear it, the sneakers are FREAKING cute and I will wear them if I damn well please! XP
Old, cute kids sneakers with silver stars - offbrand
White Ling Lam heals


Hot Topic heeled Mary Janes





The pride and joy of my collection front and center here-

Dreaming Macaroon in mint

!~
Also here are


An AH blouse & skirt,


A handmade blouse
A cutsew in the back that actually in the middle of an alteration.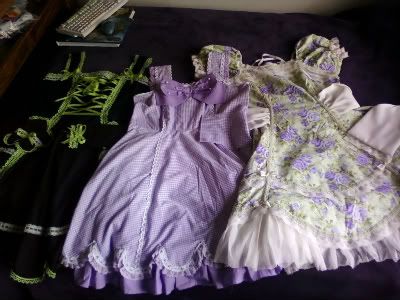 from left to right
First ever jsk, hand made by my mom, AP replica (though i didn't know it at the time, it was based on a F+F AP replica)
First ever jsk hand made entirely by moi. =] AP replica.
First ever op hand made entirely by me (damn those sleeves gave me hell) AP replica



Artistic pic of my large accessories spilling out of the CUTEST DUFFEL BAG EVA! (I found that bad at Sam Moon btw)


Socks- 1 AP, 2 sockdreams.com, 2 ling lam freebies


One pair of bloomers.
Detachable bows- large lavender w/ pearl chain goes with the gingham jsk, 3 satin cream go with the op, the white with the AH blouse, and the 2 print with the AH skirt
Macaroon headbow, black x green mini top hat, lavender head dress (I have a mini crown I made but I apparently forgot to put it in the pic)
Lavender purse and hand crocheted wristcuffs I made to match the gingham jsk.
The mask was hand made by me to match the op for a masquerade ball.




Small Accessories


Hand made polymer clay hand made green and black set (necklace, bracelet, ring, earrings)


A few melon bread and a hamster for green deco


Green hair clippies and purple ribbon bow clips


Hand made lavender rose cameo velvet choker and matching earrings
Hand made cake (eraser) and pearl set (bracelet complete, necklace and earrings in progress)
Deco nail set made to match the gingham jsk. The art on these is not acrylic, it is an epoxy putty used in miniature (like warhammer) modification called "green stuff" (
close up
)
A cupcake ring and necklace made my MintyMix with the back ribbon for my macaroon jsk wound around them.
Hand made, detachable half necklace of pearls for the op


Last but not least, (most) of my bookshelf~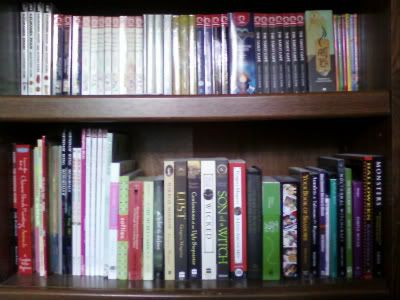 Arguably the best book I have, a must for the cooking inclined sweet lolita!


Thanks for looking! Maybe by the next time this post mimi comes around I'll have more to show.