My closet's kinda fail right now, since I just got into lolita, but in a few days most of my clothing will be packed because I'm leaving for a year exchange in Japan. I decided that I'll post it anyway because this is my last chance..[so serious XD ...] . and I just added my whole room [that I did clean, but forgot to take before pics of] to make up for my pathetic closet! I hope you like it! :D
My closet from afar! wow!
Nearer! I tried to focus on my little loli section.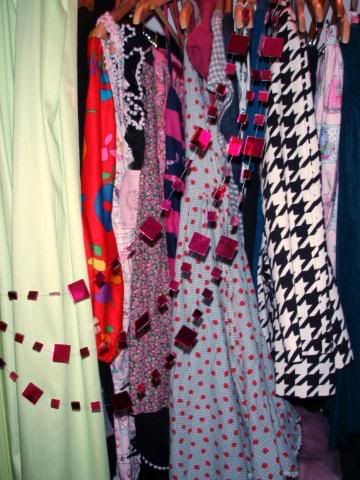 My Dresses [left to right]: Offbrand [eroish], Made by ieatedyourcooki, offbrand [it's short but has a good shape and looks good with an underskirt], Meta [from my lp], bodyline
Skirts! Offbrand [underskirtish], ITS, Offbrand [Yes I know it's too short, it makes me cry because I love it and it has an awesome shape- WHY CAN'T YOU BE A LONGER SKIRT?!?] sorry just venting XD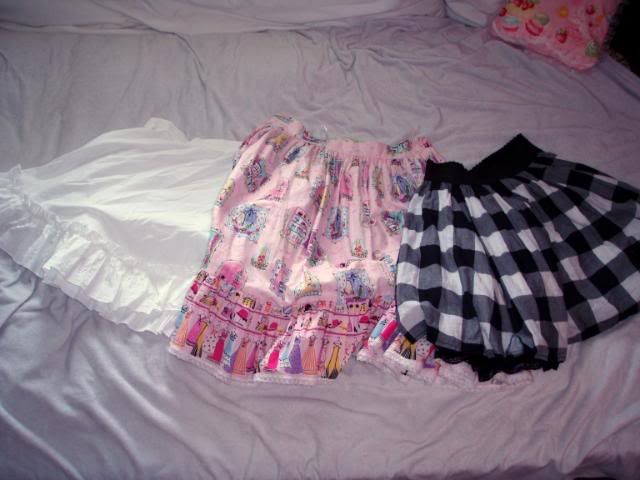 Shirts [actually all cutsews...] Offbrand, Meta [Came in my lp, I tried to sell it, failed, tried it on, decided to keep it] [I don't know why its arm's sticking out so weirdly :D ], BTSSB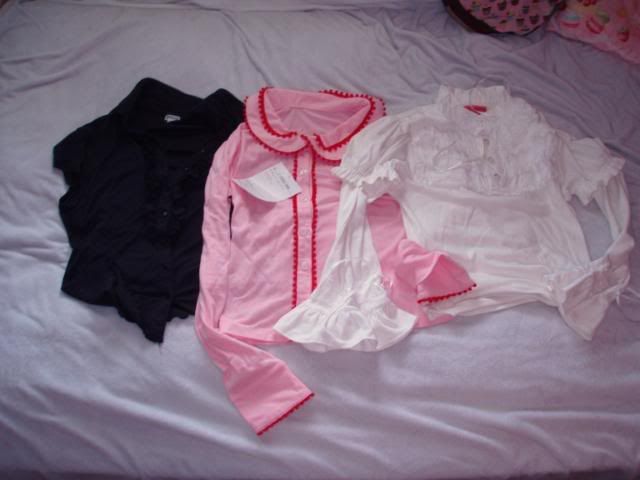 Underthings [oh, dear!]: Offbrand [my only bloomers], offbrand [I love this petti, it's from when I was about 7! It's supposed to be a dress-style, but I just wear it as a skirt... and it's still super-poofy yay!], Anna House
Sweatshirts [please don't kill me, they're for casual, I swear!]: both offbrand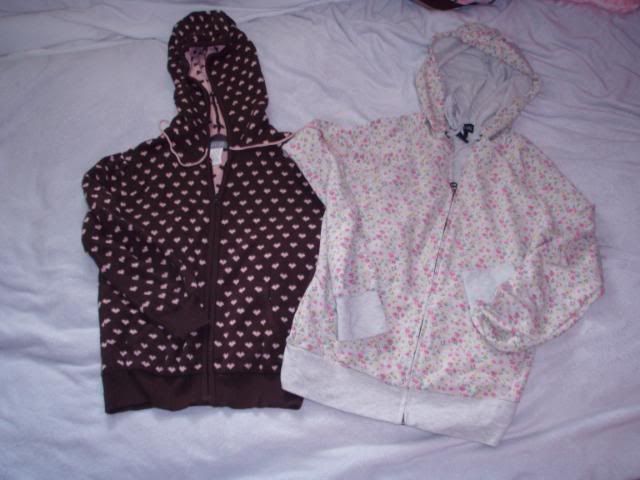 Socks: Most are offbrand [wet seal had a box full of knee socks, each for $1.00], one pair is Meta
Bags: I made the sweets tote, the black purse with hearts is offbrand [until I get a heart shaped purse, the little coinpurse is offbrand, the red tiny bag is milk, and the cat wristlet is offbrand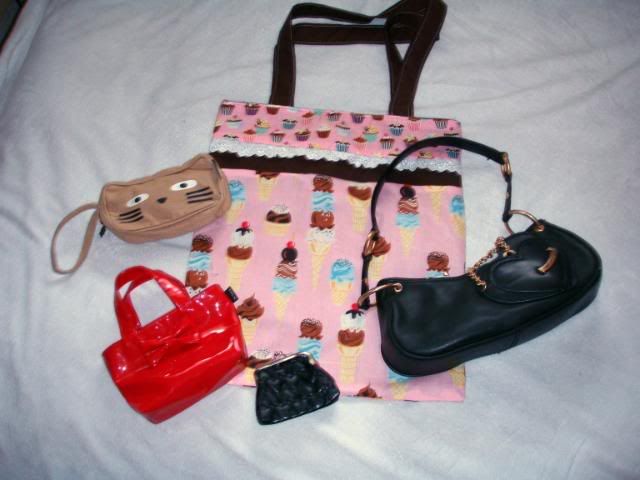 Hats: all offbrand except the houndstooth beret that I made
Shoes: all offbrand except the bodyline heart buckle shoes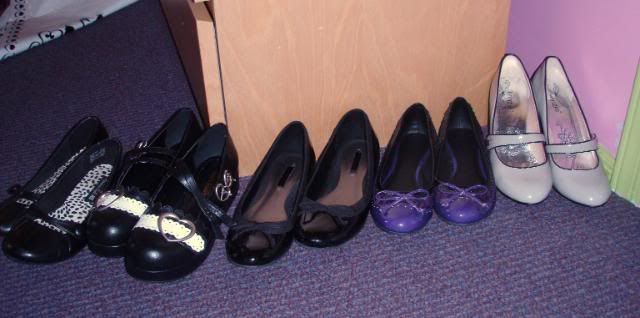 Jewelry!
Top drawer
Middle Drawer:earrings
Bottom Drawer:hairthings
My hairthings so that you can see them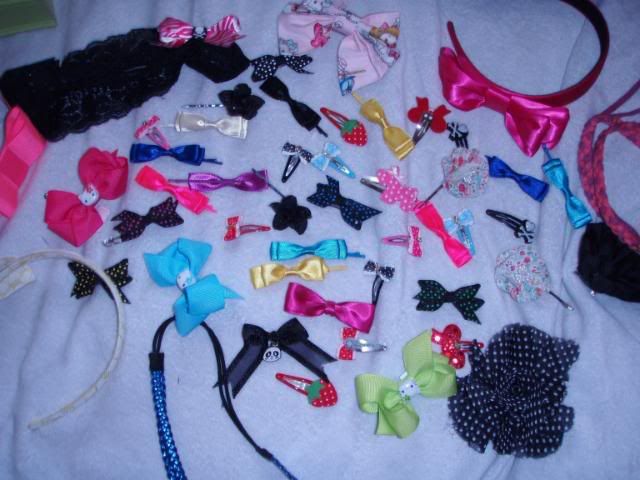 Now welcome to my room! This is the door by the way :D!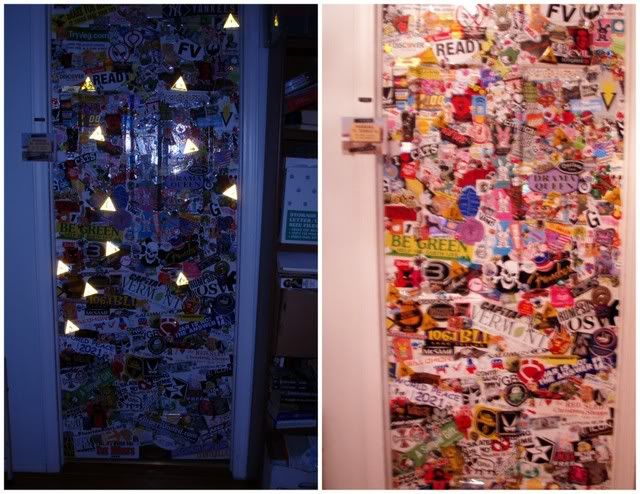 The bed corner- the first corner you'll see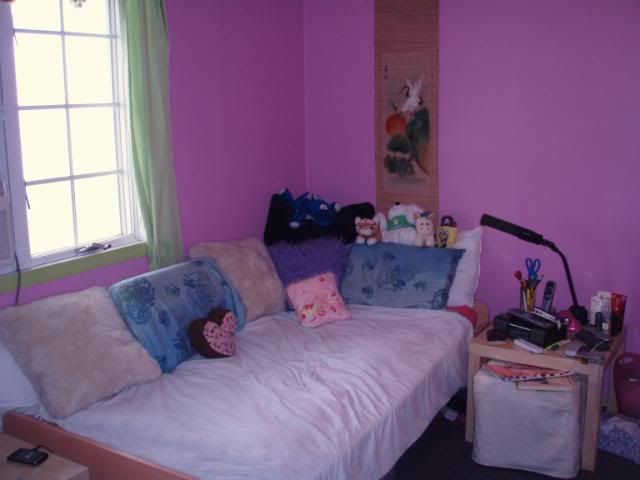 Next corner [and my weird ikea lamp that took me 5 hours to put together =D ...]
Art wall [most is made by me [since I can't afford good art]/ I got it as gifts]
The Back of my door
Closet Wall
Closet Corner [and my oh-so-loli discoball]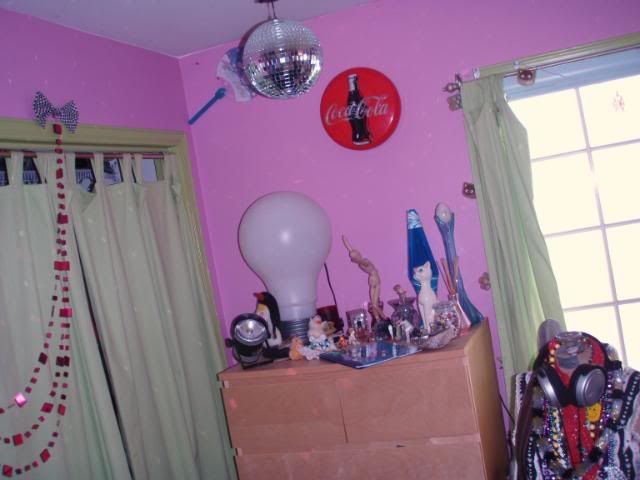 Last but not least carl [my non-functioning dressform] in Meta
My Cat Daisy, likes Carl :D and a hand turkey I found while cleaning [yeah... I haven't cleaned in a while]
Thanks for looking! I have one question though; should I bring my black Meta dress, Cat dress, or no lolita to Japan [I don't want to be a crazy ott American since I don't know how my host family feels about lolita/ its acceptance in non-major cities...]
Gosh this took sooo long =O