I received a long-awaited package today, and boy was I happy. :)


Sometime back,
mariko_senpai hosted a GO for Infanta, because she has some business dealership with them, I think. I ordered a England Prince Outer Coat through her (see here), which according to the Infanta company is:
- This set consist of Coat + Vest
- Coat fabric used of dual-tone blue jacquard (black base)
- Double-breasted buttons, nice lepal and fold up cuffs
- Underneath shoulders area inserted with soft pads increases the gentry feel
- Inner vest used of soft thin black jacquard fabric for breathability
- Single-breasted buttons with drawstring for adjustability
Pictures, uploaded to my PB in case the Infanta site crashes, here, here, here, here and here.

Communication: 4.5/5

mariko_senpai made sure everyone in her GOs were informed of when their packages arriving. She also made sure it was clear that since it was a GO, things would take a while to arrive. And from what I've heard Infanta takes a while to arrive anyway.

Things were sent to the wrong place, which was Infanta's fault, not hers. The only thing I would have liked was to hear about it sooner. I'm not sure how
mariko_senpai handled it, but I think nothing's lost, and everything arrived perfectly. <3

Shipping and packaging: 5/5

I took photos earlier, which... got deleted, so I'll just have to say things were packed in nice and tight, and I got everything I ordered for (the coat, an Anna House blouse). Everything was packaged neatly, although I'm not sure why Infanta chose to tape the package shut with so much tape. It got a little hard to remove.

The Product

The important part. Review time!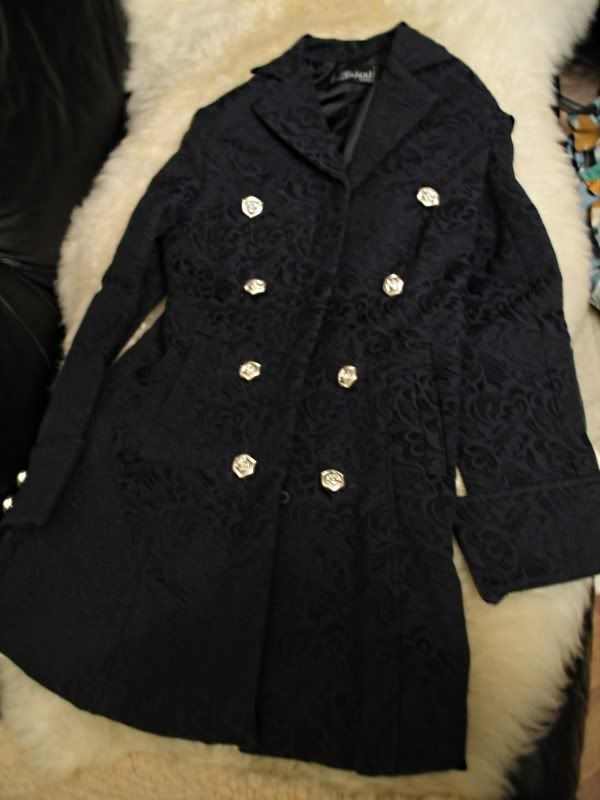 Ignore the strange background. The first thing: this coat is sexy.

So much that even Mr. Yan could wear this and look cool.

Sorry Mr. Yan.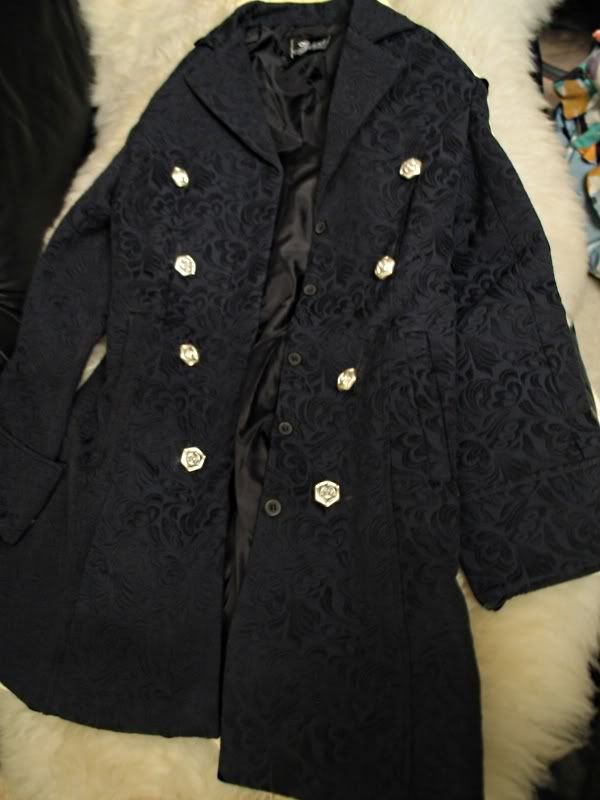 It's also very soft, the material is very nice, the brocade is beautiful, and the design very neat as well. As you can see, it's buttoned up with smaller buttons that are hidden very well, and the silver rose ones are there for decoration.

Which brings me to the first fault: the buttons are meant to be gold, and if I can judge correctly, metal/some alloy, or plastic that looks very convincingly like metal.

Well. Silver goes better with dark blue, apparently. The rose buttons go very well with the coat, but it's a little disappointing because it doesn't match what was being advertised.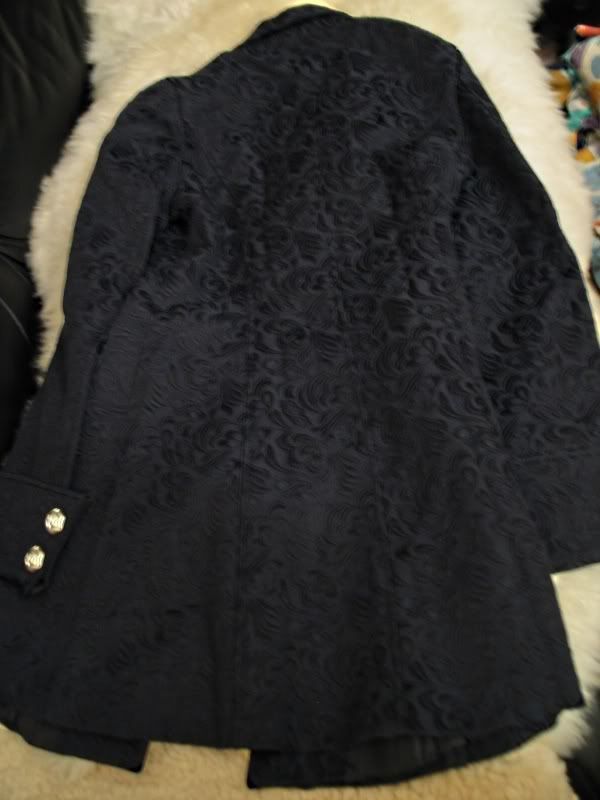 The back of the coat. Sorry for the blurry photo.

And then some problems with it. There's only one loose thread on it, which isn't a concern.

The numerous chalk marks are. There's chalkmarks on the places where the buttons are, which is for marking where the buttons are I suppose. There's a chalk mark in every place the buttons are at the front (and none at the cuffs, funnily enough) and if you look at the second picture on this review, you can somewhat see those chalk marks.

And a few on the lining too.

On the up side: they're very good with linings, the cuffs, and pocket seams. (I can't actually remember if they're actual pockets or not.)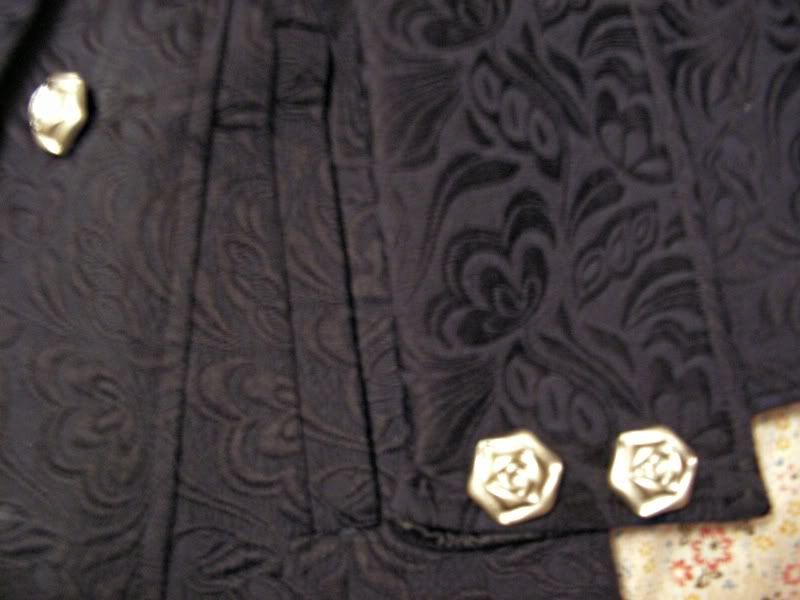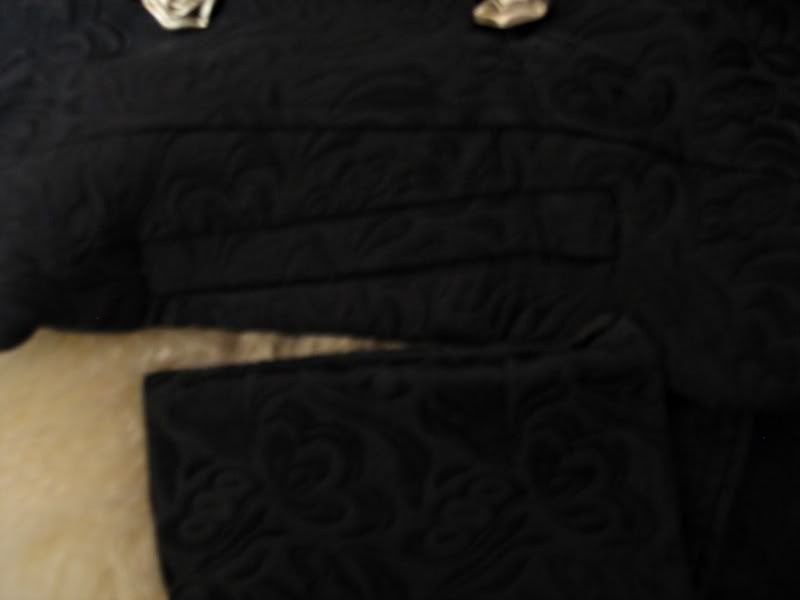 And a shot of the lovely brocade.

To close up, there's two more things that get to me. The first is just me being OCD-ish.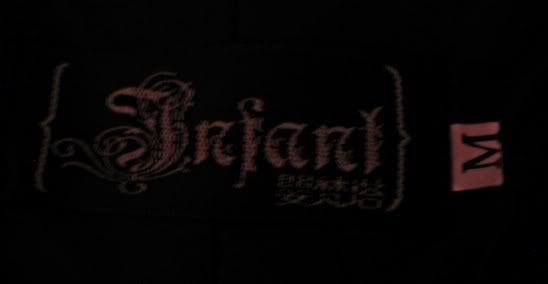 lol mispelling. xD

(It's meant to be Infanta instead of Infant, that's all.)

The second is the lining at the double-breasted part of the jacket.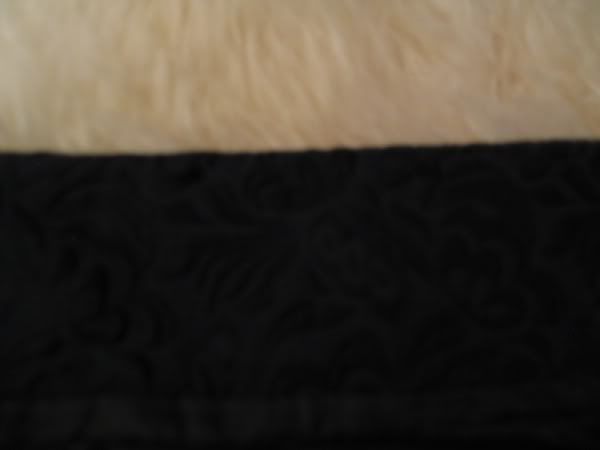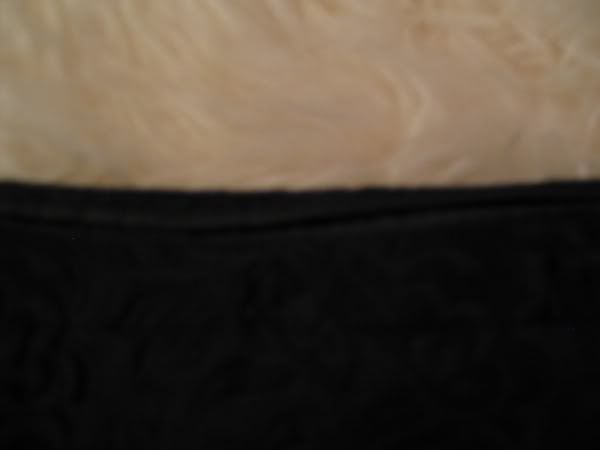 I'm not sure how to explain it, but one side of the double-breasted jacket (where you open it up) is hemmed so that it's nice brocade, before you get into the inside of the coat. The other side is... lined all the way to the hem, and it's hemmed with a strange fold too.

Maybe it's a normal feature of coats though, and I'm totally ignorant about coat lining. xD

And imagine my surprise when I unwrapped the package...

... and found the vest that went with the whole set underneath! Since I only ordered for the coat, I was surprised the vest went with it.

... maybe Infanta doesn't know. Don't tell them. >_>

(I'm kidding, I asked
mariko_senpai to see if she wanted it back, because no matter how badly I wanted to keep it, it would be unethical if I hadn't paid for it. She's as surprised as I am, but say I should keep it, so I will!)

It's just as nice as the coat.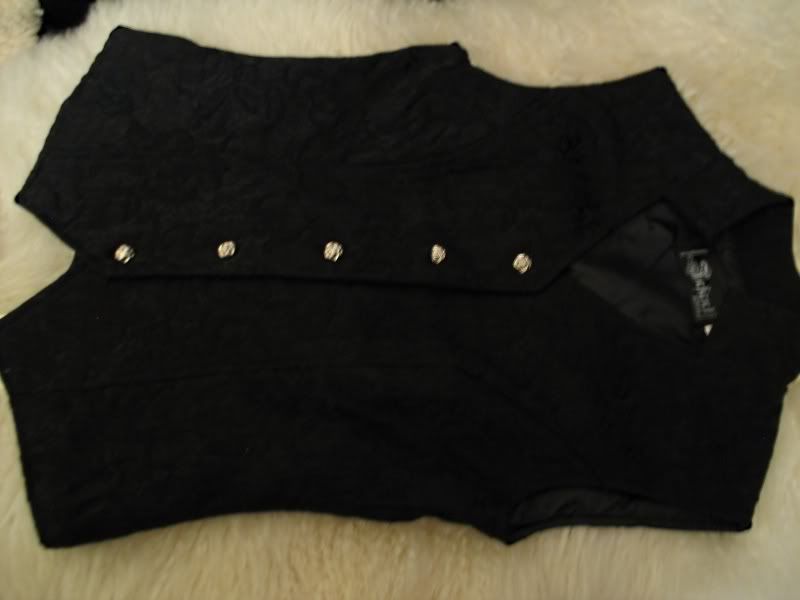 The Infanta brand name is also misspelt, but the buttons are also silver, much much nicer (and looks less like plastic) and it's of the same material, so same quality, minus chalk marks and everything. And one loose thread.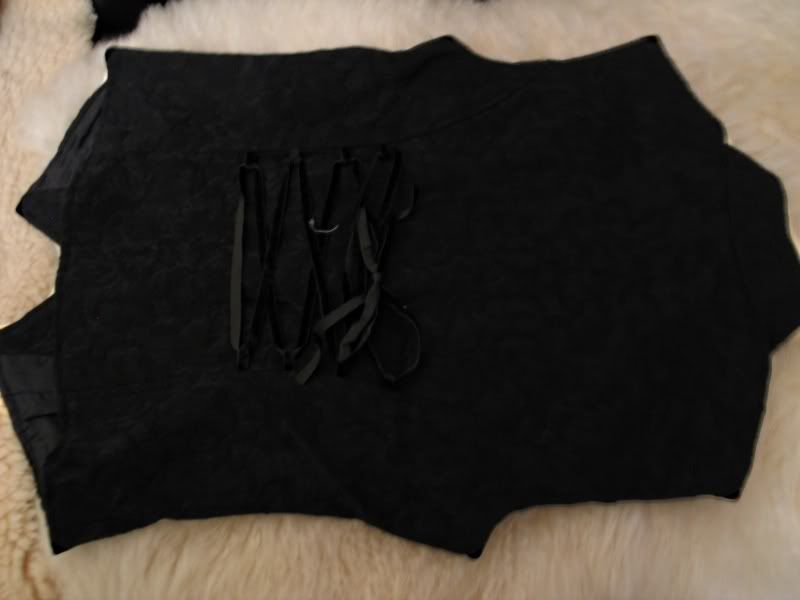 Nice, velvetty waist-ties at the back.

And since everyone knows how Anna House quality usually, I don't think there's much I can say about the blouse I got, other than: it's great.

Roundup: 4.5/5 for the coat because I'm irrationally upset about those buttons. XD


In conclusion: Infanta makes great stuff, as other people have said. And One Day in Paradise is very good with GOs and business stuffs.

And how does this coat look being worn?

... I dunno, it's a present for a friend. I'm not meant to wear it!

But a Singaporean loli posted up pictures yesterday, and someone is wearing this exact coat (except, well, with the correct buttons) and she looks awesome in it. There you go.

Merry shopping to everyone! </div>